Have you heard of the Aeolian Islands in Sicily? I've been dreaming about traveling to the Aeolian Islands (Isole Eoglie) since my semester in Florence in 2004. I huddled over my Let's Go: Italy guidebook, reading about a Sicilian archipelago with lava-spewing volcanoes and black sand beaches.
Finally, I got my chance 17 years later. I traveled to the Aeolian Islands for two weeks in July 2021. While this was a vacation, my intention was to write a comprehensive Aeolian Islands travel guide.
I visited all seven Aeolian Islands, staying overnight in Salina, Stromboli, and Lipari, and spent a few days on Milazzo on the mainland as well. I hiked multiple volcanoes, rode around on a scooter, took several boat day trips, and threw myself into the ocean whenever possible!
I was in love. The Aeolian Islands lived up to those 17 years of fantasy built up in my mind.
But there was a problem. I did a lot of research before getting to the Aeolian Islands — but a lot of what I read wasn't true. At all.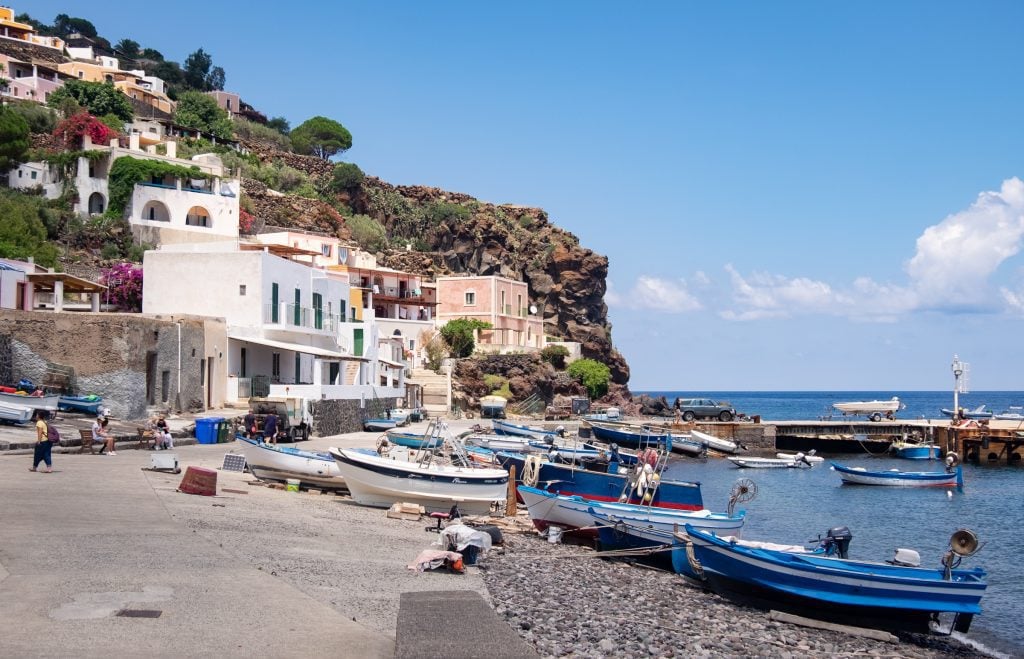 Why is this the case? The state of travel publishing these days means that lots of people are doing online research without visiting the destination itself. Legitimate outlets have shrinking budgets; content farms chase traffic without being diligent about accuracy.
Plus, when it comes to Italy's most popular seaside destinations, Cinque Terre and the Amalfi Coast, travel writers are always passing through. The Aeolian Islands? Not so much, particularly for the English language market.
As a result, though I had done a lot of reading on the Aeolian Islands, I frequently felt like I had been misled. Descriptions of hikes didn't talk specifically about the fitness level required; the two most frequently cited beautiful beaches were two of the worst beaches on the islands.
Most guides sent travelers to restaurants deemed tourist traps by locals (though admittedly, that one does happen everywhere). And guides were silent about the mass tourism of two islands in particular.
As a result, I have been determined to create an honest, comprehensive travel guide to the Aeolian Islands designed with you in mind. You deserve to have the best trip ever — so you should go in with your eyes open.
Again, I adored the Aeolian Islands! I had some less-than-great moments, but overall these islands are absolutely magical, and one of the treasures of Italy. I can't wait to go back.
So come join me in a land of lava explosions and plump fresh capers, of bowls of granita, picturesque villages, and black sand beaches. You are going to love it here.
This post was published and updated in August 2021.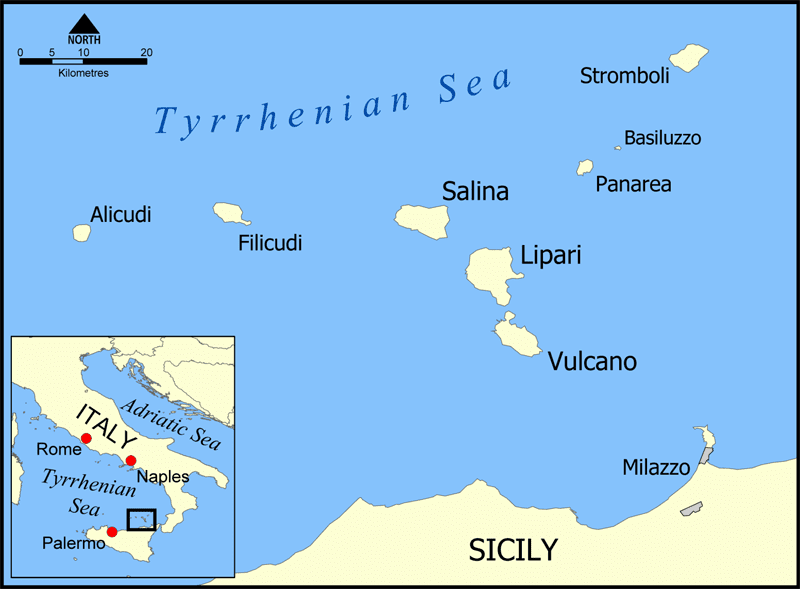 Where are the Aeolian Islands?
The Aeolian Islands are a volcanic archipelago off the northeast coast of Sicily. The islands were declared a UNESCO World Heritage Site in 2000 for their natural environment — namely, their volcanic formation and ongoing volcanic activity to this day.
It helps to know the geography of the Aeolian Islands when planning out your day trips. For example, Panarea and Stromboli are often paired together because they're close to each other and distant from the other islands. Panarea is just a 30-minute ferry ride from Stromboli.
Visiting Alicudi and Filicudi from Stromboli on a boat trip excursion? Or vice versa? No. Nobody operates those routes because they're too far apart.
Salina and Lipari are centrally located in the archipelago, however, and you can day trip pretty much anywhere from there. Vulcano has day trips to all of the islands, too.
Let's start with an overview of all seven islands.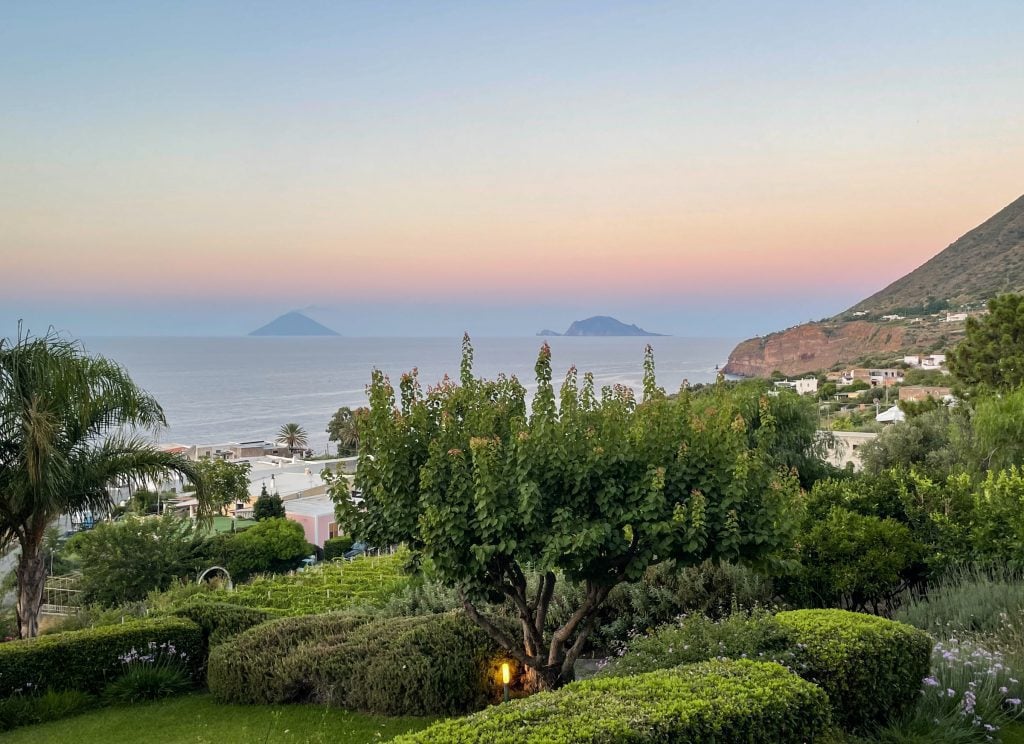 Salina
Salina is the green island. Located close to the center of the archipelago, beautiful and upscale, with several interesting towns, I think Salina makes the best base on the Aeolian Islands. It's also my personal favorite.
Salina Pros: Excellent boutique hotels, excellent restaurants, perfect level of development, vineyards, easy to explore by motorbike, feels very local.
Salina Cons: Limited beaches.
Salina felt like home from the moment I arrived — and part of me wished I had stayed here for the entire trip! It just feels so much nicer than the other islands.
Thanks to freshwater reserves, Salina is much greener than the other Aeolian Islands, and there are lots of Malvasia vineyards here. But Salina also has an upscale feel that you don't get on the other islands. There isn't any of the overdevelopment or overtourism you see on Lipari or Vulcano.
Salina is a fairly large island with several different towns, each with their own personality. It's easy to get around by using the bus system, or by renting a motorbike and enjoying nearly traffic-free roads.
I recommend staying in the town of Malfa, which has lots of restaurants and boutique hotels, beautiful views, and a lovely pedestrianized area. Plus, while the main port is Santa Marina Salina, many boat trips will come pick you up right in Malfa!
But a huge part of why I enjoyed Salina so much was Hotel Ravesi. I have wanted to stay at this hotel for years because of its infinity pool overlooking Panarea and Stromboli — and it was SO worth it. More on Hotel Ravesi in the "where to stay" section.
Kate recommends: Hotel Ravesi in Malfa for accommodation, Salina Relax Boats for boat trip excursions, Fenech Winery in Malfa for wine tasting, caper testing with Giuseppe in Leni, Rando Manuela in Malfa for pizza, La Pinnata del Monsú in Malfa for quirky high-end dining with a view, Bar Malvasia in Malfa for casual dining and drinks, Il Gambero in Lingua for the best granita and pane cunzatu in the Aeolian Islands.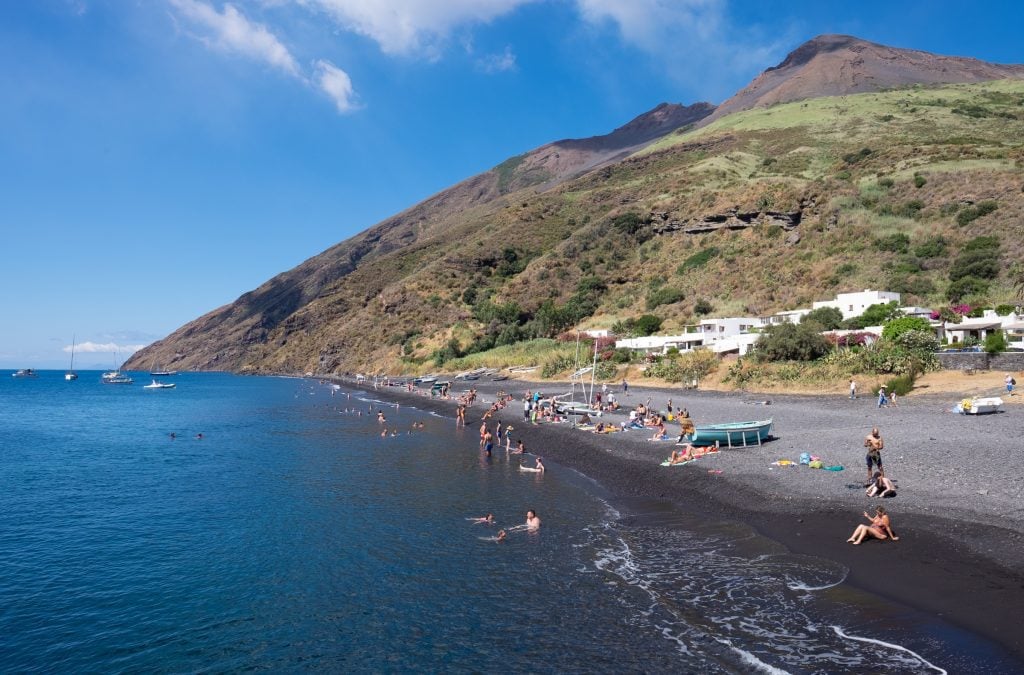 Stromboli
Stromboli is the island with the active volcano! Stromboli is exactly what you expect a volcanic island to be — tall and conical, edged with beaches, crowned with a volcano that spews bright red lava every night.
Stromboli Pros: A once-in-a-lifetime experience seeing lava explosions at night, not too developed, sparkling black sand beaches.
Stromboli Cons: Limited restaurant selection, drivers that speed around corners, not much to do beyond the volcano.
The volcano is the main attraction of Stromboli. While many people plan a day trip to experience the island, you're best off spending a few days here and experiencing it a few different ways: hiking, seeing it from a boat, and enjoying it from Osservatorio Restaurant.
Stromboli is a car-free island. Most of the main Stromboli settlement is walkable, and if necessary, people get around on golf carts or ape (those tiny one-person mini trucks you see in Italy). You just need to watch out as drivers often tear around corners on narrow streets.
Aside from the volcano, Stromboli is a very chilled out island. The beaches here are the best in the Aeolian Islands, shimmering like black diamonds. My personal favorite is Spiaggia Lunga.
While most travelers stay in the main Stromboli part of the island, the village of Ginostra on the other side of the island might be even more off-the-beaten-path than Alicudi. Accessible by only water and home to around 15-30 year-round residents, many of them artists, this is as remote as Sicily gets.
Kate recommends: Agriturismo SoleMare for accommodation, Osservatorio for great pizza with a view of the lava, Il Malandrino for granita and coffee right by the port, Bar Ingrid for casual eats with a view, La Tartana Club for the lunchtime buffet.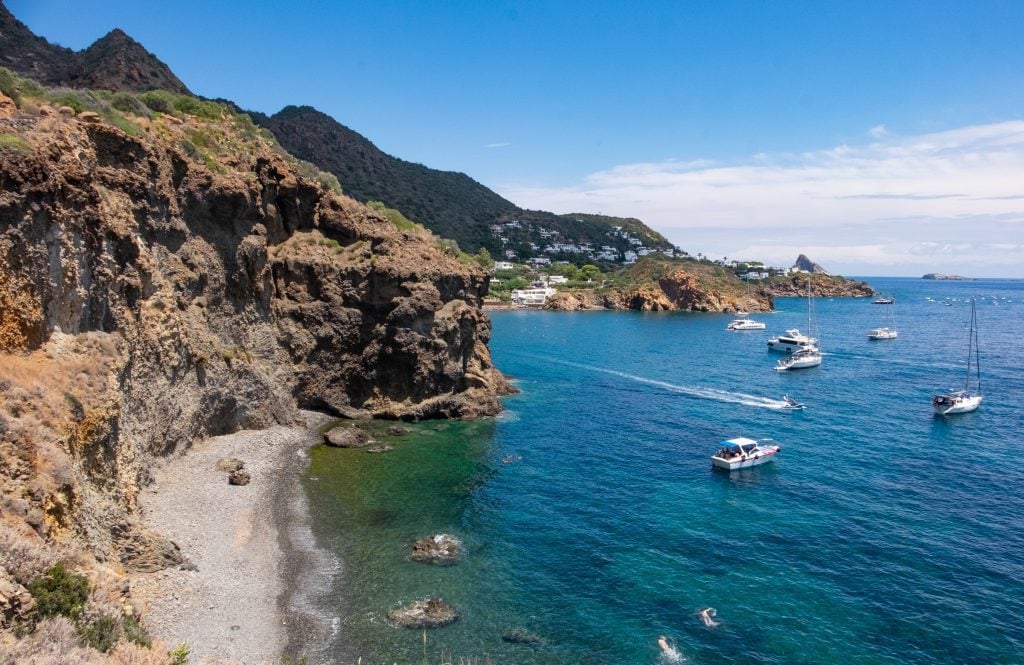 Panarea
Panarea is the rich island. A longtime celebrity hotspot, Panarea is the smallest and most expensive of the Aeolian islands — and attracts a crowd of moneyed people looking for privacy.
Panarea Pros: Limited development, high-end shopping, beautiful views, privacy.
Panarea Cons: Very expensive, feels dead in high season, tiny, no good beaches.
From the moment I stepped on Panarea, I could see it was a beauty. Everything was a bit neater, a bit tidier, a bit more manicured. Chic boutiques sold chandelier earrings and designer flowy dresses. It felt rich.
We set out for the 45-minute walk to the Prehistoric Village and famed beach Cala Junco. And I was struck by just how quiet Panarea was. Not a pleasant kind of quiet — it was almost hushed. This place felt dead in the heart of high season.
Cala Junco was the biggest shock of all. This famed beach that all the guides were raving about, saying it was the most beautiful beach in the Aeolian Islands. This beach was filled with giant boulders. You could barely walk on it, let alone lounge on it!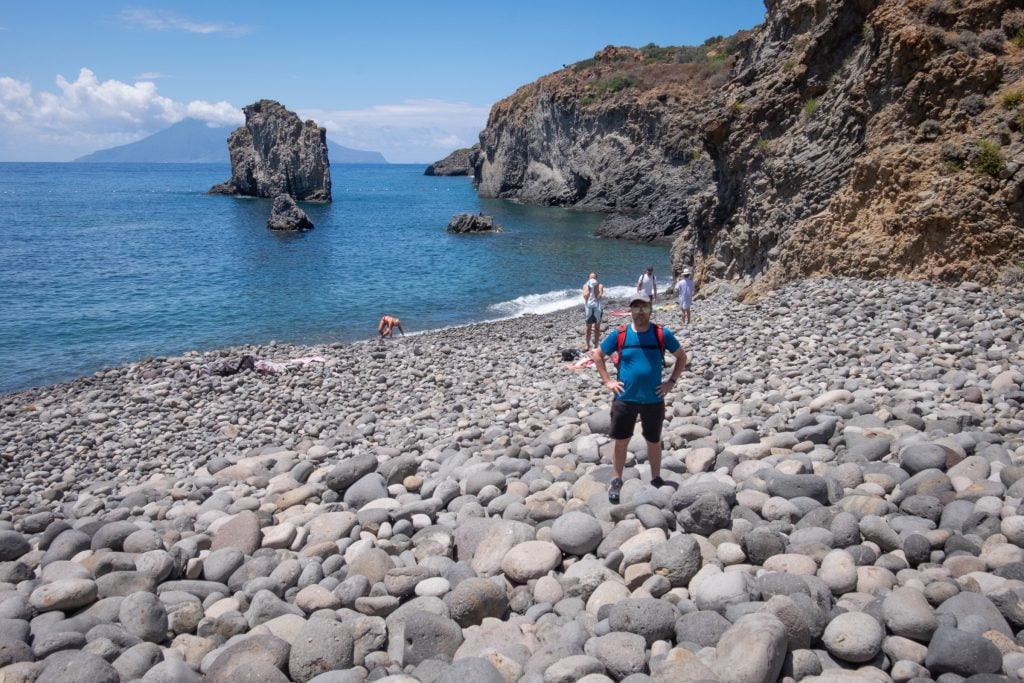 Me: "Yep, this guide also says it's 'strewn with stones.'" Charlie: "Strewn? STREWN?! Maybe strewn if you meant COMPLETELY COMPOSED OF!"
There were more little things. The beach bar that we got a coffee at just to use their toilet…then found out there are no toilets for customers, so we had to double back to the Bridge Club. The granita bar that was lovely, but charged us 12 euros ($14) for two granitas, roughly double the price of elsewhere.
Beyond that, I didn't see anything that showed me why Panarea was more special than the other Aeolian Islands. It didn't have a bad vibe so much as it had…no vibe.
Honestly, I don't get why Panarea gets so much hype. If I were rich and wanted an Italian island getaway, I'd go to Capri instead.
Panarea is best suited as a day trip — you can either book a boat excursion to Panarea (which often comes paired with Stromboli) or just take the ferry. I took the ferry from Stromboli, a 30-minute journey, and didn't feel like I missed out.
Kate recommends: Panarea Bakery for pane disgraziata (a sandwich lined with lots of meats and cheeses), Bar Da Carola for delicious but expensive granita, Bridge Club Panarea for the last bathroom before the beaches.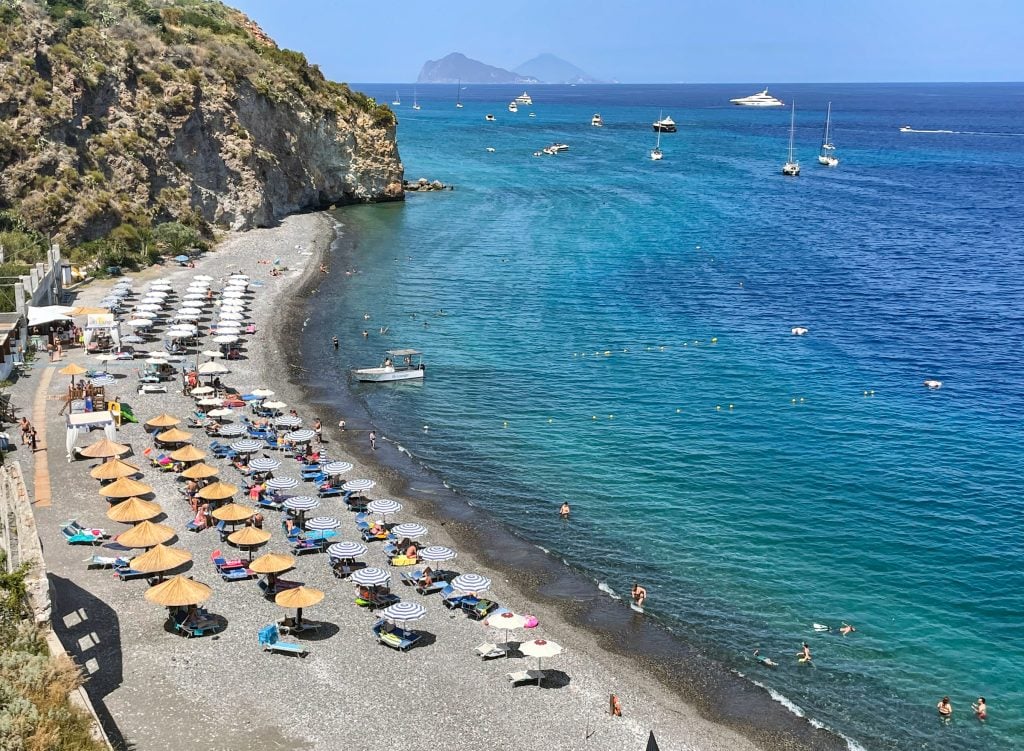 Lipari
Lipari is the biggest island. Population-wise, that is. Lipari has an actual city, also called Lipari, and as a result, it has a different feeling from the other islands. It's urban and grittier than the other islands.
Lipari Pros: Most extensive selection of day tours, good restaurants, accommodation at a variety of price points, good for families.
Lipari Cons: Overtouristed, overdeveloped, lowbrow atmosphere, can be loud.
Lipari surprised me, and not in a good way. Visiting in high season, I was stunned at the overdevelopment and mass tourism. The other islands I had visited were mercifully empty and had kept development at a reasonable level.
Lipari was crowded. SO crowded. I felt like I was in a rave. And especially popular with families, due to the cheap beach holiday deals here, so there were a lot more kids than on other islands.
Lipari town had a really nice walking street lined with restaurants and boutiques, and we found a wonderful cat sanctuary called Il Gatti di Lipari that was one of the highlights of the trip.
Canneto, the town next door, was grungy and felt like cheap beach holiday central. Crowded, dirty beach; cheap hotels and guesthouses pressed up against each other. Getting there was absolutely hellish — we took a bus from Lipari, which had zero air conditioning, was packed to the gills, and between the heat and having to wear a mask, we burst out early rather than subject ourselves to that torture any longer.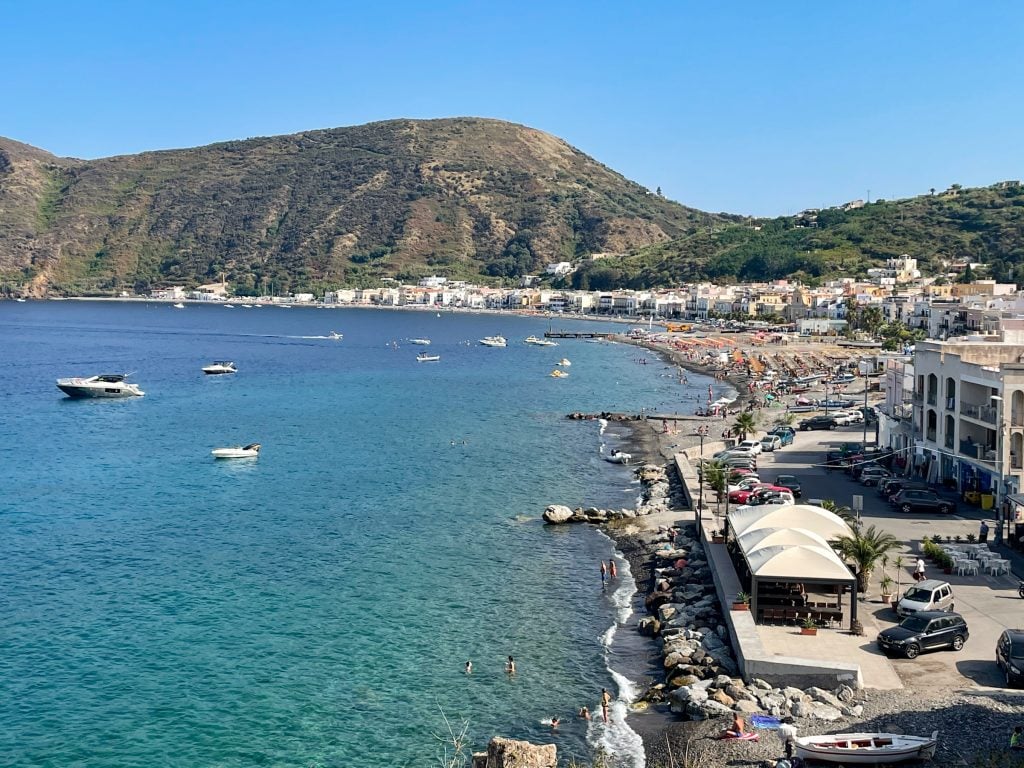 Just past Canneto is White Beach, a beautiful beach that requires an up-and-down trek to get there. The beach is actually gray, not white, but it's much nicer than anything else I saw on Lipari. There are chairs with umbrellas; we just staked out a spot on the pebbles.
One big disclosure: I didn't visit Lipari beyond Lipari town and Canneto. I've heard that it has nice scenery to explore on your own. That said, the traffic is much heavier on Lipari than the other islands (and borderline highway in parts), so I personally would be nervous about driving a motorbike in those conditions.
My big recommendation: You don't NEED to stay in Lipari because it's the largest and best-connected island. I thought I had to. I was wrong. Salina is just as convenient and a million times nicer.
Kate recommends: Residence La Giara for accommodation, Il Giardino di Lipari for interesting cocktails and offbeat eats, Officina del Cannolo for cannolis (skip the restaurant and order them to go).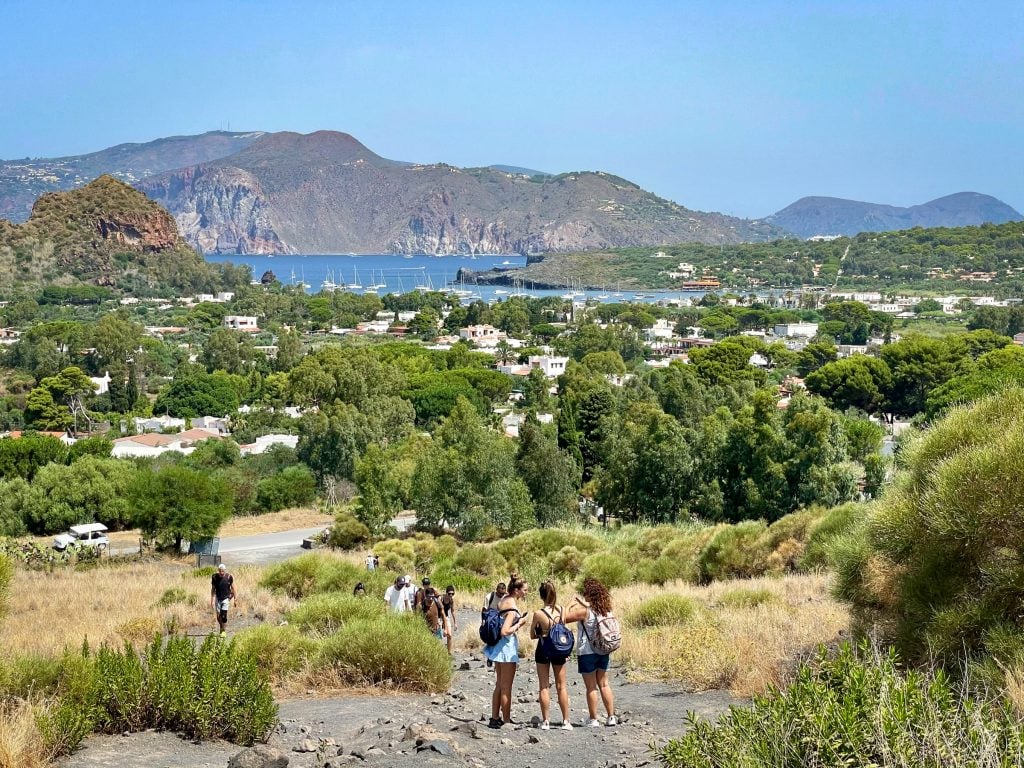 Vulcano
Vulcano is the sulfurous island. Vulcano is characterized by yet another active volcano — but instead of Stromboli's lava, this volcano emits smoke and a sulfurous smell that engulfs most of the island. Vulcano is also home to the best views in the Aeolian Islands.
Vulcano Pros: The most affordable island, closest to mainland Sicily, beautiful views.
Vulcano Cons: Lowbrow holidaymaker atmosphere, overdeveloped, limited dining options, awful sulfur smell.
I'll be frank — Vulcano reeks. The smell is part of what "gives Vulcano its character," as some travel writers say, and I've heard that the smell isn't bad in some parts of the island, but for me, the smell would be a dealbreaker.
Throughout the day, I would be dealing with the constant low-grade smell — then a gust of wind would brush in more rotten eggs and I felt like I was going to throw up. I couldn't imagine being stuck with that for a whole week.
That being said, Vulcano is home to some truly gorgeous nature. Not only is the crater a worthy climb that you can do independently, you can enjoy views of all seven Aeolian Islands from the top. You can't see that anywhere else in the archipelago!
Then you get back to the bottom, explore Vulcano itself — and it's super crowded with a lowbrow atmosphere. Even more lowbrow than Canneto. Lots of cheap hotels and restaurants, and again, more families. Vulcano has some of the lowest-priced accommodation in the Aeolian Islands. BECAUSE OF THE SMELL.
I was especially disappointed in Sabbie Nere, a black sand beach so many travel guides raved about. I expected a sparkling paradise similar to Stromboli's beaches — only to find an overcrowded, dingy beach that was gray at best.
One thing I wished I had done was rent a vehicle (open jeeps are popular in Vulcano) to explore the island in more depth, taking in more views and nature. There is a giant mud pit that you can bathe in, but it was closed during my visit, and I had also heard that it ruins your bathing suit and makes you smell for days.
Go to Vulcano on a day trip to enjoy the crater, the views, and the nature. Explore the whole island if you have time. But between the mass tourism and the smell, it's not worth staying overnight.
Kate recommends: Il Gelato di Antonio for gelato (the Aeolians are all about granita, not gelato, but this is the one gelato place in the archipelago that I recommend).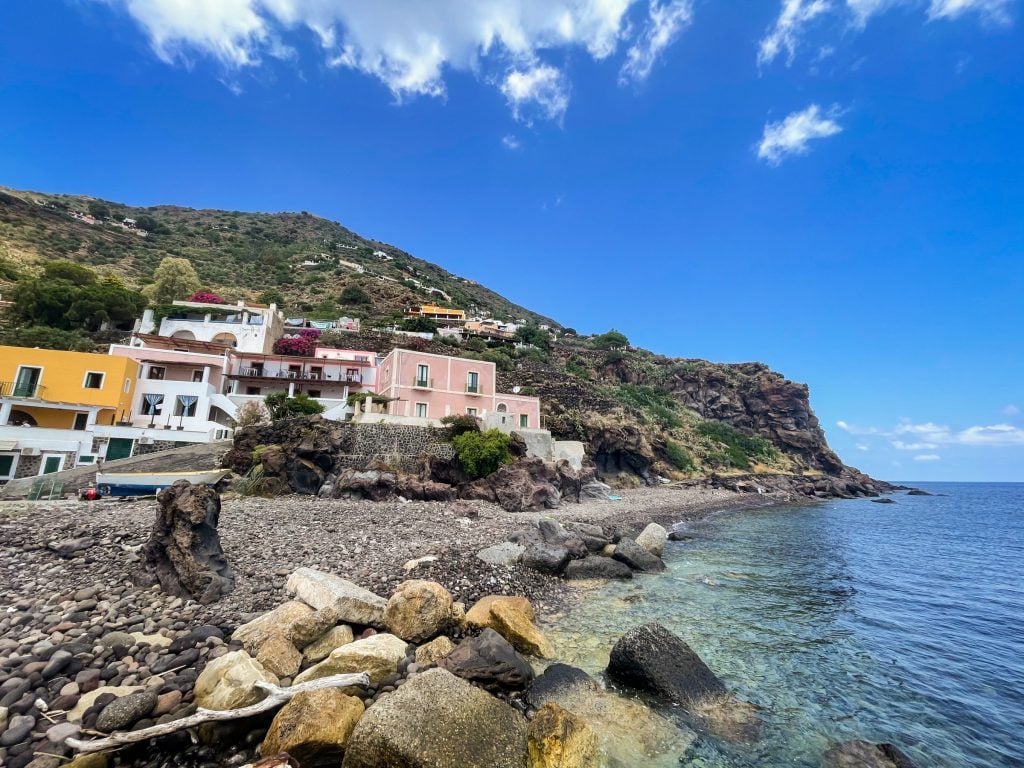 Alicudi
Alicudi is the most remote and least developed island. The westernmost island, far from everything, almost everything on the island is built into a small settlement near the port.
Alicudi Pros: Quiet and remote, few people, donkeys.
Alicudi Cons: Far from everything with limited connections, no cars.
If you truly want to get away from it all in the Aeolian Islands, Alicudi is the place to go. There are few restaurants and places to stay in the summer; if you come here in the winter, your best option is to board with a local family, because everything else is closed.
But if you want an island getaway with few things to do and even fewer people, just a few quiet beaches, Alicudi makes a marvelous choice.
Alicudi is another car-free island, and there aren't even roads — just stairs built into the steep hills. So how do you transport your luggage? DONKEYS. Man, I wish I had been able to see the donkeys! They usually only come by when ferries arrive.
Most travelers visit Alicudi and Filicudi paired in a single boat trip excursion from Salina or Lipari. I did so with Salina Relax Boats, and in addition to visiting Alicudi itself, I appreciated that we sailed around it to view the red-brown volcanic formations on the other side.
Kate recommends: The restaurant at Hotel Ericusa for fresh pasta.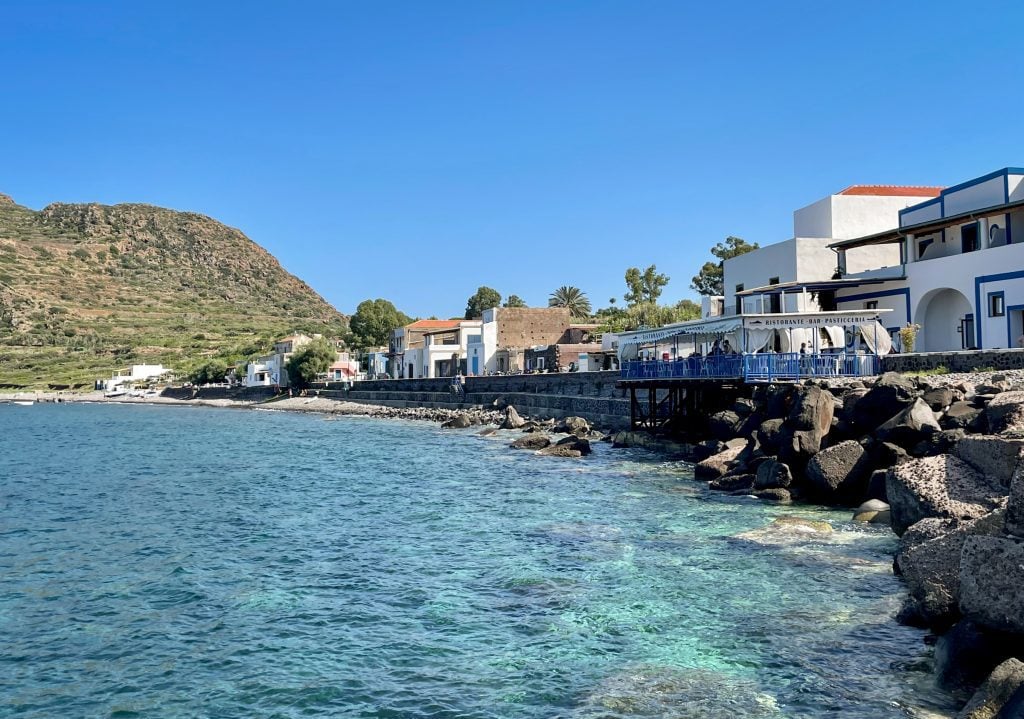 Filicudi
Filicudi is the second most remote island. You are still significantly off the beaten path, but there are more services, more places to explore, and cars are allowed on this island as well.
Filicudi Pros: More developed than Alicudi, clear blue water.
Filicudi Cons: Far from everything with limited connections.
Filicudi is known for its clear blue water, which you'll notice as soon as you dock in the port! This is one of the best islands for swimming spots, which you can enjoy on a boat trip excursion (ideally paired with Alicudi, coming from Salina or Lipari).
The big difference from Alicudi is that it's a bit more developed, there are a few different settlements, and the island can be explored by car. Though it's so small, you'd probably be better off renting a motorbike or just hiring a taxi when you need one.
I spent the least time on Filicudi out of all of the islands. I can tell you that the bakery by the port has an awesome selection of pastries (seriously, I got homesick because it reminded me of Italian-American bakeries in Boston and New York!).
This is one island where I'd love to return and stay for a few days.
Kate recommends: The bakery right by the port.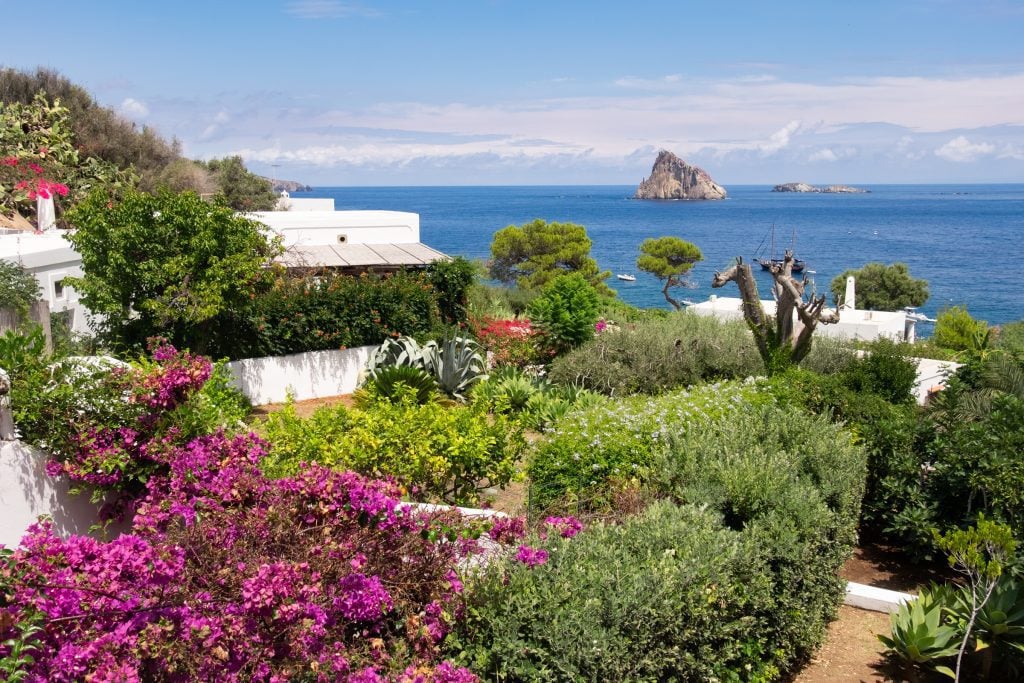 Things to Do in the Aeolian Islands, Sicily
I love that there are so many cool things to do on the Aeolian Islands. They're not the kind of place you go to laze away every day by the pool or on the beach.
If you're an active person, you should absolutely prioritize climbing both Stromboli and Vulcano. You can continue the climbs, if you'd like, with hikes across the other islands.
If you're into food, you can visit wineries, go caper-tasting, or make it a mission to find the best granita or pane cunzatu in the archipelago.
And if you really want to relax, rent a beach chair for the day or try a spa treatment at one of the high-end hotels like Hotel Signum on Salina.
Here are some of the best things to do on the Aeolian Islands: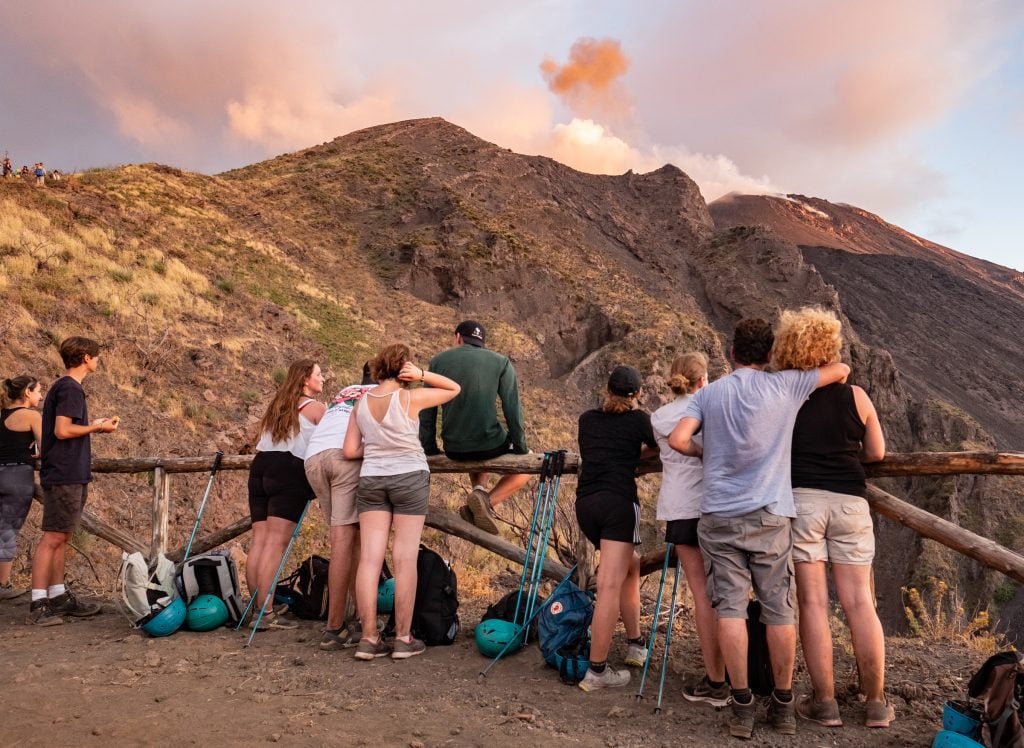 Climb Stromboli
One of the most epic things to do in Sicily — if not all of Italy — is to climb Stromboli, the lava-spewing volcano! Stromboli is a reliable volcano and every evening, giant plumes of blood-red lava spew across the dark sky, putting on an incredible show.
Climbing Stromboli is the best way to experience this up close. There is a hike to 400 meters, which gives you an excellent view of La Sciara del Fuoco (the "scar" of ash running down the volcano) and the lava-spewing crater itself. A guide is required for this hike.
The show really starts once the sun goes down, and you can enjoy a burst of lava every 20 minutes or so.
(In the past, there were even more intense hikes to the crater at 750 meters, but these have been suspended since 2019.)
It's a two-hour hike to the viewpoint, and while many guides say you need "average" fitness to participate, I would not classify this as an average fitness hike. You will be climbing very fast, with few breaks, and lots of stretches both uphill and downhill.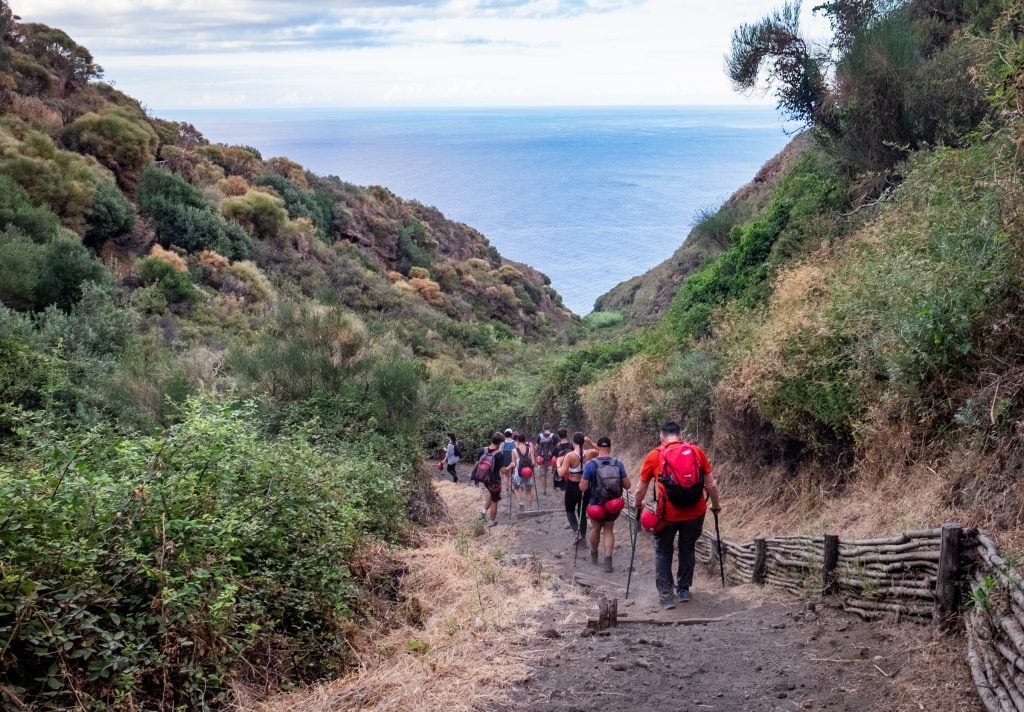 Do you need to be in good shape to do the Stromboli hike? Yes, I think you do. I was surprised that different companies made different claims — some said "all you need is average fitness" and some said "excellent fitness required." I, as a former hardcore gym-goer who is only moderately active these days (thanks COVID!), I struggled a LOT on this hike.
The guide pushes you to go very quickly, and the breaks are brief. It wasn't enough downtime for me. At one point I was gulping for air so hard that a nearby Italian stopped to help me catch my breath! We were with a group of super-athletic Germans, but at one point we got pushed back to the next group of Italians, many of whom seemed to be struggling similarly to me or worse.
But I am incredibly glad we got to the top of the volcano. We watched the show for 90 minutes or so, then hiked down in the dark with headlamps down a path that was mostly cobblestone stairs.
Does this hike sound like it's too much for you? No worries! You can enjoy Stromboli's volcano in different ways! More on that below.
For climbing Stromboli, you should wear hiking/workout clothes appropriate to the day's weather, as well as an extra sweater for the top once the sun goes down. Many companies provide hiking boots and/or hiking poles. While I rented their hiking boots, I wish I had brought my own trail runners in retrospect.
You can book the Stromboli hike here.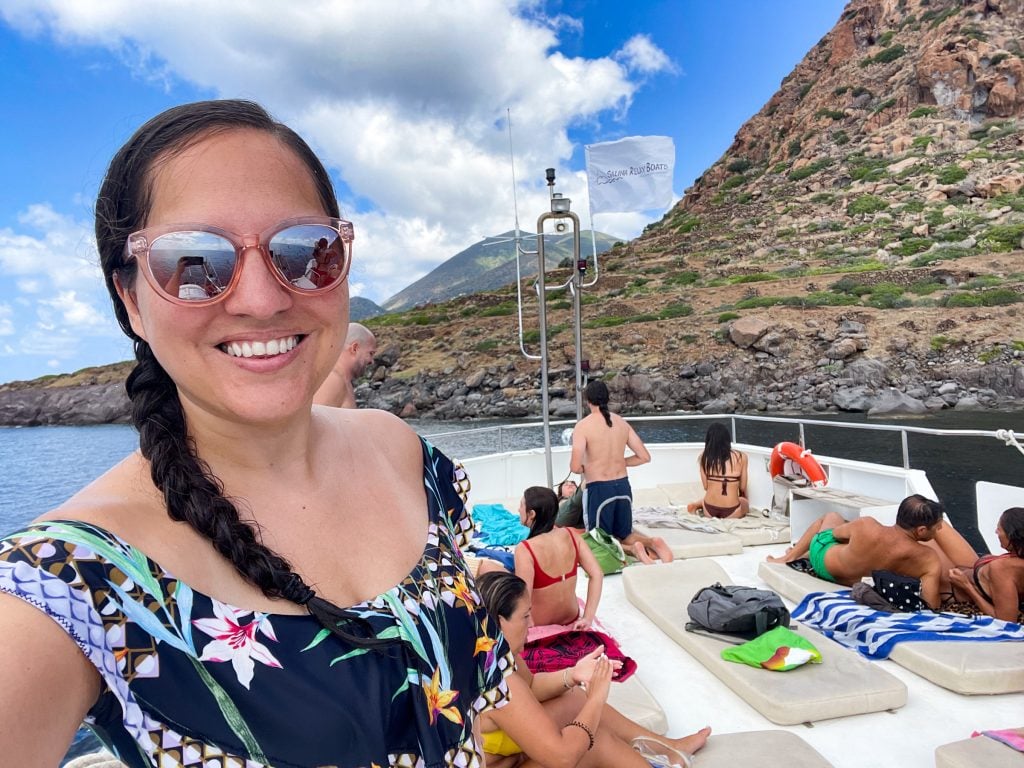 Take a Boat Trip Excursion
During your time on the Aeolian Islands, you should try to visit some of the other islands! And while you can take the ferry to other islands for the day, it can be much more fun to take a boat excursion: a day trip by boat with a tour provider.
This way, you get to visit new islands, but you also get to see more of the islands and landscapes (the ferries are all indoors so you can't see much), and most trips include a few different swimming stops.
On my boat trip from Salina to Alicudi and Filicudi for the day, we not only got to swim three times, including swimming into a cave on Filicudi, but we got to circle an unusual rock formation and see the craggy red-brown veins of Alicudi's uninhabited side.
There are lots of boat companies leaving from all the islands. I recommend Salina Relax Boats, which does pickups on both Santa Marina Salina and Malfa in Salina. The boat, the Lady Salina, was high-quality and had a bathroom on board; it was airy with both shaded seating and an open roof; and the crew were all very nice, professional people who kept us safe.
To book, email them or drop by their booth in Malfa's square. They visit all seven islands but do different tours on different days of the week, so you may want to plan in advance.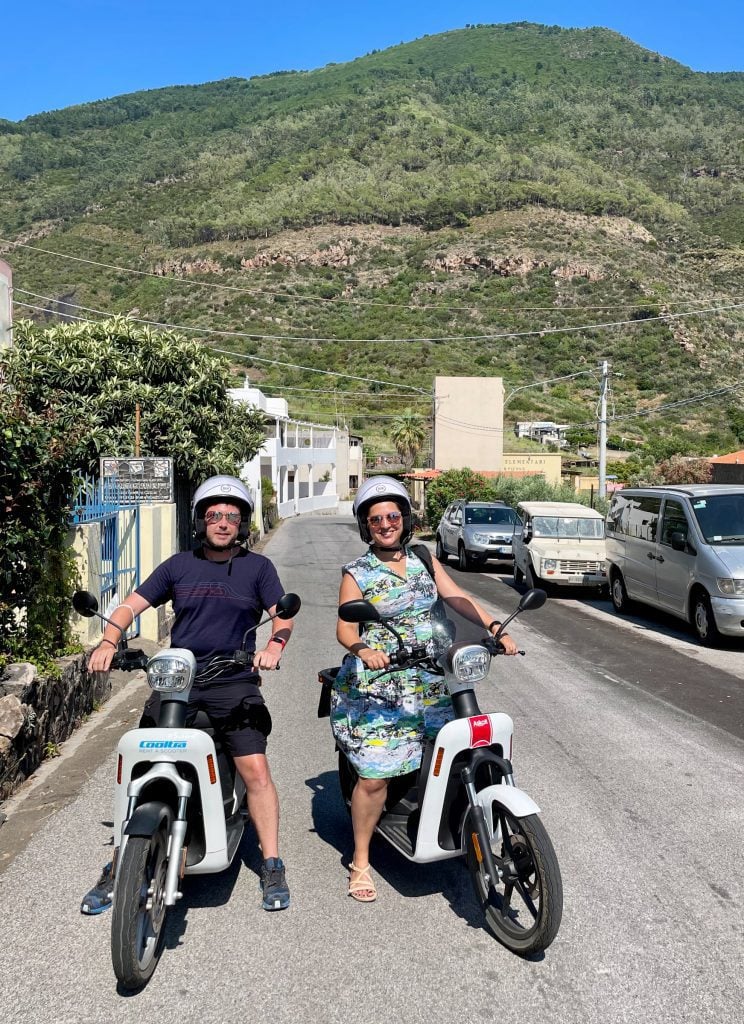 Explore Salina by Scooter
Exploring an Italian island by scooter — or motorbike, as some call them — is a fabulously romantic thing to do! I knew the whole time that I was going to wear my 50s housewife dress! I felt like I was in The Talented Mr. Ripley! Minus the murder.
So which islands are good to explore by scooter? The only three islands I where would recommend doing this are Salina, Vulcano, and Lipari — though Lipari only if you're comfortable driving in traffic. All three of these islands are a good size and have a lot to explore. The other islands are too small; it wouldn't be worth it.
Salina, though, is my top recommendation. Salina feels wonderfully empty, it has lots of wonderful views and dynamic places to see, and each town is different and has something worth exploring: Malfa, Leni, Rinella, Pollara, Santa Marina Salina, Lingua.
Riding past verdant vineyards, stopping at cool-looking churches or cute beaches. Riding along cliffs and being overcome by the sheer beauty of this place. Getting granita at Il Gambero in Lingua was the perfect conclusion!
This was my first time on a scooter in Italy, though I've done a lot of motorbiking in Southeast Asia (including one terrifying experience on Vietnam's highway at sunset). And what made it special was doing it on electric scooters — a totally new experience for me. Hotel Ravesi offers electric scooter rentals to its guests.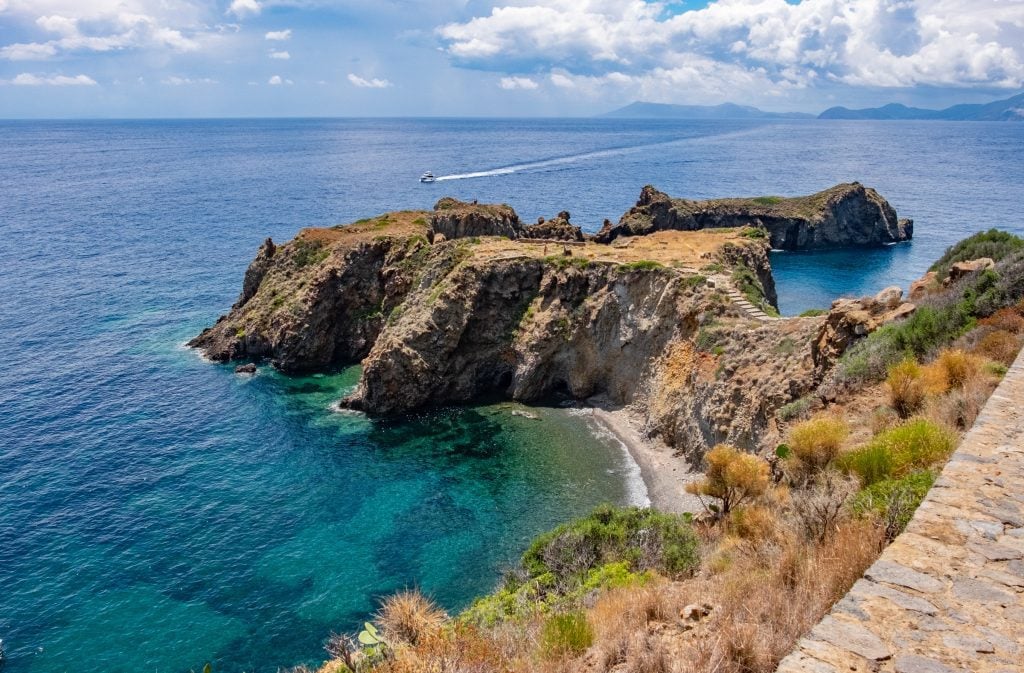 Hike to Panarea's Prehistoric Village
Panarea may have rubbed me the wrong way — but there is no denying it's a gorgeous island. For this reason, I recommend making time for one activity in Panarea: hiking to the Prehistoric Village.
This hike (really more of a walk, though it does include a lot of stairs at one point) takes about 45 minutes from the port. Follow the signs to Cala Junco. Once you climb the staircase past Spiaggia Zimmari, the big beach with brown sand, you'll have an incredible view of Punta Milazzese, the peninsula above. This is one of my favorite views in the Aeolian Islands.
You cross the narrow land bridge to the Prehistoric Village, Bronze Age ruins of Mycenaean origin. It's free to visit. If you're into ruins, you'll probably love it; if not, no worries in skipping it. Just be sure to take photos of Panarea from every angle.
Cala Junco, as I wrote above, was enormously disappointing — it was a beach of boulders. It's right beneath the Prehistoric Village.
From there, we turned around and headed back toward the port. That was enough to enjoy the essence of Panarea.
One thing for certain, though: Use the bathroom BEFORE you get to Spiaggia Zimmari. We got a coffee at the bar on Spiaggia Zimmari with the intention of using their bathroom but were told there were NO BATHROOMS! We had to double back to Bridge Club Panarea, order a bottle of sparkling water, and use their bathroom before moving on.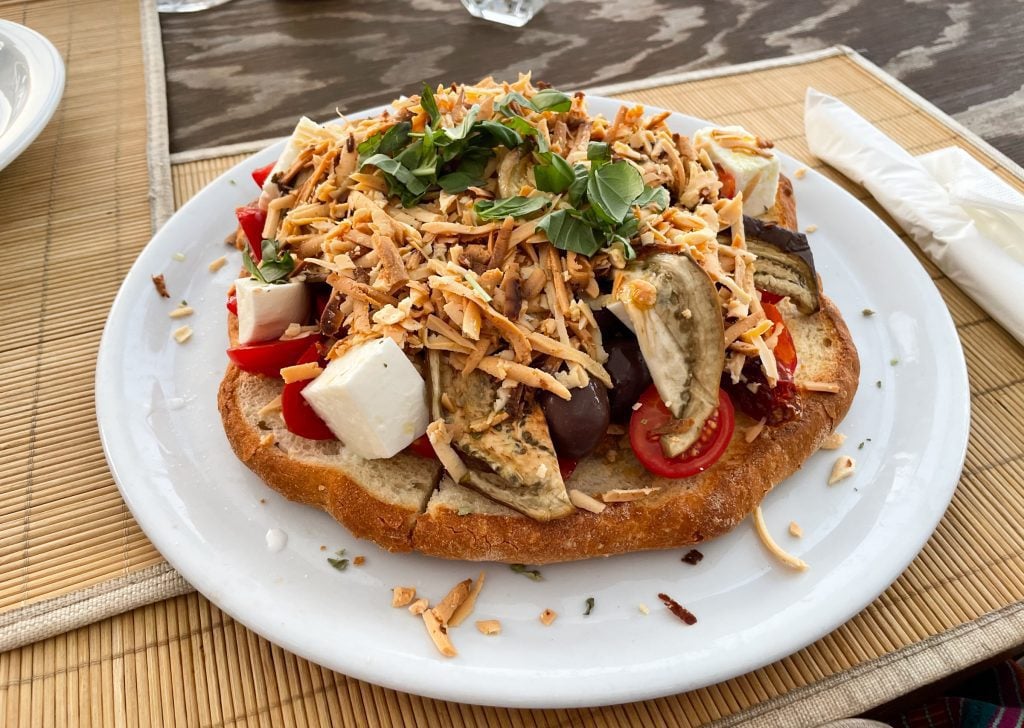 Eat Pane Cunzatu
If there's a signature dish of the Aeolian Islands, it's pane cunzatu (also called pane cunzato). Meaning "seasoned bread," pane cunzatu starts with a round piece of flat bread, topped with fresh local toppings.
What toppings do you get in the Aeolian islands? Capers, tomatoes, anchovies, olives, eggplant, tuna, mozzarella, ricotta infornata, fresh herbs and seasonings. Sometimes a selection of those toppings, and sometimes ALL OF THEM AT ONCE. It rarely sticks together, so be sure to hold it carefully!
My big piece of advice is to double-check how big it is before you order. Some pane cunzatu are sized for one person, but many are big enough to be shared. Splitting one with your travel partner is one of the best cheap meals you can have in the Aeolian Islands.
So where should you get a pane cunzatu? It seems like every guidebook recommends Da Alfredo in Lingua, a village in the southern part of Salina, but locals told me nobody with self-respect actually goes to Da Alfredo. Instead, go to Il Gambero, also in Lingua.
I had several pane cunzatu over the course of my stay, on several of the islands. They were always delicious — and always an adventure!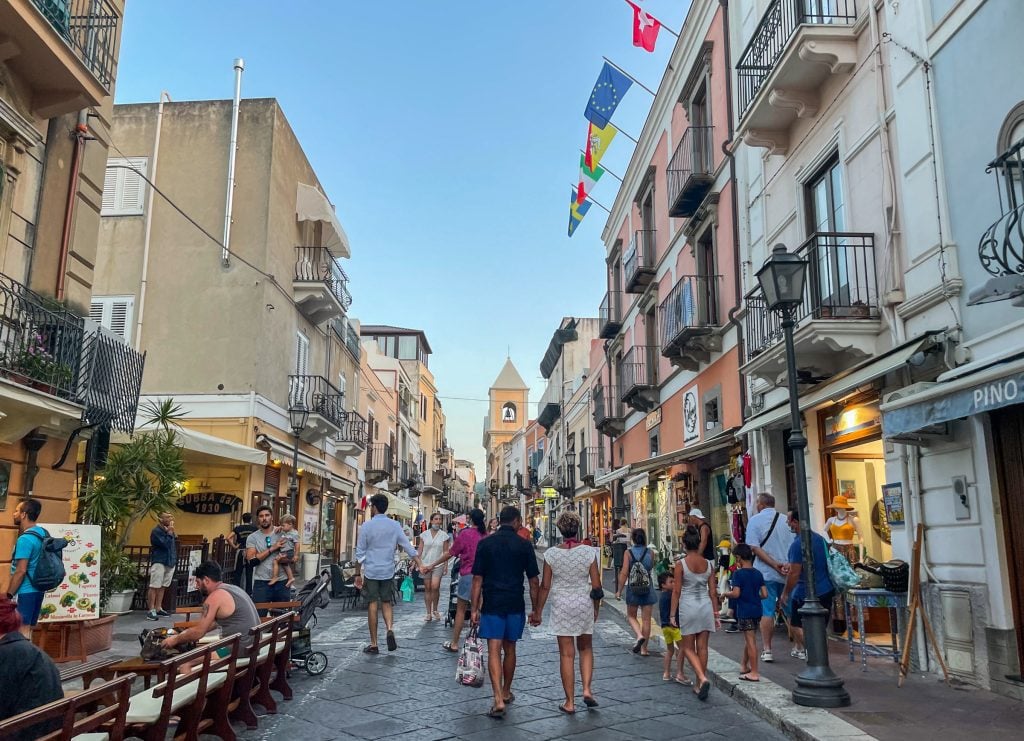 Stroll Lipari at Night
Fun fact: wherever you are in Italy, any street named after Vittorio Emanuele II is pretty much the main street in town. Lipari's Corso Vittorio Emanuele II is no exception — this is the biggest shopping and dining street in all of the Aeolian Islands.
While I wasn't a big fan of Lipari, and didn't think it was necessary to add city time into a wonderful island trip, I enjoyed walking this street.
Plus, part of traveling in Italy is enjoying the passeggiata — the time around sunset where everyone comes out to stroll the streets and see and be seen. Go for a stroll and grab yourself a spritz for aperitivo, too!
And if you're looking for souvenirs, whether it's a long paisley one-size-fits-all dress from a street seller (hello!) or some Sicilian crockery to bring home, this street is your best bet.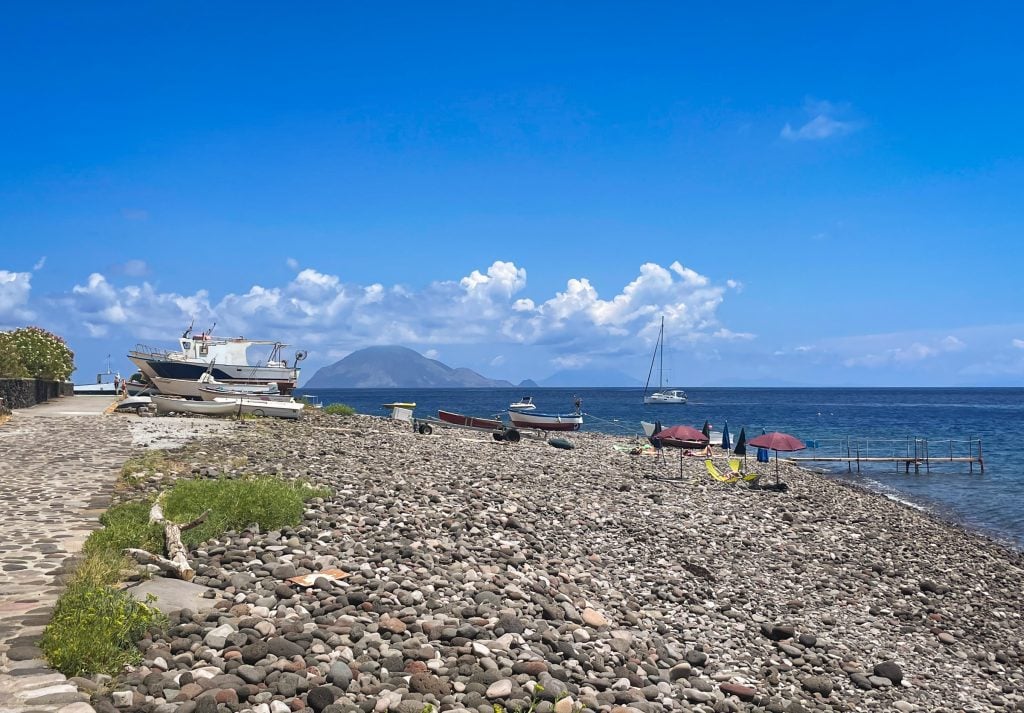 Feel the Remoteness of Alicudi and Filicudi
Is it worth going to Alicudi or Filicudi? It depends on how long you're going and what kind of traveler you are. If you're a completionist like me, you'll want to go to all seven islands. If you've got limited time or don't really care about them, you can skip them.
But even more than that, these islands fascinated me. I loved exploring them and imagining what it would be like to live here, so cut off from everything. They have a pristine nature.
Plus, if you can't stand the overtourism of Lipari or Vulcano, there's no better antidote than these two.
I think Alicudi and Filicudi are better suited to day trips than overnight trips, unless you want to stay somewhere REALLY remote. You could visit by ferry, but you'll get more out of your day with a boat trip to both islands from either Salina, Lipari, or Vulcano. (Stromboli and Panarea are too far away.) I enjoyed my trip from Salina with Salina Relax Boats.
Honestly, though, I think it would be cool to stay on either island overnight on a future trip!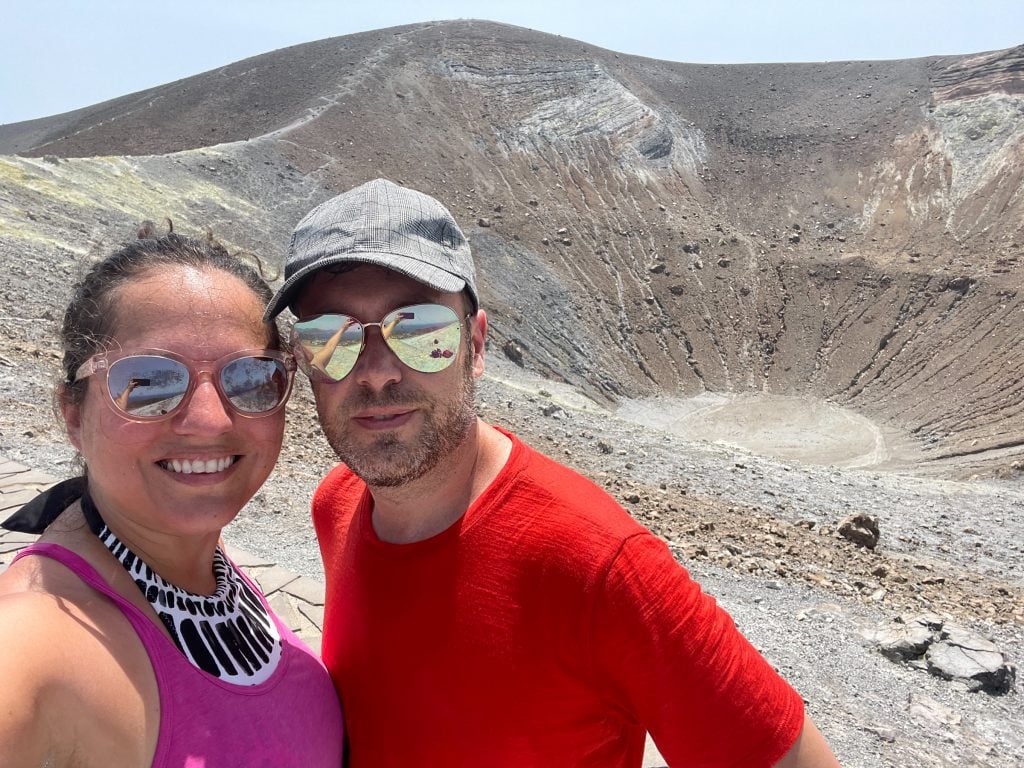 Climb Vulcano's Smoking Crater
Stromboli isn't the only volcano you can climb in the Aeolians! You can also climb to the top of Vulcano's smoking crater, the source of all the sulfurous smells on the island. It's a big achievement to tick off — and you're rewarded with what I think is the most spectacular view in the Aeolian Islands.
This volcano is a much easier undertaking than Stromboli. You don't need a guide, it's free to climb, and you can go at your own pace. However, most people climb it by day, and there's very little shade, so be sure to wear tons of sun protection, drink lots of water, and take shaded breaks whenever you can.
After struggling through the Stromboli hike, Vulcano was so much easier. Mainly because we weren't racing and we were able to take breaks whenever we wanted.
Easier is the word, though — not easy. There were some sections that required scrambling on hands and feet.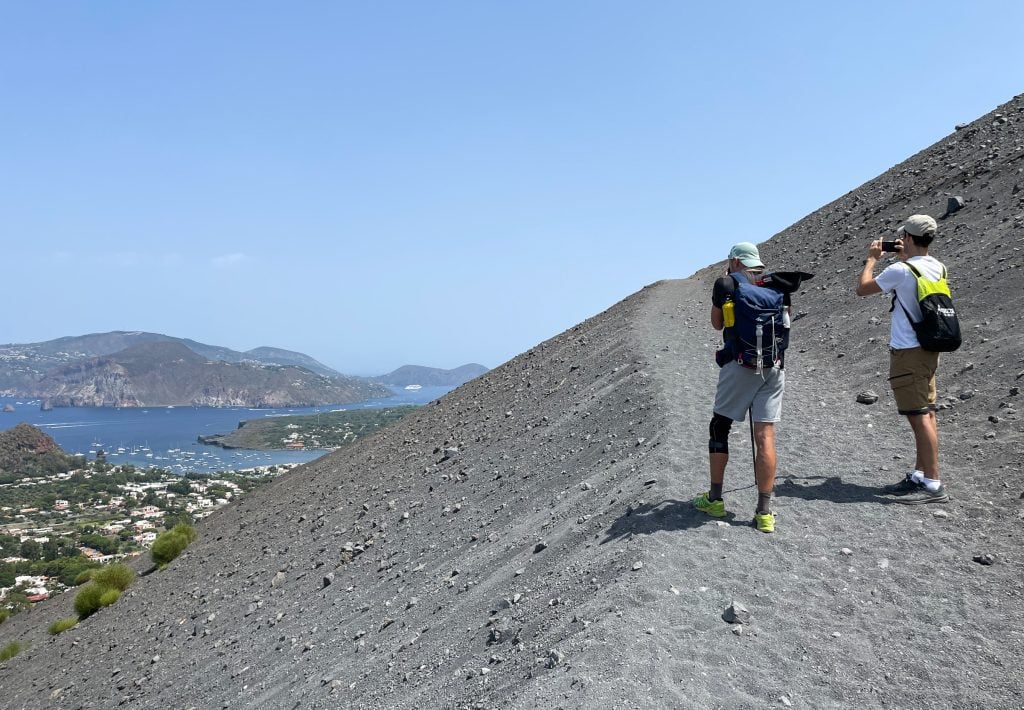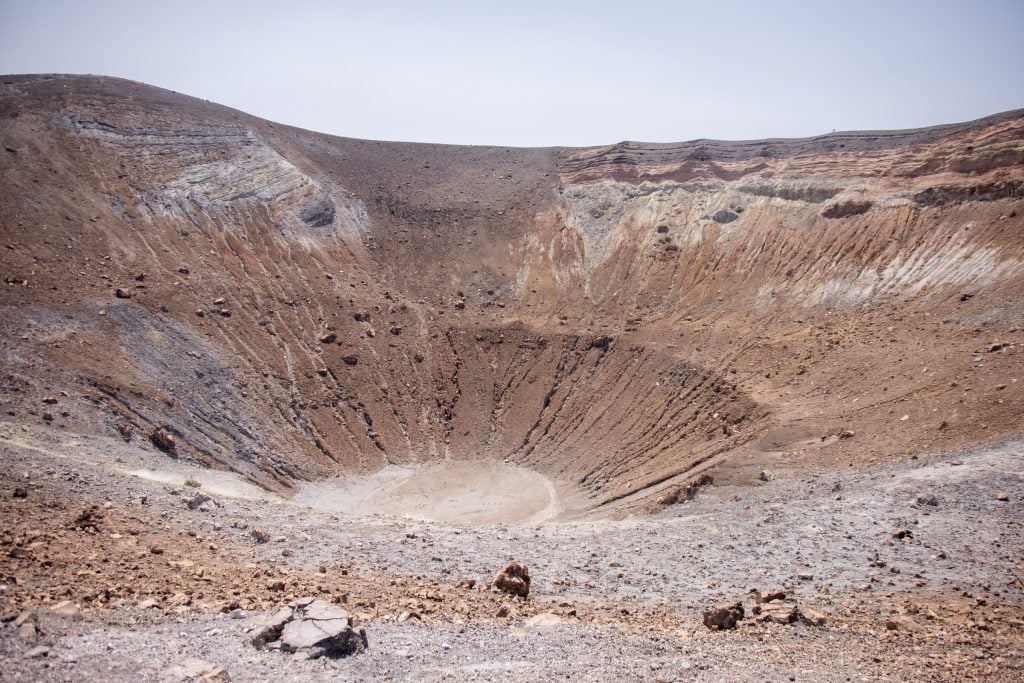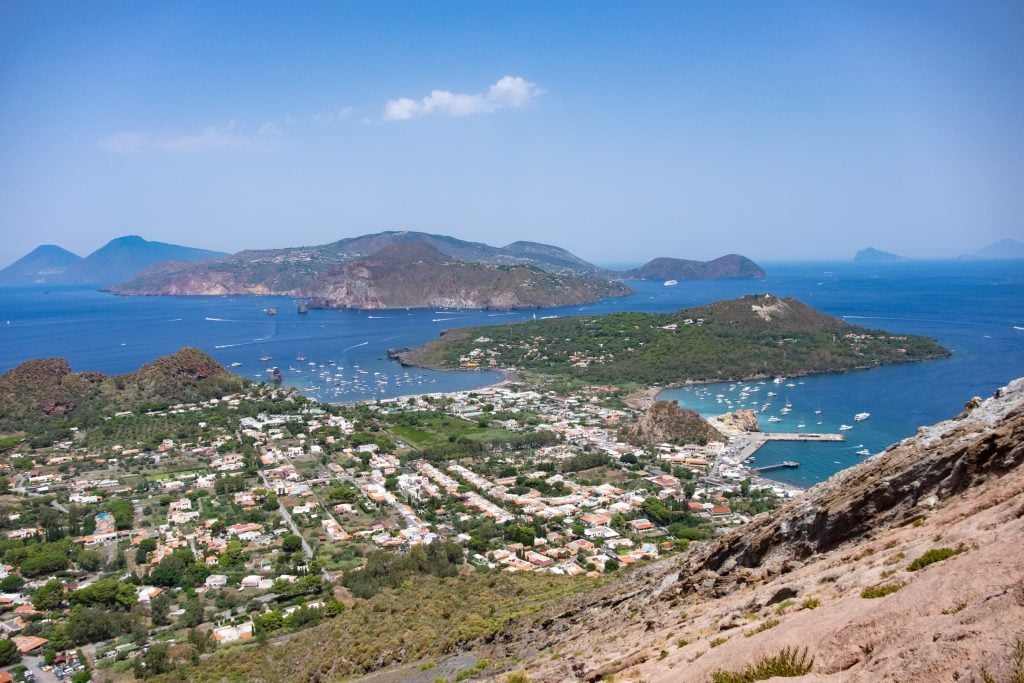 But the view at the top of the volcano is perhaps the best view in the Aeolian Islands. One of my favorites, at least. You can literally see all seven islands simultaneously!
Like the Stromboli hike, I recommend wearing trail runners or hiking boots, though you could get away with sneakers, too. I wore sports sandals, which weren't super bad on the way up, but were much worse on the way down, as they filled with tons of gravel.
At the base of the volcano is a food truck selling orange and lemon juice and granita. Get ready to have the most satisfying juice and granita of your life!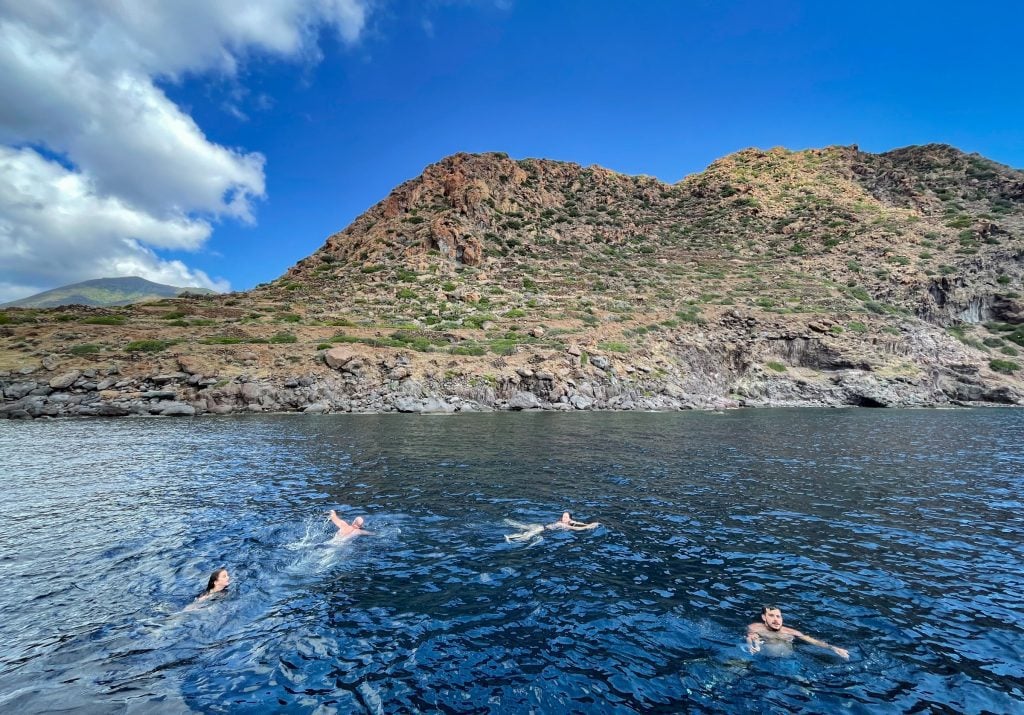 Find Your Favorite Swimming Spot
Sure, there are beaches in the Aeolian Islands, but some of the best swimming spots are far from beaches, sometimes in the middle of the sea itself.
The island of Strombolicchio (wow, that's fun to say! Strombolicchio!) off the northern coast of Stromboli is good for swimming and snorkeling.
Filicudi has a Blue Grotto — Grotta del Bue Marino — that you can actually swim into. It's far from settlements on Filicudi, so you'll need to go as part of a day trip. Just be cautious because it takes a lot of effort swimming back to the boat against the tide.
Piscina Venere on the western side of Vulcano — Venus's Pool — is an oasis of clear blue-green water in the middle of an otherwise unremarkable rocky coastline.
Pollara, the Il Postino beach on Salina, has tall cliffs that you'll recognize from the movie, though the beach itself has eroded over time. The cliffs are lit up in gorgeous warm colors at sunset.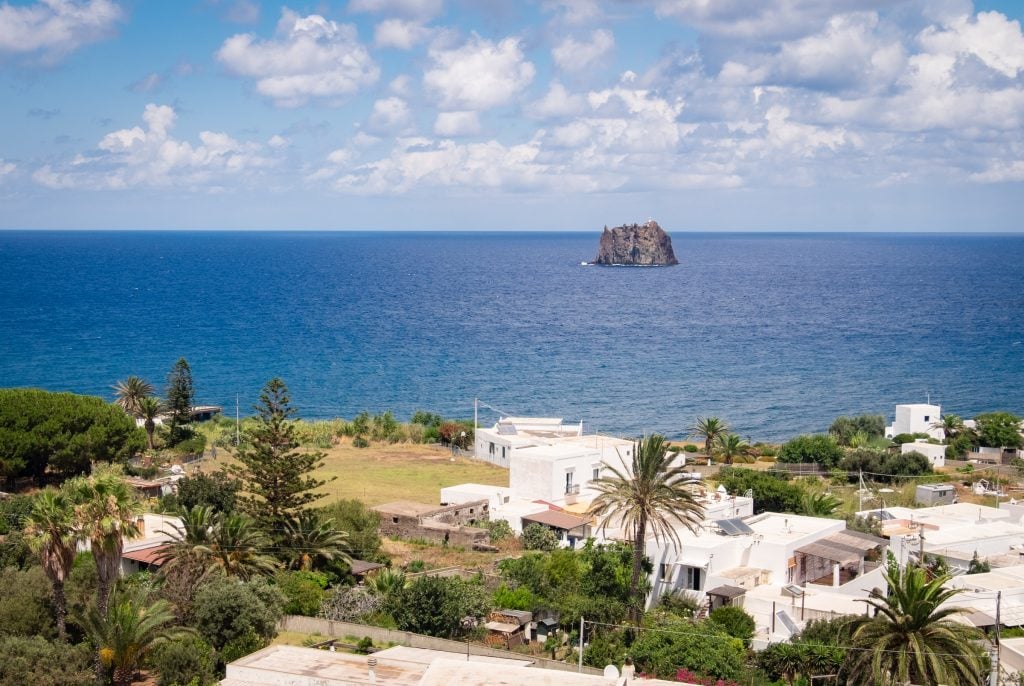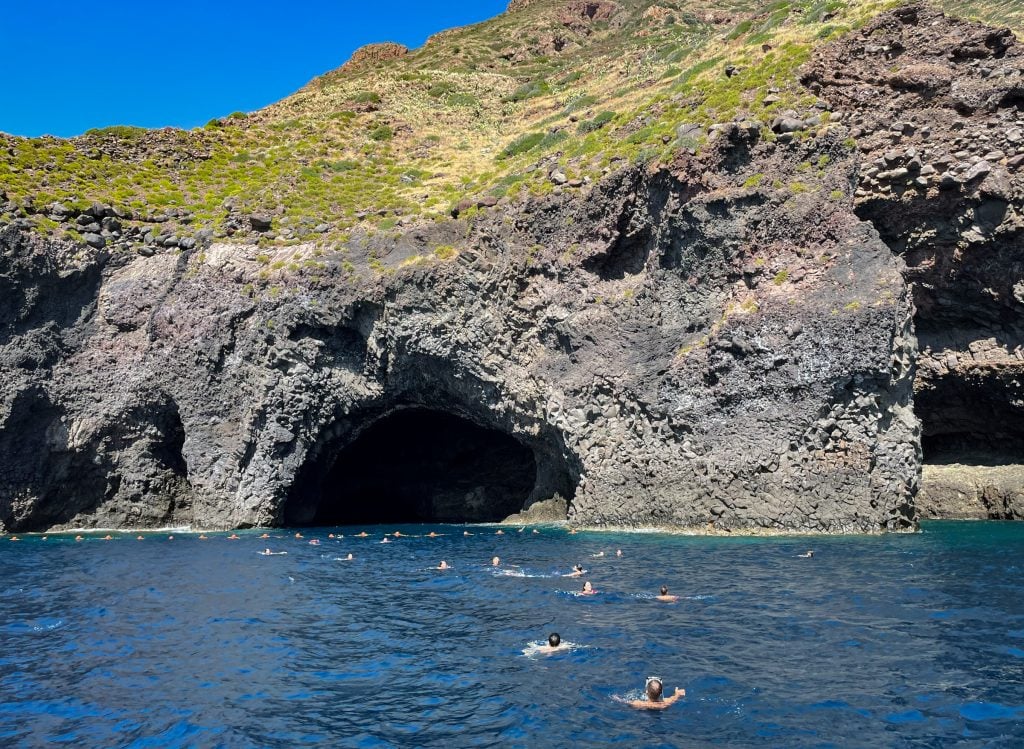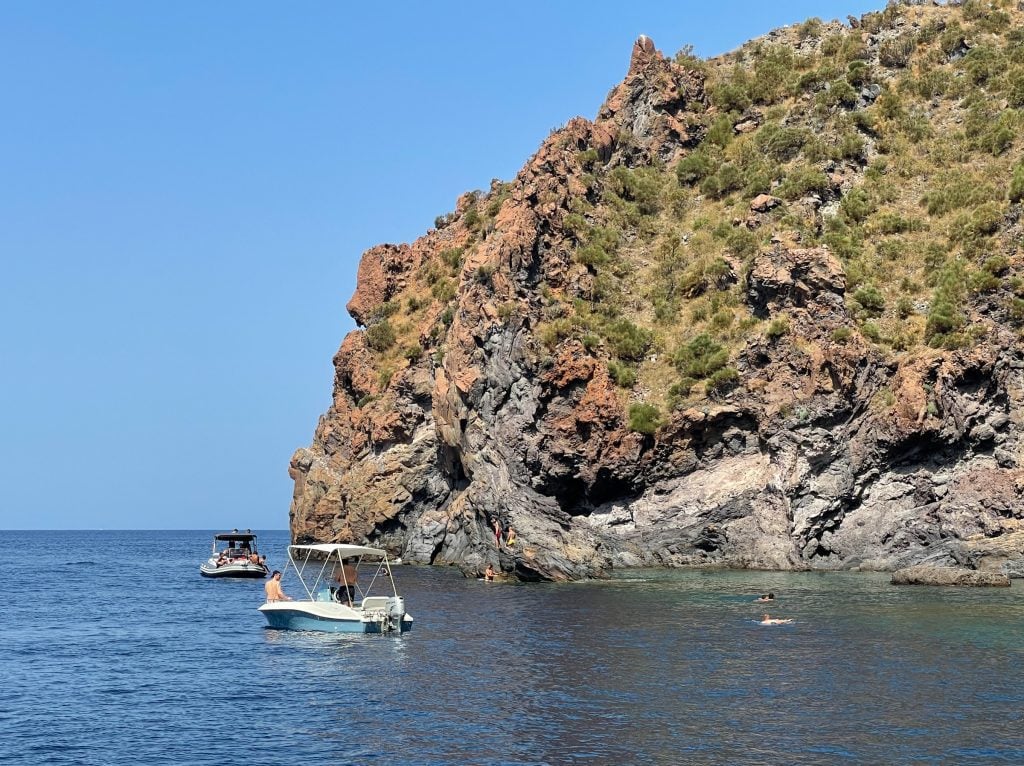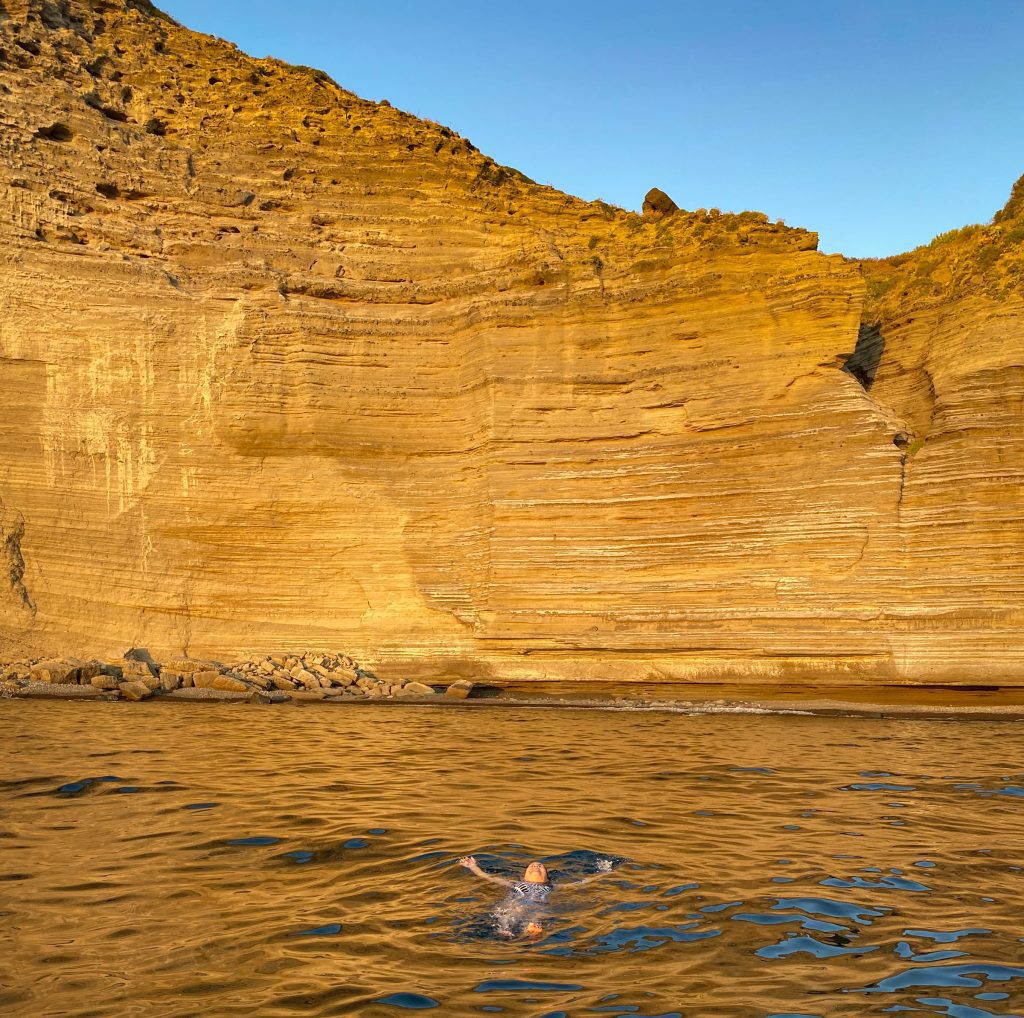 A boat trip excursion is the best way to visit these swimming spots. In fact, it's often the only way you can reach them.
And the Aeolian Islands are a good place to pack more swimsuits than you think you need! I swam almost every day there.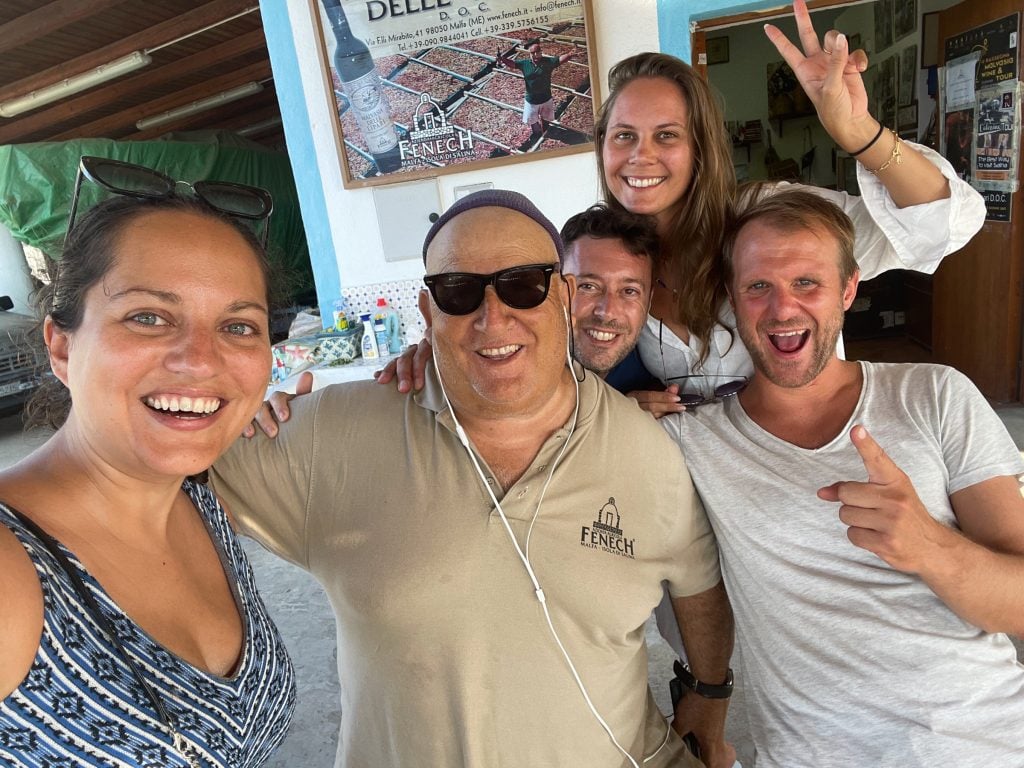 Wine Tasting at Fenech
Before coming to Salina, we got a tip that Fenech Winery was right in the town of Malfa and a good place to sample the local Malvasia wine. We also heard that owner Francesco Fenech was a bit of a character. Yep, we were sold!
We casually strolled up to the winery, where Fenech was pouring different wines for two visiting couples. He welcomed us and served the Aeolian salad of potatoes, capers, tomatoes, olives, and fresh herbs. Then he spoke to one of the guys and got up to leave.
Turns out Fenech had to do some errands, so he told one of the couples they were in charge now. With a dozen half-full bottles of wine and spirits on the table. Leaving us with all the wine to drink as much as we wanted.
Well. THAT was a fun wine tasting!
We poured each other bottle after bottle, telling stories and laughing. Why not? We were left in charge! Eventually Fenech came back and he joined in the conversation. Turns out his grandfather immigrated from Italy to Boston, as my great-grandfather did, so we had a lot to talk about.
Fenech's Malvasia wines are outstanding. (As are the grappas. Oh, and the limoncello.) But it was the casual, convivial atmosphere that I'll always remember. All wine tastings should be this fun!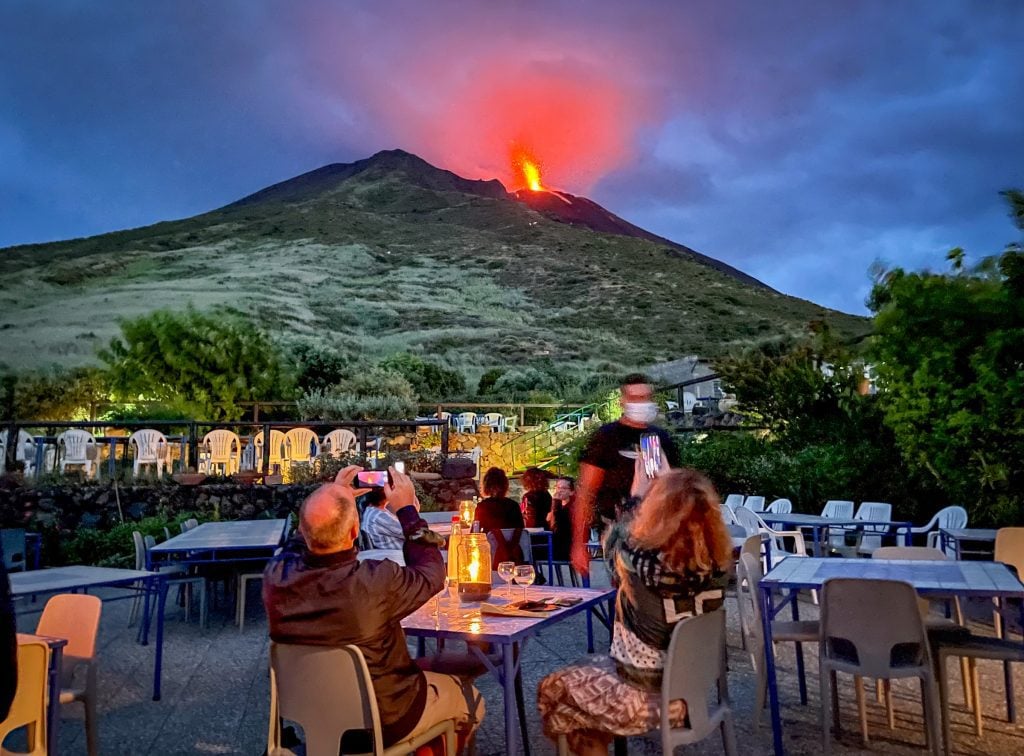 Watch Stromboli's Lava from a Distance
Not up for the volcano climb? I don't blame you. It's definitely not for everyone. But there are other ways to enjoy views of the lava without subjecting yourself to that challenging hike. Keep in mind that it won't be dark enough until 8:30 or 9:00 PM at the earliest.
My top recommendation is dining at Osservatorio — a restaurant halfway up the volcano with killer views. Sitting here, eating pizza and drinking wine and watching explosions, was one of my favorite moments of the trip!
I recommend making a reservation; ours was at 8:30 PM, and we were among the first people there. If you don't want to walk up the path (35 minutes from the town of Piscità), you can book a free shuttle in their ridiculously tiny minivan, which looks like a clown car!
The pizza at Osservatorio is quite good; I wasn't crazy about the fish dishes. And say hi to the little gray tabby cat who loves spending time with guests. We named him Salvo.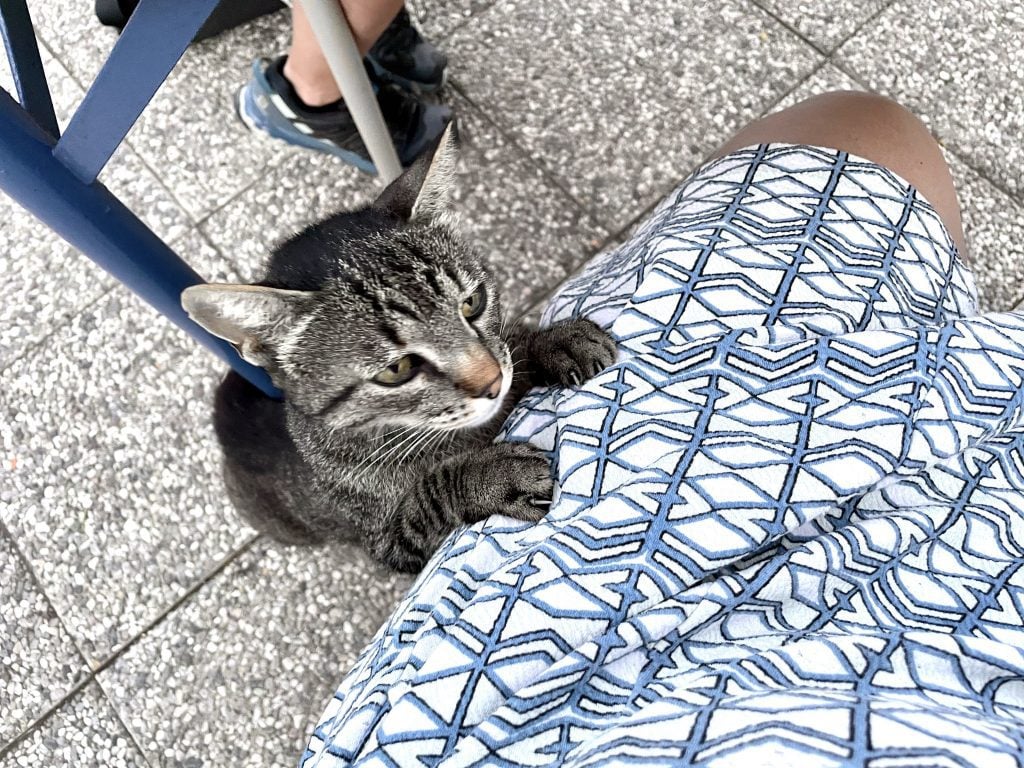 A second way to view the lava is to climb the walkway to 290 meters. This is a long cobblestoned road with stairs cut into it, making switchbacks along the volcano. (Osservatorio is roughly at the halfway point.) 290 meters is as far as you can legally go without a guide. It's a long walk but much easier than the climb.
Since you'll be coming back in the dark, you may want to bring a headlamp — or at least use your phone's flashlight.
A third option is seeing the lava from a boat. There are many boat trip excursions from other islands that conclude with a stop in front of the volcano. If you're not staying on Stromboli overnight, this is your only option.
If you're staying on Stromboli, there are many evening boat trips that leave from the main port or Ficogrande, take you to view the lava, and return later. Some trips include a visit to Ginostra, the tiny isolated town on the other side of Stromboli, for dinner or aperitivo. This is one activity I wish I had done; I'm so curious about Ginostra!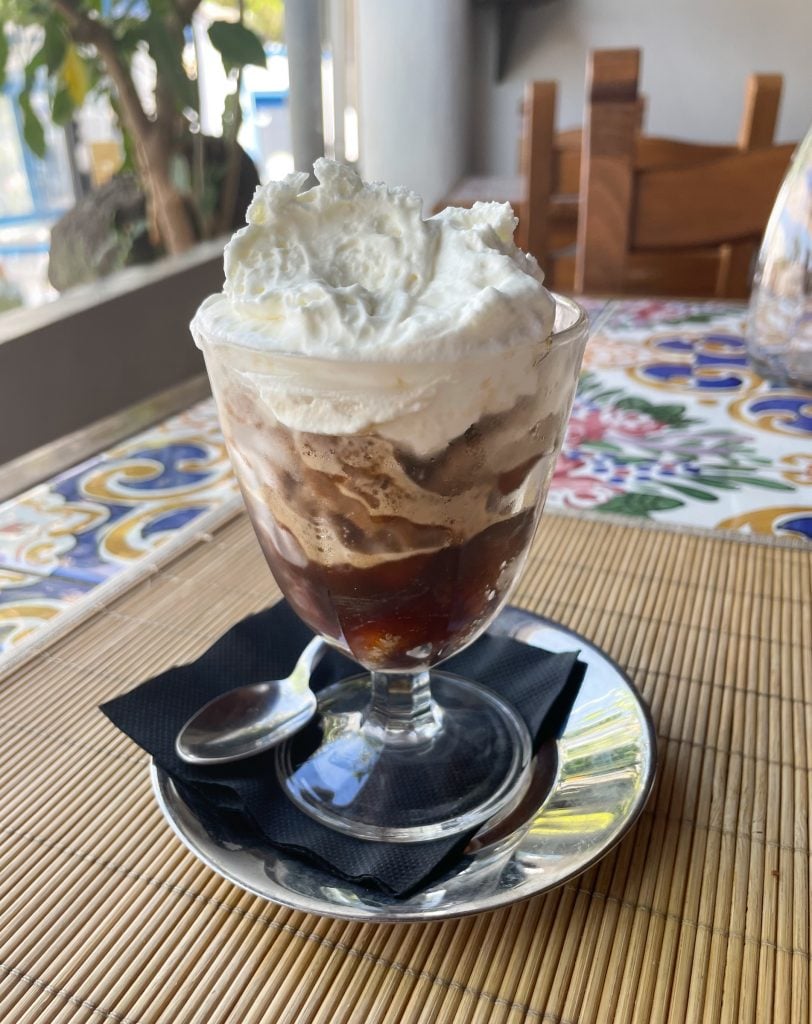 Eat All the Granita
Italy may be all about the gelato — but Sicily is all about the granita. This icy dessert is similar to slush, sometimes a bit more watery. Granita is a treat, but Sicilians often eat it for breakfast with brioche! You can find it in almost any bar in Sicily.
The most common flavors of granita are Sicilian specialties: pistacchio (pronounced pee-STAH-kee-oo), mandorla (almond), limone (lemon), mandarino (mandarin) and caffè (coffee, sweet but not milky).
One special flavor from the Aeolian Islands is pesca Malvasia — peach and Malvasia wine.
If you want a truly decadent treat, I recommend caffè granita con panna — with cream. It might be whipped cream like the photo above, but the absolute BEST is when they pour liquid cream on top. The sweet and dark coffee granita with the smooth, silky cream? INCREDIBLE. This may be my favorite thing to eat in Sicily!
So where do you get a good granita in the Aeolian Islands? My favorite was Il Gambero in Lingua, Salina (yes, the same place with the top-rated pane cunzatu!). I had a caffè granita con panna, the cream was liquid, and it was SO good that I finished it and then ordered a fragola granita (strawberry).
We also had wonderful granita at Bar da Carola in Panarea, right across from the port. They had a long list of artisanal flavors; I had anguria (watermelon). Then we got a bill of 12 EUR ($14) for two. That's Panarea.
Also: get yourself into a granita state of mind because there isn't a lot of good gelato in the Aeolian Islands. Most of the gelato I saw was low-quality; you can tell by the too-bright artificial colors. I did have one good gelato at Il Gelato del Antonio in Vulcano, on the road to the crater.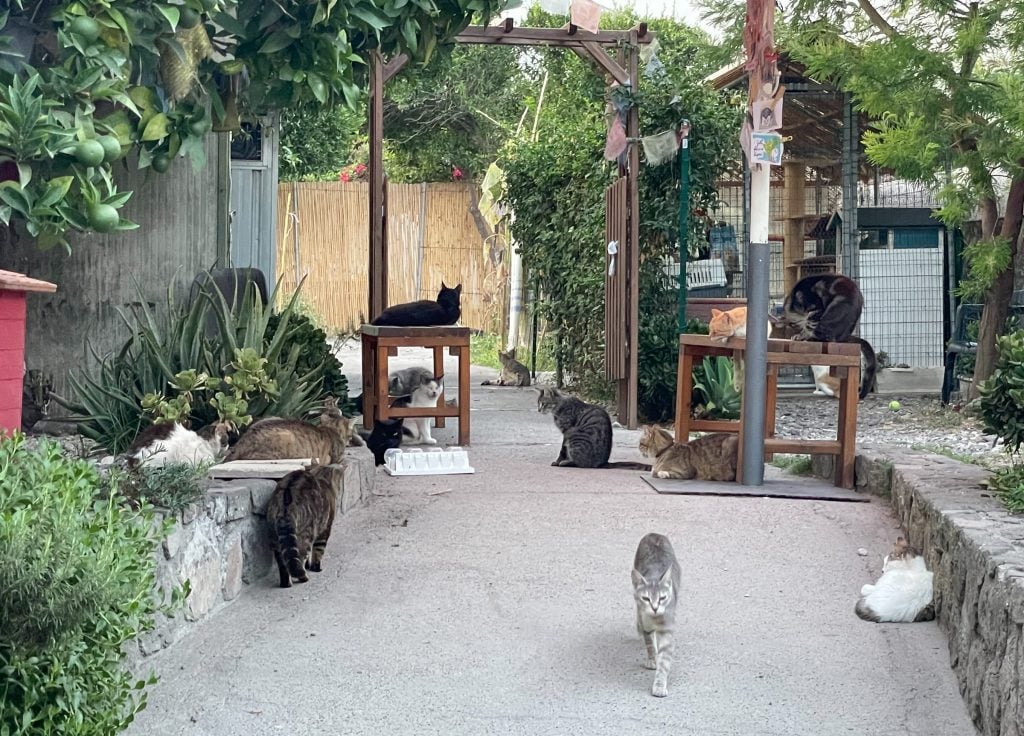 Visit a Cat Sanctuary in Lipari
Do you like cats? Have I got the spot for you. You should visit I Gatti Felici di Lipari — Happy Cats of Lipari — a wonderful cat sanctuary and colony in Lipari! We totally came across this place on a whim, led by the cats relaxing outside, and we later returned when they were open to pet the kitties and spend time with them.
Happy Cats was founded by three friends who wanted to serve the local population of abandoned and stray cats. They sterilize them, feed them, care for them, and give them lots of attention. There are about 30 cats living here, and occasionally they have puppies too.
I'm the kind of person who gets upset at shelters because so many animals won't find a home. But Happy Cats was so much better. The cats are available for adoption. But if that never happens, they'll be okay. They have a home with good food, good friends, and they will always be taken care of.
Humans are allowed to visit from 8:30 to 9:30 AM year-round and 6:30 to 8:00 PM in the summer. And they are grateful for donations to keep the kitties fed and happy.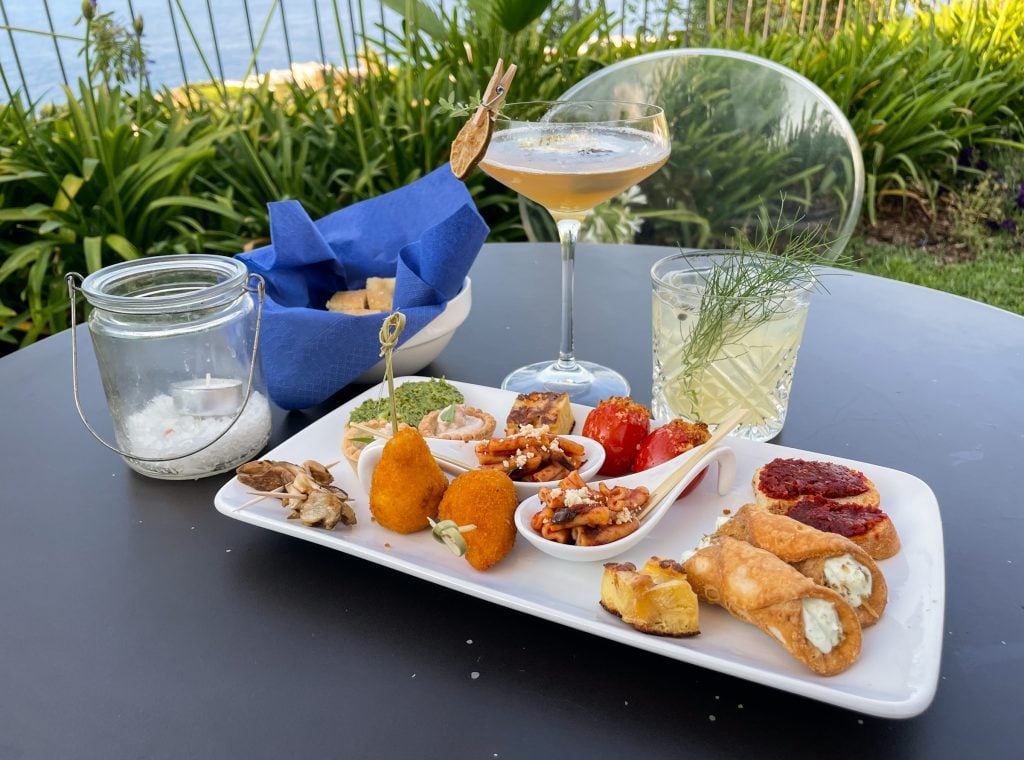 Aperitivo at Hotel Ravesi
Hotel Ravesi was wonderful for many reasons — but I especially loved the aperitivo, which drew visitors from around the island.
Aperitivo is basically Italy's version of happy hour. You order a drink and you get served some small snacks to go with it. They're usually pretty simple — tiny sandwiches, bite-sized pizza, something small and fried, a little ramekin full of potato chips.
Hotel Ravesi brings it to the next level with craft cocktails that are as beautiful as they are delicious.
And the food? Spoonful-sized servings of pasta alla norma or Trapani-style couscous. Arancini stuffed with ragu and cheese. Mini savory cannolis! SAVORY cannolis! I've never had a savory cannoli before.
If you're staying on Salina at any point of your trip, especially in Malfa, you should hit up Hotel Ravesi. (And if you're staying there, they also offer their guests an aperitivo cruise at sunset! We did that and got to enjoy the food with wine on a boat.)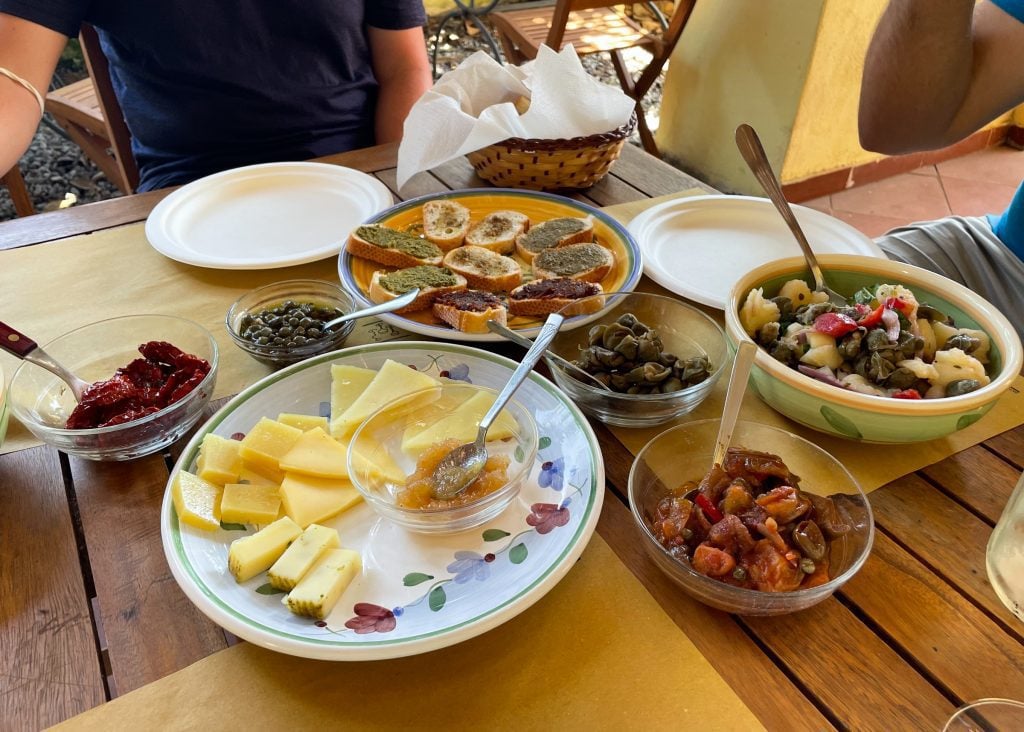 Eat All the Capers
If there's any one food associated with the Aeolian Islands, it's the caper! They grow wild all over the islands, especially green Salina.
You'll find capers in everything. But if you want to eat a lot more, book a caper-tasting experience! We found one in the town of Leni on Salina on Airbnb Experiences and booked it on a whim, and it was the perfect addition to our day of motorbiking the island.
Our guide, Giuseppe, was great, and showed us about how capers grow before serving us a tasting that was really the size of a meal, with all kinds of capers as well as Aeolian specialties. Lots of crostini, meats, and cheeses. And that gorgeous Aeolian salad of potatoes, capers, olives, and tomatoes.
You can book it here. And please tell Giuseppe Kate and Charlie say hi!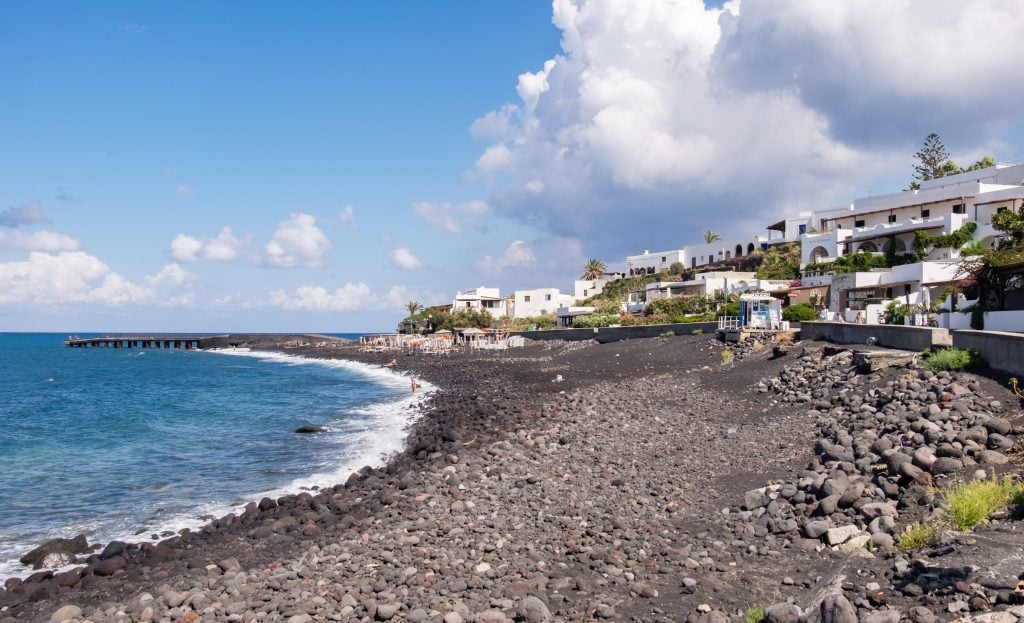 Best Beaches in the Aeolian Islands
A lot of people come to the Aeolian Islands to enjoy the beaches! That being said, I would not call the Aeolian Islands a strong beach destination. The beaches here are good, but not spectacular.
Most of the beaches here are small and made of large pebbles. They're beautiful to look at, but rarely comfortable or practical, and often overcrowded. In Italian style, many have chairs you can pay for. Again, good, but not the expanses of white sand people expect.
In fact, I found two of the most-written-about beaches of the Aeolian Islands — Cala Junco on Panarea and Sabbie Nere on Vulcano — to be terrible. Cala Junco on Panarea looks beautiful from a distance, but it's made of giant boulders. Sabbie Nere is grungy, overcrowded, and a dull gray rather than sparkling black.
The best beaches in the Aeolian Islands are on Stromboli — black sand beaches that shine like diamonds. Of Stromboli's beaches, the best one is Spiaggio Lunga (Long Beach) — a long expanse of sparkling black sand.
Take a look at some of the beaches to see what you think: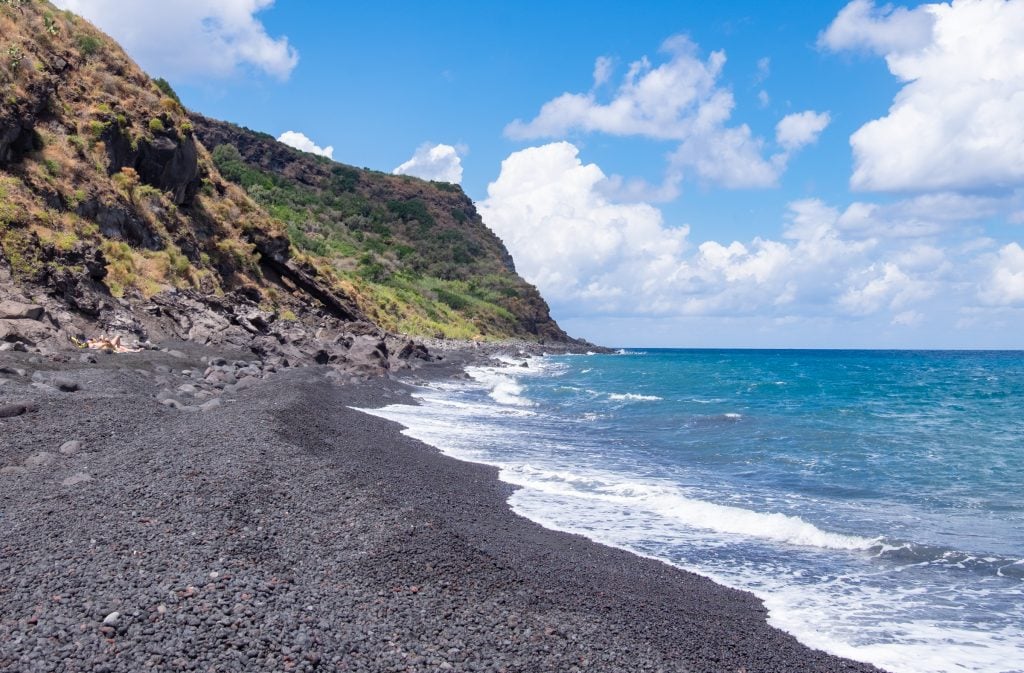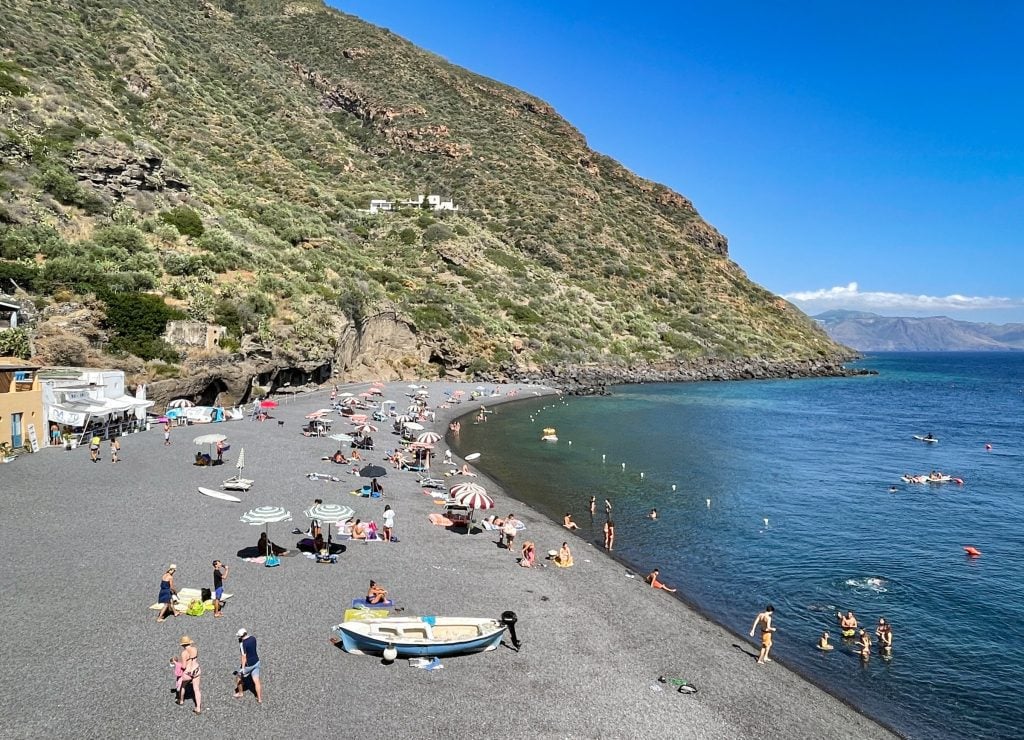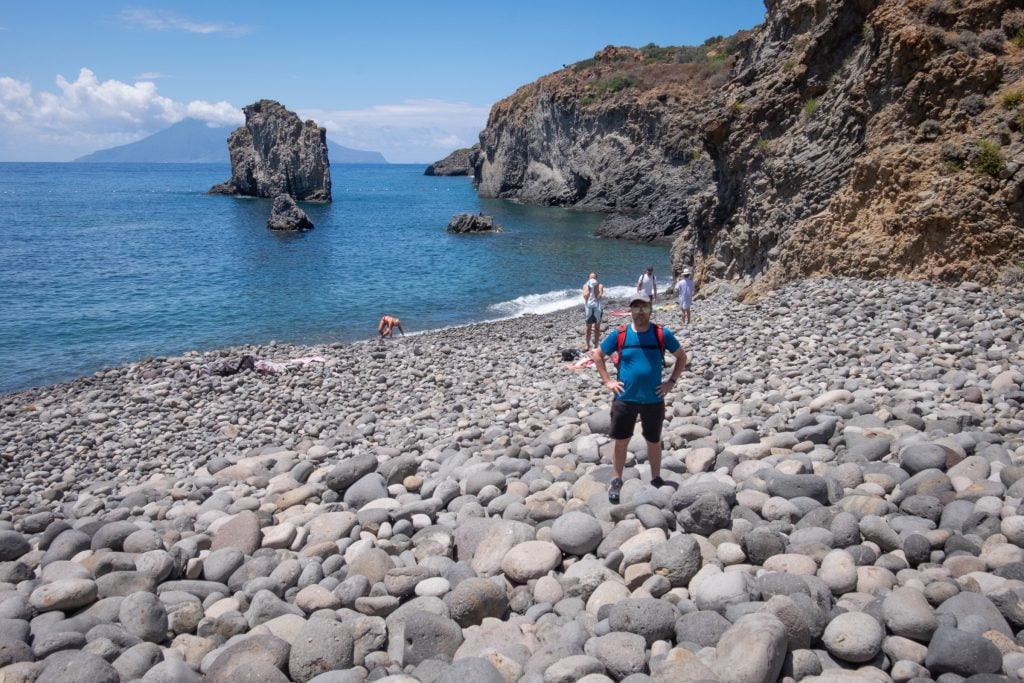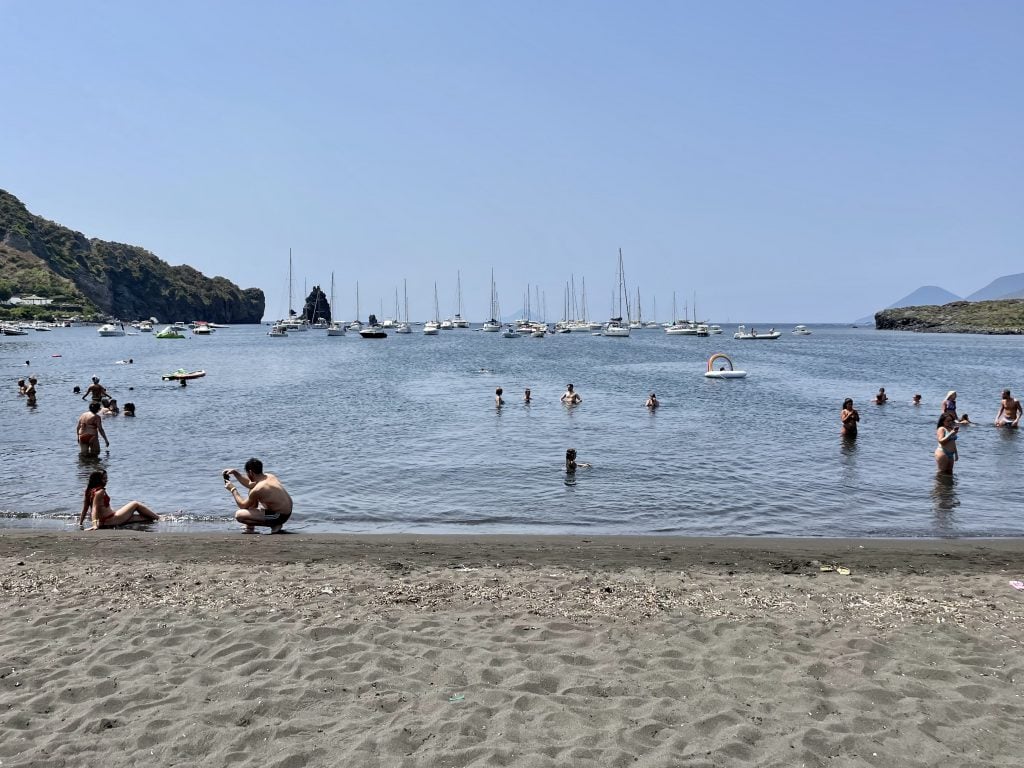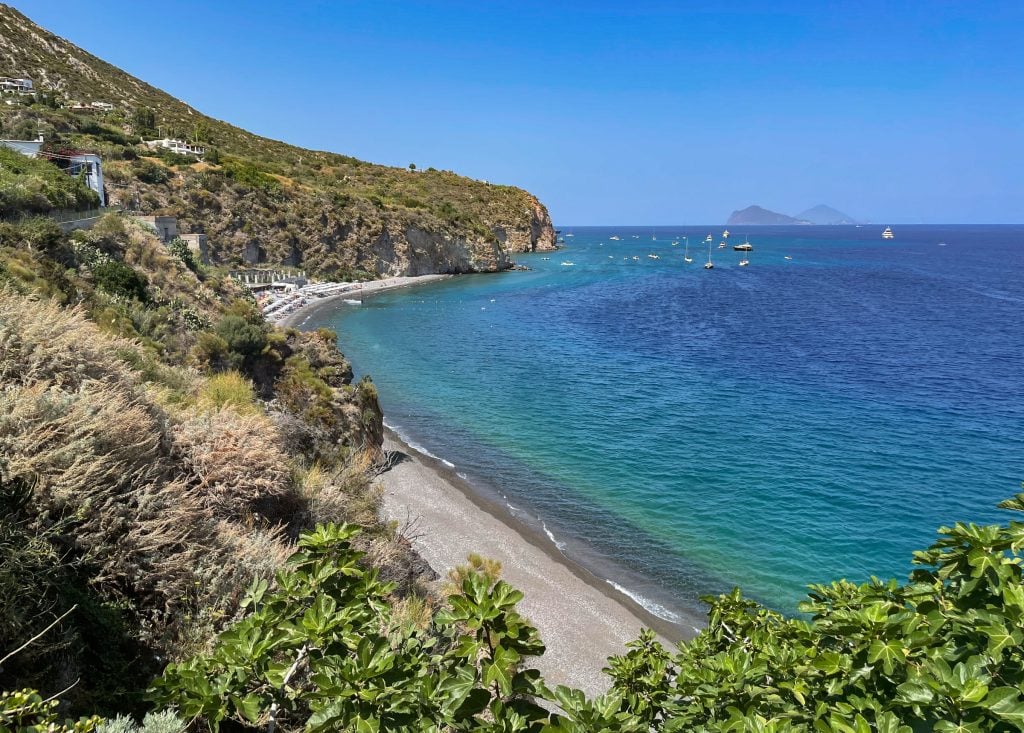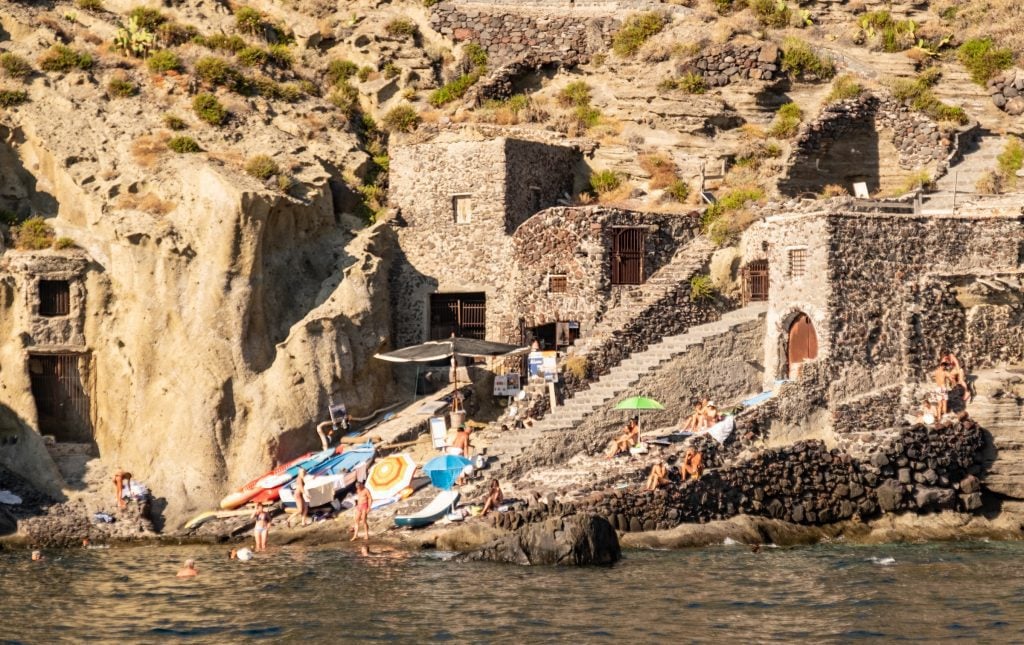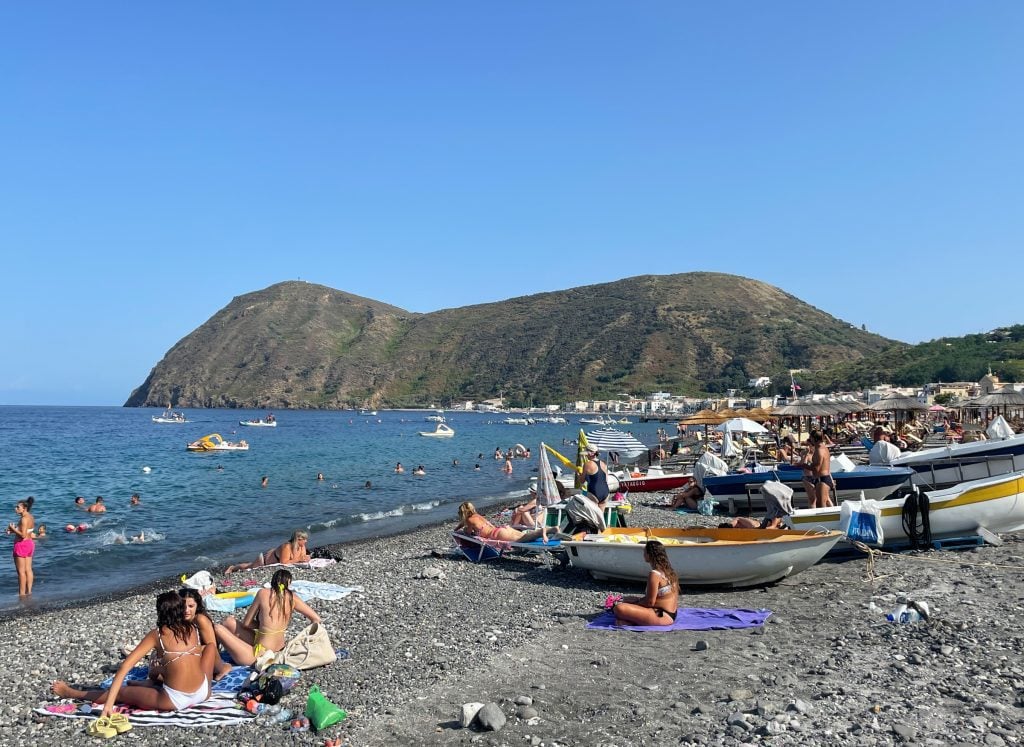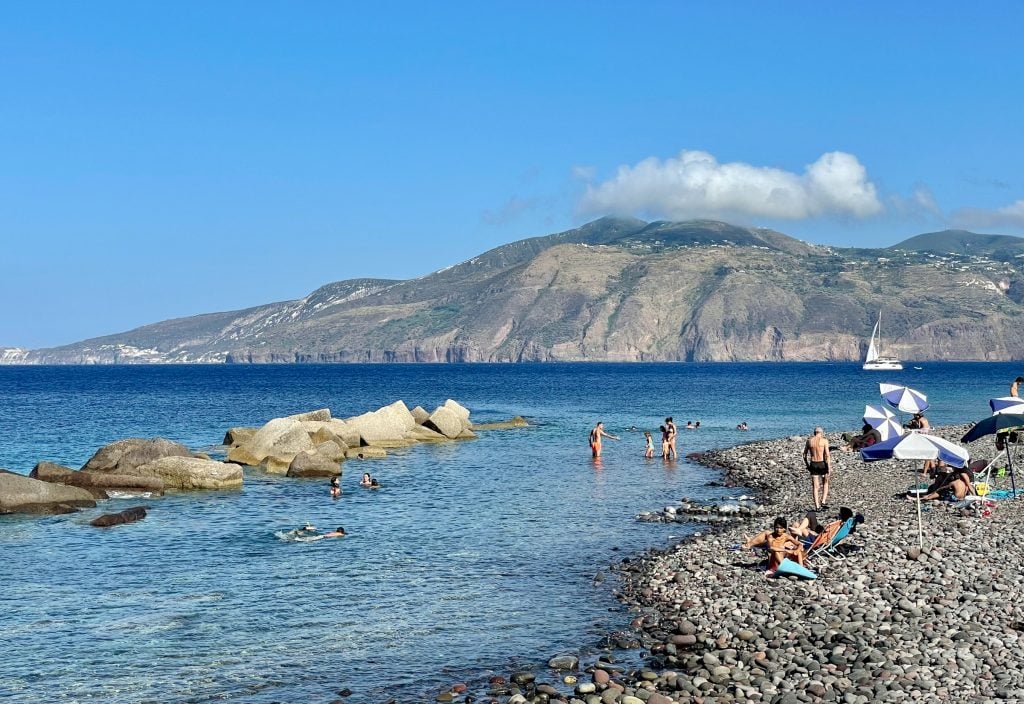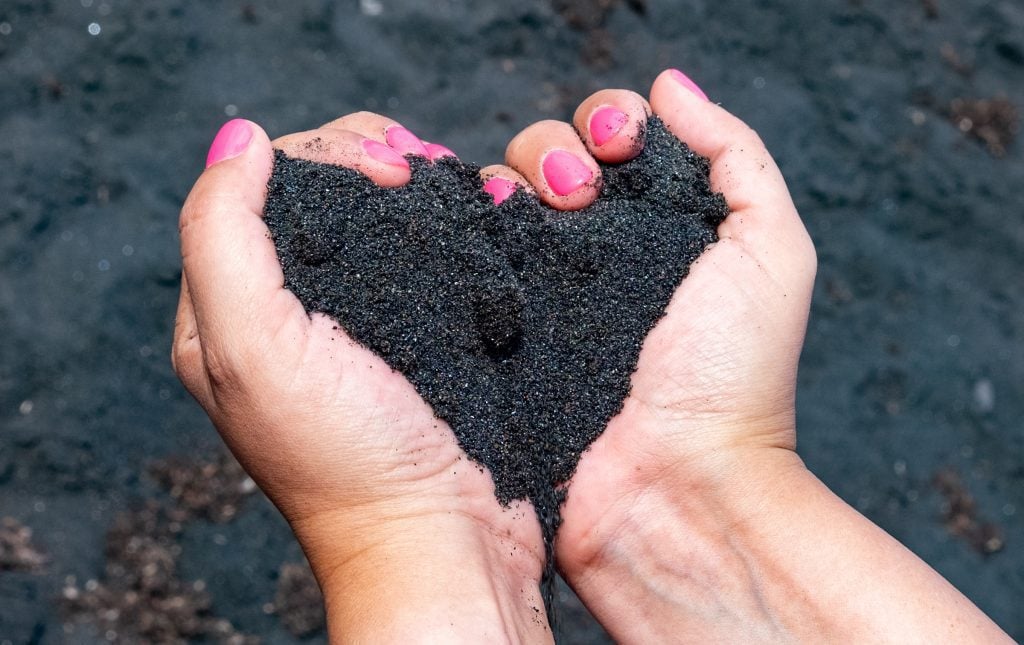 Overall, the beaches on the Aeolian Islands can be nice — but there is so much more to this region than beaches. Volcanoes! Motorbiking! Pane cunzatu! Boat trips and granita and hiking!
If you're looking to do a lot of interesting things on your trip, and also spend some time on the beach, the Aeolian Islands might be a good destination for you.
But if you're planning to spend the bulk of your trip camped out on the beach, I would choose another destination.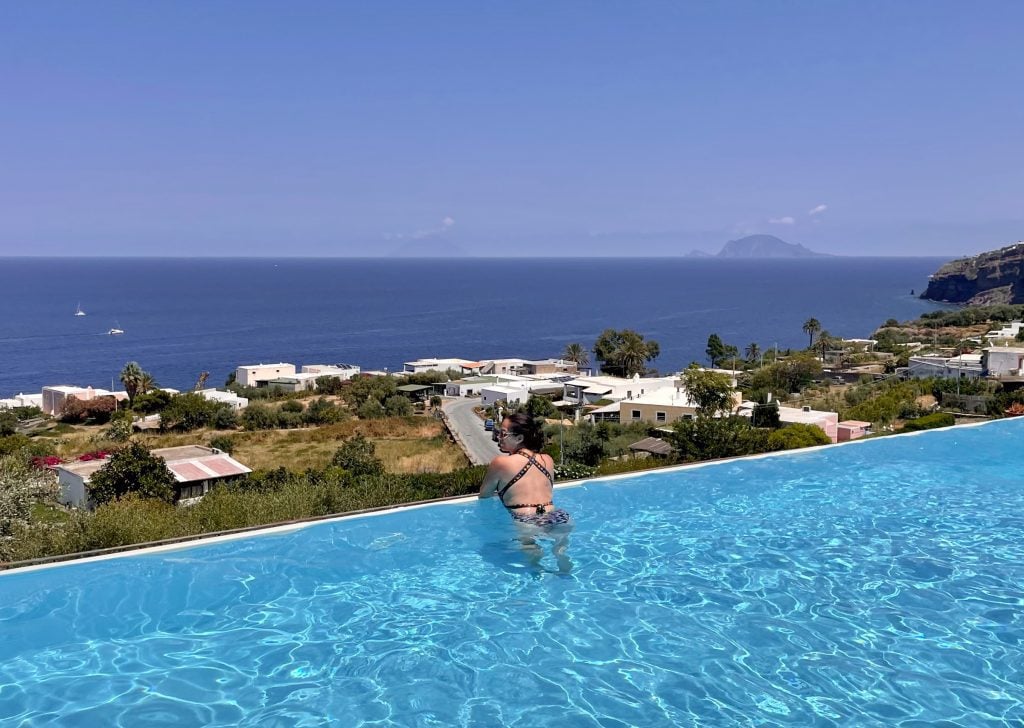 Where to Stay in the Aeolian Islands
Where's the best place to stay in the Aeolian Islands? I think the best place to stay in the Aeolian Islands is Hotel Ravesi. I've wanted to stay at this hotel for quite a long time; it was SO worth it. More on that in a bit.
Best Island to Stay on in the Aeolian Islands
But first — what's the best island to stay on in the Aeolian Islands? I highly recommend spending the bulk of your stay in Salina. Salina is the nicest island, it's not overcrowded, it's home to some of the best hotels and restaurants in the archipelago, and it's convenient for day trips to all six of the other islands. If you're only staying on one island, it should be Salina.
That said, I think you should stay overnight on Stromboli at least one night so you can experience the lava. The lava show takes place at night, and while there are some night boat trips to Stromboli from Salina and other islands, basing there will give you more options.
Should you stay on other islands? I don't think it's necessary. Salina and Stromboli should be your two priorities. But if you want to, go ahead! I think I might like to spend a few days on Filicudi next time.
I do not think staying on Panarea is worth the sky-high prices, and I do not think staying on Vulcano is worth the horrible sulfuric smell.
One thing, though — you may be considering staying on Lipari because it's the "main" island. I certainly did. But you don't need to stay there — Salina is just as convenient, as well as a million times nicer.
See all accommodation in Salina here and see all accommodation in Stromboli here.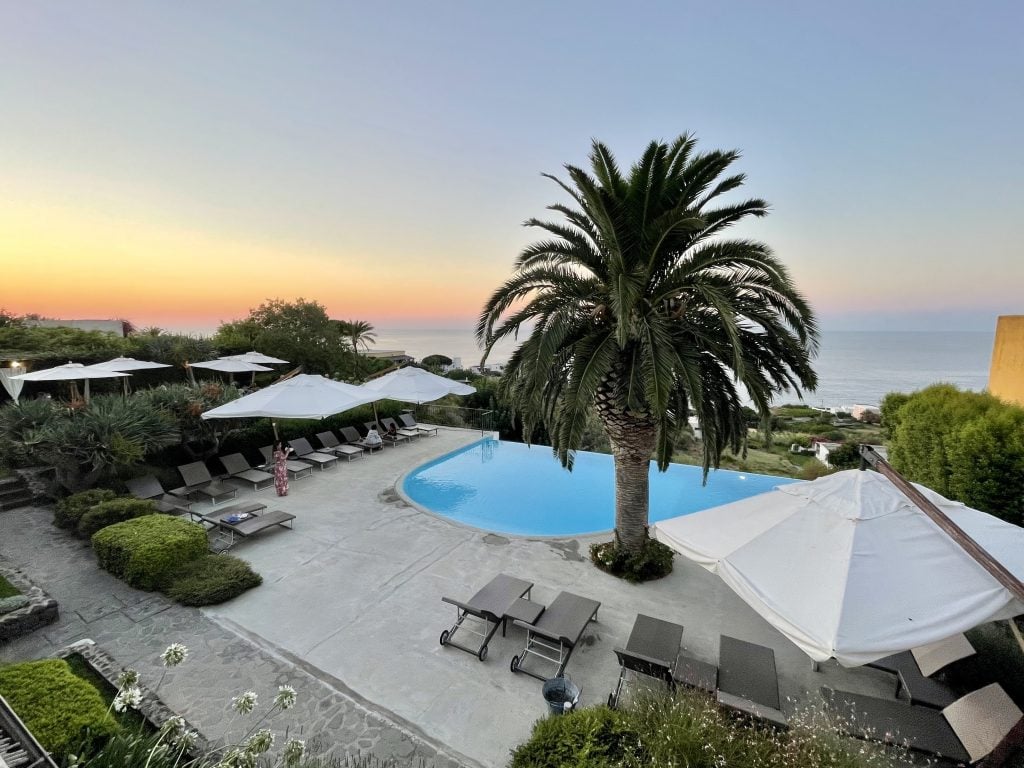 Hotel Ravesi, Salina
I planned my trip around Hotel Ravesi, and it is now my favorite place I've ever stayed in Italy. This boutique hotel is a good choice for both luxury travelers and mid-range travelers looking to splurge without breaking the bank.
The hotel is in the heart of Malfa, the best part of Salina. The rooms are simple but nice. That infinity pool overlooking Panarea and Stromboli is incredible! And the staff are excellent and make you feel at home.
The hotel has 18 rooms, which I think is the perfect size. It feels small and special but you don't feel like you're in a fishbowl.
And then there were the activities — the scooter rentals! Small boat trips around the island on their own boat! And the excellent aperitivo. It was far more than just a place to stay; it showed us the best of the island.
The only downside of this place is that Malfa is a lengthy drive to the main port of Santa Marina Salina, so it's not as convenient for day trips by ferry. (Salina Relax Boats picked us up for our excursion right at Malfa's dock.)
I'd stay there again in a heartbeat.
See more places to stay on Salina here.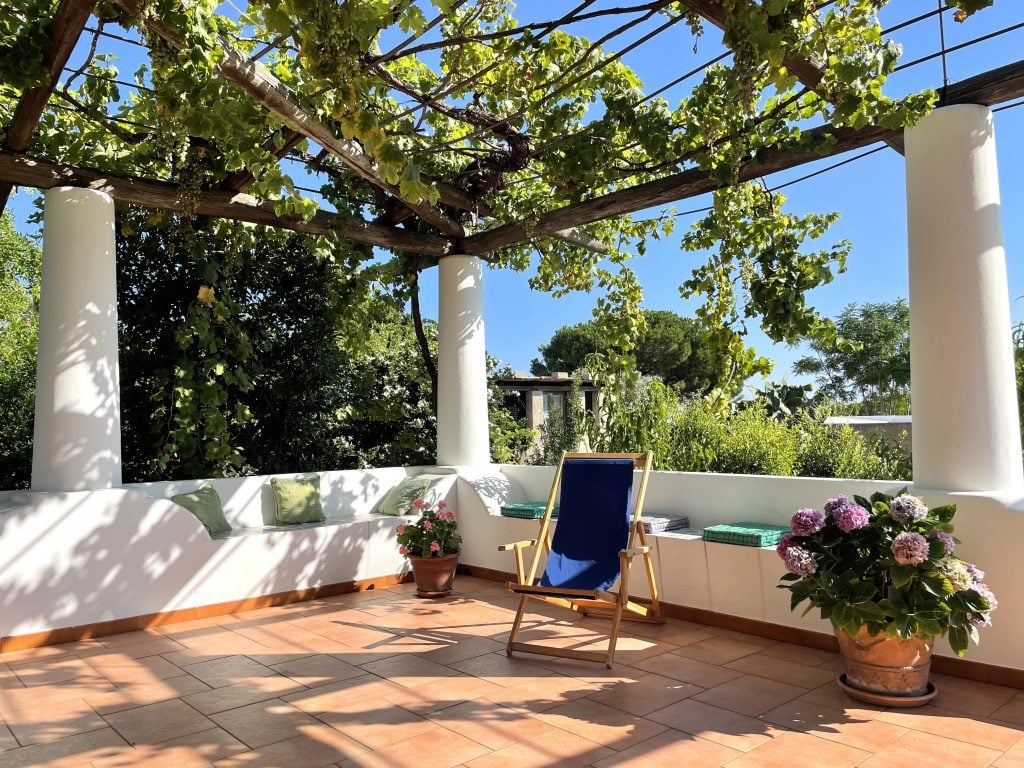 Agriturismo Solemare, Stromboli
In Stromboli we stayed at Agriturismo Solemare. Agriturismi, or farmstays, are a popular way for Italians to travel — you stay on property and enjoy local produce for breakfast and sometimes dinner as well.
Hidden deep in the alleyways of Stromboli, far from the water, we had this tiny guesthouse with only a few rooms, and a lovely owner who took care of us. Cats and dogs lounged around and loved to cuddle with guests.
Our room was simple — the typical agriturismo with simple furnishings and patterned sheets — and came with a nice terrace.
Best of all was the breakfast — FAR beyond the typical Italian breakfast of caffe and cornetto. We had frittatas, crostini, fresh capers, tons of fruit, homemade jams and honeys from the produce grown on the property.
The main downsides of this place: a long walk from the port (though we got golf cart taxis when we had our luggage at 10 EUR/$12 each), no pool.
See more places to stay on Stromboli here.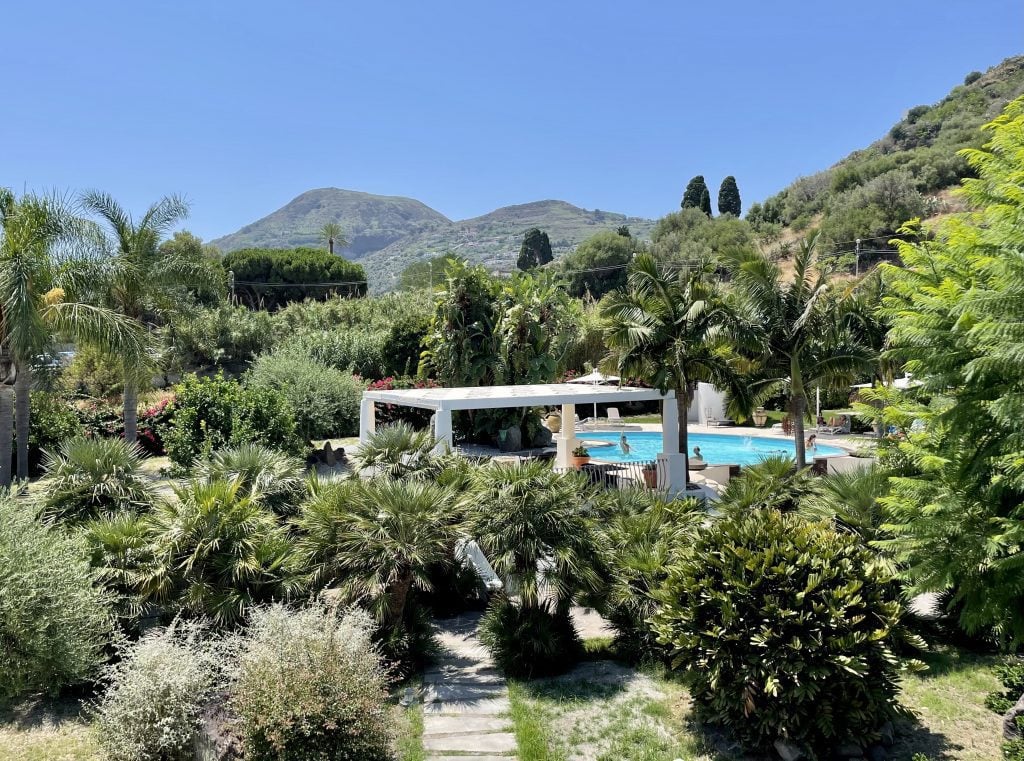 Hotel Residence La Giara, Lipari
On Lipari we stayed at Hotel Residence La Giara. While I wasn't a fan of Lipari as a destination, this was quite a decent mid-range hotel: good prices, a pool, a kitchenette, and the destination was a short stroll from Lipari's main walking street and just a three-minute walk from the port.
Best of all: this resort comes with a fluffy cat named Bartolina! She loves cuddling guests and even has her own little house on the grounds.
The main downsides of this place: traffic noise and lots of screaming kids. I wouldn't choose to hang out here or lounge by the pool with a book, but it made a convenient, well-priced place to stay (and it was nice to take a dip after a hike).
See more places to stay on Lipari here.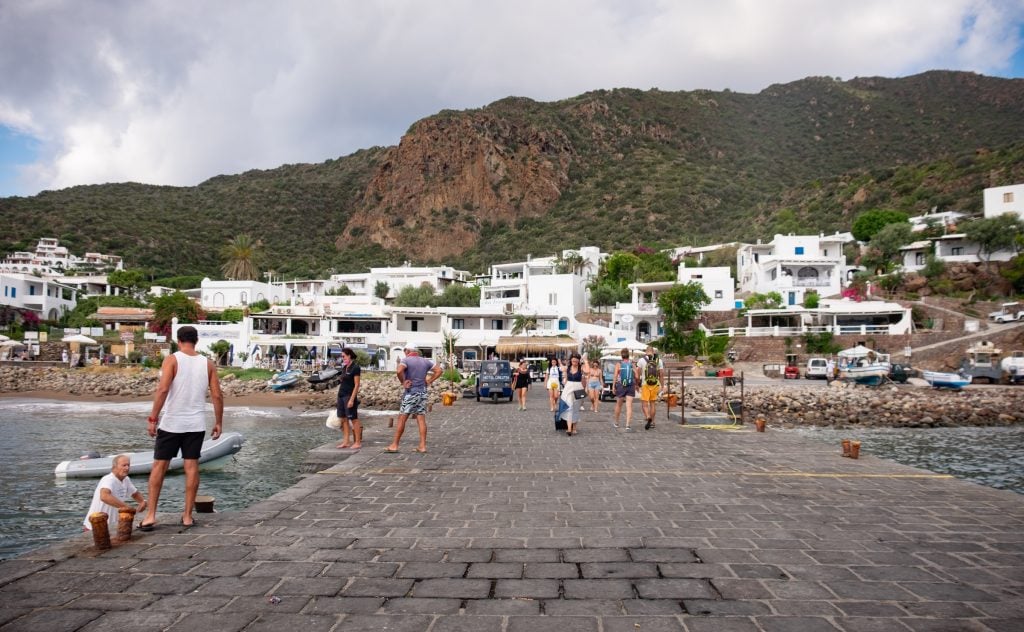 How to Get to the Aeolian Islands
Getting to the Aeolian Islands can be time-consuming depending on where you're coming from. Because of this, you may want to spend a night in Milazzo to break up your journey before taking a ferry the next day.
The most common way to get to the Aeolian Islands is to fly to Catania Airport, take a shuttle bus or van to the port of Milazzo (about 1.5 to 2 hours depending on traffic), then take a ferry to the island of your choice. You can see the Liberty Lines ferries here.
We booked a group transfer with Eoglie Booking for 55.75 EUR ($65) for two people. You can book a private transfer here for about $120 or so.
Should you get a private transfer? If you have a group, it's worth it. If you can't find a group departure close to your arrival, it's also worth it. If you'd prefer avoiding a van full of people and just riding in a car, it's worth it once again.
Honestly, our bags were 45 minutes late coming out of the plane (classic Sicily!) and we came SO close to missing our departure. We were texting our driver in a panic as he kept saying he could only wait a few minutes more…then we got there and found out we were the only people on board. Go figure.
From Milazzo there are departures to all of the Aeolian Islands on Liberty Lines.
Ferry times from Milazzo: Vulcano is 45 minutes, Lipari is 1 hour and 5 minutes, Salina is 1 hour and 35 minutes, Filicudi is 2 hours and 20 minutes, Alicudi is 2 hours and 50 minutes, Panarea is 2 hours and 5 minutes, Stromboli is 2 hours and 45 minutes.
See all ferries to the Aeolian Islands here.
Other ways to get to the Aeolian Islands: Another option is to take the train from Catania to Milazzo, which takes about 3.5 hours and costs about 15-20 EUR ($18-23), plus a taxi from the train station to the port (about 10 EUR or $12). We did this on the way back from the Aeolian Islands to Catania.
The trains were better quality than I expected, with air conditioning, but there often aren't elevators in Sicily train stations, so you'll have to carry your bags up and down multiple flights of stairs in each station.
Is it worth taking the train? Personally, I don't think so. Booking a shuttle is faster, more straightforward, and it doesn't cost much more than the train. Plus they drop you off right at the port in Milazzo!
Other ferry options: In the summer months, you can take a ferry from Messina to Lipari, from Palermo to Lipari, or even from Naples to Stromboli! I love the idea of a Naples to Stromboli ferry. They should call it the Volcano Express. See all the ferries here.
Finally, there's the rich people way: take a helicopter! Air Panarea does charter helicopter flights from Catania, Taormina, and other destinations in Italy. Contact them directly for rates. It might be worth it if you have enough people to fill a helicopter and some extra cash to burn.
How to Get Around the Aeolian Islands
The Aeolian Islands are surprisingly easy to get around! The ferry system is easy and comprehensive. You can see the Liberty Lines ferries here.
First off, do not bring your car! Having a car on the Aeolians is a huge pain. Only Lipari, Vulcano, Salina, and Filicudi allow cars, and you can get by with a mix of taxis and rentals on the larger islands. There are several parking garages in Milazzo.
Should you buy ferry tickets in advance? You definitely should for your ferries between the islands and the mainland. These are the most important ones, and they tend to be busy.
If you're doing more impromptu trips — say, a spur-of-the-moment day trip from Stromboli to Panarea — you'll have an easier time getting tickets last-minute. We bought most of our tickets last-minute.
You can buy tickets online up until a few hours before the ferry. If not, buy them in person at the Liberty Lines office. There's a Liberty Lines office by the port on every island.
On the smaller islands, you get around with by walking, but every island has at least golf carts (or donkeys, in Alicudi's case!) to schlep your belongings. The larger islands have buses, taxis, and scooter rentals are a fun and very Italian option.
See all ferries between the Aeolian Islands here.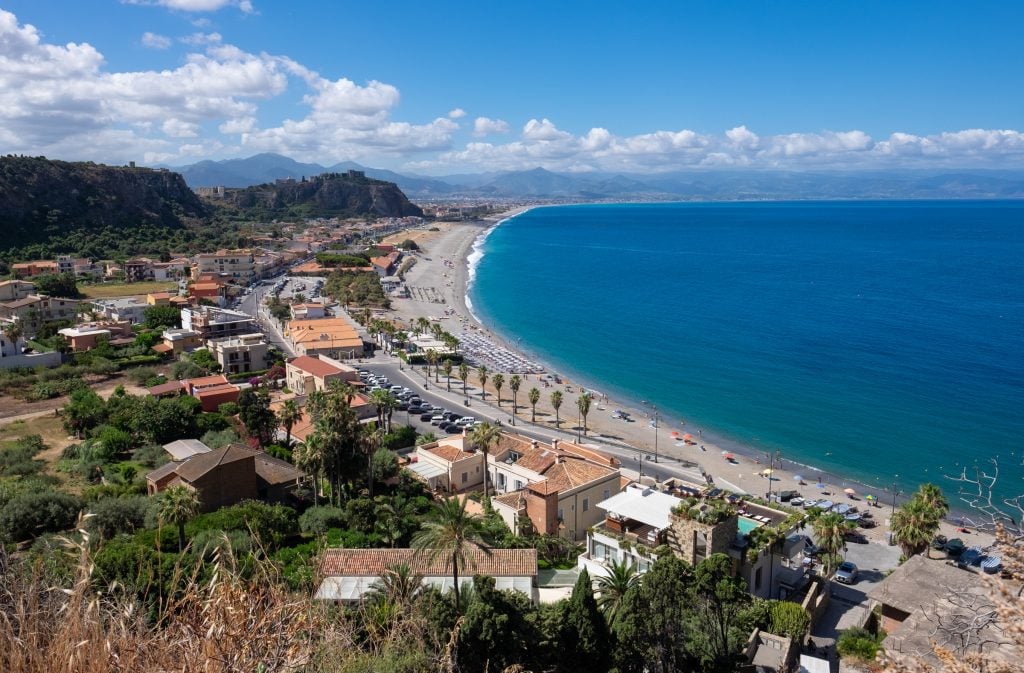 Milazzo
And don't forget Milazzo, the gateway to the Aeolian Islands! This port city was one of the best surprises of my Aeolians trip. After our flight was moved two days earlier, we realized that we would be spending three nights and two full days in Milazzo, not the one night we had planned.
You may want to book a night's accommodation in Milazzo if you have a long or complicated journey to the Aeolians. Even for us, flying direct to Catania from Prague, we were glad to have this time to pause and ease into vacation mode.
Like many port cities, Milazzo is much nicer once you get away from the port itself. The city is a narrow peninsula with a tall ridge running down the middle. This elevated region is home to a castle, elegant villas, and lovely neighborhoods. The western side of the peninsula is home to Tono, a neighborhood with a long, beautiful beach and several beach clubs.
I recommend checking out the Castello di Milazzo, a beautiful and ruined building with interesting history and glorious views. There's even a tuna production museum on site! Additionally, be sure to explore the villa-filled neighborhoods on the high part of the ridge, and drive to Capo di Milazzo to see the end of the world, and another Piscina di Venere (just like Vulcano's).
And be sure to have the dinner of a lifetime at Ngonia Bay.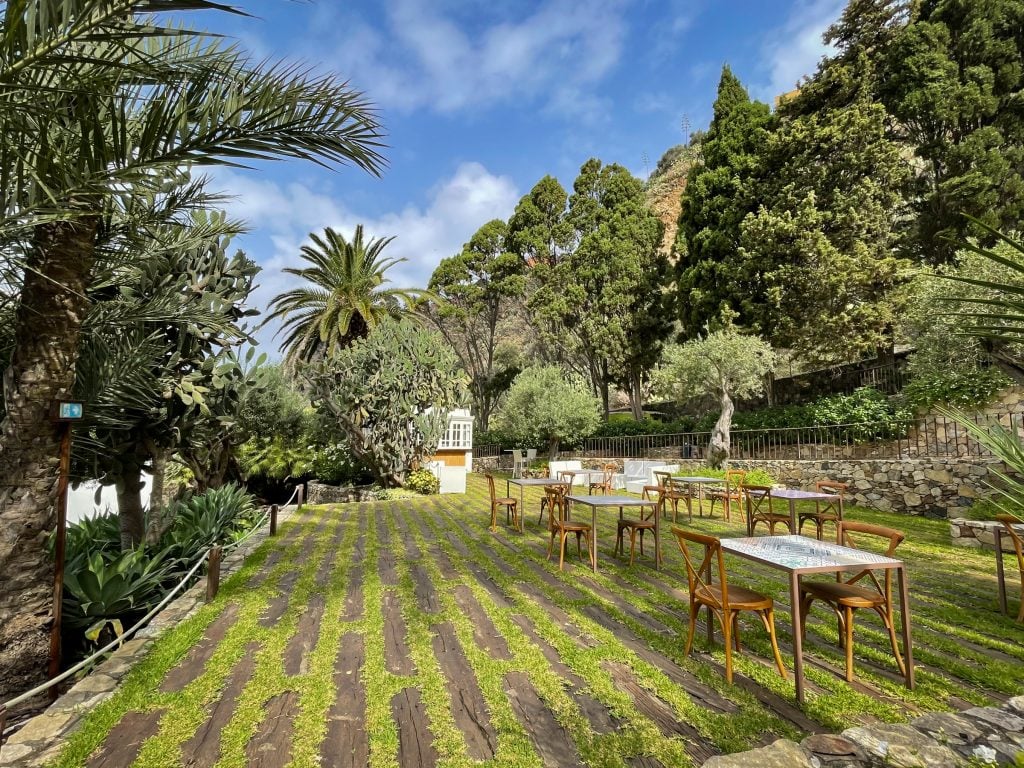 Ngonia Bay
We stayed at Ngonia Bay for three nights before traveling to the Aeolian Islands. Ngonia Bay reached out to me and offered to host us for a stay; in the end, they partially covered our three-night visit.
This hotel is outstanding. A stunning luxury boutique hotel with just six rooms. The well-manicured grounds gave me Southern California vibes. A pool on the grounds, and a rooftop pool on top of the building.
But the food is what makes Ngonia Bay truly special. The best food I have EVER had in Sicily was at this hotel! We enjoyed a glorious tasting menu on the rooftop, overlooking the sea. It's local, innovative, and playful.
But our favorite dish was one we had to order a second time: bucatini pasta with pistachio pesto, burrata, and Mazara del Valo red shrimp. I dream of that dish today.
Ngonia Bay was an absolute treat, and because it was on the mainland, it cost much less than a similar place in the Aeolian Islands would have cost. If you want a special place to break up the long journey, this is a wonderful choice. And if it's out of your price range, at least go for dinner!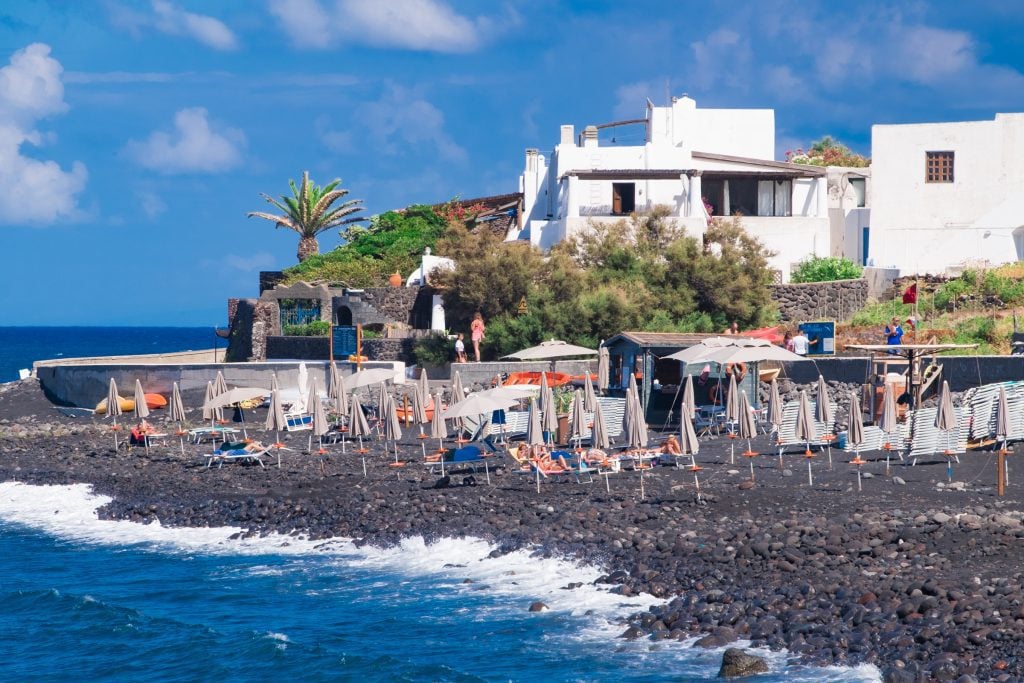 Best Time to Visit the Aeolian Islands
The Aeolian Islands are extremely seasonal. As a summer destination, they receive the vast majority of their tourists between June and September. That especially goes for the month of August, when many Italians head to the beach for their traditional month off.
Of course, the summer months can be crowded (stupefyingly so on Lipari and Vulcano, less so on the other islands) and it's the most expensive time of year to visit. But if you're looking to lie on beaches, take boat trip excursions, and swim in the sea, summer is the time to go.
Sicily in the summer is notoriously hot, but the Aeolian Islands tend to be a bit cooler than the mainland — even a few degrees cooler than nearby coastal towns like Milazzo.
Shoulder season in the Aeolian Islands can be another nice time to visit — think April, May, and October. You won't be in full-on sizzling summer mode, but the islands will still be beautiful to explore with nice weather, fewer crowds, and lower prices.
Some tour companies will still run boat trip excursions, though not as often or to as many islands. You could still visit several islands if you visited in shoulder season.
I think shoulder season would be a nice time to visit if you didn't care about beaches or swimming (though frankly, I would TOTALLY swim in the Aeolians in October), and I think this would be the ideal time of year for hiking.
In winter, the Aeolian Islands are very quiet and most businesses catering to tourists are shut down. Panarea, Alicudi, and Filicudi are essentially ghost towns. If you're visiting during the winter, know that Lipari, the Aeolian Islands' largest city, is your best bet for places to be open.
Sicily can be a very pleasant place to visit in the winter, though you do get more rain at this time of year. But if I were doing a Sicily trip in winter, I would stick to the mainland and avoid small islands and beach towns. They're just too dead at this time of year.
Like I say for most European islands, don't travel to the Aeolian Islands in the winter unless you have a reason — like you need to write a novel without distraction.
So what is the best time to visit the Aeolian Islands overall? I personally recommend June or September to enjoy the summer activities without the peak crowds of July and August.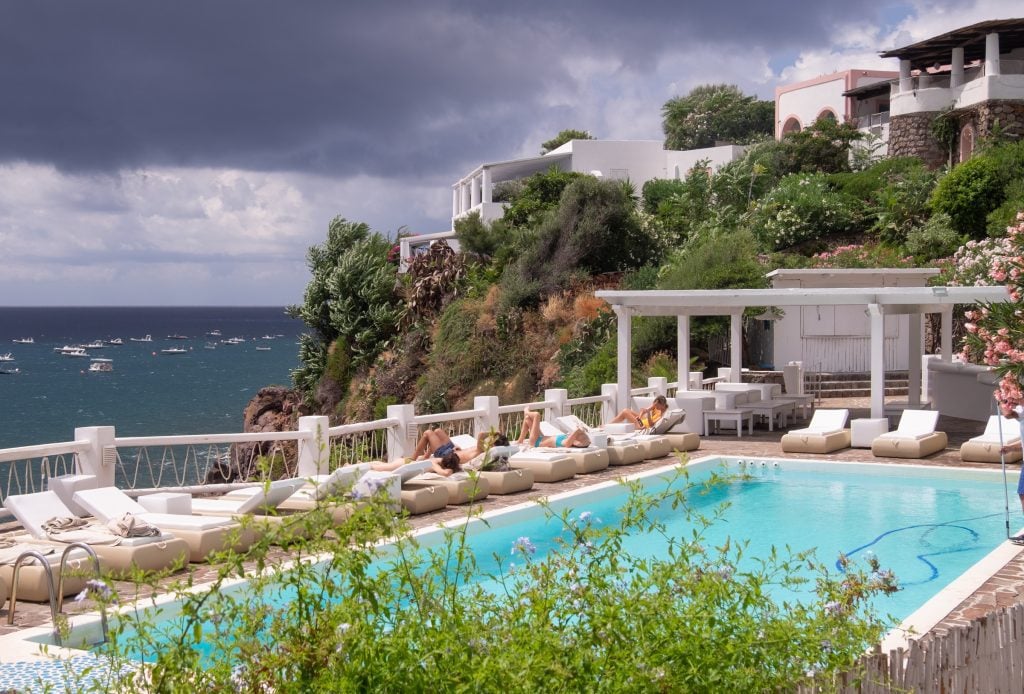 How Much Time Do You Need in the Aeolian Islands?
Most people only come to the Aeolian Islands for a few days — which I think is a huge mistake. The islands have SO much to see and do. They should be the main dish, not the side dish!
A lot of people schedule on a few days in the Aeolian Islands as a coda to a longer Sicilian trip. If you've already planned that out, that's fine — but you might start thinking about the next trip.
Overall, I recommend spending at least one week in the Aeolian Islands if possible. I spent two weeks (including three nights on the mainland in Milazzo) and it was fantastic.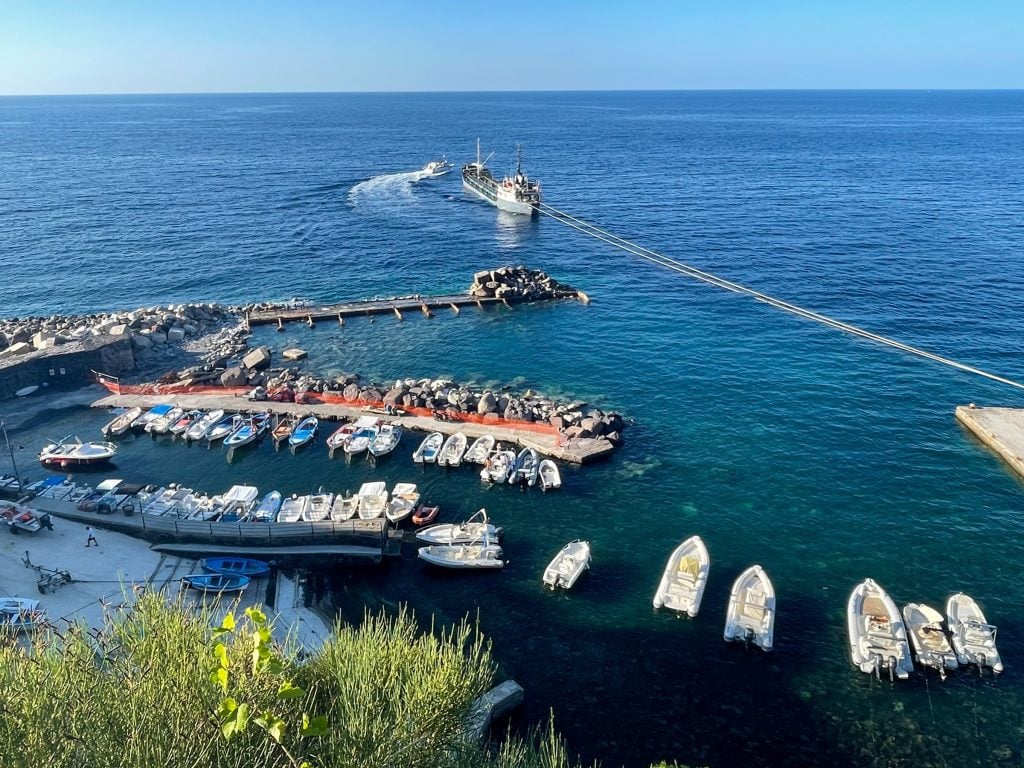 Aeolian Islands Itinerary
What makes a good itinerary in the Aeolian Islands? I recommend spending the bulk of your time in Salina with at least one night in Stromboli to experience the lava to the fullest. And spend at least one day on a boat trip.
Here are some sample itineraries I recommend:
Three Days in the Aeolian Islands
If all you have is three days, I recommend spending two nights in Salina and one night in Stromboli.
Day One: Explore Salina! Travel to the other villages by scooter rental or by bus. Visit Fenech Winery or do a caper experience with Giuseppe. Spend sunset on the beach at Pollara.
Day Two: Take a boat trip excursion to the island of your choice. I recommend Salina Relax Boats. Enjoy aperitivo at Hotel Ravesi or try one of the high-end restaurants. Night in Salina.
Day Three: Take the ferry to Stromboli. Drop your bags at your accommodation, spend some time on Spiaggia Lunga, the nicest beach in Stromboli. The evening is all about the LAVA. Either do the Stromboli hike if you're in good shape, or view the lava from Osservatorio Restaurant or on an evening boat trip excursion. Night in Stromboli.
One Week in the Aeolian Islands
If you have a week, you could visit all seven islands if you wanted, though it would be a bit tight. I recommend spending five nights in Salina and two nights in Stromboli.
Day One: Explore Salina and relax! Travel to the other villages by scooter rental or by bus. Visit Fenech Winery or do a caper experience with Giuseppe. Spend sunset on the beach at Pollara. Night in Salina.
Day Two: Take a boat trip excursion to Alicudi and Filicudi. Night in Salina.
Day Three: Take a boat trip excursion to Vulcano, or just go by ferry. Climb the volcano if you're up for it, or rent a motorbike or open jeep to explore the island's landscapes. Night in Salina.
Day Four: Spend a day vegging out in Salina! You deserve a day by the pool or on the beach.
Day Five: If you want another day trip, take a boat trip or ferry to Lipari. Otherwise, stay on Salina and enjoy it. Night in Salina.
Day Six: Take a ferry to Stromboli in the morning, spend some time on the beach at Spiaggia Lunga. Either hike Stromboli, if you're in good shape, or take a boat trip to watch the lava from the water. Night in Stromboli.
Day Seven: Take a day trip to Panarea and hike to the Prehistoric Village. Come back in the afternoon, get in some beach time if you want, and make a dinner reservation (and van reservation, if you want one!) to Osservatorio, where you can eat pizza and drink wine while watching the lava.
Two Weeks in the Aeolian Islands
I recommend spending two nights in Milazzo, three nights in Stromboli, six nights in Salina, and three nights on the island of your choice.
Days One and Two: You have arrived after a long trip! Ease yourself into vacation mode by hanging out at your hotel's pool or head to a beach club in Tono. Explore Milazzo's sights, like the Castello di Milazzo and Milazzo's Piscina di Venere (not to be confused with the one with the same name on Vulcano).
Days Three to Five: Take the ferry from Milazzo to Stromboli. Use these days as your base in Stromboli. Spend your days on the Aeolians' best beaches and enjoy the small town. Check out the isolated village of Ginostra, too, and Stromboli is the ideal base for a day trip to Panarea. Enjoy three nights of lava three different ways: by hiking, by boat trip, and by dining at Osservatorio.
Days Six to Eleven: Take the ferry from Milazzo to Salina and use Salina as your base. Explore the island by motorbike or bus, enjoy the beaches, eat all the capers and pane cunzatu, go wine tasting, veg out by your hotel pool — and take as many day trips to other islands as you'd like!
Days Twelve to Fourteen: Explore the island of your choice! Get truly far away from the world in Alicudi or Filicudi, explore the wild landscapes of Vulcano, spend all of your money on Panarea, or spend time enjoying Lipari's restaurants and shops.
Day Trip to the Aeolian Islands
Can you take a day trip to the Aeolian Islands? You can! Of course, I want you to spend much longer than just one day, but if all you have is a day, you can make it work.
Here are some popular day trip options:
Aeolian Islands Day Trip from Milazzo: From Milazzo you can visit Vulcano and Lipari, the two closest islands to the mainland, or take a longer trip and visit Vulcano, Panarea, and Stromboli by night to see the lava.
Aeolian Islands Day Trip from Tropea: Stromboli is the closest island to Tropea, on the mainland in Calabria, and night tours to see Stromboli's volcano explosions are popular. This Stromboli night tour from Tropea comes highly recommended. Alternatively, you can visit Vulcano, Panarea, and Stromboli on a single day trip from Tropea.
Aeolian Islands Day Trip from Taormina: Taormina is a lot further from the Aeolians — know that it will be a long day! This day trip from Taormina includes Panarea and Stromboli.
I do not recommend doing a day trip to the Aeolian Islands from other parts of Sicily. It takes too long, there are too many moving parts, and Sicily travel can be aggravating even when everything goes according to plan. You don't want a delayed train or traffic jam to cause you to miss your boat.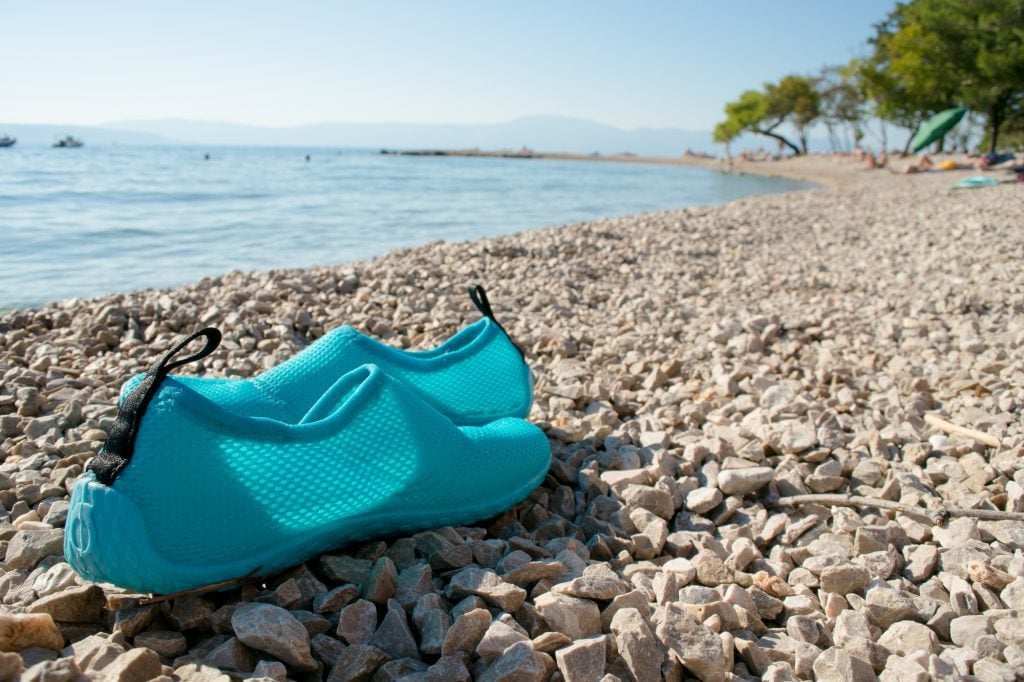 Packing List for the Aeolian Islands
Are there some things you need to pack for the Aeolian Islands? Most definitely.
In terms of clothing, you should pack whatever you like to wear in a hot island climate (if you're visiting in summer). It's not necessary to buy special travel clothes; the hikes here are low-key enough that you can wear typical workout clothes.
Keep in mind that Italians and Europeans tend to dress neatly, even when on vacation. If you want to fit in, think long sundresses rather than cheap rompers, nice button-downs rather than old t-shirts, and quality sandals rather than plastic flip-flops.
Here's what I suggest packing:
Water shoes — Most of the Aeolian Islands' beaches are rocky; even the scintillating black sand beaches in Stromboli have rocky patches near the water. I was much more comfortable swimming in water shoes.
Trail runners or other hiking shoes — I chose to rent hiking boots for the Stromboli hike, but I wish I had brought my own trail runners (like a combination of sneakers and hiking boots, which works equally well for working out and hiking) for Vulcano and other hikes.
Insect repellant — Yes, unfortunately mosquitos have a presence in the Aeolian Islands.
Sports sandals — An easy, comfortable way to get around, much better than flip-flops, especially for climbing the rocky beaches.
Insulated water bottle — Stay hydrated without adding to the plastic waste problem.
Reef safe sunscreen — The Aeolians may not have coral reefs, but reef safe sunscreen is much better for the environment as a whole.
Wide-brimmed hat — Especially for boat trips when you get little protection from the sun.
Dry bag and/or waterproof phone bag — Essential for boat trip excursions! (I always promote dry bags because mine saved me when I was shipwrecked in Indonesia in 2011.)
Portable safe — Keep your valuables in here and lock it to something sturdy in your room.
Speakeasy Travel Supply Scarf — Stylish enough for Italy, with a great function — a hidden pocket for valuables. No purse necessary and no thief will ever pickpocket you!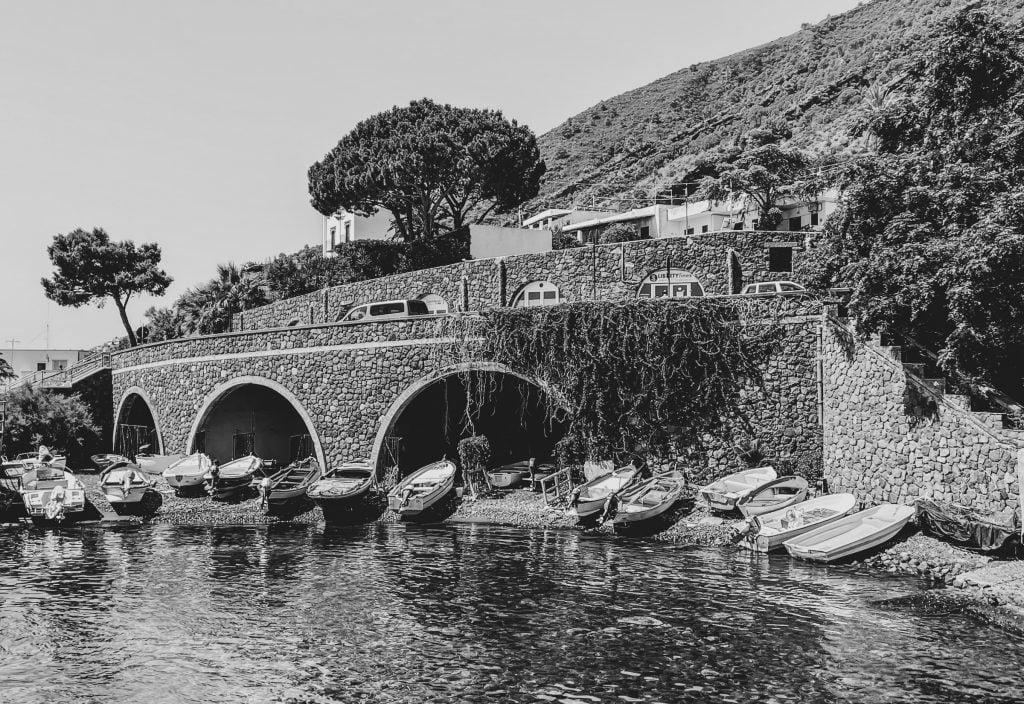 Travel Insurance for the Aeolian Islands
A lot of people don't think it's necessary to get travel insurance for Italy — after all, it's a safe country with decent healthcare. But you need it for one VERY big reason: if you get seriously ill or injured in the Aeolian Islands, you will be transferred to a hospital by helicopter. And that's not cheap.
If you get sick or injured on your trip, if you get robbed, or even if you have to be flown home, travel insurance will protect you from financial ruin. I use and recommend World Nomads for trips to Italy.
While Italy's hospital prices aren't anywhere near what the US would charge you, you could end up paying a lot of money for a serious medical issue. But travel insurance protects you and refunds you for your costs.
It's the kind of thing you don't know you need until you need it. See if World Nomads is right for you here.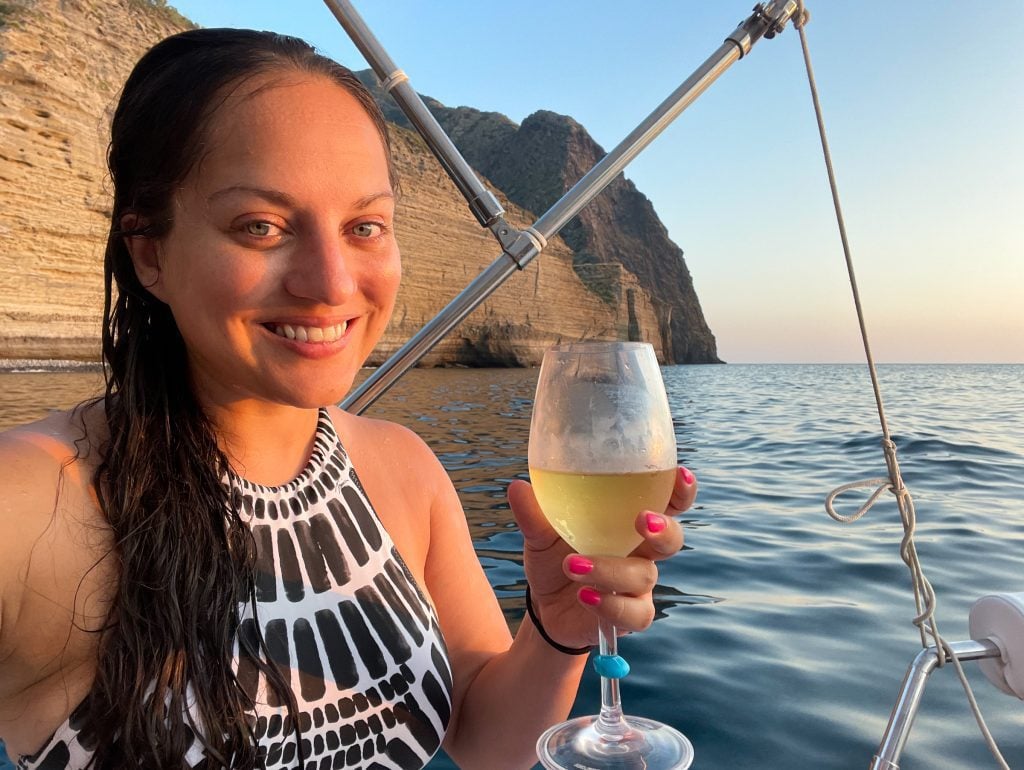 Are the Aeolian Islands Worth It?
Oh my God, the Aeolian Islands are SO worth it! So many times over!! So much that you can plan a two-week trip entirely to the Aeolian Islands and know that you made a great decision.
I can't wait to return to the Aeolian Islands, and I know these will remain a special destination for me in my favorite country.
Go and enjoy your dreamy trip to these volcanic islands. Then come back and tell me all about it.
More on Sicily:
The Joys and Challenges of Traveling in Sicily
Solo Female Travel in Italy: Is it Safe?
See all Italy posts here.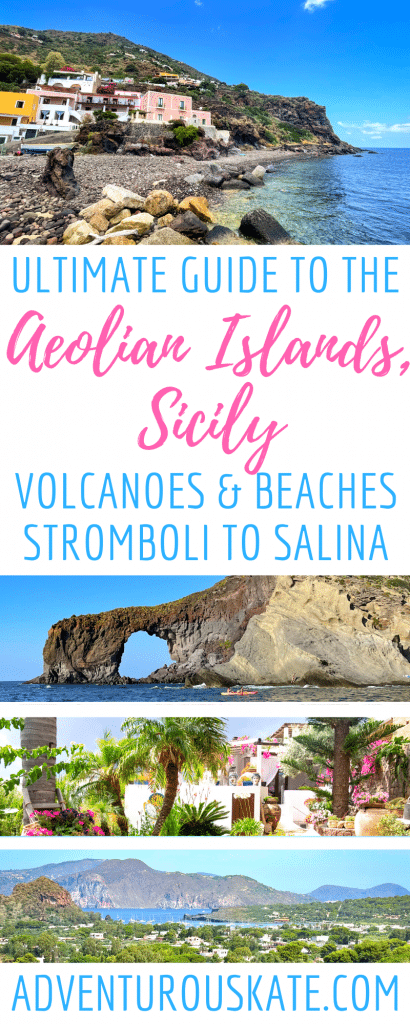 Have you been to the Aeolian Islands? What do you suggest? Share away!
The post An Honest, Detailed Travel Guide to the Aeolian Islands, Sicily appeared first on Adventurous Kate.