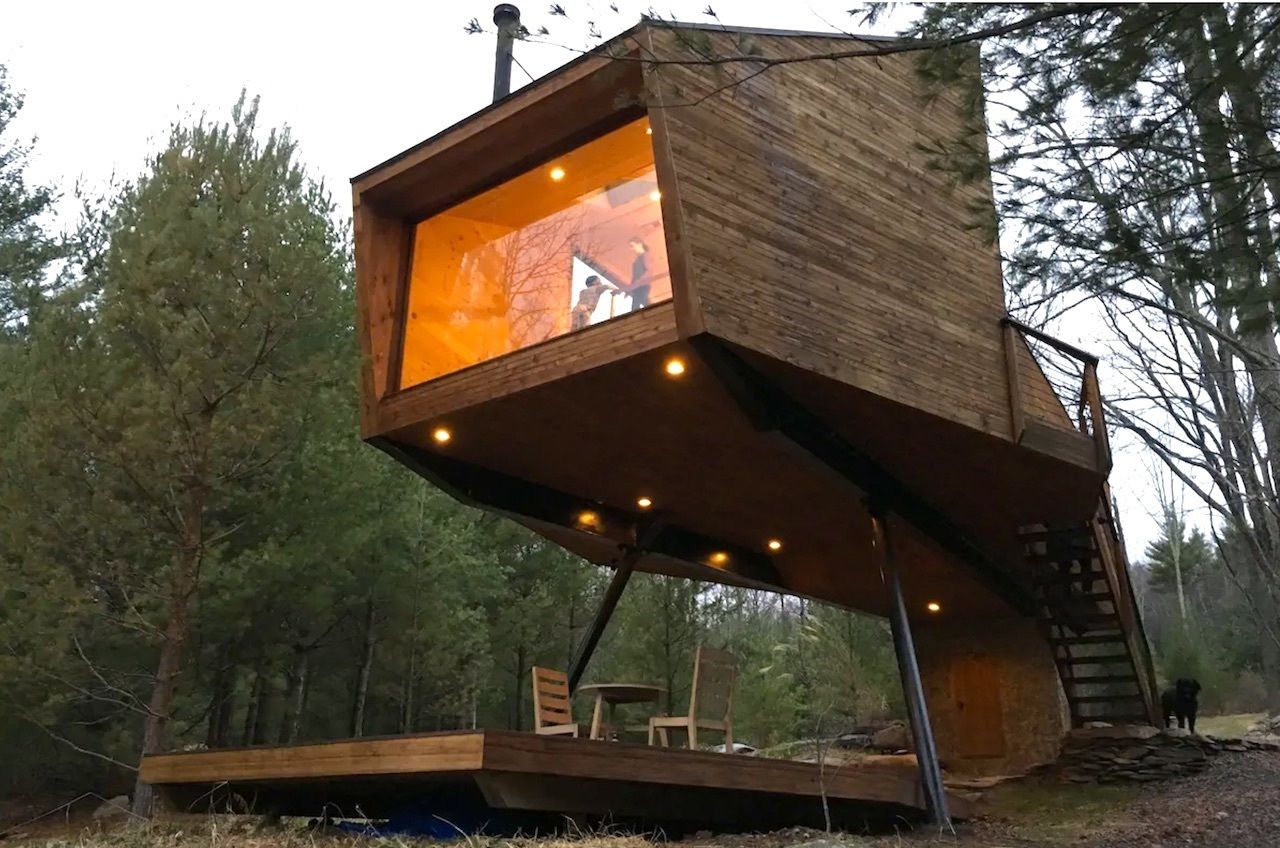 2020 would be much better if we all just retreated to the woods, hunkered down in a cabin, and lost ourselves in a book until someone told us it's safe to come out again. You probably can't afford to disappear for several months, but a cozy weekend getaway is still very much on the table. Upstate New York is home to some of the Northeast's most beautiful Airbnbs surrounded by peaceful wilderness, from the Catskill Mountains to the lakes of the Hudson Valley. These cozy cabins, chalets, and treehouses in upstate New York are the perfect way to escape the anxiety of everyday life and immerse yourself in nature this fall.
Just because you booked a remote getaway in the woods doesn't mean you can't have a touch of luxury. This modern 3.5-acre hideaway comes with a heated pool, outdoor shower, hot tub, and a detached solarium that also functions as a bedroom. With two bedrooms, the house accommodates six guests.
$344 per night
Designed like a classic pool house, this modern retreat blends luxury with rustic charm. You'll have your own pool and hot tub, heated floors, automated shades, and outdoor deck space. But the modern amenities don't interfere with the surrounding mountains and forest. The house comes with floor-to-ceiling windows to ensure that you're rarely without a view of nature.
$714 per night
From the outside, the three-bedroom Wilderkill Retreat looks like a classic piece of 1850s architecture. On the inside, however, it's incredibly modern and luxurious, with a baby grand piano, pool table, workout area, and home theater. This converted barn sits on 13 acres and also has a tennis court, hot tub, swimming pool, and a deck with views of Overlook Mountain.
$700 per night
If you're one of thousands of people who had their spring and summer trip to Bali ruined this year, all hope isn't lost. At first glance, this house on a pond in Rosendale looks like a classic Balinese abode. It was built with materials imported from Bali and consists of four separate "pods" connected by an enclosed walkway. You might not feel like you're on a Balinese beach, but you'll certainly feel the serenity of a relaxing woodland retreat.
$614 per night
Attention minimalists: This tiny house isn't exactly a luxurious mountain chalet, but it has all the essentials, and it doesn't get much cozier. The house is located deep in the woods on 20 acres of land and overlooks a meadow. It's also conveniently close to private hiking trails. Be aware — there's no electricity or running water, though an outhouse is situated about 200 yards from the cabin. So if you're really looking to get away and commune with nature, this is the place to do it.
$93 per night
This ranch is more like an entire private compound than a traditional Airbnb. The house itself is nothing fancy, with a wood aesthetic and country-style furniture, but the seven-acre property also comes with a koi pond, dock, small golfing area, and two spacious decks. The ranch has unobstructed views of the Catskill Mountains and is perfectly located for spotting wildlife. Given the size of the compound, the two-bedroom ranch is a steal.
$172 per night
This small octagonal house manages to punch far above its weight. Located on Papillon Lake, this architectural standout feels like a traditional mountain cabin with a private deck overlooking the lake, plus wood, stone, and timber decor. It's conveniently located near the ski resorts in Hunter and Windham — if you decide to visit in winter — and close to several hiking trails in the Catskills.
$150 per night
Having a view of the forest is one thing, but actually sleeping in the treetops is another. This treehouse Airbnb overlooks a small pond on a wooded property just outside the town of Woodstock. It has all the amenities you'll need to be comfortable, including a sleeping loft, contemporary kitchen, fireplace, and wide windows so you always have a view of your green surroundings. The treehouse is located on a 34-acre plot of land that also includes the host's main house.
$360 per night
Envision a woodland cabin where a Washington Irving character might reside, and it probably looks something like this log cabin in Cornwallville. When it comes to Catskill mountain getaways, it doesn't get more authentic than this place. Located on 28 acres of woods complete with hiking trails, a creek, and waterfalls, the cabin was built by hand and comes with a fire pit, tire swing, and a front deck. For those trying to seriously escape the pressures of a daily routine, and disappear into a storybook mountain getaway, this is your spot.
$250 per night

The post The 9 coziest Airbnbs in upstate New York appeared first on Matador Network.