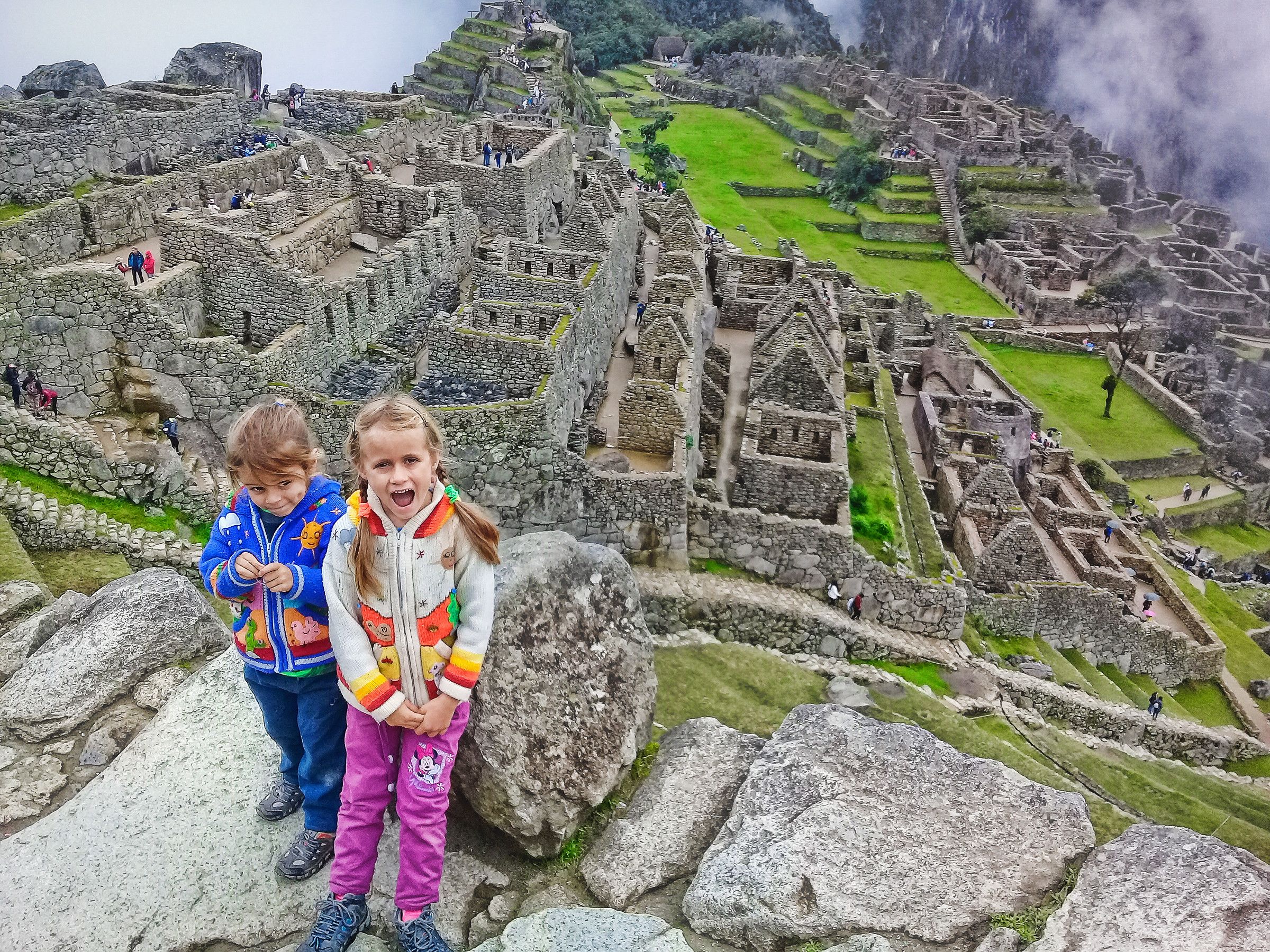 Perhaps you hadn't been thinking of South America as a family travel destination. The huge continent is actually a fantastic place to explore with the kids — full of otherworldly landscapes, sand dunes, dinosaur sites, sky-high cable cars, national parks, and super beaches. For parents with an adventurous streak, there's no better place to bring the family. From Ecuador down to Uruguay, here are some of our favorite places.
Ecuador
If Ecuador isn't on your bucket list of South American destinations, be prepared to move it to the number one spot. Besides being the mother country to the Galapagos Islands, Ecuador is a relatively small country with a mainland bursting with dazzling landscapes. It's particularly easy with kids because the country is so simple to navigate by highway, airlines, and extensive bus routes.
An added bonus is that Ecuadorians adore children, and it shows. Fees related to tourism are generally waived for kids in most places, shop owners often offer freebies like a lollipop or stickers for little ones, and it's customary for a man to give up his seat on a bus for mothers.
Ecuador is only about the size of the US state of Colorado, yet within its boundaries travelers can discover Cotopaxi, one of the world's highest active volcanoes; Quilotoa, a two-mile wide water-filled crater; the Andes range; the Amazon rainforest; and the city of Baños. Baños is famous for its natural hot springs, waterfalls, and plethora of outdoor adventures like zip lining, bungee jumping, canyoning, and rafting.
In addition, the coastline boasts more than 1,000 miles of pristine Pacific beaches that are lush and tropical in the north, and have towering cliffs, sandy hillsides, or mangrove forests in the central and southern sections. Playa los Frailes, in fact, has been called one of the most beautiful beaches in the world. Completely devoid of infrastructure, the virgin moon-shaped beach with a clear, aquamarine cove is protected by the Machalilla National Park.
As for the capital city, Quito is a dazzler with a picturesque historic center including the 377-foot-tall Roman Catholic Basilica del Voto Nacional, an impressive cable car ride that reaches almost 13,000 feet in elevation that kids will love, and the nearby Mitad del Mundo park, which celebrates the equatorial line and is packed with museums geared toward adults and kids. Families can do all sorts of fun science-related activities there to explore the phenomenon of this delicate global location.
Ecuador's two other major cities, Cuenca and Guayaquil, both have beautiful historic architecture, extensive pedestrian zones and park networks, and enviable waterfront locations. A side note: When traveling to such high-elevation destinations like Quito or Cuenca, take it easy for the first couple of days so you and your kids can adjust to the altitude.
Peru
It's impossible not to think of Peru without conjuring up images of iconic Machu Picchu…and the days and days of trails that lead to it. But Machu Picchu isn't just for trekkers and outdoor enthusiasts. It's also very easy to do with kids, if you bypass the trail routes. After flying into Cusco from Lima, a train takes you to the small town of Aguas Calientes. From there you can check into your hotel; our kids were crazy about the treehouse-style cabins at the Rupa Wasi Eco Lodge.
The next morning you can bus it all the way to the top of the citadel, the most Instagrammed spot of Machu Picchu. Let the kids roam around as long as they like, and then bus it right back to town again. Just be sure to buy your Machu Picchu tickets and train tickets on Peru Rail or Inca Rail in advance. You can buy the bus tickets for the last leg from the kiosk when you first arrive in Aguas Calientes.
Cusco itself, an ancient Inca capital and then a major center of Spanish colonial power, is an exceptional city to explore on foot with kids of every age. The main historic center of the city is blocked off to traffic on the weekends, allowing families to gather and kids to play beneath one of the most jaw-dropping city backdrops in South America. If you go during the rainy season, the throbs of tourists will be reduced to a manageable level. You might get lucky and be there when the city presents a family focused daytime Carnival celebration, allowing kids to get in on the chalk dust and party foam action without any parade chaos or drunken partygoers.
Peru is a big country, and there's more to see than Inca ruins and Cusco. Check out the often-bypassed inner cities, like Trujillo, which has ancient Moche pyramids and desert landscapes. Or visit Ayacucho, with its 33 historic churches and the most important battlefield related to Peru's war of independence, or Arequipa, packed with colorful monasteries and convents, historic plazas, and inspiring architecture.
Along the coast, a must is the Paracas National Reserve, where kids can paddleboard alongside flamingos or take kitesurfing lessons in the bay. Families can take a day cruise to Ballestas Islands — also known as the "poor man's Galapagos" — to see blue-footed boobies and sea lions. Not too far off from Paracas, a tiny oasis village named Huacachina rests in the middle of the highest sand dune fields in South America. Let the dunes cast their spell on your kids while exploring by sand buggy, sandboard, or paddle boat.
Last but not least is Lake Titicaca on the border with Bolivia, the highest navigable lake in the world. Here, the last remaining indigenous families still reside on their hand-made floating islands and reed boats. You can take guided tours to visit this unique community and interact with the few people who still practice this aquatic lifestyle.
Bolivia
Bolivia is a secret gem, rarely making a mark on the family travel circuit. But, listen closely parents: We think that will soon change. Bolivia is the most centralized country in South America, wedged between Peru, Brazil, Paraguay, Chile, and Argentina. Although the country can be more difficult to navigate than other South American countries, the remote and rare experiences within are worth the extra effort.
Most travelers come to Bolivia to explore the Salar de Uyuni, the world's largest salt flat, covering over 4,000 square miles. The unimaginable landscapes are a magical white bliss of glistening salt particles and natural pools, fascinating to kids and parents alike. Beyond Uyuni, the other highlight is dinosaur tourism. Family travelers will delight in all things dinosaur — including museums, theme parks, and real-life dino footprints found both in cities and remote places.
Although there seems to be dinosaur sites everywhere, two of the most notable are Torotoro National Park in Potosí province and the Parque Cretácico near Sucre. You can visit Torotoro National Park by guided tour from a small, remote town of the same name, hiking through desert and canyon landscapes in search of authentic dinosaur prints. Inside the national park, more than 2,500 unique prints dating back to the Cretaceous period (120 million years ago) have been documented. Kids can see the prints exactly as they were found in the field, untouched and untampered with. Guides tell the stories of how dinosaurs lived in the area and why they might have disappeared, and also allow you touch, stand next to, and lie inside the prints.
The second key location, Parque Cretácico, is located just three miles outside of the beautiful city of Sucre. This fully interactive, modern Jurassic park has been built around the concrete mine where a wall of than 5,000 dinosaur prints from more than 15 species was accidentally discovered in the 1990s. It is believed to be the largest collection of dinosaur prints in the world. The park is full of replica size, animated, and audio-enhanced dinosaurs that visitors can walk next to and beneath. It also has several museums, a video presentation, and an artificial dig site where kids can pretend to be archaeologists.
Other Bolivia highlights include the historic city of Sucre and the sky-high capital city of La Paz. Sucre, nearly 400 years old, is packed with antique white buildings topped with Spanish clay rooftops, stunning colonial churches, and quaint cobblestone streets. It's known as one of the most affordable places on the continent to take Spanish lessons or salsa dance classes. La Paz, for its part, has the highest and longest extensive cable car network in the world, reaching 13,000 feet in elevation over 27 miles — and growing. Other La Paz attractions are Valle de la Luna, a field of large eroded rock formations similar to the USA's Badlands, and the Witches Market, where "black magic" products are openly sold — including shrunken skulls, dried animal fetuses, feathers, frogs, and more.
Chile
Chile seems to have some of the most well developed infrastructure in South America. With its widespread tourism, incredible national parks, and extensive paved highway networks, it hardly feels like a developing country at all. Even so, with a country 2,653 miles in length and with regions that are so far apart, careful planning is important to nail down the best places to visit with kids.
In the far north, near the Bolivian border, the Atacama Desert is an icon. Situated between the Andes and the cold Pacific Ocean, it's one of the driest places on the planet. Its startling and unique landscapes are often compared to the horizons of Mars or the moon. You can marvel at its geysers, sandboard down dunes, gaze on pink flamingos in its salt flats, and even go on nighttime astronomy tours in one of the best dark sky places on the planet. All of these tours are easy to arrange from the town of San Pedro de Atacama.
In the Bío Bío region in the center of the country, you can base yourself in the city of Los Angeles and venture to nearby wild landscapes like the impressive Laja Falls, four gushing waterfalls that form a horseshoe shape; Nevados de Chillán, a resort for volcano and glacier skiing; and the secret beach of Playa Ramuntcho. The International Guesthouse El Rincon is the perfect base for families — with cabins, suites, and eco-domes in a forest setting just north of Los Angeles.
Chile also shares the region of Patagonia with Argentina. One of the most scenic and family friendly portions of the remote south is Chile's Los Lagos region. With easy access from Puerto Montt, travelers can visit the northernmost regions of Patagonia, with its fjords and glacial lakes. We recommend the ultra-modern Pumalin Park, Chile's largest national park covering nearly one million acres. The Amarillo area there has an excellent array of quality camping facilities and plenty of hiking trails appropriate for kids to see glaciers, temperate rainforests, and wildlife.
Argentina
The romantic tales of international immigrants, a living cowboy culture, wine country, and picturesque colonial cities are enough to lure many curious travelers to Argentina. But to appeal to the discerning crowd of kid travelers, parents will be thrilled to discover some intriguing places beyond Buenos Aires and grape vines.
Start in the far north, in Salta, a stunning historic city that feels more like Europe than South America. Expansive plazas full of fountains, grassy knolls, and towering trees are surrounded by ornate colonial architecture and gloriously wide sidewalks — which are perfect for strollers. The city is safe for walking and is best appreciated on foot. Stay in the Tres Cerritos neighborhood, where boutique hotels neighbor affluent residences from a hilltop location that mimics Beverly Hills in California. Choose the Kkala Boutique for its heated pool, family lofts, and in-room jacuzzis. Don't miss the Parque San Martín with a duck pond and paddle boats, large streets, and countless playgrounds.
A little farther south, the traditional ranchlands of Tafí del Valle in the Tucumán province are saturated with Argentina's renown cowboy culture and ranches. At Estancia Las Carreras, the kids can milk cows, ride horses, and play in pastures and creeks. They can even learn the art of making empanadas and artisanal cheese.
Further south, Argentina's Rio Negro province is locally famous for a 130-mile stretch of virgin beaches accessed by the Route 1 or the Camino de la Costa. Many of the beaches like Punta Perdiz offer incredible ocean coves with shell covered beaches and calm water. Camping is free and families could spend days swimming, snorkeling, and paddleboarding alongside Magellanic penguins.
Further south, the Valdes Peninsula, a tip of land off the northeast coast of the Chubut province, is the easiest place to see the ocean wildlife of Patagonia. On a simple safari trip (independent or guided), the whole family can get within arms reach of Magellanic penguins, elephant seals, and southern sea lions. You might also see the endangered right whales, killer whales, and several dolphin species that frequent the protected coves and beaches of the Valdes Peninsula.
Uruguay
The tiny country of Uruguay is tucked between Argentina and the southern shoulder of Brazil. Located on the Atlantic coast, Uruguay boasts progressive politics and beautiful beaches. Along with Chile, it's also one of the safest destinations for family travel in South America. The coastline stretches 410 miles, with a variety of sleepy surf towns north of Montevideo like La Pedrera and Barra de Valizas.
While Punta del Este hosts a trendy scene full of bikinis babes and cocktail bars, it's also great for families. Don't miss the Playa de los Dedos, where the kids can crawl into the palm of a hand sticking out of the sand. Just north of Punta, José Ignacio is a lot quieter and has lovely stretches of shoreline. Or head north all the way to Punta del Diablo near the border of Brazil. This fishing village has a pretty string of colorful houses that overlook the water, plus surfing schools that teach kids and novices how to master the waves.


More like this:
Why Chile is the perfect gateway trip to South America
The post The most kid-friendly destinations in South America appeared first on Matador Network.