One thing that surprised me was how tough it was to find information on the best towns in the Berkshires. Sure, I had lots of information on things to do in the Berkshires, the best places to eat and stay, but almost no information on the towns themselves. What were the towns that were actual towns, towns you could walk around and enjoy?
Turns out there is quite a bit of variety in the Berkshires.
When I planned my trip to the Berkshires, I wanted to find out which towns in the Berkshires were nice to explore. What towns could you actually walk around and enjoy? Which towns had actual personalities? Which towns had an actual downtown to walk around and weren't entirely residential or farmland?
I did go to the Berkshires. And I had a splendid time! But I wanted more people to have an easier time researching than I did, so I decided to write a guide that went through each of the towns in depth.
This guide was a lot of fun to write, and I hope you enjoy it!
I would like to acknowledge and honor the Mohican, Wabanaki and Pocumtuc people, the Indigenous stewards and traditional owners of the unceded land now known as the Berkshires.
If you're looking for the best things to do in the Berkshires, check out my Ultimate Berkshires Guide here.
Best Towns in the Berkshires
What makes a town in the Berkshires worth visiting? Berkshire County, the westernmost county in Massachusetts, has 33 towns altogether (31 towns, and Pittsfield and North Adams are considered cities). But not all towns are the kind of place where you'd want to hang out and spend time.
So which ones are the best of the best? I narrowed it down to the best seven.
Stockbridge is the quintessential New England small town, straight out of a storybook.
Great Barrington is a nearly urban, walkable place and a fun town to hang out in.
Lenox is upscale and fancy and pretty, as well as home to some of the Berkshires' most famous sites.
Lee is a casual, cheaper, more diverse town amongst the wealthiest places in the Berkshires.
North Adams was a mill town in decline that reinvented itself as a hip artistic community.
Williamstown is an immaculate small town centered around Williams College.
Pittsfield is the largest city in the Berkshires, and it balances cultural attractions with lots of outdoorsy space.
What are the best towns to visit in the Berkshires?
In my opinion, the best towns to visit in the Berkshires are Stockbridge, the Norman Rockwell town; Great Barrington, the Brooklyn of the Berkshires, and while many people love Lenox, home to Tanglewood and the social center of the Berkshires, I prefer North Adams, the funky revitalized art town.
What are some of the cheap towns in the Berkshires?
Parts of the Berkshires can be expensive, but towns like Lee, Pittsfield, and North Adams are on the more affordable end.
Which towns in the Berkshires can be explored without a car?
You really need a car in the Berkshires, but Great Barrington is a town where you can see quite a bit on foot.
What are the safest towns in the Berkshires?
The Berkshires are an extremely safe part of New England. Most of the time you would be just as safe as you would be in your hometown.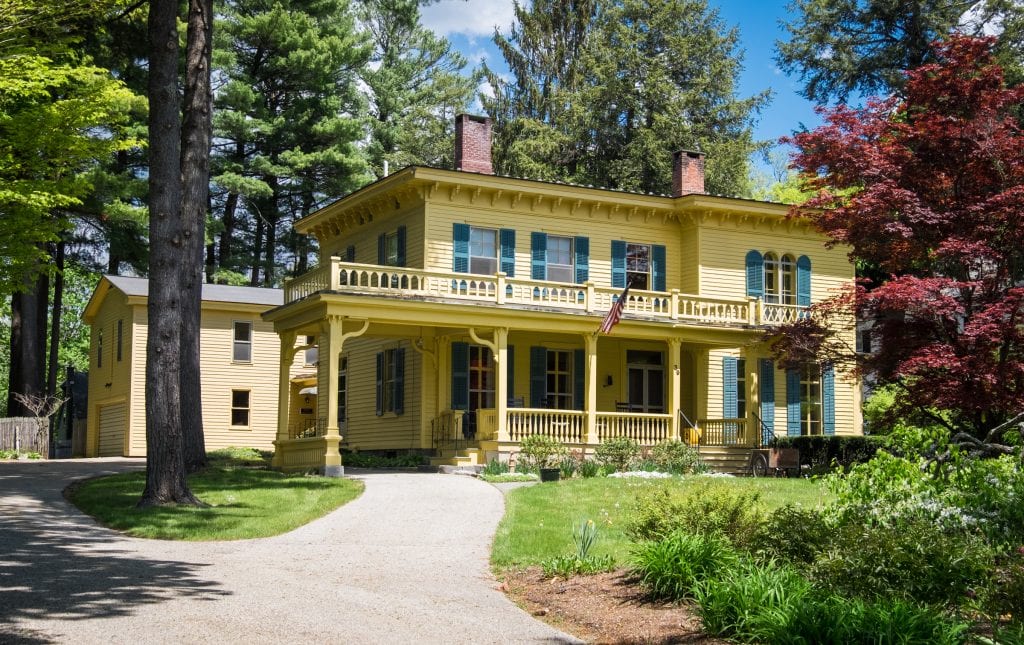 Stockbridge
Stockbridge, Massachusetts, in a nutshell: Stockbridge is the beautiful, historic town brimming restored homes, endless green space, and an adorable downtown that looks straight out of a Norman Rockwell illustration.
Of course, this was the town that Norman Rockwell called home for many years. There's a familiarity you feel when driving through this quintessential rural New England town with its beautifully restored homes, historic mansions, gardens, and tiny shops.
When people travel to the Berkshires — particularly from busy cities like New York and Boston — they're looking for a mix of nature and interesting things to do. Between the idyllic setting, the magical downtown, and the wide array of things to do, I think Stockbridge is exactly what people think the Berkshires should be.
I think that different kinds of travelers will prefer different towns in the Berkshires. But Stockbridge? Stockbridge is the one town in the Berkshires I think everyone should visit.
Best Things to Do in Stockbridge
Norman Rockwell Museum — One of my favorite things to do in the Berkshires, the Norman Rockwell Museum is a deep dive into the artistic career of Norman Rockwell, from his illustrations in the Saturday Evening Post to his journey to activism during the Civil Rights Movement and Vietnam War. A very special place.
Chesterwood — Chesterwood is the home of sculptor Daniel Chester French, most famous for creating the Lincoln Memorial. His summer home near Stockbridge, which he likened to heaven, features several of his original works in the studio, which you can tour.
Berkshire Botanical Garden — This botanical garden on the way out of town has beautiful exhibits year-round displaying the best of New England plant life, as well as yoga and tai chi classes set amongst the flowers.
Where to Eat in Stockbridge
The Lost Lamb — This French patisserie features delicious dishes for breakfast, brunch, and snacks.
Once Upon a Table — This sweet little bistro serves American dishes in an upscale environment.
Red Lion Inn — This legendary historic inn serves up classic Yankee cuisine. Worth a drop-in for the atmosphere.
Stockbridge Coffee and Tea — Start your morning here with delicious coffee and pastries.
Where to Stay in Stockbridge
Stockbridge is a small and walkable town in the town center, but the city limits spread out fairly wide. Part of the charm is staying in the heart of town, and if it's the Red Lion, you have the bonus at being at one of the most popular properties in the Berkshires, where you can always find people enjoying it!
One thing to keep in mind: Stockbridge is a dead zone for phone signal, which I found very surprising in 2021. Make sure you find a place with decent wifi if you plan on navigating by your phone.
Splurge: The Inn at Stockbridge — For something special, this inn has gorgeous, immaculate rooms in an idyllic wooded setting.
Mid-Range: The Red Lion Inn — One of America's oldest inns, this historic property is the see-and-be-seen place of Stockbridge.
Budget: If you want a cheap place to stay near Stockbridge, stay next door in the town of Lee, which has much cheaper offerings.
See more places to stay in Stockbridge here.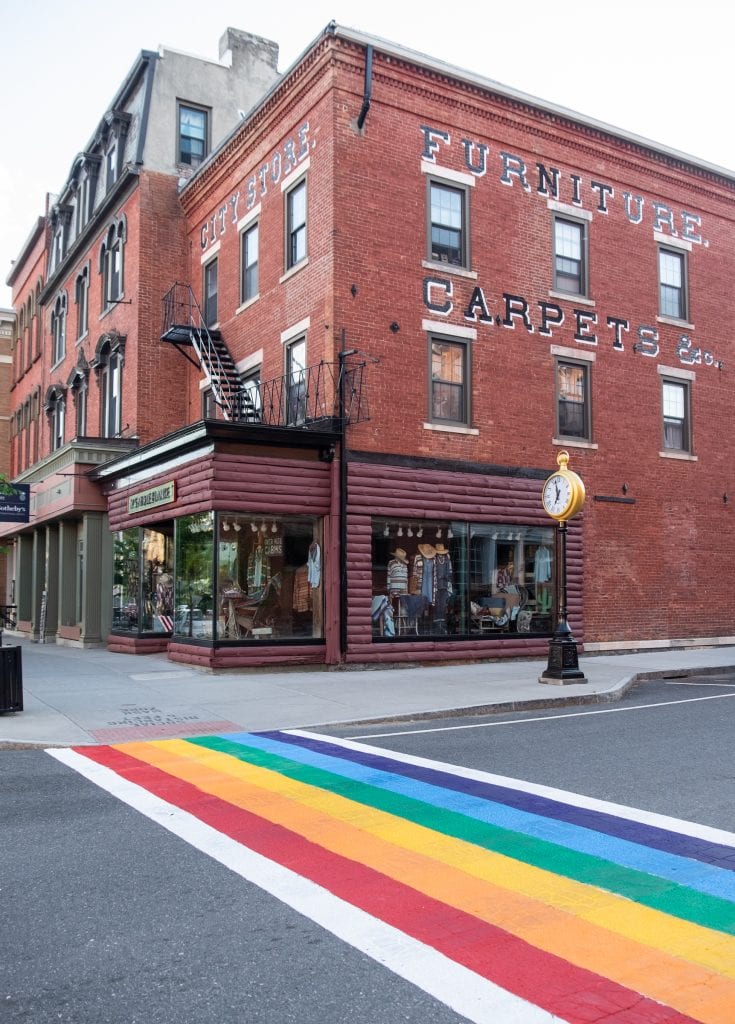 Great Barrington
Great Barrington, Massachusetts, in a nutshell: the cool town, the funky town, the Brooklyn of the Berkshires, with lots of cool shops to peruse and a very walkable downtown.
If I had to live somewhere in the Berkshires, it would probably be Great Barrington. This is one of the few places that feels urban in the Berkshires, yet it's plonked down in the middle of the woods and set among mountains.
You're able to stroll from boutique to coffeeshop to dispensary with ease — yet as soon as you're ready for nature, you're surrounded by woods and mountains.
Great Barrington is fairly far south in the Berkshires, which is convenient for visiting Stockbridge and Lenox, as well as Bish Bash Falls, but becomes a significant distance when driving to North Adams or Williamstown.
Best Things to Do in Great Barrington
Enjoy the shops on Main Street — This is one of the best places to go shopping in the Berkshires, with clothing shops, bookstores, gift shops, and more.
Housatonic River Walk — Delightful public paths carved along the edge of the Housatonic River, a wonderful place to stroll in between your shopping.
Monument Mountain — One of the most beautiful hikes in the region, Monument Mountain has three trails leading to the summit, all of them under three miles.
Where to Eat in Great Barrington
The Prairie Whale — Always interesting farm-to-table cuisine featuring produce from just down the road, served in a convivial home atmosphere.
Fuel Coffeeshop — A really nice coffeeshop with delicious snacks and inventive lattes.
cafeADAM — Another great spot for farm-to-table cuisine, this spot features lots of locally foraged ingredients.
Xicohtencatl Restaurant — A fun and funky Mexican restaurant featuring creative dishes with local ingredients.
Where to Stay in Great Barrington
If you're going to stay in Great Barrington, I highly recommend staying within walking distance of Main Street. That's what Great Barrington is all about — the urban walkability in the middle of a rural region! Plus, walking home means you can have an extra glass of wine at dinner.
Splurge: The Barrington — This elegant B&B in the heart of downtown has just seven suites, each decked out elegantly, and home to top-notch service.
Mid-Range: Wainwright Inn — This inn dates back to 1766 and is set in a Victorian house in the heart of Main Street. (I know how weird that sounds — but the original building was remodeled to the current standards in 1890!) Tons of historic charm.
Budget: Fairfield Inn and Suites Great Barrington — Simple, comfortable, and solid. Yes, it's a chain, but it's one of the cheaper options in town and great value for money. There's even a pool. A bit further from the downtown area (25-minute walk or five-minute drive).
See more places to stay in Great Barrington here.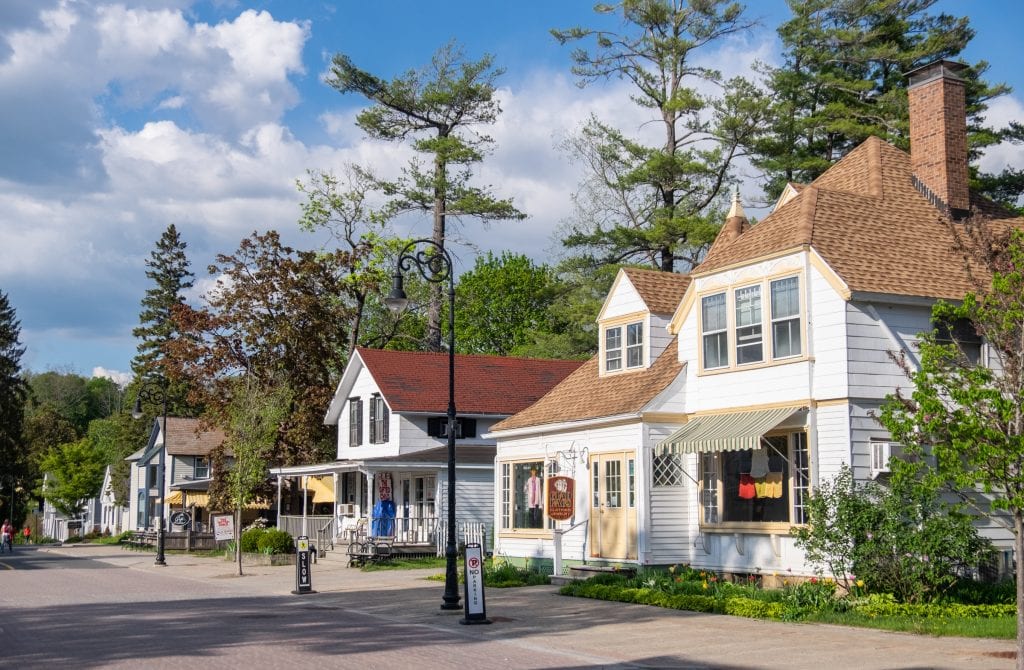 Lenox
Lenox, Massachusetts, in a nutshell: Canyon Ranch, Tanglewood, and the fanciest town in the Berkshires. Anyone who thinks that the Berkshires are a destination for rich people is probably thinking about Lenox.
That, of course, isn't true. The Berkshires are for everyone, and there's way more to do than just fancy things. Lenox is one of the main hubs for exploring the Berkshires, close to Stockbridge and Lee, and the beautiful downtown is a pleasant place to explore on foot.
To be completely honest, Lenox was the one place in the Berkshires where I didn't love the vibe. It felt like it catered to the wealthy a bit too much for my taste.
That said, Lenox has some wonderful sites to visit and terrific restaurants, and you should absolutely prioritize spending time there!
Best Things to Do in Lenox
Tanglewood — One of the most famous things to do in the Berkshires, Tanglewood is the summer home of the Boston Symphony Orchestra, featuring lots of outdoor concerts.
Ventfort Hall — This Golden Age historic home has a lot of interesting architectural quirks — be sure to grab a guide to fully appreciate it all!
The Mount — Edith Wharton's home may be the most famous historic building in the Berkshires, still decorated beautifully to this day.
Pleasant Valley Wildlife Sanctuary — One of the hidden gems of the Berkshires, this sanctuary has 1,000 acres of land covered with hiking trails (including universally accessible trails) and his home to lots of interesting birdlife.
Where to Eat in Lenox
Haven — Everyone raves about this cafe, which brings fabulous lunch and dinner specialties each day.
Shots Cafe and Lenox Coffee — Two solid coffeeshops with great options. Though if you go to Shots, double-check that you didn't order a vegan or gluten-free cookie.
Nudel Restaurant — This place has a menu that changes nightly, featuring the best of the best of local, seasonal ingredients.
Bistro Zinc — This modern French establishment has a hopping bar scene and a menu full of classic dishes like moules frites and boeuf bourguignon.
Where to Stay in Lenox
Lenox tends to be much more expensive than other towns in the Berkshires. After all, it's the town home to Canyon Ranch! If you're looking to stay in Lenox, there are some good options.
Just be sure to double-check the location, because many of the accommodation options are a driving distance from downtown Lenox.
Splurge: The Cornell Inn — Right in the heart of Lenox, this bed and breakfast is a gorgeous lilac Victorian house on the outside, home to recently renovated, modern statement rooms with all the bells and whistles on the inside.
Mid-Range: Seven Hills Inn — This inn feels a lot more like a resort, from the comfortable and elegant living rooms to the firepit, outdoor chess set, and pool. Huge value for money here, especially outside peak season.
Budget: Like Stockbridge, Lenox doesn't do much budget accommodation. You're best off staying in the nearby town of Lee.
See more places to stay in Lenox here.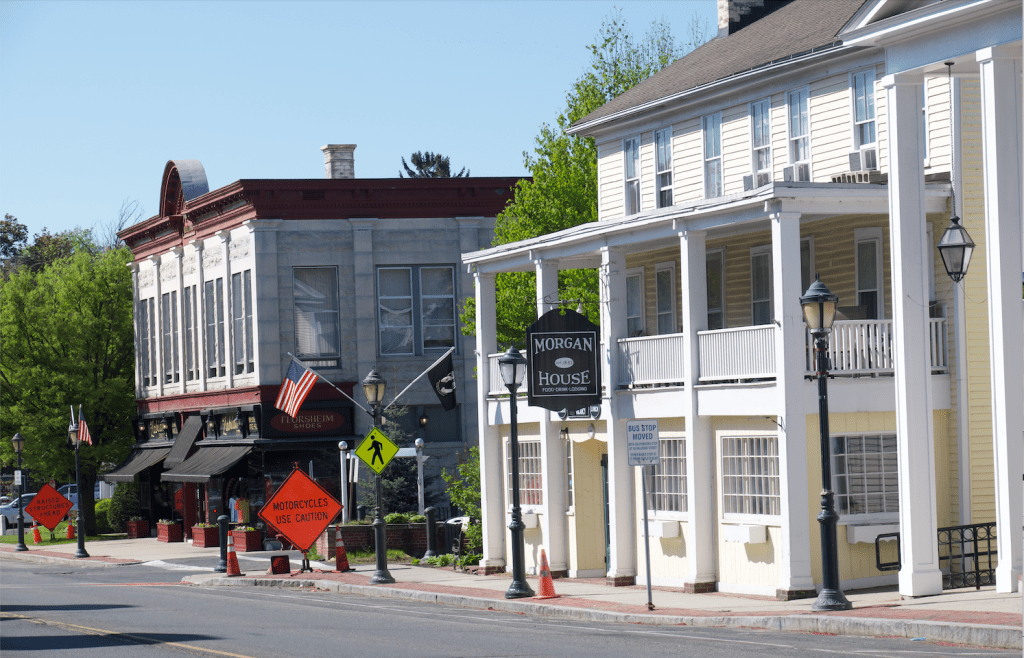 Lee
Lee, Massachusetts, in a nutshell: the Berkshires on a budget. Lee is a stone's throw from both Stockbridge and Lenox, placing it in the heart of the Berkshires, but you'll pay a lot less than either of those towns.
Lee feels different from many other towns in the Berkshires. It feels more working class. It's a lot more diverse. The downtown is built for people who actually live here, not the tourists who drift in and out.
There isn't as much to do in Lee as other parts of the Berkshires, but there is a lovely downtown, some great restaurants, and some of the best accommodation deals in the region.
Best Things to Do in Lee
Lee Premium Outlets — You can find excellent markdowns on brands including Coach, Kate Spade, Polo Ralph Lauren, the Gap, Bath and Body Works, and more.
October Mountain State Forest — At 16,500 acres, this is the largest state forest in Massachusetts. This is a great spot for hiking, forest trails, getting out on the lake, and camping.
Where to Eat in Lee
Starving Artist Creperie and Cafe — This legendary breakfast spot makes delicious crepes and comfort breakfast food in the heart of downtown.
Alpamayo — This Peruvian restaurant dishes up large servings of roasted chicken, fish, and more for great prices.
Cafe Triskele — One of the high-end restaurants in Lee, this bistro serves French classics and has a sizable wine list.
Where to Stay in Lee
Lee is an excellent place for finding cheaper-than-usual accommodation in the Berkshires, especially if you plan on spending time in Stockbridge and Lenox, both of which are close by but significantly more expensive.
Splurge: Chambery Inn — Well, this place is definitely not budget! Set in a former schoolhouse, Chambery Inn brims with French-inspired design, from four-poster beds to delicate pastel color palettes.
Mid-Range: The Black Swan Lee — Set right on Laurel Lake, this outdoorsy resort gives you easy access to the Berkshires' best nature, with comfortable restaurants and a restaurant right on site.
Budget: American Inn Lee — It's not the prettiest place on the outside, but this small inn has clean, comfortable rooms at a good price.
See more places to stay in Lee here.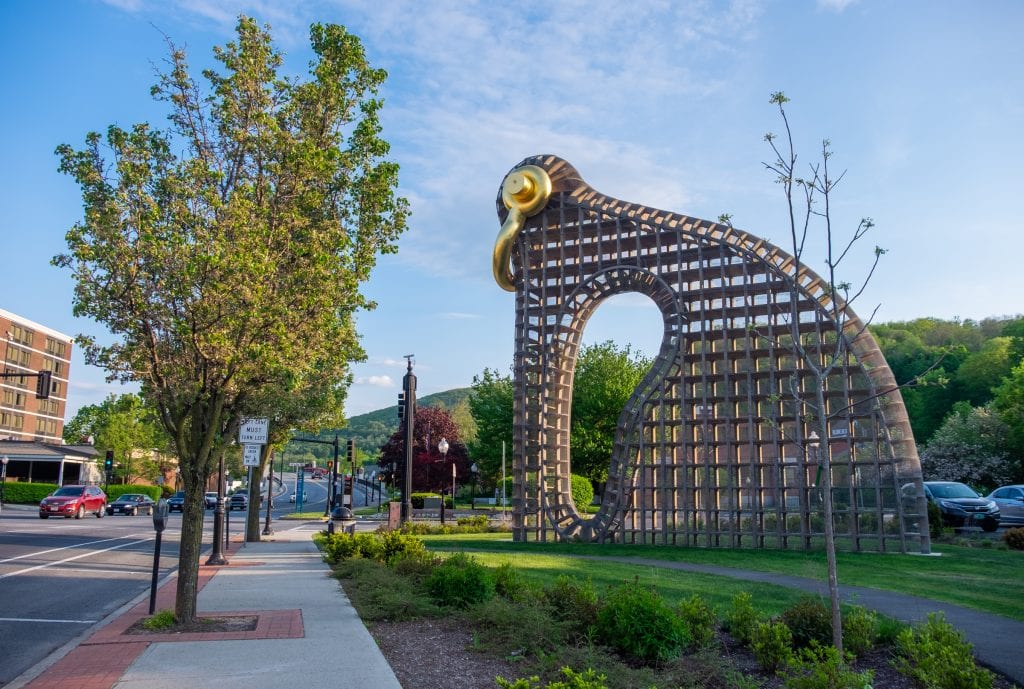 North Adams
North Adams, Massachusetts, in a nutshell: the former mill town that reinvented itself, turning into a funky art town. If you love the stories of cities that revitalize themselves for a new generation, you're going to love North Adams. I certainly did.
MASS MoCA, the Massachusetts Museum of Contemporary Art, housed in the former Sprague Electronic Company, is the new linchpin of the town. When the factory closed in 1985, North Adams fell into economic decline. A few years later, the idea for MASS MoCA began to get traction, and in 1999 it opened.
Since then, North Adams has made art and culture enormous parts of their revitalization. Old lofts are being turned into apartments, new restaurants and galleries are popping up, and artists are arriving in droves, finding a city where they can create and live very affordably. North Adams is also home to Massachusetts College of Liberal Arts, which brings youth and fun events.
(Be sure not to confuse North Adams with Adams, which is a completely different town.)
Best Things to Do in North Adams
MASS MoCA — This immense, unconventional modern art museum is the center of the town, and you could easily spend a full day here. Not just taking in the exhibits, but checking out the attached restaurants, pop-ups, coffee shops, and breweries!
Natural Bridge State Park — This state park is home to the only natural white marble arch in North America! It's a beautiful place to spend an afternoon with cool hiking trails.
Cascade Waterfall — Park at the North Adams YMCA and you'll find a quick and easy hiking trail to a beautiful, tall waterfall.
Where to Eat in North Adams
Brewhaha — This delightful coffeeshop and breakfast spot is part restaurant, part thrift shop, brimming with treasures in every direction.
PUBLIC eat+drink — Right by MASS MoCA, this industrial spot serves up American comfort food, craft beers, and fun cocktails.
Bright Ideas Brewing — This microbrewery right on the MASS MoCA campus has a lot of delicious, inventive beers to try!
Where to Stay in North Adams
North Adams doesn't have quite as much accommodation on offer as surrounding towns — you may want to look into nearby Williamstown or Pittsfield instead.
That said, Porches at MASS MoCA is one of the most unique places to stay in all of the Berkshires, and you should prioritize it if you want something special! I loved my stay there.
Splurge: Blackinton Manor — Halfway between North Adams and Williamstown, this manor has stunning old-fashioned rooms, down to clawfoot tubs in the bathrooms, and is set in a beautifully wooded area with mountain views.
Mid-Range: Porches at MASS MoCA — One of the most inventive and special properties in the Berkshires, this row of connected "granny chic" Victorian homes will delight you! Funky, vintage, wholly original, and right across from MASS MoCA, at a great price.
Budget: Holiday Inn Berkshires — It's a Holiday Inn; you know what you're getting. Right in the center of downtown North Adams, close to dining and a 10-minute walk to MASS MoCA.
See more places to stay in North Adams here.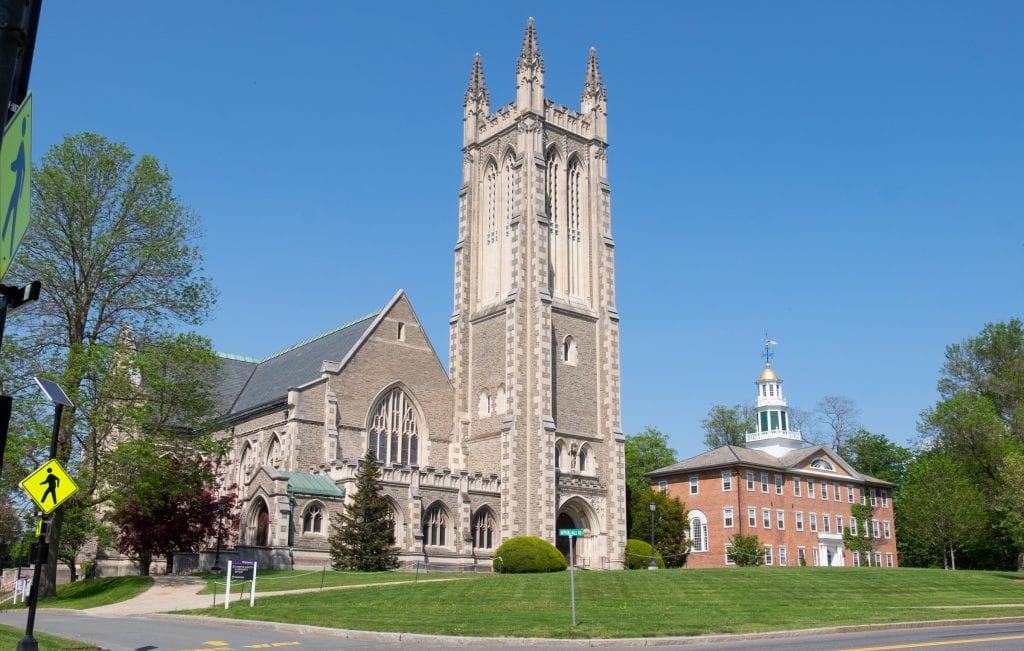 Williamstown
Williamstown, Massachusetts, in a nutshell: the tiny, immaculate, picture-perfect college town of the Berkshires. Williams College, one of the most elite small liberal arts colleges in the United States, is the center of life in Williamstown.
With a population of under 8,000, many of these residents working for the university, Williamstown is characterized by its tiny downtown (it feels like a single street!) with cute shops and restaurants, many of them catering to the college crowd.
Lenox might be the "rich town" of the Berkshires, but Williamstown has a different kind of wealth. The houses are large and immaculate — yet understated. A single blade of grass isn't out of place. While Lenox tends to shout its wealth, Williamstown tends to whisper it.
Williamstown and North Adams are next door to each other and couldn't be more different from each other. These two towns have completely different feels, looks, and atmospheres, yet when visited together, it seems to make more sense.
Best Things to Do in Williamstown
Clark Institute — This museum is home to one of the best Impressionism collections in the world — particularly Renoirs! It's mind-boggling to see a collection in the Berkshires on par with Paris, New York or Chicago. This is one of the best museums in the Berkshires, with lots of wonderful art and hiking trails outside.
Williamstown Theater Festival — During the summer months, Williamstown explodes in theater performances of all kinds, drawing grown-up drama kids from all over the country.
Williams College Museum of Art — This art museum on the Williams College campus features works by emerging artists all over the world.
Where to Eat in Williamstown
Tunnel City Coffee — One of my favorite coffeeshops in the Berkshires! Excellent coffee, and it's worth perusing the extensive pastry display case too.
Spring Street Market & Cafe — Pretend to be a college student at this fun and casual cafe with interesting coffee drinks.
Mezze Bistro — Set in a large house on the way out of town, the menu features American dishes made with local, seasonal ingredients.
Spiceroot Modern Indian Cuisine — One of the better Indian options in Western Mass, good for vegetarians, and has an affordable buffet option for lunch.
Pera Bistro — Delicious Mediterranean dishes in an upscale atmosphere in the heart of Williamstown.
Where to Stay in Williamstown
Williamstown is a very small college town — so more than any town in the Berkshires, time your visit to avoid move-in and graduation weekends! Williamstown will be a madhouse during those times of year.
If you strike out, both North Adams and Pittsfield are nearby and have more options.
Splurge: Williams Inn — A large, new, and immaculate property right in the heart of Williamstown, filled with gorgeous common areas.
Mid-Range: Maple Terrace Motel — Beautifully landscaped grounds and a nice pool are the highlights of this Williamstown hotel.
Budget: Villager Motel — Great value for money in a pricey town, here you get simple rooms in a throwback of a motel from yesteryear.
See more places to stay in Williamstown here.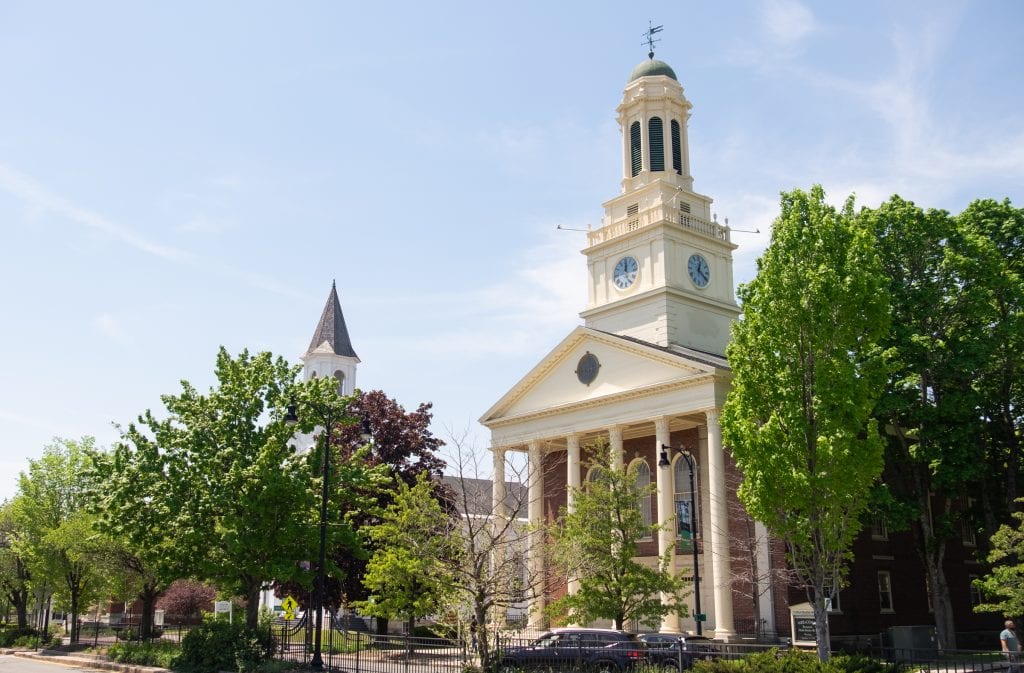 Pittsfield
Pittsfield, Massachusetts, in a nutshell: the working-class urban center of the Berkshires. Pittsfield is the largest city in the Berkshires and has gone through a lot of iterations over time.
Pittsfield, like many cities in Western Massachusetts, fell into economic decline at the end of the manufacturing era. (In fact, to this day, most people ask, "Is Pittsfield safe?" IT'S FINE. Very safe, as are the rest of the Berkshires.) However, in recent years there has been a significant investment in cultural attractions and the historic downtown.
Pair that investment, low prices, and tons of nature within the confines of the city, from forests to lakes, Pittsfield has quite a lot to offer.
Pittsfield, in fact, may be one of the big secrets of New England — quite a decent place to live. And a pretty great place to visit on a tour of towns of the Berkshires.
Best Things to Do in Pittsfield
Arrowhead — You may have pictured Herman Melville writing Moby-Dick from a seaside cottage — but he actually wrote his most famous novel here in Pittsfield! Arrowhead is his preserved home, and you can tour it and learn about his life here.
Hancock Shaker Village — The Shakers were a utopian community that died out in the mid-20th century (in part because they practiced celibacy). At this reconstructed historic village, you can learn their fascinating history and see how they designed a new and modern community.
Berkshire Museum — This museum in the heart of downtown Pittsfield has exhibits all about life in this region — from science to geology to history. It's a good option for kids with lots of age-appropriate material.
Pittsfield State Forest — This 11,000-acre forest is immense for being in the middle of a city! Come here to enjoy the nature and hiking trails.
Where to Eat in Pittsfield
Thrive Diner — People rave about this excellent vegan restaurant, featuring all kinds of diverse dishes. A great choice for people with food allergies.
Dottie's Coffee Lounge — This funky vintage coffee shop serves up delicious breakfasts and lunches, as well as a jazz brunch on Sundays.
District Kitchen & Bar — This restaurant serves up modern American fare with a great collection of craft brews and cocktails.
Berkshire Mountain Bakery Pizza Cafe — An outpost of the excellent Berkshire Mountain Bakery in tiny Housatonic, this bakery serves food all day and has a delicious selection of pizzas.
Where to Stay in Pittsfield
Pittsfield tends to be a mix of urban areas, some a bit walkable, and more suburban areas that sprawl outward. Downtown Pittsfield will give you the maximum walkability, but with a car you can easily get all over the place.
Splurge: Hotel on North — A funky revitalized boutique hotel with a bar, all refurbished and in the heart of downtown Pittsfield.
Mid-Range: Berkshire Inn — A small hotel with outdoor space, a pool, and rooms that could stand to be updated but offer good value for money.
Budget: Econo Lodge Pittsfield — A simple, no-frills hotel, and a decent choice when you're going to be out of the hotel all day.
See more places to stay in Pittsfield here.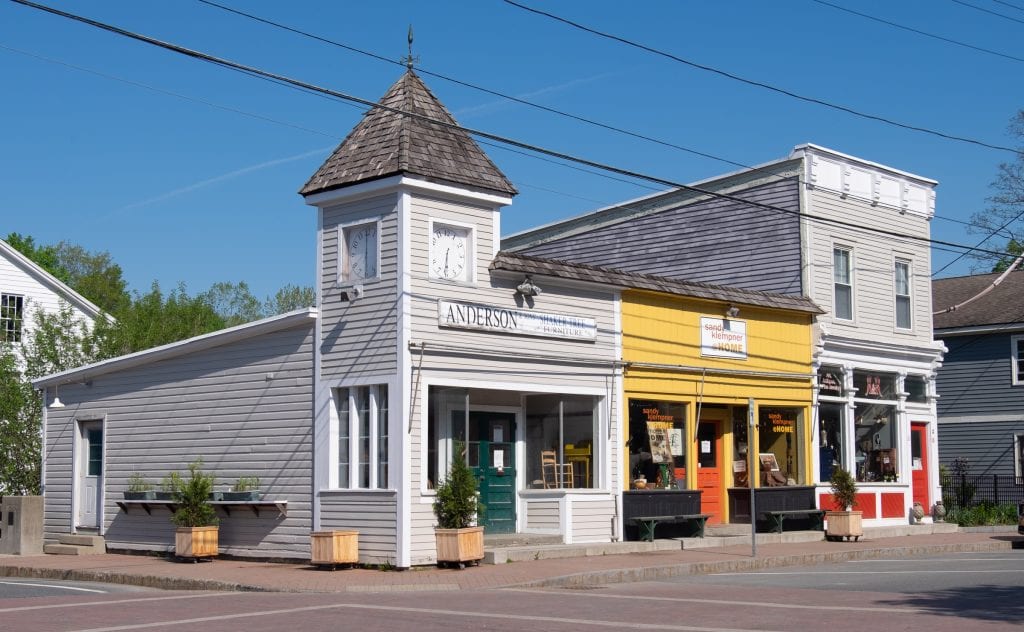 Other Towns in the Berkshires Worth Visiting
Keep in mind that the fun of visiting the Berkshires is getting out into the country! So many of the attractions of the Berkshires aren't in the middle of a small town, whether it's Bash Bish Falls in the southwest corner of the state, or Hilltop Orchards in Richmond, or the Ashuwillticook Rail Trail, which runs from Adams to Cheshire.
But as long as we're talking about towns in this post, here are a few more than I recommend visiting:
West Stockbridge is a teeny-tiny town and absolutely lovely. Worth a stop on your way out of Stockbridge, and don't miss Six Depot Roastery, one of the best coffeeshops in the Berkshires.
Sheffield is the antiquing capital of the Berkshires! Come here for something cool to bring home, or just to browse the funky wares.
Cheshire is more of a residential town than a draw for travelers, but it's home to a lovely stretch of the Ashuwillticook Rail Trail and beautiful riverside scenery.
Lanesborough, close to Pittsfield, is quiet and low-key with beautiful lakes and easy access to the outdoors.
See all places to stay in the Berkshires here.
More on the Berkshires and Nearby:
Best Things to Do in the Berkshires: the Ultimate Guide
Hudson, New York: The Coolest Town in the Hudson Valley
See all Massachusetts posts here.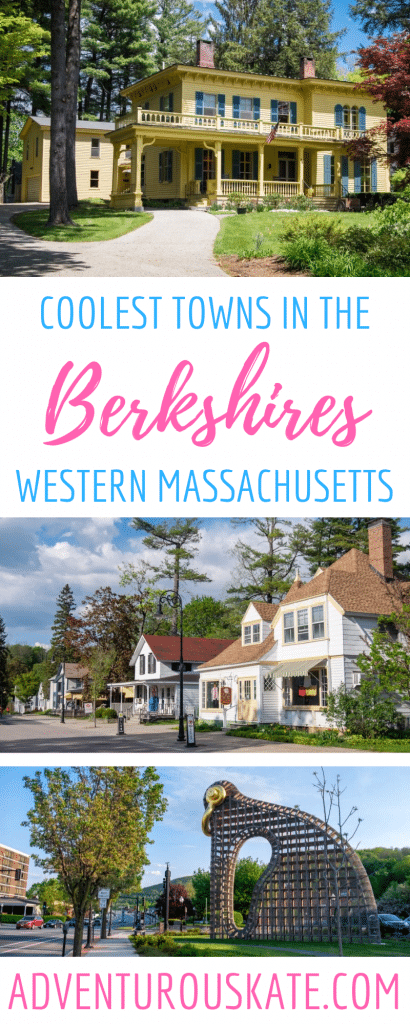 Have you been to the Berkshires? Which town was your favorite? Share away!
The post Best Towns in the Berkshires, Massachusetts appeared first on Adventurous Kate.