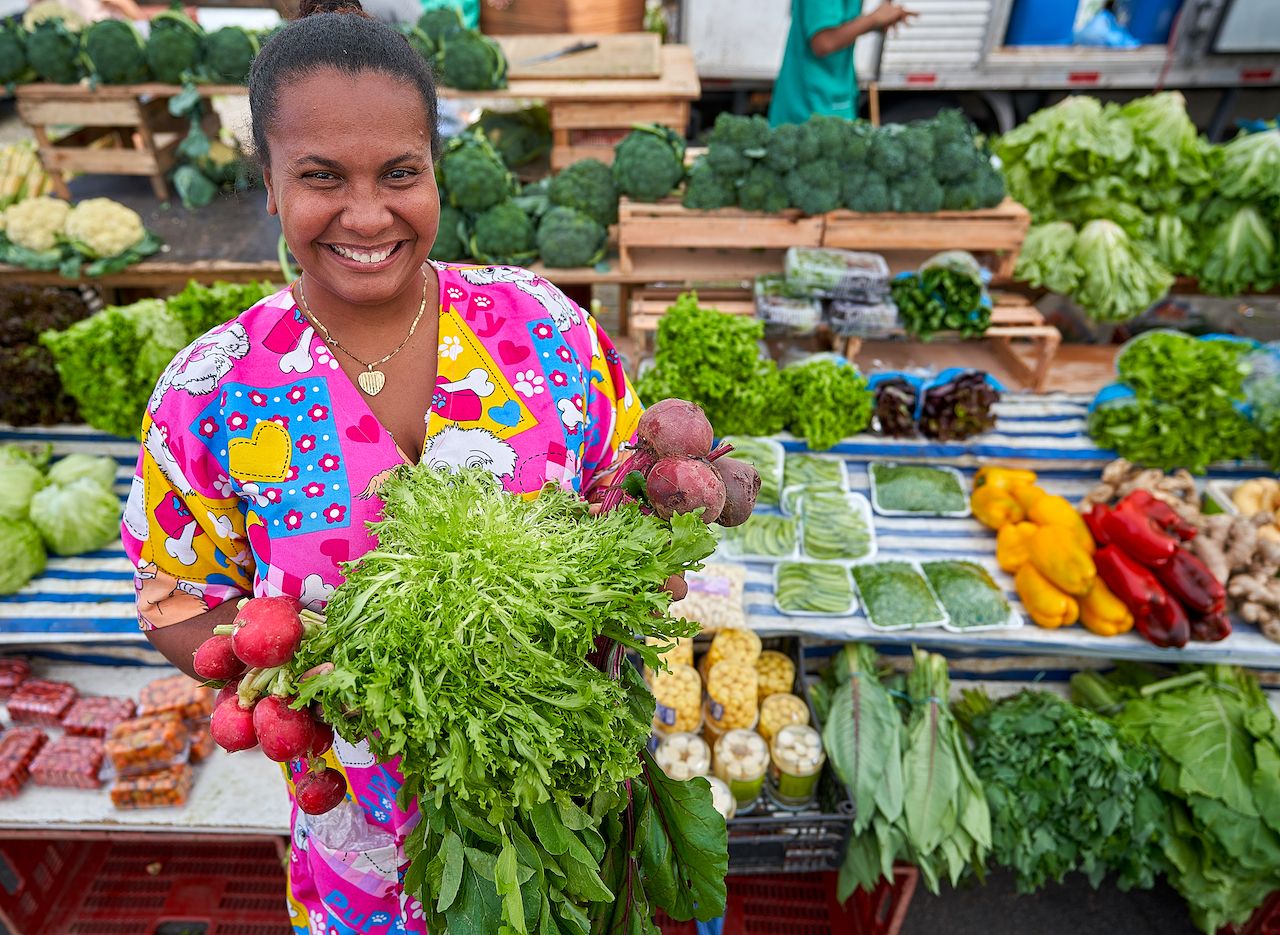 "We don't put a plate of food on the table. We put a way of life," says Tati Lund, who founded .Org Bistro, one of the first vegan restaurants in Rio de Janeiro, Brazil, a decade ago.
Thirty-three-year-old Lund says that when she started her restaurant, though, plant-based diets weren't as well understood in Brazil. "Here in Brazil, it wasn't something as well developed as it is today… So I opened saying it was an organic restaurant. Then people came and they realized it was all vegan," says Lund.
Today, the effects of pioneers like Lund can be seen in the markedly different attitudes about meat-free eating. "Today it's super cool," says Lund of veganism in Brazil, using the words "super cool" in English to mean "hip" or "trendy," although the rest of our conversation is in Portuguese.
In fact, meat-free eating has become so "super cool" that in 2018, a study funded in part by the Brazilian Vegetarian Society, or SVB by its Brazilian initials, showed that 14 percent of Brazilians consider themselves vegan or vegetarian, a 75 percent increase in six years. Not only is that percentage even higher in Brazil's big cities, but it appears to have increased significantly even since then.
That's huge news for a country that is the world's largest exporter of beef and where meat is such a central part of the culture.
"Brazil has a huge culture of meat consumption," says Alessandra Luglio, a nutritionist who works with well-known clients and directs the Brazilian Vegetarian Society's department of health and nutrition. "Meat is a part of our typical plates like feijoada, churrasco — that's very traditional in Brazilian culture."
Despite meat's centrality to the Brazilian lifestyle, Luglio, who is vegan, says she's seen a big change in how vegetarians are perceived in her country. "Some years back, people had a lot of preconceptions about vegetarians. At first, they judged vegetarians as being activists, extremists, radicals. We saw those adjectives a lot," she says. "Now most people accept vegetarians as 'normal.'"
It's a change that has come swiftly. "If you had asked me in 2019, no matter how optimistic I felt, I would not have expected the change we see today, so many companies creating vegan options," says Luglio.
As a nutritionist, Luglio points to studies showing that the main motivation for the move away from meat is a health-driven one. Maria Eduarda Lemos, the director of certification at the Brazilian Vegetarian Society, agrees, noting that a 2018 study by the Good Food Institute showed that "59 percent of Brazilians interviewed said health was a decisive factor in their decision to reduce their consumption of meat."
That said, Lemos feels that the events of last year in Brazil have also raised awareness of the environmental impact of meat consumption. "Today, principally with the pandemic, I think people are more concerned and aware of how impactful the consumption of animal protein is not just to their own health but to the environment," she says.
Referring to fires that raged in the Amazon for weeks and massive deforestation that actually accelerated during the pandemic, Lemos adds, "I believe before people worried more about health and then there was a focus on the environment, principally for what happened last year in our country, with the Amazon and the Pantanal."
Lemos is responsible for certifying that foods — and increasingly cosmetics, cleaning products, clothes, and shoes — are vegan. She says SVB created the vegan seal eight years ago, but that the interest in it has increased multifold in the last year alone.
"The change in Brazilian consumers' awareness about their eating habits is palpable," she says. In a rush to address that demand, Brazilian companies have embraced the SVB vegan seal. "We've seen a growing demand for the certification from a third party that guarantees that their products are vegan," says Lemos.
And Lemos is busy, given the sheer number of food manufacturers in Brazil. Brazil is not just the world's largest exporter of beef but a huge producer of other foodstuffs as well, from soy to oranges. These producers want to capitalize on the demand in their country and abroad for meat-free proteins. Less than two years ago, the Brazilian company Mantiqueira, the largest egg producer in South America, created a vegan egg that comes in a carton just like the classic lain eggs.
That's not surprising. Those I spoke with said that while Brazilians are looking for more plant-based foods, many are first seeking meat substitutes.
"Everyone has their own process and their own time to adapt to new experiences," notes Lemos of the move away from meat — but it's a change that she says is essential to get companies to continue developing alternatives to meat-based protein. "The change we want to see starts with us," says Lemos.
As nutritionist Luglio sees it, these meat substitutes are an important first step. Even though a vegetarian diet based on whole foods, rather than on processed foods, is healthier, she says that getting people off of meat, however that happens, is beneficial.
"I see it as all very positive," says Luglio, adding that in her city of São Paulo, which has a notable Japanese influence, two of its many Japanese restaurants are fully vegan. Likewise, nearly all of its pizzerias and lunch spots all offer meat-free alternatives with vegan cheese or vegan hamburgers.
"The substitute, plant-based meat, is a passport, not the actual thing," says Luglio. "Day by day the person will reduce the substitute and eat less meat and they'll eat more grains, beans, peas, lentils."
Moreover, says Luglio, the huge demand for vegetarian products is being addressed in part by Brazilian companies that are big in the international market. In that way, says Luglio, Brazil can serve as a "reference point" for aspiring vegetarians outside the country as well.
One Brazilian company rushing to meet that demand is The New Butchers, a São Paulo-based "FoodTech" upstart that grew 60 percent during the pandemic while selling plant-based products called The New Chicken 2.0, The New Chicken Burger, and The New Burger.
The New Butchers' CEO, Bruno Fonseca, told me by email that, "Our consumers are the flexitarians, people who like to eat meat or who grew up with this habit, but who want to reduce consumption for some reason such as health, concern with the environment, or concern for animals."
Fonseca, whose own veganism was motivated by concerns for animal welfare, says his product allows Brazilians to continue their way of life. "In Brazil, our culture is having a barbecue with friends on the weekends, and we don't want that to cease existing. We just want to offer a clear and more healthy alternative to animal protein."
The New Butchers' products are made with pea protein and coconut fat, without gluten or added sugars. It's notable that soy products aren't used, since Brazil's massive monoculture soy plantations are also blamed for biodiversity loss in the country.
Certainly, the acute need to move away from meat has been stressed by such renowned environmentalists as Sir David Attenborough, who says that we need to stop feeding the world with meat.
But in Brazil, the smoke-choked air of its big cities from forest fires, the increasing droughts produced by the destruction of its wetlands, and the egregious policies of its right-wing president Jair Bolsonaro — one of the world's autocratic leaders who's used the destruction of the planet as a political power tool — have made the problem feel much more urgent and tangible.
The primacy of cattle ranching in the destruction of the Amazon rainforest is well documented, and it's one that motivates people like Lund of .Org.
"Everybody knows the principal cause of deforestation is livestock. We didn't make that connection [in the past]: the consumption of meat with destruction, deforestation. It's increasingly obvious now," says Lund.
Lund notes with dismay that Bolsonaro's environmental minister was heard saying last year that, while journalists were focused on the pandemic, they should "let the cattle pass" into these endangered areas.
For her part, Lund wants not just to show that a meat-free diet can be healthy and delicious, but that it can also be economically viable. Beyond emphasizing products from local producers and small farmers on her daily changing menu, Lund also likes to focus on foods that are sustainable and an important part of the Brazilian diet like cassava.
She also has dinners focused on plants from the Amazon, to show that "we can produce foods from the [rain]forest intact as it is. We don't need to deforest it, to bring in livestock, soy, and all that."
For Lund, her restaurant is more than a business. She sees it as a movement and as a school, to educate Brazilians and change their minds about a meatless lifestyle. Today she has the help of Brazilian stars like Xuxa Meneghel, formerly married to Pelé and a huge daytime celebrity for many years, who has been loudly espousing veganism on her social media channels for two years.
Brazilian singer Anitta has also become vegan. And earlier this month, surfer Gabriel Medina, a world champion, announced his decision to give up meat and urged his eight million Instagram followers to do the same.
Of course, Lund, like Loglia and others, recognizes that in a society with such income inequality as Brazil, there are members who do not have the luxury of deciding what to eat. "There are so many people below the poverty line who have no way to think about what to eat. They are essentially eating to survive," she says.
But given how simple changing your diet is compared to, say, moving to renewable energy or reducing emissions, which require government involvement, Lund says it's really imperative that we think about what is on our plate.
Says Lund, "For the person who has an opportunity to think when they eat, for them it's our obligation to change, to take a new approach to nutrition so that our biodiversity isn't lost so quickly."

More like this
The post More Brazilians are giving up meat, and that's great news for the planet appeared first on Matador Network.