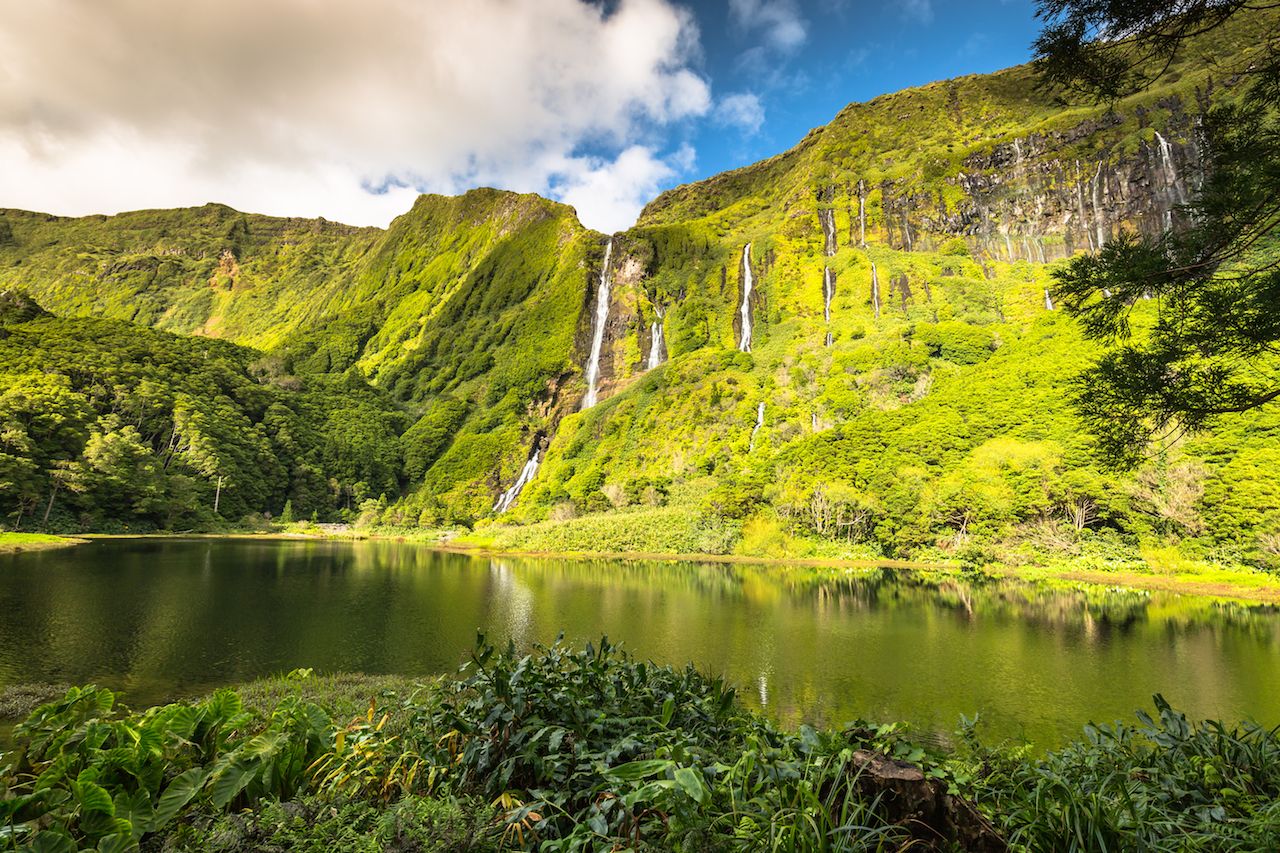 Getting to a place where you can run with bulls every week and drink volcano tea just got incredibly easy. Azores Getaways, the travel planners responsible for the Azores Islands' tourism explosion, will fly you there on a direct route from the US for a laughable $499 — including seven nights in a hotel.
It leaves plenty of money for post-bull-gorging medical expenses. Or just more volcano tea. Your pick.
The flights run round-trip from Boston to Terceira Island, Portugal, home of said bull-running and the colorful historic city of Angra do Heroísmo, a UNESCO World Heritage Site. And since you're open to risky behavior, there's also an active volcano that you can walk through called Algar do Carvão. If you'd rather be underwater than underground, some of the best wreck diving in the world is right off the port at Angra do Heroísmo, too. And it's all just a four-hour flight from Boston.
Of course, it's not as simple as strolling down to your local airport and ending up in the Azores. The flights only leave from Boston — once a week — and the $499 trips are in January and February (though spring trips are available for a couple of hundred dollars more).
But even factoring in a round-trip ticket from your hometown, that's still likely under $1,000 for a week in Europe with a hotel. Bad nights in Vegas cost more.
You'll be flying on Azores Airlines, a perfectly nice airline with comfortable seats and a friendly crew. The only catches are that they fly solely on Wednesdays and don't have connection arrangements with any domestic carriers, so you'll have to plan ahead.
The hotels you'll be staying in aren't fleabag motels where you're sharing a bathroom with two cats and a family of cockroaches; they are legit four-star properties, some with ocean views that'll have all 174 of your Instagram followers falling over with envy. The Terceira Mar Hotel, for example, has a massive lagoon pool, a spacious breakfast terrace, and plenty of rooms with waterfront views.
You're on your own for everything else, from ground transfers to rental cars. But when you're shelling out less than the price of four mediocre Drake tickets for a tropical island vacation, there should be plenty of money left in your travel budget.
Check out the specials and see if you can find time between Wednesdays to head to the Azores. It's a beautiful volcanic paradise that feels like a combination of Europe, Hawaii, and the rustic Caribbean, where you can truly escape for a week in the dead of winter. For $499, you really don't have much to lose. Unless, of course, you insist on running with bulls.


More like this:
In the Azores Islands, you can drink tea straight from a volcano
The post You can fly to the Azores and stay in a hotel all for $499 appeared first on Matador Network.