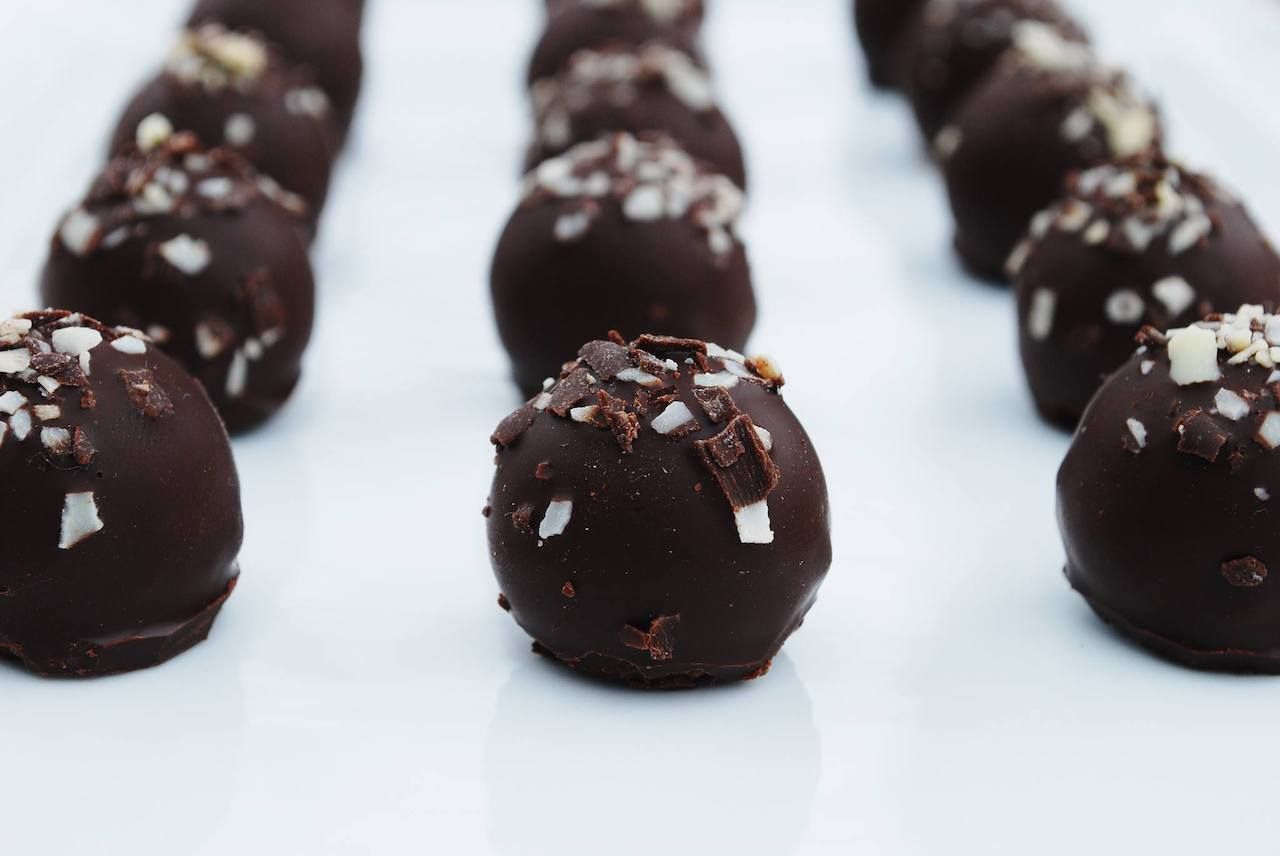 I live in a land of chocolate: the southeast corner of Pennsylvania. Hershey is an hour to the west, and Godiva has its only plant outside of Belgium in my town of Reading. There's a Lindt store down in Pottstown, and Wilbur, famous for its Buds, is in Lititz. Besides those giants of the sweet and semi-sweet, there are myriad chocolateries dotting the countryside. According to Pennsylvania Heritage, 80 percent of cocoa beans imported to the US come in through the port of Philadelphia.
We have a lot of chocolate here, and I'm in love.
The earliest documented use of chocolate as a food and drink dates back to the Olmecs in Mesoamerica, according to Smithsonian Magazine. It came in the form of a mostly bitter liquid extracted from the beans of the cacao tree. Spanish conquistadors took it back to Europe where it was eventually sweetened with cane sugar. It quickly went viral in an old-fashioned word-of-mouth way.
The product came to my area in the time of Benjamin Franklin, and Swiss and German immigrants ensured it found a place in the local culture. By the 1900s, Milton Hershey had started creating signature products in Lancaster. In 1905, he founded a company town centered around creating his sweets and he named it, of course, Hershey.
The malleability of chocolate — its ability to be mixed with just about any ingredient and molded into just about any shape — has led to an explosion of confections. Today, we have an unlimited array of chocolates: turtles, barks, mendiants, bars, creams, bon bons, pralines, nonpareils, and bombs. Basically there's a chocolate-covered, or infused, everything.
For some of the best chocolate made stateside, there are few places that can compare to southeast Pennsylvania. Here's how to take a chocolate-focused tour yourself.
1. Chocodiem
I started out one wintry day to discover the best ganache, the best chocolate, and the best shops in southeast Pennsylvania. It was a couple of weeks before Valentine's Day, and the land of chocolate was in an absolute frenzy.
At the far eastern border separating Pennsylvania and New Jersey is the aptly named town of Easton. Here, you'll find the Easton Public Market, a small mall with gourmet shops featuring meat, baked goods, fresh food, mercantile goods, and locally made wine.
The market is worth a visit all its own, but one distinct stall sells boutique truffle chocolates: Chocodiem. It's a great name that sounds imperious, but it's totally personable. The proprietor, JP Hepp, serves behind the counter and tells stories along with selling truffles.
Hepp is Belgian and a chemist of 22 years. He's used his skills as a scientist to come up with well over a dozen different kinds of ganache — the creamy chocolate that fills truffles. He incorporates ingredients like Jack Daniels, espresso, red wine, lychees, pistachio, and just about anything else that inspires him. I picked up a dozen.
Where: 325 Northampton St. Easton, PA 18042
2. Raymer's Homemade Candies
South from Easton in Doylestown, I found a wonderful family-run business: Raymer's Homemade Candies. Mom, dad, in-laws, husbands, and wives are all employed here and create a delightful array of sweets. On the day I visited, Dad was making a tray of turtles while lecturing on the process of natural caramelization, which involves using a copper kettle and a process of cooking sugar at an extremely high temperature. This gives it a rich, identifiable flavor. This natural caramel goes oh so well with chocolate.
Raymer is originally from Wisconsin, where he apprenticed under his father-in-law making recipes from the late 1800s. He still uses some of those recipes today.
Bring your sense of humor when you go to Raymer's. It sells Valentine chocolates for men: heart-shaped boxes dressed in shirt and tie. Then there are the chocolate-covered bottles. Customers bring in a bottle of whatever — whiskey, Champagne, bubble bath soap — and Raymer's coats the bottle with chocolate and decorates it with pretty frippery. When the customer is ready to use the contents of the bottle, they crack open the chocolate and let the celebration begin.
Where: 21 E Oakland Ave, Doylestown, PA 18901
3. Premise Maid
From Doylestown, I found my way to Route 222 and headed west. On the west side of Kutztown is a building in the middle of farmland that resembles a Swiss village. This is Premise Maid. The name refers to how the goods are made on the premises. It's a great place to take your kids. Inside the candy shop is a humorous museum-like diorama depicting village life, presumably in the Alps. A sign says "Welcome to the Porch." There are happy people and dogs and all-around good cheer.
The Damiano family has been making Premise Maid chocolates for over 30 years. It's a big operation with more than 40 employees who work not just in the chocolate factory but in an ice creamery and bakery as well. The torte cakes are way too pretty to eat, and it's impossible to decide which one to buy. Thankfully, there are smaller versions so you can pick up a few — I suggest the Cherry Black Forest.
Where: 10860 Hamilton Blvd, Breinigsville, PA 18031
4. Christopher Chocolates
Farther west and south I reached Christopher Chocolates in Newtown Square. I bypassed the shop and went straight to the factory in Linwood. Like Raymer's and Premise Maid, Christopher Chocolates is a family affair. Almost 40 years ago the Lamparellis bought an existing shop in West Chester from Mabel Thompson. They've built it up to a store that offers a wide array of chocolates (mostly made from Wilbur chocolate).
Specialties include regional concoctions such as Easter eggs (chocolate-covered, hand-rolled, and filled with buttery, coconuty, creamy interiors), chocolate-covered pretzels, and Irish potatoes. The latter confection is neither Irish nor does it contain potatoes. Instead, it's a coconut-cream-filled, cinnamon-coated lump of delicious that has nothing to do with chocolate. Still, these are worth mentioning because they're that dang good.
A specialty at Christopher Chocolates is their chocolate poops, which have googly eyes and tiny marshmallows inside. When you pour hot water over a poop, the melting chocolate bubbles up and the marshmallows pop to the surface for a delicious hot chocolate. These scatological chocolates are quite popular and tasty. They're great for the wintertime doldrums.
In the factory, there's an old-fashioned assembly line with a rolling machine that bounces and jiggles as it turns out Irish potatoes on a conveyor belt. This thing is decades old and 100 percent mechanical with not a computer chip or LED readout anywhere to be found. When it breaks, you don't call IT, you call dad to come in with a wrench and well-placed kick. It's great fun and nostalgic in an I Love Lucy chocolate factory episode kind of way.
Where: 3519 West Chester Pike, Newtown Square, PA 19073
5. Éclat
If there is a polar opposite to Christopher Chocolate, it's Éclat half an hour north in West Chester. There's a good chance that this is the highest end chocolate shop you will ever visit. With none of the folksy humor of the family chocolatiers, Éclat is elegant and sophisticated.
Éclat's chocolate maker, Christopher Curtin, learned from the masters of Europe and became the first American to be awarded "German Master Pastry Chef and Chocolatier" in Cologne. Since then, he's traveled the world to find the correct ingredients for his concoctions. He gets cocoa from Venezuela, chile from Aleppo, and peppers from Sichuan. The guy has studied, traveled, researched, tasted, tested, and devised. He was at one time a chocolate advisor to Anthony Bourdain.
Curtin's inventions include combination bars with pairings such as coffee with cardamom and allspice with sesame. He has mendiants (chocolate wafers invented by the French) and mondiants (filled mendiants).
When faced with such a profusion of offerings, the best thing to do at this beautiful little shop is to start a subscription. A chocolate-of-the-month club so to say. That, or come back regularly.
Where: 24 S High St, West Chester, PA 19382
6. Lorah's Handmades
My final stop was back toward home at Lorah's Handmade Chocolates in Mohnton (appointment only: info@lorahschocolates.com). Here, Maria Harvey has been making chocolates for 12 years. She bought the business from her aunt Ruth Lorah, who herself bought the business years ager from the Millers of Harrisburg. I guarantee what Maria is doing with chocolate would be unrecognizable by the Millers.
Maria works with the science of chocolate making. She studies, she experiments, she reads, she attends seminars. She's created things that we can't even imagine. She's got chocolates made with mead (Red Raspberry Melomel) and has put white chocolate with blueberries. Someone once told her they were crazy about Brazil nuts, and Maria whipped up Brazil nut butter chocolates. There is no stone unturned in Maria's world.
More interesting than her infinite variety of concoctions is the fact that most of Maria's business is conducted on the road. She travels around in her mobile "Candy Scamper" to events like private parties, festivals, and retirement home affairs where clients snap up her wares and beg for more. She takes requests and follows up on suggestions that cross her path. My favorite so far is the milk orange cream that's decadence defined.
Where: 611 Alleghenyville Rd, Mohnton, PA 19540
Biography: Sue Lange is a filmmaker in Reading, Pennsylvania, USA. She is currently in development on her latest narrative film, LE BON CHEF (http://leboncheffilm.com).

More like this
The post The ultimate chocolate road trip through Pennsylvania appeared first on Matador Network.