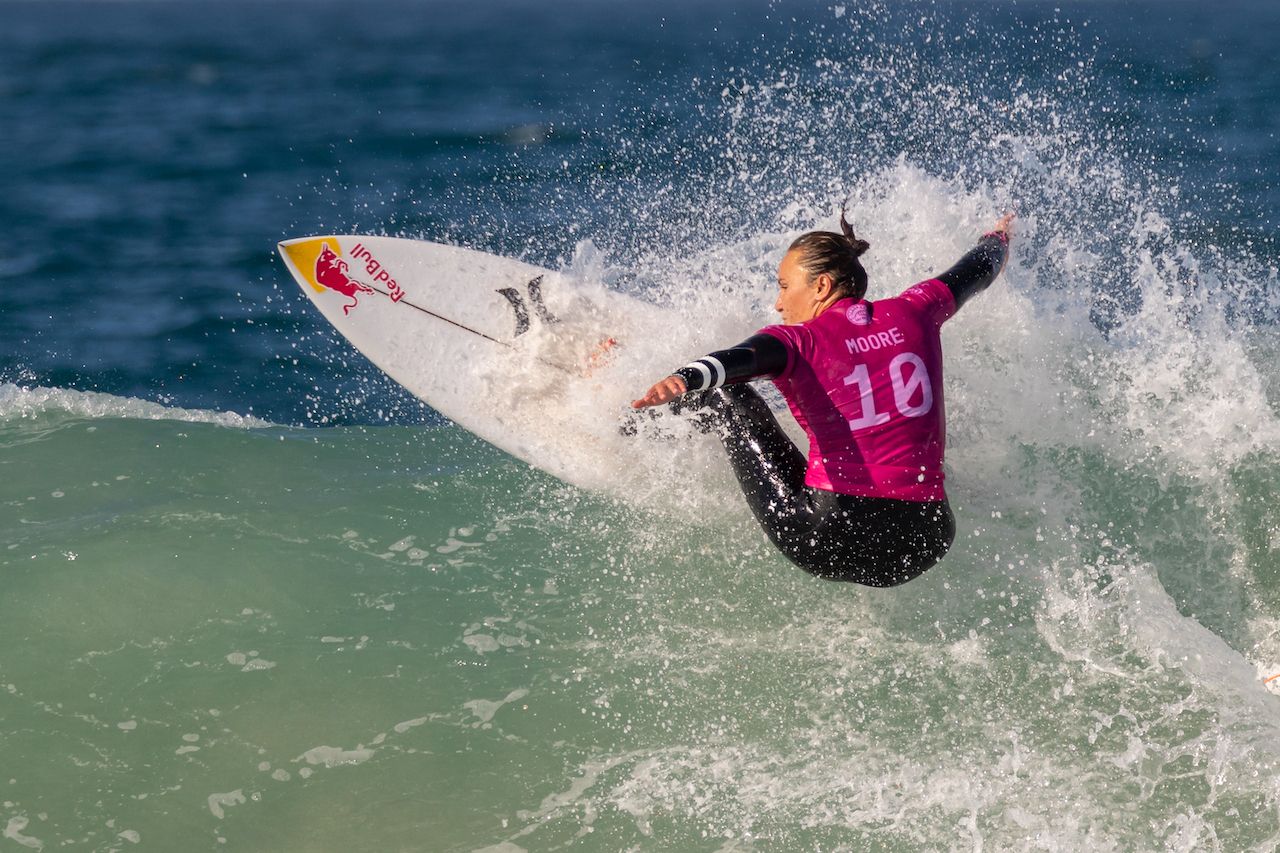 On Sunday, July 23, the sport of surfing will debut at the Tokyo Olympic Games. World champion Carissa Moore is heavily favored to win in the Women's category. But, for the first time ever, the Honolulu native won't be permitted to compete under the Hawaiian flag.
Surfers from Hawaii will have to compete under the US flag, and many Native Hawaiians feel ambivalent about that.
"The conflict I, and many other Native Hawaiians, feel about Carissa and John John [Florence] surfing under the United States flag goes back to the illegal overthrow of the Hawaiian Kingdom," says Kalani Ka'an?'an?, Chief Brand Officer for the Hawai'i Tourism Authority.
Waving the Hawaiian flag
In surfing competitions around the world, surfers from Hawaii have the Hawaiian flag beside their names on the scoreboard, on their jerseys out on the water, and, if they win — which they often do — draped over their shoulders on the victory walk from the sand to the podium.
That's what Kalani Vierra says he has done in the tandem surf competitions he and his partner have won in places like Spain or Australia, and in locations like New Zealand, where they were the highlight of tandem surf exhibitions.
"For myself, when I did travel, I waved my Hawaiian flag," Vierra told us by phone as he did a pre-dawn drive to surfing on the west side of Kauai.
Referencing the two Hawaiians on the US Olympic surf team, Ka'an?'an? says via email, "Without question, they are two of the biggest names in professional surfing who have been able to compete in the World Surf League under the Hawaiian flag as they recognize Hawai'i's unique history as the home of surfing."
It's not that Hawaiian athletes in any sport should compete under their flag, but that surfing wouldn't exist without Hawaii. Hawaii didn't just invent surfing; it was one of the few places that could have done so.
It couldn't have started anywhere else
"There is no way to know where, when, or how people first surfed on waves," says DeSoto Brown, a historian who curated the recent exhibit Mai Kinohi Mai: Surfing in Hawai?i at the Bishop Museum in Honolulu. "However, we can say with certainty that by the time the first outside people arrived in the Hawaiian Islands in 1778 and documented and described the surfing they encountered, Hawaii had achieved the highest evolution of the sport."
A key factor, notes Brown via email, is that Hawaii had warm water. Surfing was a sport that could only have been invented in the tropics, Brown tells us, because the water is too cold in most of the world to be used for recreating without modern equipment.
"Visiting Europeans and Americans from temperate climates mostly could not even swim at all, even sailors, so to see everyone from babies to old people playing actively in the water was an astounding sight in the late 1700s and early 1800s," says Brown. "For many foreigners, the ocean was a threatening enemy, not a welcoming environment."
It would be nearly two centuries before wetsuits would make surfing in cold water — even alongside floating ice — possible. Brown also notes that Hawaii's geographic location at the cross-section of ocean swells, along with its varied coastal topography, meant that there were surf breaks in many different places, and with varying conditions, throughout the Hawaiian archipelago.
"These physical attributes were crucial in surfing's development, but it was up to the creativity and physical prowess of the Hawaiians to have created surfing," says Brown. "And make no mistake, the sport of surfing which is now international is the outgrowth specifically of what Hawaiians invented."
An equalizing sport
Surfing was not limited to the wealthy nor just to men. "While Hawaiians of the time lived in a very stratified society with very specifically defined gender roles, both males and females actively surfed, along with everyone from royalty to commoners," says Brown.
Perhaps it was the sight of scantily clad women, more so than the men, that first shocked the Christian missionaries who came to Hawaii in the 1820s. While the oft-cited contention that these missionaries outlawed surfing is debated, one thing we know for certain: The arrival of Westerners, which began even before the missionaries' appearance, resulted in a drastic reduction in the number of surfers.
For one, Hawaiians suffered the social and economic dislocation brought on by foreigners who soon set up plantations and imported workers from countries like Japan to work at them. Moreover, foreigners brought diseases to which the Hawaiians — much like so many Indigenous peoples in the Americas — had no immunity. It's estimated foreign-brought illnesses may have killed more than 80 percent of Native Hawaiians in less than 60 years. The effect of this devastation on the number of Hawaiians who could enjoy their ancient pastime in the water was drastic.
Although the presence of Westerners endangered surfing, the sport persisted. It's a testament to surfing's central place in Hawaiian culture.
"Surfing, or He'e nalu, is a Hawaiian cultural, artistic, and athletic sport. It has been practiced in our culture for hundreds, if not thousands, of years. We have always identified with surfing as a part of our identity and it enables us to connect to our kupuna (ancestors) today," says Isaiah Walker, Academic Vice President and member of the Faculty of Culture, Language & Performing Arts at Hawaii's Brigham Young University.
From royalty to the Olympics
We can also give credit for surfing's survival to Princess Ka'iulani, the last heir to the Hawaiian crown before the kingdom was overthrown by the United States in 1893. In a just-released book, Women on Waves: A Cultural History of Surfing: From Ancient Goddesses and Hawaiian Queens to Malibu Movie Stars and Millennial Champion, author Jim Kempton argues that Hawaii's Princess Ka'iulani was not only an avid and accomplished surfer, but may have been responsible for ensuring its continued existence in Hawaii.
Kempton says it was Princess Ka'iulani who paved the way for the Hawaiian surfer better known for bringing surfing to the world: Duke Kahanamoku.
This brings us back to the Olympics. Kahanamoku is credited with introducing surfing to California in 1912 and to Australia in 1914 — which both became surfing powerhouses in the following years. But the world's eyes were on Kahanamoku in the first place because he was a highly accomplished Olympian, having racked up gold and silver medals in swimming at three different Olympics.
Kahanamoku — whose original surfboard can be seen at the Bishop Museum's Hawaiian Hall — had dreamed of bringing surfing to the Olympics, and it took nearly a century for that to happen. And for that, Hawaiians are grateful.
"As a Hawaiian, it is very exciting to have Carissa and John John competing in the Olympics as surfing makes its debut in the summer games. Both are incredible world-class athletes who are very proud of their Hawai'i roots," says the Hawai'i Tourism Authority's Ka'an?'an?. "I have no doubt they will have all of Hawai'i cheering them on to bring home the gold."
If they do both earn gold, it won't be a surprise. The same conditions that made Hawaii the birthplace of surfing still make it the training ground for many of the most accomplished surfers in the world. Even Kelly Slater — who at age 49 is still strong enough to serve as the alternate on the three-member US Men's team — is an 11-time World Champion and widely regarded as the greatest surfer of all time. Although he learned to surf in Florida, he honed his skills as a teenager on Oahu's Banzai Pipeline.
In fact, BYU's Walker says Hawaiians will also be cheering on Tatiana Weston-Webb, a Kauai-based surfer who will be surfing for Brazil in these Olympics, and Brissa Hennessey, who will surf for Costa Rica, where she lived until the age of eight before moving to Oahu's North Shore.
Making the Hawaii story clear once and for all
The hope at this year's Olympics is that the presence of so many Hawaiians — and the controversy over the flag — will finally draw the world's attention to Hawaii's centrality in the existence of surfing. The absurdity of cities like Santa Cruz and Hamilton Beach fighting over the trademark title of "Surf City USA" becomes even more apparent.
"Surfing is a gift to the world, but has often been appropriated into Western culture," opines BYU's Walker.
Fortunately, this year is forcing a reckoning of that fact. At least Ka'an?'an? believes so.
"There has been considerable national and international media coverage leading up to the Olympics focused on the fact that Hawai'i was not able to send its own surf team to the games this year," says Ka'an?'an?. "Many of those stories have not been shy to point out the fact that Hawai'i is the birthplace of surfing."
For his part, tandem surf world champ Vierra had been hoping to do an exhibition with his partner in Tokyo and had been raising funds to that end before the pandemic derailed those plans. Instead, he'll be watching the US Olympic surf team compete from his Kauai home. He is looking forward to seeing the Hawaiians show their skills.
"I'm hoping that Carissa and John John bring the Hawaiian flag," says Vierra. "And maybe they have the opportunity to wave it."

The post Hawaiians are thrilled about Olympic surfing, but they're not so sure about the US flag appeared first on Matador Network.