How do you survive a pandemic when you work in hospitality? So many people have lost their businesses this year, to great sadness. But others have done truly innovative things and come back stronger than ever.
Recently, the Czech tourism board highlighted the stories of locals in Prague who creatively pivoted their businesses to survive during the pandemic. They found a way to survive — though they're hoping to welcome more travelers back soon.
I watched the videos and was struck by how moving they were.
And as I watched them, I had one story I wanted to tell in particular:
The story of Petr, Gabi, and Etapa — a cafe in my neighborhood of Karlín in Prague. A cafe that not only survived the pandemic, but managed to thrive under the new normal. A story of perseverance and community. A story I hope you enjoy.
This branded content post is brought to you by Czech Tourism.
Note — the above video is in Czech. Hit the CC button and English captions will show up.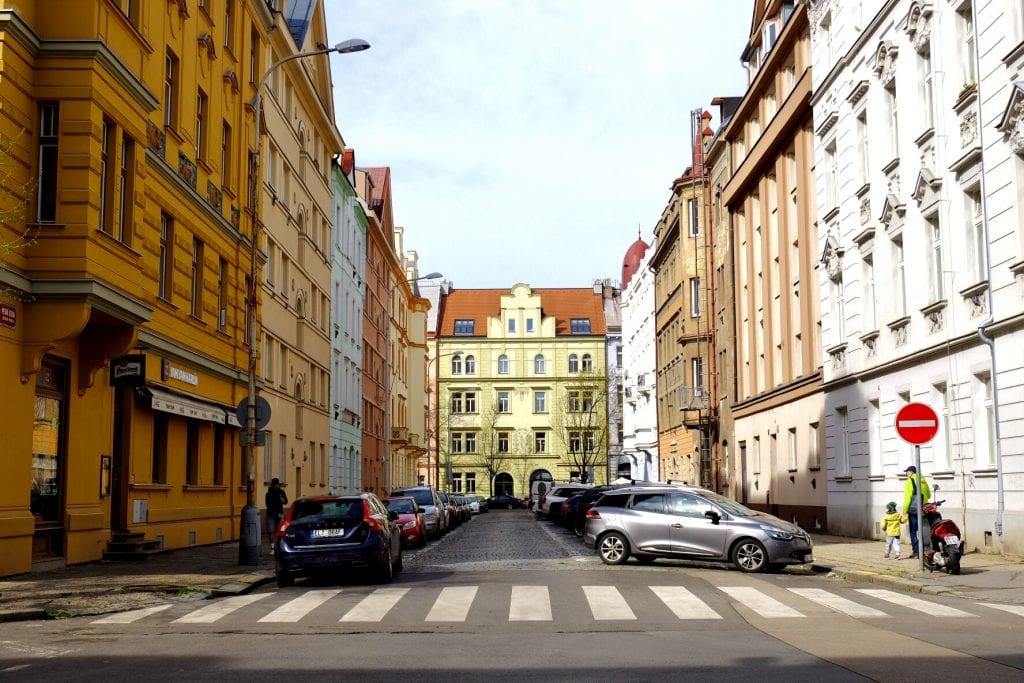 A Gem in Karlín
In many European cities, travelers like to explore different neighborhoods, finding the kinds of hidden gems only locals know about. But strangely, in Prague, I find that most travelers stick to the old town, rarely venturing beyond the limits of Prague 1, the city center.
Of course, the old town is lovely — so many crenellated buildings, a castle along the river. But there is so much going on outside the old town, too. So much that I almost feel like Prague is two cities — the neighborhoods filled with tourists, and the neighborhoods that never see tourists. Karlín, one of the coolest neighborhoods in Prague, is the latter.
Karlín is where I live now and where my boyfriend Charlie has lived for the past 10 years. He loves it so much that on his travels, he's always searching for the equivalent of Karlín: emerging, trendy, local, and cool. Poblenou in Barcelona. Prati in Rome. Roma Norte in Mexico City.
Karlín is a 20-minute walk up the river from the old town. It's unique in that it's edged with office buildings, but in the middle is a residential area with parks, shops, cafes, and Prague's trademark candy-colored houses.
And one of those cafes is Etapa, owned by Karlín residents and Prague food bloggers Petr Ogurcak and Gabi Ogurcakova. Karlín was central to opening their business.
"It's in the center but it's not, it's green but it's not," says Petr. "It's kind of everything."
"There are lots of expats," adds Gabi. "And you can buy whatever you need here, you don't need to go to the big mall."
"We call it Small Berlin," Petr says.
SMALL BERLIN! That is PERFECT! That phrase encapsulates Karlín more succinctly than anything else I've heard.
Starting a Business
How do you suddenly decide to start a small business? Some people have the entrepreneurial fire in their belly from birth, but for some people, everything falls into place at the right time.
For Petr and Gabi, a married couple in their thirties, they were wanting something more out of life.
"We didn't just want to sit at home, working behind our computers," Gabi tells me.
"We wanted something when we can meet people. So, the first idea –" she turns to Petr. "I think you started making bread?"
"I suppose my ambition was to make sourdough bread," Petr says with a smile. "A chance to do it properly."
In 2019 both Petr and Gabi worked in web-related professions — Petr as a UX designer, Gabi as a paid search marketing specialist. In their free time, they ran a food blog, PG Foodies, as a hobby.
(Fun fact: I was also a paid search marketing specialist before quitting my job to travel the world. Unlike me, Gabi didn't quit in grand fashion; as a freelancer, she simply decreased her workload over time.)
"I'm so glad that I left everything behind," sighs Gabi. "At first it was creative, like eight years ago, but then…"
"It became more technical than creative," says Petr. "We felt a little bit tired of the IT environment."
Being successful food bloggers, they had thought about doing something more with food. And then an opportunity arrived right in the heart of Karlín.
"We live just there," Petr says, gesturing his head down the street. "We found this place. We fell in love with it. And we didn't know what we would do with the space, but we had just one week to prepare our concept for the previous owners."
It worked — and they were able to start working on the cafe, which opened in January 2020.
"It's a great environment," Petr says. "You feel at home. You get immediate feedback. It's what we were missing online."
"It's interesting," I point out, "so many people who pivoted online in the early days are now coming offline. To have more interactions with people."
They agree. "You realize it's hard," Gabi adds, "but it makes you happier."
And so Etapa was born.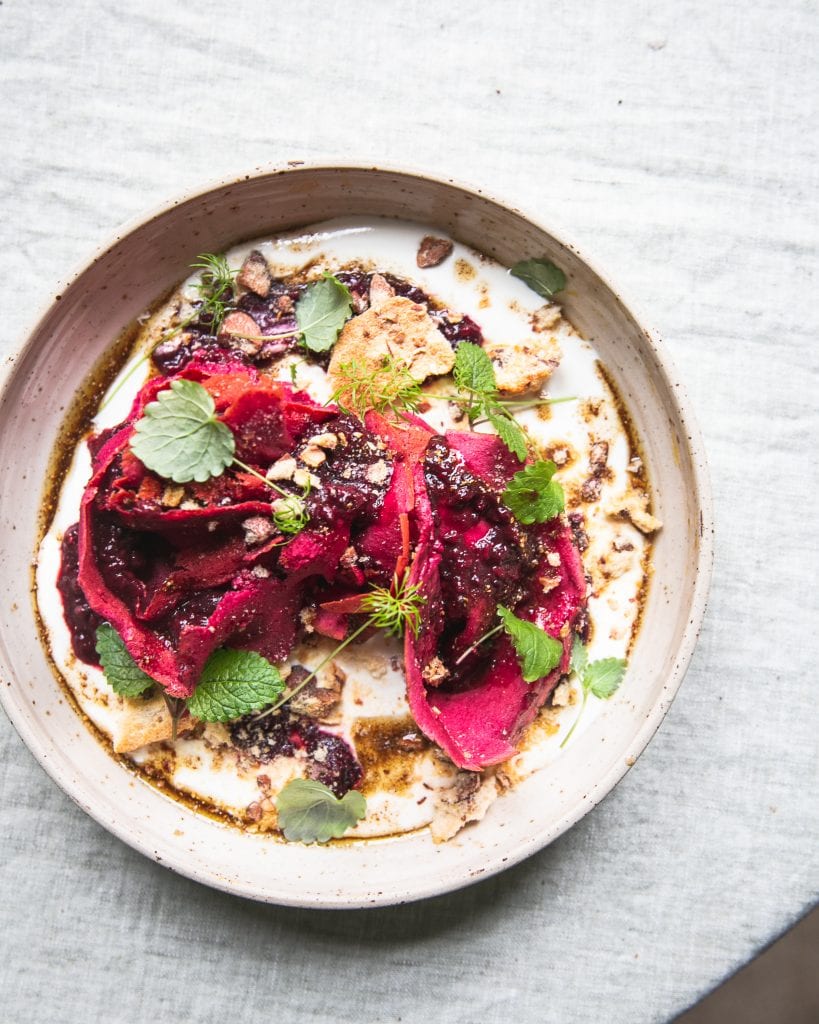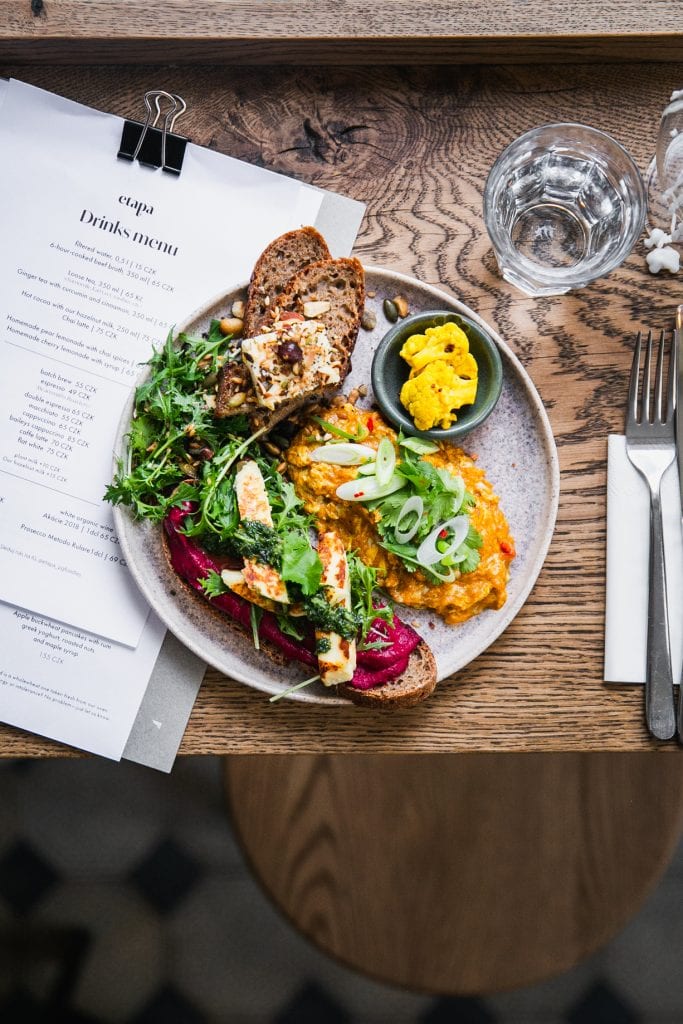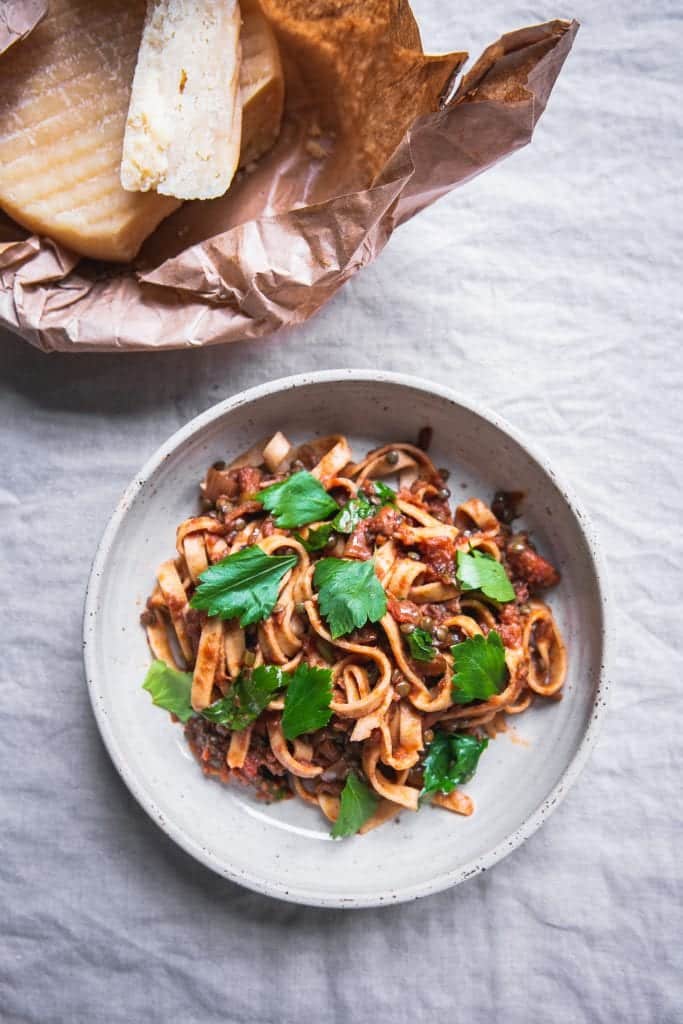 "When we started, we focused on breakfast — interesting, beautiful breakfasts," Gabi says. "There are places in Prague where you can find interesting brunches, but everything is, like, bread with avocado! So we wanted to do different things. And it worked."
"It was quite busy," Petr says.
"We moved to prepare lunches for the workers here, a weekly menu. Beautiful bowls, those things." Being a neighborhood surrounded by office buildings, Karlín has lots of workers looking for quick and delicious lunches. Later, Petr and Gabi experimented with a dinner menu, featuring light bites and cocktails.
If you've spent any time in the Czech Republic, you know that Czechs eat a lot of meat, especially pork. But Etapa serves exclusively vegetarian cuisine, the dishes featuring ingredients from small local producers. The menu changes each month.
Even so, they're not exactly shouting from rooftops that they're a vegetarian cafe. "We don't use this label," Petr says.
Petr and Gabi are actually meat eaters themselves, but while food blogging they decided to try out different ways of eating to see how it made them feel. (Ironically, Petr the bread maker discovered that his body does not love gluten.)
Ultimately, they decided to focus on high quality ingredients. And that might mean eschewing mass market-produced bread in favor of a loaf made from stone-ground wheat.
This cafe is something different in Prague, and when you think about it, being subtle about the vegetarian menu could have earned them customers they wouldn't have attracted otherwise.
The Pandemic
The pandemic hit suddenly in March 2020 — so suddenly that Petr and Gabi woke up at 6:00 AM, looked at their phones, and found out that all restaurants in the Czech Republic been shut down. They had been given no indication this was going to happen.
"It was a shock at first," Petr says, "but we had to act quickly, so we opened the window."
"On the first day?!" I exclaim.
Indeed, on the very first day, they pivoted.
"We had so much food in our fridge," Gabi says. "We decided that we will sell all the things, because we know our suppliers, our local small farmers, and we didn't want to break this chain."
They sold like crazy from the window that day. The next day, they decided to fully close, as they had no idea how severe COVID would be.
Looking back, the Czech Republic's first COVID wave in March was tiny, especially compared to other European countries. Things would get much worse later in the year. But in those early days, we had no clue about how bad this would be or how long it would last.
"We didn't know what was ethical, to be open or closed," Petr says. And to make things more complicated, they were responsible for paying their staff.
"It's difficult when you're a freelancer, but you only take care of one person," adds Gabi. "We had so many people to take care of."
So they decided to pivot again for as long as the shutdown would last. "We decided to sell — like from the window, but online. We started selling on Instagram, we had this green box, and we put stuff in the box right here," he gestures in front of the cafe. "The customer came to pay, and we were inside."
It paid off — and customers loved it. "It was a really funny thing, but then it grew and we were able to manage all things on Instagram. We created an e-shop and it was like a rocket start."
Gabi points out that their work backgrounds gave them a tremendous advantage — thanks to their knowledge of web design, search marketing, and online publishing, they were able to pivot to an online system quickly rather than spend time learning how to do it.
And it was an adjustment. Their costs increased — they needed more packaging, for example. But Etapa was one of very few places open in Karlín, and that worked to their advantage as well.
"We were thinking how to shape our offer for the situation," Petr says. "So we started baking more and more. And I think our product became more popular during the pandemic."
"Everybody was making bread during the pandemic," I joke. We all laugh.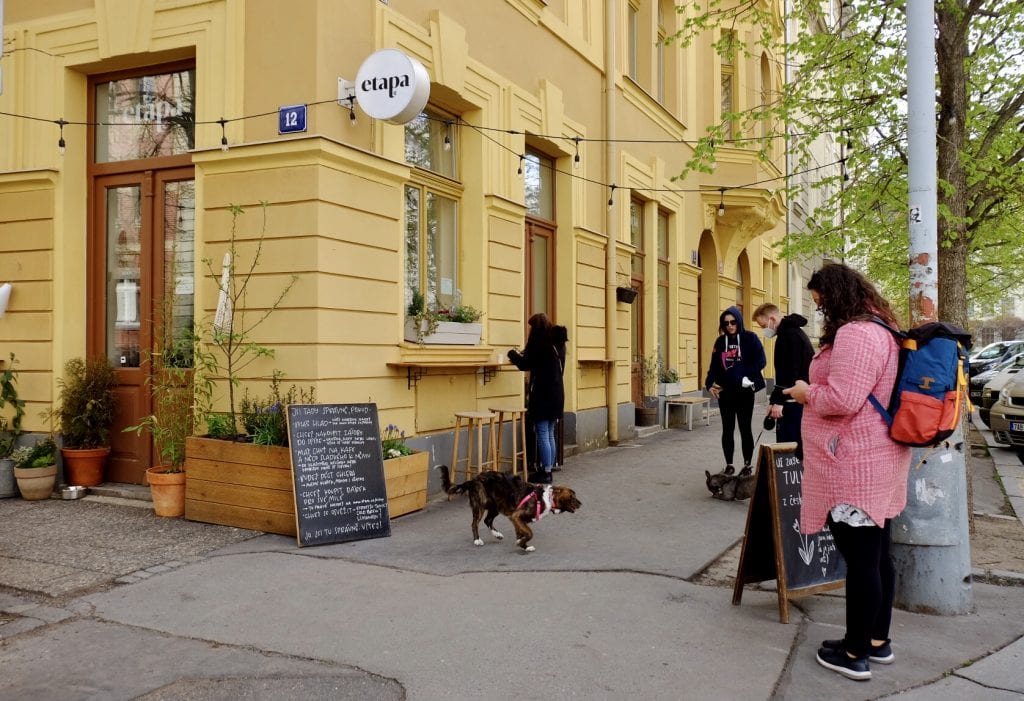 A New Normal
I take long walks in Karlín most days, and each time I inevitably end up walking past Etapa. There is almost always a huge crowd gathered outside.
Karlín locals show up to Etapa in droves, and there are always a few dogs hanging out, a few babies in strollers. While indoor dining has been closed for months, locals are here to grab a coffee and a pastry to enjoy in the park, or perhaps pick up some takeaway lunch and have a chat with a neighbor.
I point this out to Gabi. "Oh, it's super nice when you hear that," she says, adding that she loves how her employees know so many customers by name, even in the age of face masks. "And it's because of the pandemic that they found us."
"They found you from word of mouth?"
"So many people wrote about us because we started the e-shop quickly." In this case, publicity in the early pandemic days gave them a boost that's lasted to this day.
It's been tough here. While the Czech Republic had a fairly normal summer, cases began rising in late September, turning into three distinct waves. Both indoor and outdoor dining have been closed down for months.
But still, people come to Etapa.
And I come to my favorite question — "What's the best thing on the menu?"
The short answer — whatever they're introducing at the moment.
"I love everything on the menu," Gabi says before I even finish the question. The menu changes monthly and right now they're featuring a barley dish with mushrooms gathered from the forest, seasoned with wild herbs. "It's like art to me," she adds.
As for me, I love their pistachio cookies. They're gluten-free and you wouldn't even know it!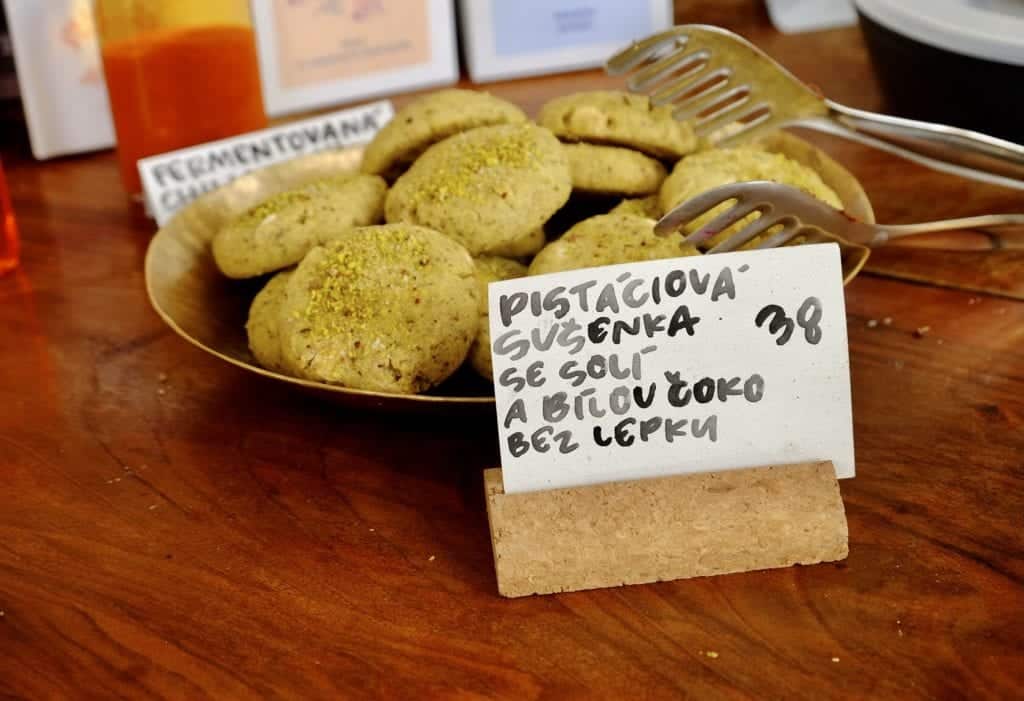 How to Survive a Pandemic as an Entrepreneur
The pandemic has been the most disruptive event of our lives, and many small businesses did not survive the past year. What advice would Petr and Gabi give to other entrepreneurs when faced with tough times?
"Be yourself," Petr says firmly.
"Be personal," Gabi adds. "We know so many cafes and bistros that chose an agency to take over their Instagram. It looks nice, but it's not personal. What works here is we make changes. Even though –"
"Even though it's hard. It's hard. It's tiring," Petr says.
"And sometimes we cook something we love, even though we wouldn't normally put it on the menu," says Gabi.
"We think from the perspective of our customers," says Petr. "I create emotions, and you won't forget that. You'll forget when you buy something, and what it costs, but you won't forget how you felt."
As I look at Gabi and Petr's success, I'm finding common threads with other entrepreneurs I know who weathered the pandemic better than others.
They acted quickly, without overthinking. A lot of people froze when the pandemic hit — understandably so — but acting quickly helped them attract local publicity and capitalize on the attention.
They had a strong tech background, including web design and social media. This allowed them to create quickly and skillfully instead of struggling or outsourcing.
They've always had a strong sense of mission. Their goal has always been to feed their community and create connections among their neighbors. A pandemic doesn't change that. People still need to be nourished, physically and emotionally.
It's funny. Gabi and Petr didn't start their careers as entrepreneurs — but when things got tough, they had those muscles, ready to be flexed.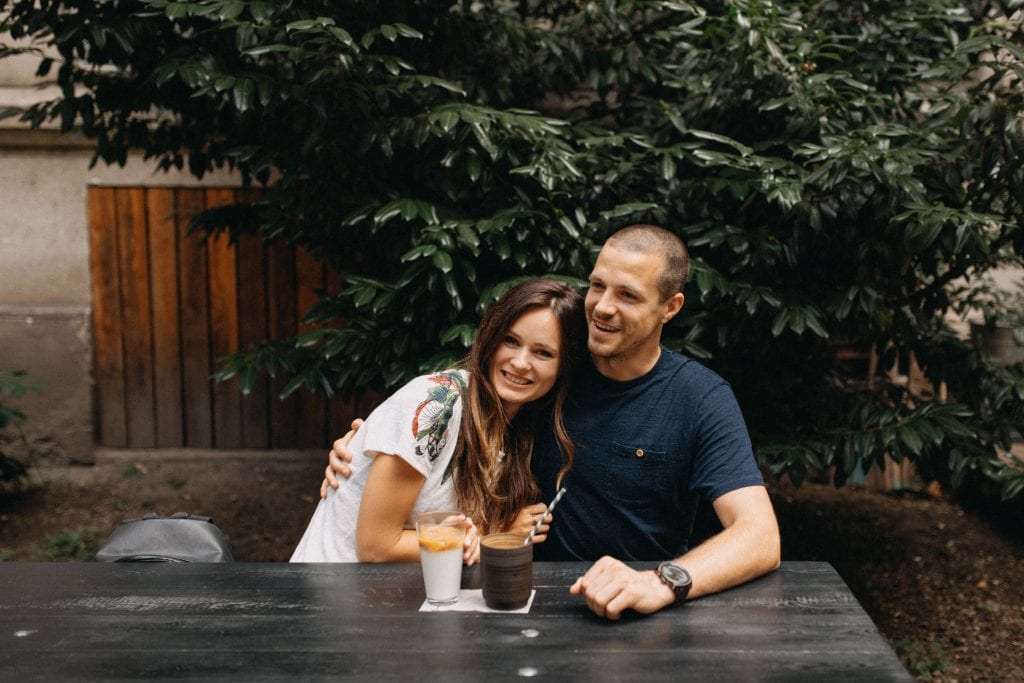 Visit Etapa
Yes, I think you should come to Etapa — and Karlín! The cafe is located at Urxova 479/6 in Prague. From the old town, it's a seven-minute ride on the tram, though I recommend walking along the river, which is pleasant and takes closer to 45 minutes.
Please don't be intimidated because the daily specials are written in Czech outside — the staff speak English and would be happy to help you.
Come for lunch, or come for a coffee and pastry to enjoy in one of nearby parks. I guarantee you'll enjoy it.
Gabi and Petr are two brilliant, thoughtful entrepreneurs whose cafe deserves your business.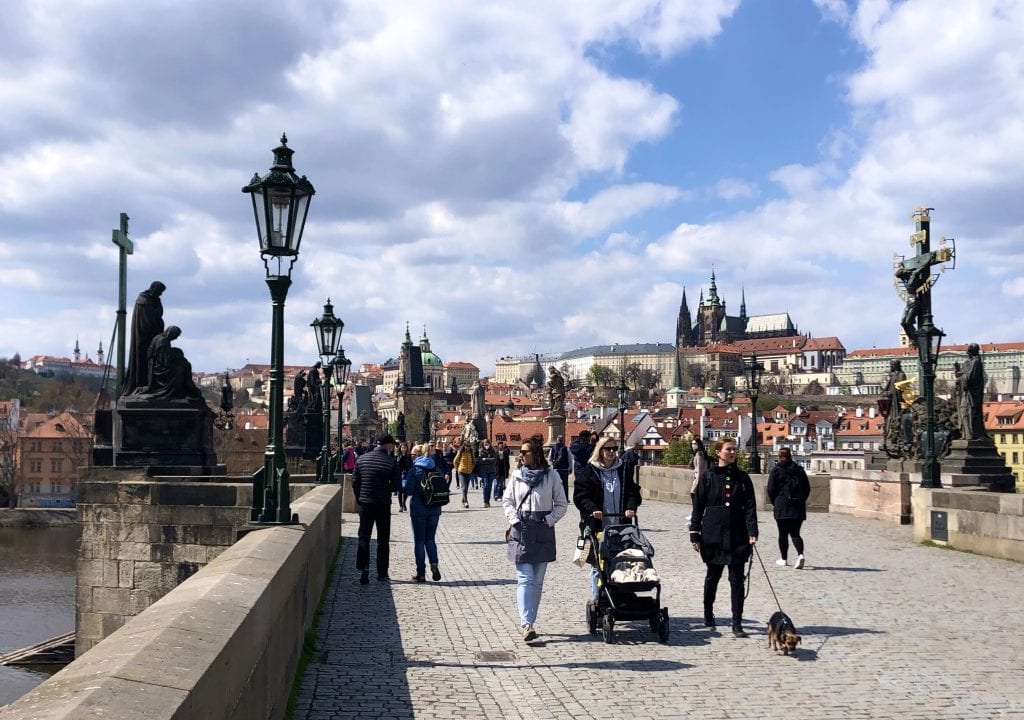 More Prague Stories
Petr and Gabi are far from the only Prague entrepreneurs turning lemons into lemonade during the pandemic. Many others in hospitality are pivoting in creative and unexpected ways.
Here are the stories of more entrepreneurs, told in video and they're all worth the watch. I hope you enjoy them as much as I did.
First, the hotels who pivoted by providing accommodation to healthcare workers and unhoused people:
And the bike tour company that pivoted to delivering locals essential goods:
And the ballet dancer who is still dancing:
And the food tour company that pivoted into hosting virtual dinners with local restaurants:
Again, I was genuinely surprised at how moved I was by these videos. I wish the absolute best for these brilliant entrepreneurs as they rebuild post-COVID and get back to welcoming people to Prague!
Do you know anyone who pivoted during the pandemic? Share away!
The post How to Survive a Pandemic: A Czech Story appeared first on Adventurous Kate.