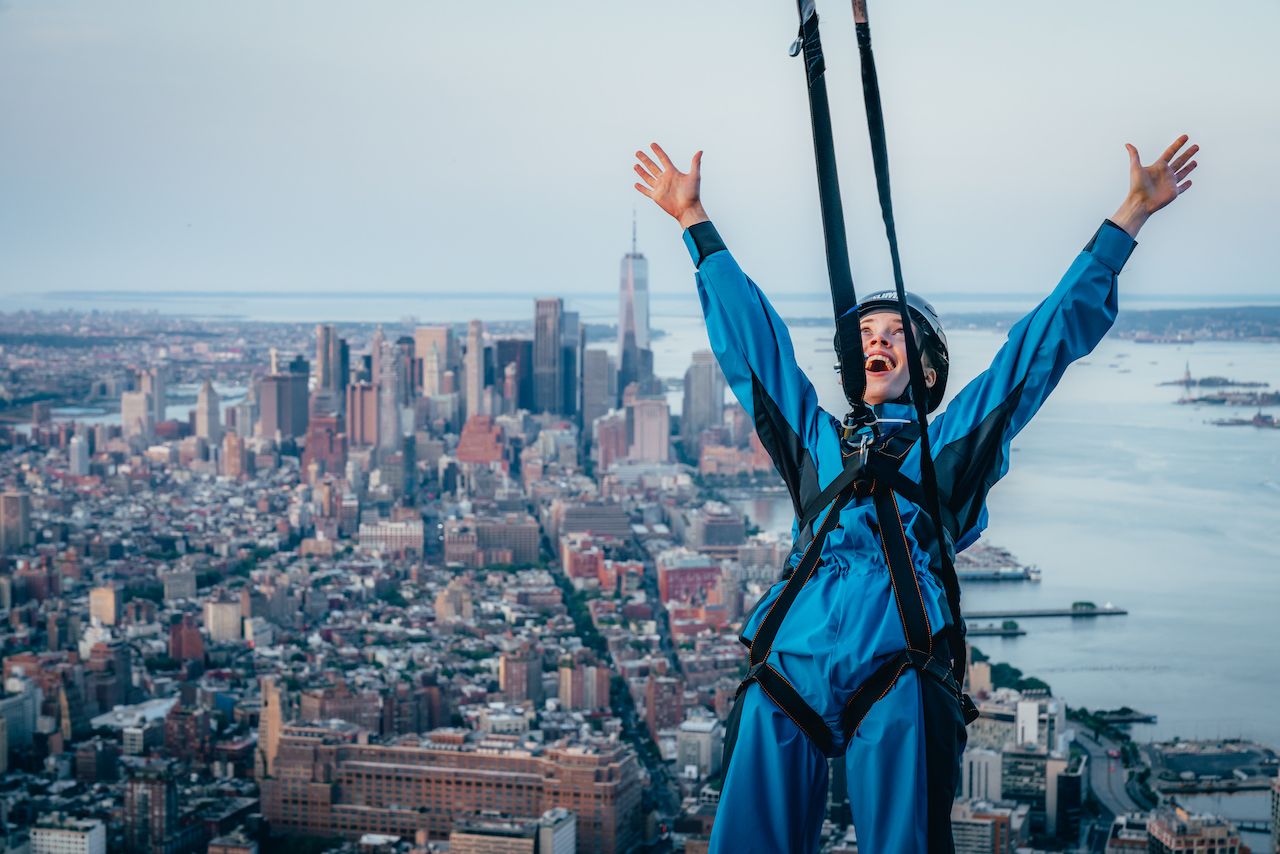 New York City's City Climb is sure to get your blood pumping.
Located at 30 Hudson Yards above the Edge observatory, the newly opened City Climb takes people outside and up a skyscraper for unobstructed views of the city. The experience lasts anywhere between 90 minutes and two hours, with time allotted for people to get suited up and harnessed, multiple safety checks, and the actual climb itself.
It all starts at Base Camp, where visitors ascend 32 steps to the Cliff, the first viewing platform at a height of 1,190 feet. Next is the actual open-air climb, with 161 steps on a 45-degree incline that leads to the Apex, which is the second and final viewing platform at 1,271 feet. There, people get the chance to walk around, lean out, and hang over the platform for some of the coolest photos they'll ever get.
How it holds up
After doing the City Climb myself, I can honestly say the experience is exhilarating. NYC has no shortage of observation decks, such as SUMMIT One, One World Observatory, and the Empire State Building, but there's something very exciting about being able to see those views without anything in your way. There are no walls, gates, or barriers impeding the vast stretches of cityscape in every direction. And through it all, I felt completely safe.
Upon arrival at City Climb, staff will provide a thorough safety briefing and then have you sign a form to confirm that you've understood everything you've been told. You're then led to a locker room to store your belongings as no loose items are allowed, which includes cell phones and cameras. That's where you'll meet the two guides that'll be with you on the climb; the group limit is capped to eight people, with two guides for each group no matter what.
Your guides will then get you suited up in protective gear and a harness, and you'll be checked twice to make sure everything is properly fitted and secure. You'll then head to Base Camp, where you'll be securely attached to the course via your harness and a trolley. After another set of safety checks, the first guide leads the way while the second takes up the rear.
The guides handle all the photos and videos, as one will be wearing a helmet with a GoPro while the other carries a digital camera, so the only thing you need to worry about is taking in all the excitement and views.
For the adventurous yet cautious folks, know that the guides are experts at keeping you calm. While an adrenaline junkie myself, the initial few steps on the open-air climb made me anxious but the guides kept me distracted with historical facts and general chit chat, and my worry soon dissipated to allow me to thoroughly enjoy the climb. The guides also make sure to stop for breaks on the way up, to allow people to catch their breath and get pictures on the steps.
How it compares
City Climb bills itself as the highest open-air ascent in the world. It's the first of its kind in New York City, but similar experiences exist in other places around the world. There's the Sky Tower Walk in Auckland, New Zealand, and the Edge Walk at the CN Tower in Toronto, Canada, for starters. They all work on the same premise of walking hands- and barrier-free at dizzying heights, but City Climb sets itself apart by including the open-air staircase.
Having done the aforementioned tower walk in New Zealand, I believe all walks bring their own thrilling elements to the table. The Sky Tower's walk provides 360-degree views as it has a longer platform that goes in a complete circle around the tower. There's also no observatory deck beneath it so it truly feels like a steep drop. City Climb's platforms generally only face south, but the added element of scaling a skyscraper to get there is something uniquely fun.
Know before you go
City Climb operates year-round in most weather conditions, including light snow and rain. Staff are constantly monitoring weather conditions and may cancel or delay daily operations in the event of heavy rain, high winds, lightning, or extreme temperatures (and tickets would be rescheduled).
Tickets are $185, which includes the experience, photos and videos, a commemorative medal, and entry to the Edge observatory. They must be booked for specific time slots, with the first entry being 9:45 to 10:00 AM and the last being 3:45 to 4:00 PM. Tickets can be booked on site, but to make sure you get the time and date you want, online is the way to go.