One of my favorite movie moments is from Cool Runnings when the Jamaican bobsled team steps out of the airport in Canada for the first time — and freezes at the horror of experiencing subzero temperatures! Throughout the movie, Sanka is finding different ways to stay warm!
As much as I laugh, there have been times on my travels when I wished I pulled a Sanka and had a hot water bottle hidden inside my jacket.
In Antarctica, little heating pads on my toes and in my mittens helped me survive — but what if there was something better? Something actually built into the torso of my jacket to keep me warm? And maybe something a bit more functional than sticking a hot water bottle into your sweater?
Well. There is now.
Let me introduce you to the Gamma jacket from Wear Graphene — a sleek jacket that not only has a heat source inside it, but is the most useful utilitarian jacket for year-round travel and activity.
This branded content post is brought to you by Gamma by Wear Graphene. You can see their Kickstarter here.
Gamma: The All-Seasons Graphene-Infused Jacket
"Gamma is your everyday jacket, your travel jacket, your activewear, and your going-out jacket."
The team at Wear Graphene set out to design a jacket made of graphene — a material that has been described as the smartest material on Earth. Graphene is known for being both extremely thin and extremely strong.
Graphene is a thermoregulator — it keeps you warm in the winter and cool in the summer. It's incredibly durable. It's waterproof. And it's even antimicrobial.
The Gamma jacket is 100% graphene-infused. But it also comes with a built-in heater that heats the jacket up within 10 seconds (man, Sanka would have LOVED that), a rain hem, a hood, and plenty of storage for your essentials.
The jacket is sleek and classic — making it a piece that works for both the office and hiking trails, in your hometown and around the world.
Check out the video here:
When you travel — and especially if you're a carry-on traveler, as I know many of you are — you need pieces to be as versatile as possible. Why pack both sneakers and hiking boots when you could pack a single pair of trail runners? Why pack nice pants and jeans when a pair of dark slim jeans could work for both?
That's the same principle that the Gamma jacket goes by. Say you're planning a trip to New York. You can wear the Gamma jacket on the street in Manhattan — and you could also wear it when climbing mountains in the Hudson Valley, or bar-hopping at night in chillier-than-you-think beach town of Montauk.
And because we all get dirty on our travels — well, at least I do — you can clean it by throwing it in the washing machine!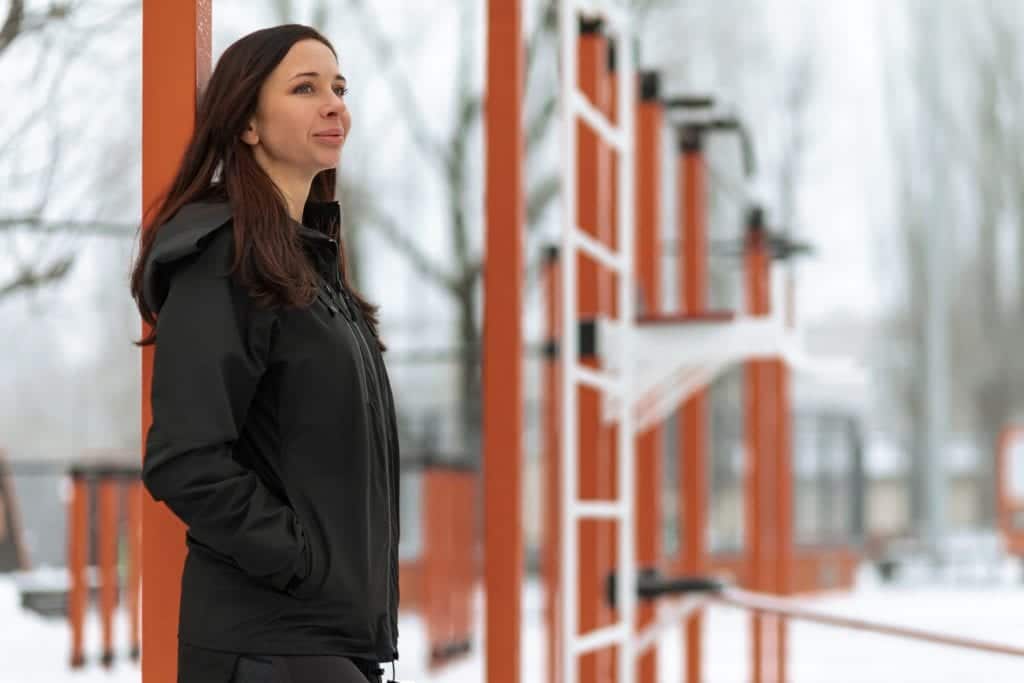 What Makes Graphene Cool?
Graphene, the backbone of the Gamma jacket, is a very interesting material. It's a surprisingly thin material set out in a honeycomb lattice pattern. Its temperature-controlling abilities are similar to human skin, keeping you cool when you're hot and warm when you're cold.
It's incredibly strong, too. Almost nothing can permeate Graphene — not even knife punctures. You can put this jacket through hardcore adventure travel and it will look fresh and new long-term.
Graphene repels UV rays, moisture, and wind. Additionally, it's hypoallergenic and antimicrobial.
And when you pair the graphene with the built-in heater, the heat is distributed throughout the torso part of the jacket, keeping you warm when you need it the most.
You would think that a jacket like this would be heavy. But it only weighs 500 grams, or about 1.1 pounds.
Kickstarter Success
The Wear Graphene team put the Gamma jacket on Kickstarter with a goal of $5,000. Not only did they hit their goal within hours — they hit $50,000 within three days. Now have collected more than $1.6 million in pledges and they're on their way to being one of the top Kickstarters of 2021!
"We're excited to introduce the world to the benefits of graphene-infused clothing with Gamma Jacket," said Sarah Wood, spokesperson for Wear Graphene.
"Graphene has the power to transform any piece of clothing into all-seasonwear that lasts a lifetime. It brings practicality, sustainability, and comfort to Gamma in a stylish package. Gamma is the only jacket we use for warm and cold weather. We're confident this is the jacket of the future."
It almost makes you want to be part of it, doesn't it?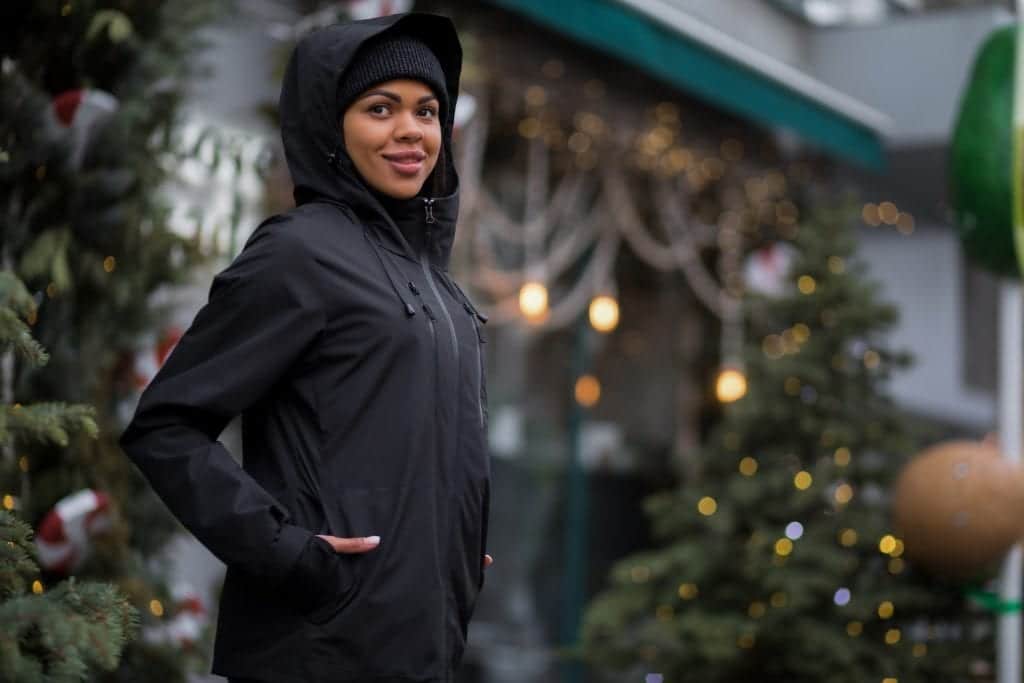 Get one of the first Gamma Jackets
The Kickstarter is offering you the opportunity to get one of the earliest Gamma Jackets. You can see more here.
You can currently pledge $295, an early bird rate. However, this early bird price is going VERY quickly — as I type this, more than 2,700 people have signed up and only 161 remain.
After the early birds sell out, you can still order a Gamma jacket for the pledge of $399, which is still $101 less than what the retail price will be.
There are also opportunities to buy multiple Gamma jackets for reduced rates, so you might want to pair up with a friend to get two for even less.
The jackets are expected to be ready to ship in July 2021, and they ship all over the world.
It will be very interesting to watch how graphene impacts travel gear long-term — and I have the feeling I'll be seeing lots of Gamma jackets on my travels soon. Learn more about what the future holds at wearegraphene.com!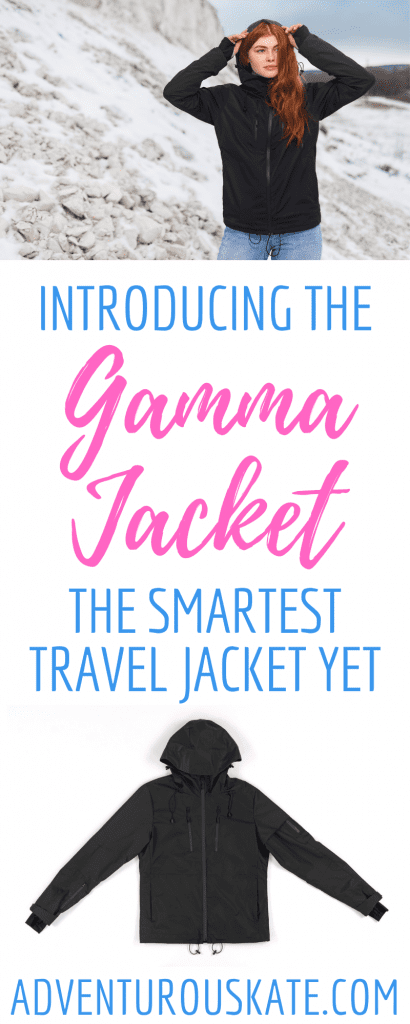 The post Introducing Gamma, the Smartest Travel Jacket Yet appeared first on Adventurous Kate.