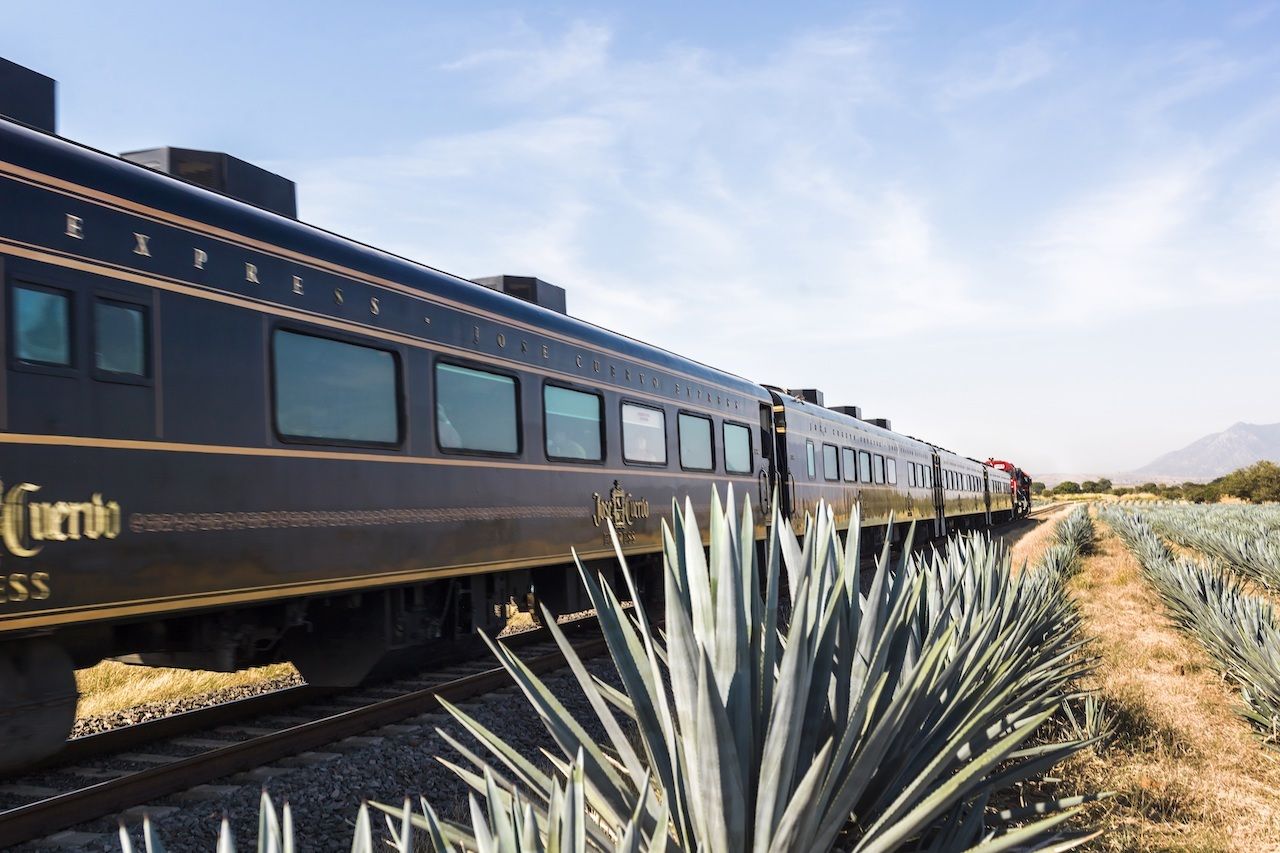 Sipping tequila in Mexico should be on the list of any fan of good drinks and good times. Enjoying tequila in its home country is a memorable experience in and of itself, after all. But drinking tequila on a luxury train through the agave fields between the towns of Guadalajara and Tequila, the birthplace of the famous drink? That's a bucket-list-worthy experience.
On December 5, Mundo Cuervo's Jose Cuervo Express will start regular service between the two towns. One of the train cars is what the brand dubs the Elite Wagon. The whole train is stocked, of course, with plenty of quality spirits to make it a tequila drinking experience unlike any other.
The Jose Cuervo Express has been shuttling people in style for years now, and it seems to keep getting better every year. Everything starts in Guadalajara — Mexico's second largest city located near the center of the state of Jalisco. The destination, Tequila, is about 40 miles northwest. You could spend countless days digging into the culture (and drinks) of both destinations — Tequila's famous La Capilla cantina alone is worth a trip — but the train is the best option for anyone who loves the journey as much as the destination.
The most premium option is the Elite Wagon. Trips run every Saturday for $166, and the Elite Wagon has space for 37 people between the lounges and tables. There's also an open cocktail bar. Those in the premium section can taste Jose Cuervo's Reserva de La Familia, which is an ultra-premium sipping tequila made at the La Rojeña Distillery. Floor-to-ceiling views only make the tequila and cocktails served onboard taste even better. Tickets can be booked on the Mundo Cuervo website.
Though the train starts up again on December 5, space is limited due to the pandemic. Full service will resume when it's safe to do so, as well as an additional excursion to La Rojeña once the train makes it to Tequila.
All in all, there are few better hands-on experiences for anyone who loves trains, tequila, and drinking tequila on trains.

The post This new, ultra-luxe Tequila Train is a dream come true appeared first on Matador Network.