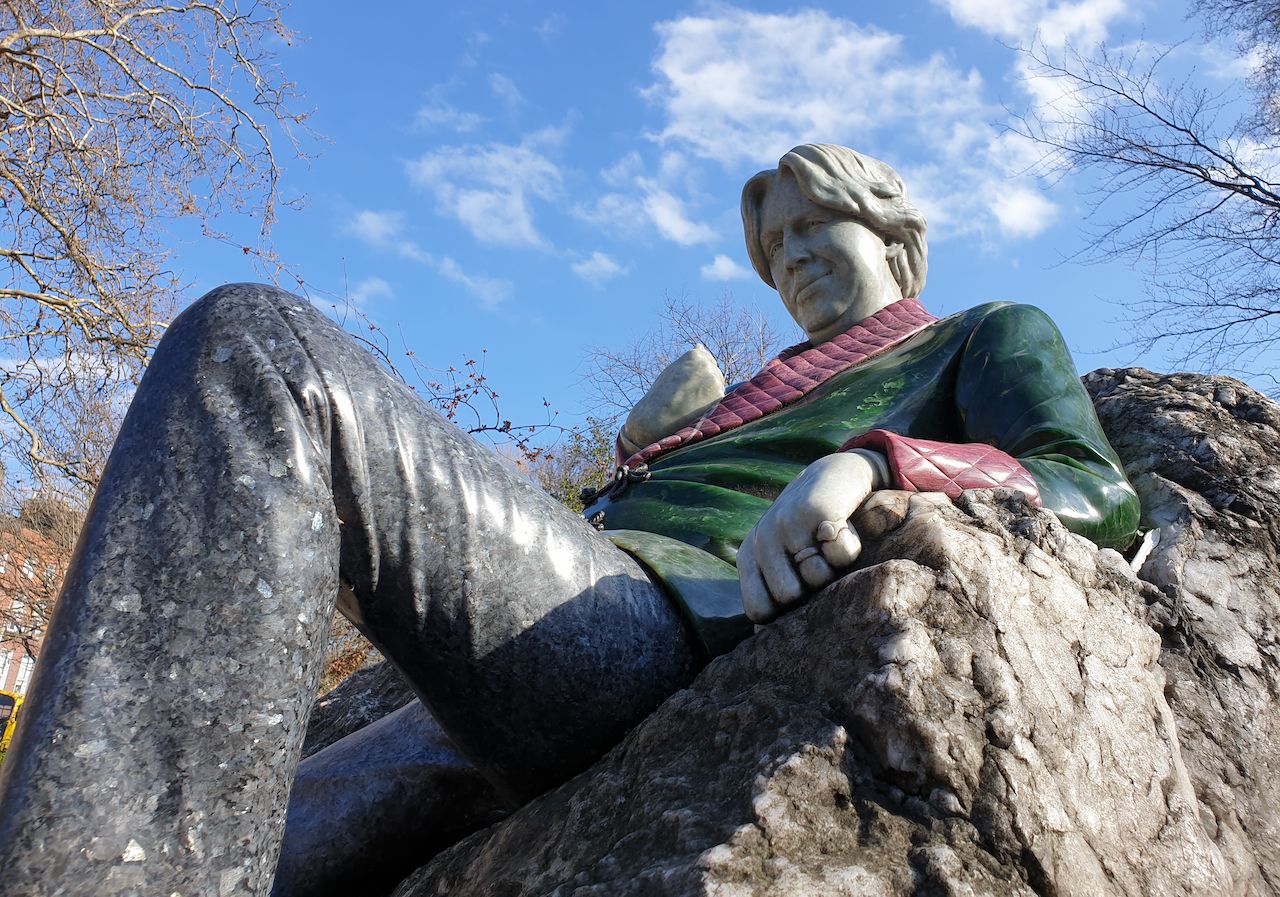 For centuries, LGBTQ people were forced to lead invisible lives. You couldn't find them in the pages of history books. No one erected monuments in their honor.
Throughout history, defiant social reformers made visibility one of their chief concerns in the fight for LGBTQ rights. In 1978, Harvey Milk shouted, "Gay brothers and sisters, you must come out!" During the AIDS epidemic, the LGBTQ community stopped traffic in city streets while holding signs that read "Silence = Death." Today, trans marches are erupting around the world in response to the violence and prejudice endured by the transgender community.
Visibility, the antidote to intolerance, goes far beyond flesh and bone, however. That's why monuments dedicated to the LGBTQ community are crucial in fostering societal acceptance. Long-lasting memorials celebrating queer identities reduce stigma and stop discrimination among current and future generations.
For LGBTQ individuals, queer monuments are of even greater importance. As the gay author and activist James Baldwin once wrote, "If you know whence you came, there are absolutely no limitations to where you can go." Nine of the LGBTQ monuments on this list honor where LGBTQ people have been, and one, to be unveiled in the coming years, provides hope for a limitless future. Together, they tell a visual story about queer life around the world connected by one common thread: the enduring capacity for resilience.
Here are 10 remarkable LGBTQ monuments worth checking out.
1. Pink Triangle Monument — Sitges, Spain
Sitges, a coastal Catalan town 30 minutes outside of Barcelona, is an internationally celebrated queer summer enclave, but in 1996, the local community wasn't so accepting. That year, local police officers began targeting beaches used as meeting places for gay men, inciting protests from the LGBTQ community. In 2006, the city erected a four-foot pink triangle along the promenade overlooking Alberto Beach in memory of the events. A plaque below the triangle reads Sitges contra la homofòbia — Mai més ("Sitges against homophobia — Never again").
2. Legacy Walk — Chicago, Illinois
Christine Jorgensen, Cole Porter, Margaret Chung, and James Baldwin are only a few of the 40 queer icons you'll spot along this half-mile stretch of North Halstead Street in Chicago. Here, bronze plaques dedicated to LGBTQ individuals whose contributions had an immense impact on society decorate the sidewalk. The plaques, affixed to 20 rainbow-striped pylons from Belmont Avenue to Grace Street, are part of the first outdoor LGBTQ museum and the longest collection of bronze biographical memorials in the world.
Located in the city's historic gayborhood, Boystown, the Legacy Walk is an accessible way for people to connect with queer histories often missing from educational texts. A new memorial plaque is added to the roster annually on National Coming Out Day (October 11). In 2021, the city plans to open a visitor center as a way to showcase new markers added to the installation. Visitors can join guided Legacy Walk tours between March and November.
Between 1933 and 1945, Nazi personnel arrested approximately 100,000 gay men. Around 50,000 of those men were convicted, and roughly 5,000 to 15,000 ended up in concentration camps. With no available data, it's unclear how many died. The regime also targeted lesbian, bisexual, and trans individuals, but with a lack of hard data chronicling their plight, estimating the number of those impacted is impossible.
In 2008, Berlin unveiled this memorial to commemorate the thousands of LGBTQ individuals persecuted under Nazism. The cold concrete cube tucked away behind a thicket of oak trees within the city's expansive Tiergarten invites visitors to look inside a small window where a video of a same-sex kiss plays on repeat. The effect is hauntingly romantic — even in the darkest of places, love wins.
4. Gay Memorial Stone — Paris, France
On July 6, 1750, Frenchmen Bruno Lenoir and Jean Diot were burned alive for the crime of being gay. They were the last two men in France executed because of their sexuality.
In 2014, the city of Paris unveiled the Gay Memorial Stone at the corner of Rue Montorgueil and Rue Bachaumont, where police caught the couple. This unassuming plaque may only be a simple marker on the sidewalk, but the weight it carries is immense. There are still nearly a dozen countries around the world where homosexuality is punishable by death. While it took almost two centuries to publicly condemn the gross injustice, it is a signal to other nations that, in the 21st century, discrimination is intolerable.
5. Homomonument — Amsterdam, Netherlands
In 1987, Amsterdam made waves by unveiling the world's first monument honoring homosexuals persecuted by the Nazi party. Located on a waterfront square along the Keizersgracht Canal, thin lines of pink granite form a large triangle — the symbol gay individuals wore in Nazi concentration camps. Within each of the triangle's three points, a smaller triangle acts as a compass leading to other related monuments. One points to the National War Memorial where gay activists laid a lavender wreath in 1970 and sparked the idea for the Homomonument. Another faces COC Nederland, a gay-rights organization that's been operating since 1946. The third faces Anne Frank House and is inscribed with a quote by Jacob Israel de Haan, a gay Jewish poet: Naar Vriendschap Zulk een Mateloos Verlangen ("Such an endless desire for friendship").
6. Alan Turing Memorial — Manchester, United Kingdom
Alan Turing's unmatched intelligence changed the course of world history. He played a pivotal role in cracking Germany's "Enigma" code in World War II, which some historians estimate shortened the war by two to four years and saved millions of lives. Often referred to as the father of computer science, his theories surrounding artificial intelligence and machine programming laid the groundwork for the Digital Age in which we now live.
Despite his heroic wartime contributions, Turing was prosecuted in 1952 for homosexual acts under a draconian law from England's Victorian era. His punishment was chemical castration; he died two years later from cyanide poisoning at the age of 41. A half-eaten apple was found next to his body.
In 2001, Manchester, England, unveiled the Alan Turing Memorial in Sackville Park to honor the master mathematician's life. The tribute, which features a bronze statue of Turing holding an apple while sitting on a bench, is an invitation for passersby to join the tortured genius for a moment of reflection.
7. Gay Liberation Monument — New York, New York
"Gay Liberation" was commissioned on the 10th anniversary of New York City's Stonewall Riots — the site where the first brick was thrown in the fight for LGBTQ rights. The monument was unveiled in Christopher Street Park, across the street from the Stonewall Inn, in 1985.
The controversial monument, which features two same-sex couples in a pedestrian tableau, was initially a defiant stance against homophobia at a time when New York demonized public displays of queer affection. Today, the sculpture's critiques aren't rooted in homophobia but in its lack of diversity. Members of the LGBTQ community argue that the cis-gendered couples, painted with white lacquer, fail to represent the city's kaleidoscopic LGBTQ community.
Regardless of critique, this sculpture is worthy of contemplation: it's a celebration of how far the LGBTQ community has come and a reminder of how far we need to go.
Oscar Wilde (1854-1900), the Irish-born author famous for his razor-sharp wit in works like The Importance of Being Earnest and The Picture of Dorian Gray, is one of the most prominent gay icons in history. In a time when homosexuality was illegal in England, Wilde, a prolific playwright, was charged with sodomy and sentenced to two years hard labor. He was released in 1897 and died penniless in a rundown Parisian hotel three years later.
For many, Oscar Wilde is a martyr for the LGBTQ community. Although it took nearly 100 years for his hometown to commemorate the artist's significant cultural contributions with a monument, Dublin's Oscar Wilde Memorial Sculpture (located in Merrion Square) provides a sacred spot to worship the man and his immortal works.
The sculpture, like Wilde's life, is awash with color: He dons a nephrite-jade jacket with a pink collar, stormy-blue granite pants, and delicate black slippers that shine like obsidian. The expression on his face is equally complex. On one side, there's the knowing smirk of a literary bigwig; on the other, there's the forlorn frown of a man forced to hide. Luckily, in the afterlife, Wilde is finally allowed to live out and proud in the city in which he was born.
While the AIDS epidemic ravaged San Francisco in the 1980s, a band of locals got together to turn a 10-acre area of Golden Gate Park into a tribute for those lost.
Today, the grove is a series of stone memorials accessed by a path that meanders through a thicket of ancient redwoods. The site, which became a federally designated national monument in 1996, is a solemn symbol of how the local LGBTQ community overcame a plague: with perseverance and a whole lot of love. Flowers regularly laid among the memorials remind visitors how wounds left by the AIDS crisis are still far from healing.
10. A memorial for Marsha P. Johnson and Sylvia Rivera — New York, New York
Aside from the Transgender Memorial Garden in St. Louis, the United States is depressingly devoid of monuments honoring the often-overlooked trans community. In 2021, New York City plans to fix that problem.
Marsha P. Johnson and Sylvia Rivera were pioneering trans activists in the early Gay Liberation Movement and members of the 1969 Stonewall Uprising. In 2019, She Built NYC, a public-arts campaign that honors exceptional New York women by creating monuments celebrating their accomplishments, commissioned a memorial honoring Johnson and Rivera to ensure their names aren't erased from queer history. If all goes as planned, the monument will be the first permanent, public artwork in the world honoring transgender women.


More like this:
The best LGBTQ events you can attend without leaving home
The post Where to find meaningful LGBTQ monuments and memorials around the world appeared first on Matador Network.