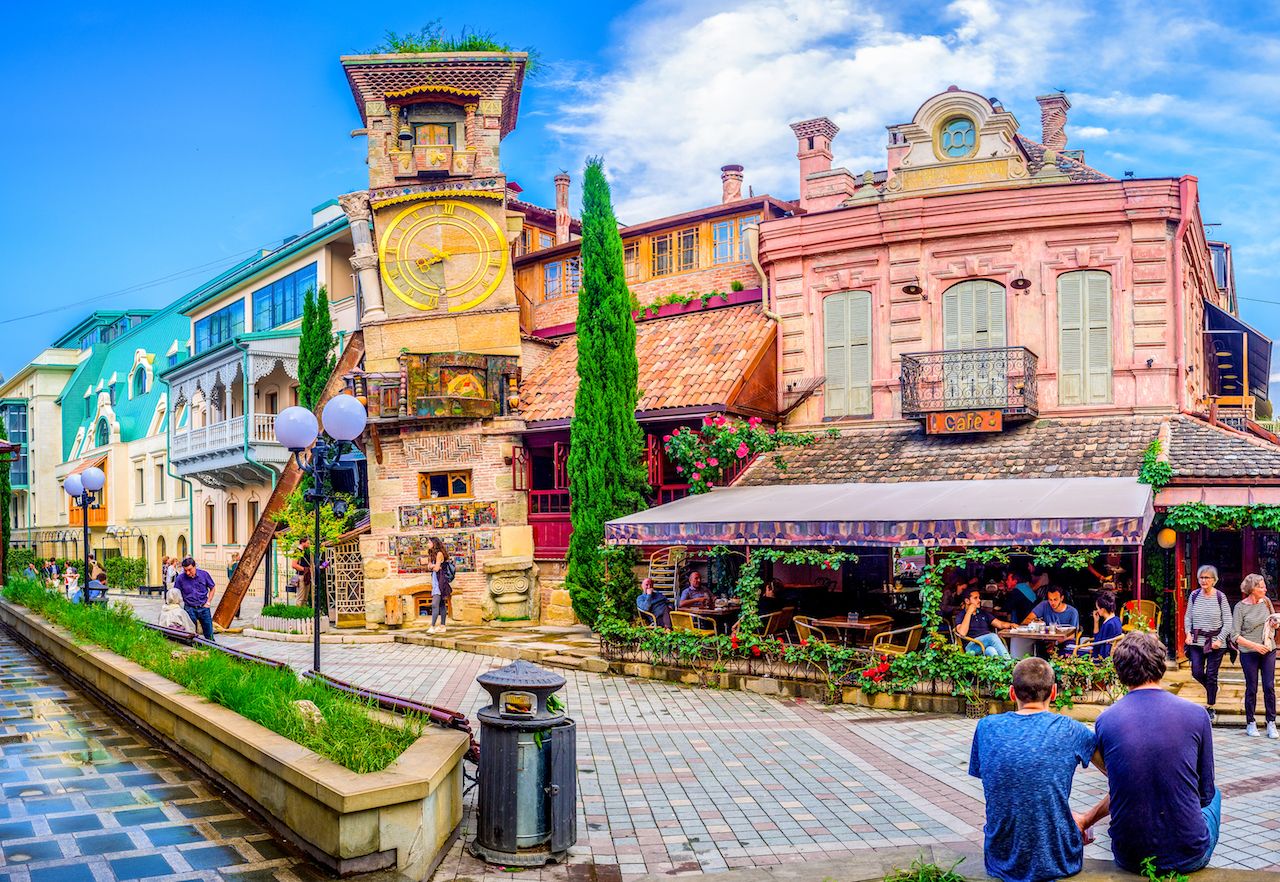 Tbilisi is the colorful capital of Georgia, a country at the crossroads of Europe and Asia. After facing many invasions, from the Ottoman Empire to Russia, Georgia finally gained its independence in 1991 with the breakup of the Soviet Union. Its tumultuous history and mix of cultures make Tbilisi an eclectic, multicultural, and modern city. Unknown to many travelers, it's slowly becoming a hot destination, so it's only a matter of time before the crowds descend like they once did on Croatia, and it starts becoming more expensive. Here's everything you can experience in Tbilisi, and why you should get there before the rest of the world starts swarming in.
Your money goes a long way.
Tbilisi is packed with things to do. On a warm evening, you can stroll in Rike Park along the Mtkvari River and watch kids play in the grass. From the park, you can take a cable car to Narikala Fortress for a sweeping view of the city. Or you can wander around in the streets of Old Town, go to the market, and eat all the food you can.
You can really explore every corner of Tbilisi and not break the bank. Food is very inexpensive, and you can find good private accommodations for a few dollars a night. Traveling by taxi is common and cheap. If you want to go even cheaper, you can take a bus in town for about or $0.20.
The architecture is quirky and awesome.
Tbilisi is one of the most interesting capitals to visit. Influences from Europe, Persia, the Arab world, and Russia have shaped Georgia's identity, resulting in one of the most unique cultures in the world. This is visibly reflected in the architecture.
The capital is home to contrasting styles of architecture, from the old bricks in the Old Town to the futuristic Rike Park Concert Hall and the Bridge of Peace. Many of the churches are related to Armenian and Byzantine architecture, while others breathe a more modern vibe. This combination of the future and the past will definitely leave an impression.
The Holy Trinity Cathedral is the main cathedral of the Georgian Orthodox Church and is one of Tbilisi's eye catchers. This massive work of art impresses with its golden dome and arches, and it will make you feel very small. The Cathedral was built between 1995 and 2004 and is one of the largest religious buildings in the world. You're allowed to enter the church and have a look around. I entered the domain in the evening and was mesmerized by this huge, golden building in front of me. Visit during or after sunset, so the lights are switched on, adding to the magical vibe of this place.
A Ferris wheel looks over the city.
High above the city towers Mtatsminda Park, a big amusement park at the top of Mount Mtatsminda, which reaches over 2,500 high and is the highest point in the city. Mtatsminda was a very popular public park in the USSR during the Soviet Union.
Although the heydays are over, it is still fun to visit, especially if you're traveling with kids. There's a lot to discover in the expansive park, which covers hundreds of acres. There's a Ferris wheel, bumper cars, a mini-train, a shooting gallery, and lots of food and drink. The old-school, carnival-style attractions from a past era keep the Soviet vibe alive.
Entering the park is free. You just pay per attraction, costing you only a few dollars. Many of the rides are switched off during low season, but it's still an experience to visit the park. Get up there by bus or take the popular funicular. Besides the fun of old-fashioned rides, you'll get a panoramic vista over central Tbilisi.
The people are welcoming.
Georgians are some of the warmest and most welcoming people in all of Europe. Although many of them don't understand or speak English, they'll go out of their way to help you out. Google Translate often comes in handy here. Homestays are the best way to connect with locals. We usually stayed one to three days in a homestay. You can easily book these online at a very low price. Don't expect luxury. Homestays are usually quite basic, and the perfect way to get a feel for the culture.
I got my first manicure in Tbilisi, and besides the low price of $4.00, I was touched by the friendliness of the staff. The owner was excited to practice her English with me and opened up about her life and travels. At the end of my manicure, she even went to the shop next door to buy me a present, an owl-shaped piggy bank. These are the type of interactions you can expect in Tbilisi.
Another way to meet locals is to go to one of the many bars in the cozy Shardeni Street and have a chat with other customers. If you feel like it, you can even share a shisha, the popular water pipe with tobacco and fruity flavors.
They love their chacha…
We're not talking about a rhythmic dance but about homemade — very strong — liquor. Chacha is a kind of brandy with an alcohol percentage of up to 65% if homebrewed, and that's the way they prefer it.
When you book a bed-and-breakfast homestay with locals, there's a big chance you'll get to try their chacha. That happened at all our homestays. My first host was Valeria, an older man with a warm smile who welcomed us for three days in his two-bedroom apartment. He didn't speak a word of English and repeated the same three words every time he saw us: "Kofe, chai, chacha?" The Georgian people love this local brew and sometimes even serve it at breakfast.
…almost as much as they love their cheese.
Georgian cuisine involves a lot of bread and cheese. If you're planning on losing weight, Georgia might not be the country for you. Cheese is the main ingredient in many of the Georgian dishes, so you'll be in a warm, gooey heaven from your first meal in Tbilisi and will likely not arise from your food coma until long after you've left.
The two main cheeses are sulguni, a fresh cheese made from cow's or sheep's milk and often compared to mozzarella, and imeruli, a soft and squeaky cow's milk cheese. One of the most authentic dishes made with these cheeses is the khachapuri, which is essentially bread and cheese. They come in almost 20 versions, as they are region specific.
The most famous one is the adjaruli khachapuri where you're served a large, boat-shaped loaf of bread with melted cheese, butter, and an egg baked into the middle. Mix the cheese, butter, and egg, and soak the pieces of the bread in it. The crunchy, toasted bread and soft cheese go very well together and make it a true feast. As you can imagine, it's quite heavy but hard to say no to its deliciousness. Bean and potato filled varieties are also an alternative to the classic cheesy version.
Every meal is a feast.
Don't expect for khachapuri to be the only dish on the table. Most meals in Georgia include more food than can physically fit on the table. A must-try is khinkali, Georgian dumplings. They're originally from the mountains, but you can get them in many places in town. Khinkali are made with a variety of fillings like beef, pork, or potato-mushroom. Order them boiled or pan-fried.
Machakhela is one of the restaurants downtown Tbilisi where you can get delicious khinkali. Although it's part of a Georgian chain of restaurants, it was recommended to us by locals who love it as much as the tourists. The restaurant downtown is big and often packed with customers. There's no need to make a reservation since there are three floors. There's also a nice terrace, but if you're visiting in summer you might prefer to be inside with the air conditioning.
Another delicacy is nigvziani badrijani, an eggplant roll with walnut paste often garnished with a few pomegranate seeds for a fruity finish. You'll find this delicious appetizer on almost any menu. Turkish coffee is also a favorite. Watch it being freshly prepared in one of the stalls at the train station or order one while enjoying some shade on a terrace. The best way to enjoy all the Georgian food is to do as the locals do and order many different dishes and share everything.
It's close to a beautiful wine region.
Only a two-hour drive away from Tbilisi you'll find Sighnaghi. It's a picturesque, small town in Kakheti, the wine region of Georgia. Sighnaghi is a cobblestoned village and the perfect place to try some of the famous Georgian qvevri wine. The amber-hued wine uses whole grapes (skin, seeds, stems) and is made underground in clay vessels. This natural method dates back thousands of years. The most famous place to go wine tasting is the Pheasant's Tear in the center of Sighnaghi, but since it's very touristy, you'll pay a lot more than at other wineries.
The area around the village is also nice to explore. You can stroll half an hour to the Bodbe Monastery, a beautiful complex of churches run by nuns. It's surrounded by tall cypress trees and overlooks the Alazani Valley, giving you a view on the mountains. You can walk around beautifully maintained vegetable gardens and enter some churches to admire the frescoes.
You can get to Sighnaghi from the Samgori metro station in Tbilisi. Take a minibus for $2.25. The minibuses aren't comfortable, but they will get you there. You could also hire a taxi if you are with a few people to share the costs. Like the rest of your stay in Tbilisi, it won't cost very much and, chances are, your taxi driver will be warm and welcoming.


More like this:
How to plan the ultimate road trip through the Balkans
The post Why you need to see Tbilisi, the capital of Georgia, before everybody else appeared first on Matador Network.