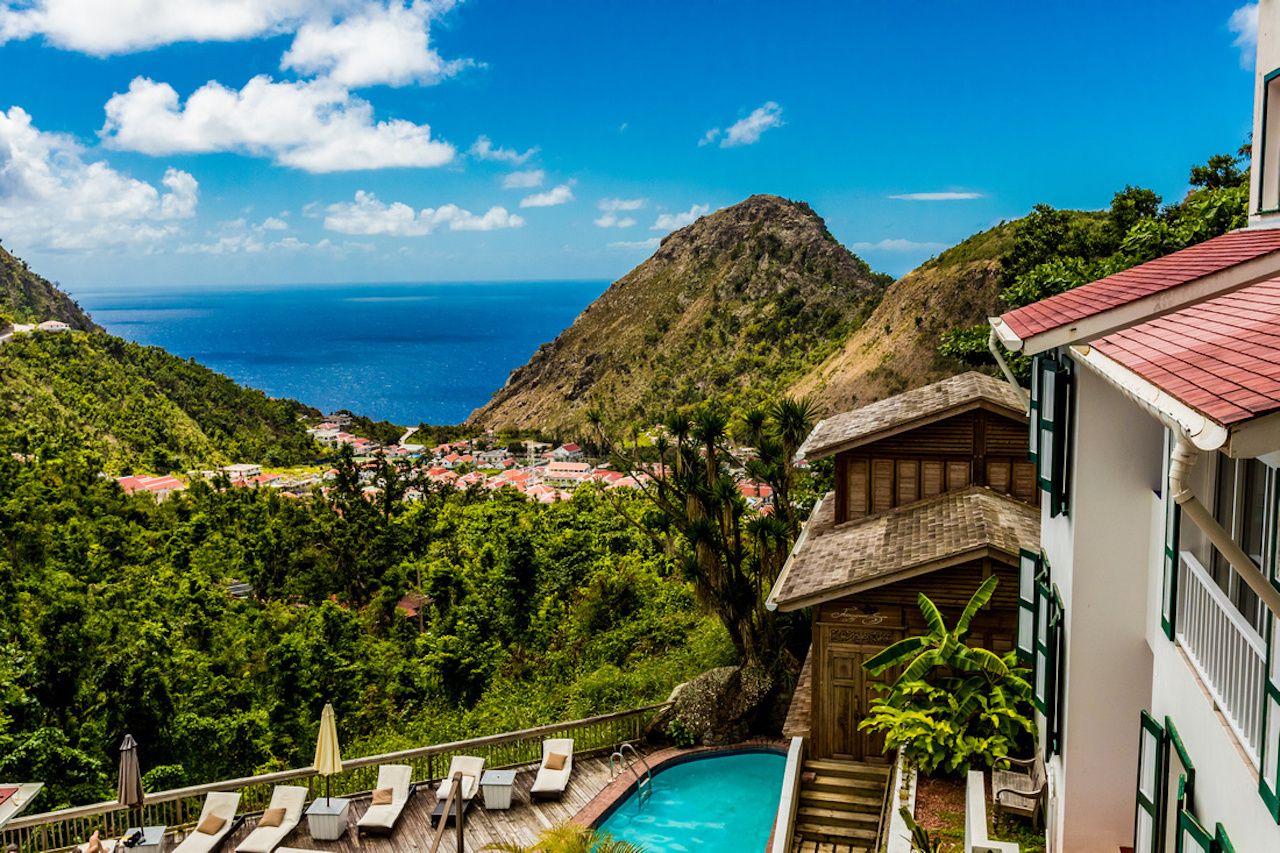 "Caribbean islands, man, they're really all the same," the older gentleman told me without my asking. We were sitting in an airport lounge in Miami, discussing where we were headed. He was flying to DC; I was going to the Caribbean. "You go there, there are some bars on the water, some stores, a mountain maybe. And that's it!"
The man was a super-cruiser, the sort of person who takes every vacation on a floating city. And he was the particular subset of super-cruiser who never ventures much past the row of jewelry stores and fruity drink bars that line every port from Nassau to Newfoundland. Not to knock super-cruisers or cruise ports, mind you, but it seemed to me judging an entire region by its waterfront tourist traps seemed a little unfair.
"I dunno," I said, not wanting to get into a heated debate with someone I'd likely never see again. "You ever been to Saba? It's like nothing you've ever seen."
"Saba? Never heard of it," he said. "I don't think anyone stops there."
He was right. Saba isn't even a blip on the large cruise ship radar, mostly because it's one of the most physically difficult islands to reach in the Caribbean. It's a harsh volcano about 30 miles from St. Maarten, five square miles with virtually no coastline, only reachable by ferry or prop plane.
This collection of white Dutch cottages with bright red roofs sticking up from a deep green volcano isn't mega-port friendly. Its narrow alleyways and lone road aren't fit for tour buses, and its airport is one of the most foreboding in the world.
But Saba is an escape from reality, a place that seems to stand still as a tranquil village on the side of a mountain. It's full of characters that appear drawn from an author's imagination. And though you'll find modern technology, it still feels completely removed, a little tropical fantasy where the outside world never gets in.
"An innocent, original product" that's welcoming to everyone
"It's probably the most scenery I've ever seen packed into five square miles, and I've traveled all over the world," says Mark Johnson, seated behind a desk at his jewelry store atop the Saban village of Windwardside. "It's very dramatic. It's very different. It has an old-world charm that's been lost in a lot of the Caribbean, that's just become a tourist destination. It's an innocent, original product."
You can find Johnson's shop by walking the tight streets of Windwardside until you hear a loud chorus of birds chirping from a courtyard. Walk through a small archway and you'll enter a jungle garden of tropical flowers and bird song. In the middle is a small white cottage where Johnson both lives and works with his partner. He uses sugar water in the bird feeders to keep the birds coming back and active.
You can find Johnson's shop by walking the tight streets of Windwardside until you hear a loud chorus of birds chirping from a courtyard. Walk through a small archway and you'll enter a jungle garden of tropical flowers and bird song. In the middle is a small white cottage where Johnson both lives and works with his partner. He uses sugar water in the bird feeders to keep the birds coming back and active.
Johnson's partner will go unnamed here, as he hails from a part of the world where his sexual orientation isn't welcomed, and his family believes he lives on another continent entirely. He was on the phone with his family while I spoke to Johnson, pausing briefly to bring us some espressos.
Saba is the most gay-friendly island I've seen in the Caribbean, where rainbow flags adorn the grocery stores and LGBT couples live freely and openly. Johnson says this stems from Saba's place as part of the kingdom of the Netherlands. And because this island is so isolated, it's managed to maintain its home country's openness without influence from less-tolerant cultures of the region.
A short walk down a steep road from Johnson's shop brings you to Juliana's hotel, a hillside boutique property with suites themed after famous Saban ship captains. Its signature feature is its sprawling (by Saban standards) pool, whose nightly sunset happy hour has become a social event for both visitors and locals.
I find myself chatting with an avid triathlete from Canada who has competed in Saba's Hell's Gate Triathlon. Its slogan: Even our swim is uphill. I also chat up a couple from St. Solomon's Island, Georgia, who come to Saba for a couple of weeks every year. Nearly everyone here believes they've found some secret island hidden behind a forcefield off the coast of St. Maarten. Though we can see St. Eustatius and St. Kitts, it very much feels like no one on those islands can see us.
Hiking to the top of the Netherlands with Crocodile James
"I rolled all these stones up here myself," Crocodile James says as we hike through Saba's newest hiking trail, the Elfin Forest. It begins just outside the village of Zion's Hill, winding its way up the side of the volcano through bamboo, elephant ears, ferns, and short tropical shrubs. It seems especially Middle Earthy on this foggy, misty day.
Crocodile James — real name James Johnson (no relation to Mark, or maybe there is) — is the island's default parks manager. He's also a mason. And a fisherman. And a tour guide. His ramshackle white van is filled with power tools, paint, and gardening equipment. It might have space for one person — if he moves the leaf blower.
He built this trail and maintains others around the island, and he rolled the stones that give the muddy path some traction up the hill by hand. This seems difficult until he tells me these trails were how people moved everything from food to furniture before they built The Road, the island's lone thoroughfare, built in 1938.
Those paths and trails have left Saba with some of the best hiking in the Caribbean, where after finishing your magical trek through the Elfin Forest you can meet up with the Mt. Scenery trail and take it to the top of the mountain, the highest point in the Kingdom of the Netherlands. The full Mt. Scenery trail starts in Windwardside, and you can scale the 1,064 steps to the summit for a view out over the entire island.
The island is also known for its diving, especially since Leonardo DiCaprio rescued a man who fell off a boat here last year. The reefs here are largely undisturbed as tourists haven't discovered them en masse, and you can see stingrays, sharks, sea turtles, and loads of colorful fish without many other boats around. It might be the only dive destination where the feeling of isolation and calm you feel under the water carries over to the surface as well.
A short runway to a great escape
Perhaps Saba feels like such a dream because getting there feels just as surreal. About 10 minutes after taking off from St. Maarten — the only airport with flights to Saba — an imposing volcano fills the windshield of the 30-seat propeller plane. Pilots look as if they're going to fly straight into the side of it before banking left and descending into what looks like a sea of rocks with waves crashing into the side.
Just as you wonder where, exactly, these pilots are planning to land, the plane turns a corner and you see a tiny runway at the base of the volcano, as out of place as if an aircraft carrier had pulled up ashore. The plane glides down and screeches to one of the most violent stops you've ever felt on an airplane. Impressive, on the shortest commercial runway in the world at 400 meters.
From there it's a windy ascent into the clouds, as the road takes you through the village of Zion's Hill and on to Windwardside. Somehow, you've left the Caribbean and landed in the Dutch countryside, magically transported to the side of a volcano.
With a population of about 2,000 — 500 of whom are seasonal medical school students — Saba is very much a small town. By your second day, everyone on the island will know who you are and where you're from. Your cab driver may also be your airport porter, who may also be your bartender at the end of the night.
Eating dinner at Brigadoon — arguably the best restaurant on the island — you may find yourself seated next to the entire territorial government, having a post-session dinner. There is no security or even anyone disturbing their dinner because there's no need for either.
Further up the hill, you can visit the handful of bars that make up Saban nightlife at the Swinging Doors and Long Haul Grill. They're the kind of bars that are filled with people who all know each other but welcome you all the same.
If you'd like to eat without people chatting you up, the Queen's Gardens resort near the capital village of The Bottom has a treehouse table, with elevated views of the water peeking out from the volcano's arms. It's the lone luxury property on the island and boasts large suites plus a swimming pool with the same mountain-framed view.
But magical as Saba is, the locals don't seem worried about over-tourism.
"It doesn't have what a general tourist is looking for," Johnson says, not trying to keep people away but just stating the obvious. "There's no sandy beach, no way to just be entertained. It doesn't have resorts, there are no casinos, there's no nightlife. You have to entertain yourself. And it's not typical of what people are looking for in a Caribbean island. But still, most of the people that come here really like it."
A newer, larger port is coming to the island soon, though not large enough for cruise ships. So while it's expected to bring more tourists, many locals still see it as a good thing.
"It concerns some locals," Crocodile James says as he points to where the port will be. "But personally myself, once that's built it'll be good. It'll end up bringing revenue and money towards that island. They could do with more tourists."
For the most part, Sabans don't believe tourists change their way of life, mostly because it's stayed so much the same for so long.
I didn't launch into this long of a story to my friend at the airport lounge, but he did at least raise an eyebrow when I told him about it and mumbled something along the lines of, "I'll have to go check that out." He may well never venture past Maho Beach on his next cruise ship call in St. Maarten, but I'd like to think I at least planted a seed in the back of his head. And he'll know there's at least one island in the Caribbean that's like nothing he's ever seen.


More like this:
The ultimate road trip guide to Dominica
The post The Caribbean's most magical island is one most tourists have never heard of appeared first on Matador Network.