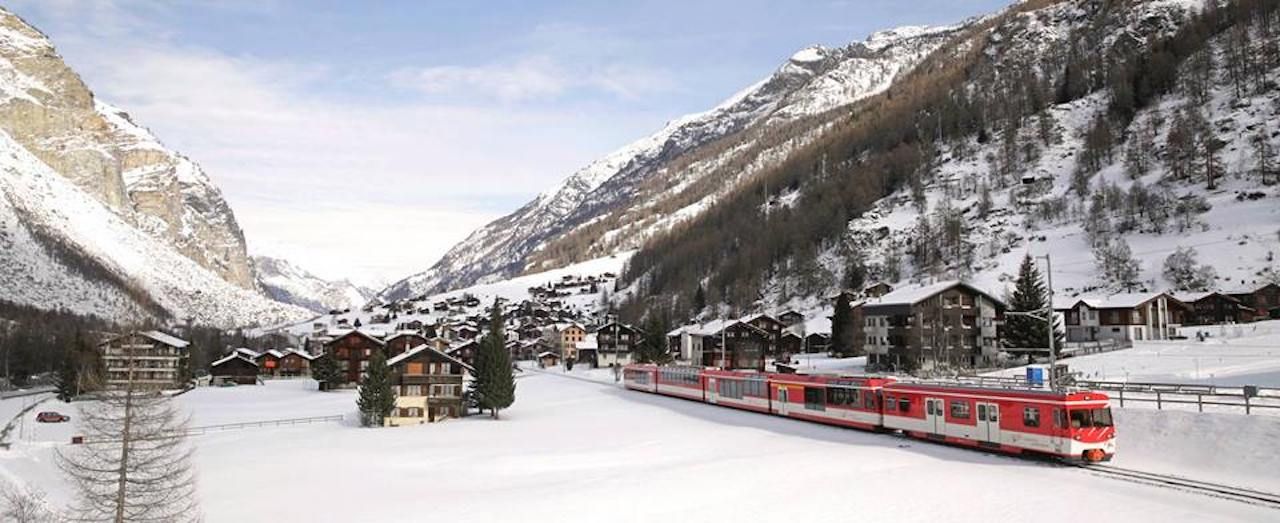 Ski vacations truly are the antidote to the post-holiday winter blahs. But sometimes getting to said ski vacations involves inching your way up an icy, two-lane highway, spending more time crammed in your car than speeding down a mountain. Much like traversing cities, trains help people avoid the pain of traffic en route to their ski destinations. Whether day trips near American metros like Denver or week-long excursions through foreign terrain in, say, Switzerland, taking a train to the mountain can be a scenic, fun, and far less painful way to hit the slopes. We chatted with Vacations By Rail, which specializes in this kinda stuff, and they hipped us to the best ski vacation you can take this winter via train.
Day Trips
Winter Park, Colorado
Because this train leaves from Denver's Union Station, you can literally fly into Denver, take the train downtown, and jump on the Winter Park Express to the mountains without ever getting in a car. In addition to avoiding the sometimes stifling traffic from the city to the ski resorts, this train is also one of the most scenic rides in the country, climbing the Rocky Mountains through old mining towns and 31 historic tunnels. The two-hour ride drops you in Winter Park where you can enjoy a full day of skiing until the train leaves back to Denver at 4:30 PM.
Mt. Snow and Killington, Vermont
A Vermont ski weekend doesn't have to involve finding a car and battling snowbound traffic for alpine-inclined New Yorkers. A couple of trains bring skiers and snowboarders a short drive from Vermont's most famous resorts at Mount Snow and Killington. First, you can ride the Ethan Allen Express, which takes passengers to Rutland, Vermont, in just over five hours. From there it's a short half-hour shuttle ride to Killington. Skiers from Washington, DC; Baltimore; and Philadelphia can also join their New York counterparts on Amtrak's Vermonter, which drops off in Battleboro, a short MOOver shuttle from Mt. Snow.
Stevens Pass, Washington
No chains required for Seattleites to head into the Cascade Mountains for a day of thrilling downhill action. Amtrak's Empire Builder leaves out of downtown Seattle into the mountains, arriving in the charming Bavarian theme town of Leavenworth three and a half hours later. You can enjoy the ski chalets and adorable shops near Icicle Station before jumping on a short shuttle bus to Stevens Pass, where you can ski well after dark at one of the largest night skiing resorts in North America.
Wachusett Mountain, Massachusetts
Though Bostonians will complain about the T as quickly as they'll wax poetic about Tom Brady, it holds the distinction of being the only major American mass transit system with an entire car devoted to ski gear. The MBTA Fitchburg Line leaves from Boston's North Station and takes you to Fitchburg Station in about an hour and a half. From there, you can grab your gear out of the designated ski car and board a shuttle to Wachusett Mountain, about 20 minutes away. This designated "ski train" runs on weekends all winter through March 31.
Snowbasin, Utah
The self-proclaimed "best powder in the world" is easily accessible from downtown Salt Lake City, where you can enjoy a short but scenic train ride into the Wasatch Mountains to Ogden. The UTA Frontrunner train leaves North Temple Station (which, like in Denver, you can reach from the airport train) and reaches downtown Ogden in under an hour. From there you can take a quick Ski Service bus to Snowbasin Resort. And though this site of the 2002 Olympics Alpine Downhill races is the biggest name in the area, you're also not far from Powder Mountain either.
Extended Trips California, Utah, and Colorado
Even if you don't ski, Amtrak's California Zephyr from San Francisco to Chicago is one of the most beautiful train rides in America. If you do ski, however, it's literally the express train to the best ski resorts in the American West. Leaving Emeryville, you can disembark in Truckee for access to Lake Tahoe's best resorts at Squaw Valley, Alpine Meadows, and Northstar. Jump back on the Zephyr and head to Salt Lake City where you can easily jump on the UTA train to Snowbasin or explore Park City and other resorts with a car. From there, continue on to Colorado, where you can get off in Frasier to ski Winter Park, or continue on to Glenwood Springs with easy access to Aspen, Snowmass, and The Highlands.
Canadian Rockies
The majesty of the Canadian Rockies might be the most spectacular mountain scenery in North America, and the best — and most iconic — way to see it all is along VIA Rail's Canadian route from Vancouver to Calgary. You'll traverse the Canadian West seeing wildlife like moose and bears, and speed past glaciers and mountains lakes. The train takes you to Jasper, a town set in Jasper National Park a short ride to the slopes and grand hotels of Banff and Lake Louise. Vacations by Rail offers a pretty sweet eight-day package that includes a trip on the Canadian plus overnights at the Fairmont Chateau Lake Louise and Fairmont Banff Springs Hotel.
Switzerland
For those who haven't been, Switzerland in winter might seem like one giant ski resort, full of lakes surrounded by snow-covered trees and towering mountains. That's not far off. The small country is easily accessible via train, with a ride from Zurich to the slopes of St. Moritz taking about three to four hours. From there, you can jump on the Glacier Express, where an eight-hour ride takes you through mountains, forests, and the three cantons of Valais, Uri, and Graubünden to Zermatt. At Zermatt, take the Gornergrat Railway up nearly 10,000 feet in 33 minutes, right past he famous Matterhorn to the Gornergrat Resort at the top. Sound like a lot of train booking for one trip? Vacations By Rail has an eight-day package for this one too.
Whitefish, Montana
Though the first half of this ride isn't much on scenery unless you're into windswept plains, once Amtrak's Empire Builder hits the Rocky Mountains it's one of the most breathtaking rides in America. Leaving Chicago, the train takes about 31 hours (about 22 hours from Minneapolis) to arrive in the outdoorsman's paradise of Whitefish. From the downtown train depot, you can take free S.N.O.W. shuttle bus up to Whitefish Mountain Resort.
Alaska
You'd be hard-pressed to find prettier train rides than you will in Alaska, where the Alaska Railroad runs from the stunning waterfront in Seward past glaciers into Anchorage and up through Denali National Park into Fairbanks. The entire railroad is worth riding, but if you're looking to ski, stop in Denali. Though you'll need to be highly experienced to do the ungroomed downhill stuff and may even want to look into heli-skiing. Alternatively, cross-country skiing through the park is one of the great winter escapes in the world and a fantastic way to see Denali without epic numbers of tourists. If you'd like to take the train and still ski some groomed downhill runs, Adventures By Rail has an eight-day tour that includes trips on the Alaska Railroad and a road trip to the ski resorts at Valdez.


More like this:
The TranzAlpine is New Zealand's most epic train ride
The post These scenic train rides take you to the best skiing in the world appeared first on Matador Network.