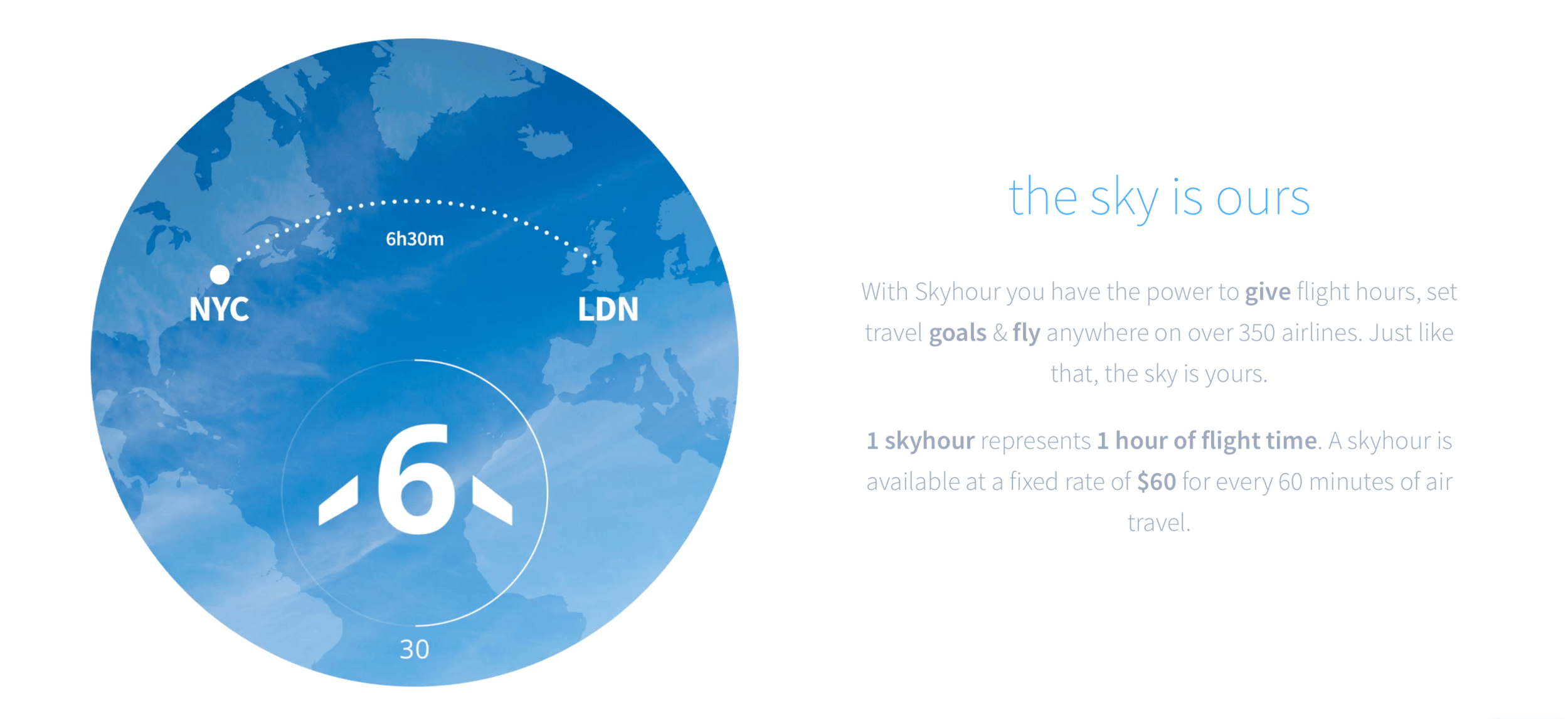 The following branded content post is brought to you by Skyhour. Once I learned about this new business and app, I thought it was a brilliant idea. And a giveaway for you, my lovely readers, to enjoy? Even better.
Imagine you have a friend who loves to travel, and they have a special occasion coming up: a milestone birthday, a wedding, a college graduation.
You want to give the gift of travel — but how? There's luggage, but that still doesn't reduce the cost of a trip. There's booking a hotel stay, but booking a whole trip for someone else is a bit presumptuous. There are airline gift certificates, but those might not provide the best deal for your friend.
I've recently learned about a company with a very creative solution to this problem: Skyhour. With Skyhour you can purchase flights in the form of one-hour flying increments that can be redeemed on more than 350 domestic and international airlines!
Basically, it's like the Venmo of air travel. You purchase and send with a click.
Even better is that you can use it like a registry. You can actually get a gift that you want for your birthday or a holiday instead of something well-intentioned that you'll never use or wear. I loved the idea of Skyhour from the minute I heard about it.

The Best Occasions to Ask for Skyhours
I can think of lots of opportunities when giving skyhours would be a great option for a gift.
Honeymoon: So many newly married couples have been living together for awhile already that they don't need another set of bowls. Enough skyhours could pay for the bulk of a honeymoon somewhere far away — or a shorter getaway within the country.
Graduation: Whether you know someone heading out on a gap year after college or looking to take a special trip after completing her Ph.D, Skyhour is a fantastic way to let the new graduate take the lead in booking the trip of her dreams.
Family Reunion: If you have a family member who might not be able to afford a flight to a family reunion, or perhaps to meet a newborn grandchild or niece or nephew, have several family members each chip in an hour as a gift. Six skyhours are enough to get someone from Florida to New England and back, for example.
Milestone Birthday: Recently I had a few friends turn 40 who have chosen not to marry or have kids — and thus have missed out on lots of gifts that their peers received (not unlike that Sex and the City episode where Carrie, after buying a friend nearly a dozen baby/wedding gifts over the years, has a pair of her Manolo Blahniks stolen from that friend's house and decides to register for a new pair). Why not have several friends chip in skyhours in lieu of traditional gifts for the trip of a lifetime?
How to Buy Skyhours
Step One: Decide how many skyhours to give to your loved one. You choose the number of hours in flight. The cost is $60 per hour.

Step Two: Give your skyhours to your loved one. You can give them through the app, via SMS, or by email.

Step Three: Watch your loved one book their trip through the Skyhour App and enjoy the trip of a lifetime — made possible by you.

Giveaway for AK Readers: Get Skyhours!
Skyhour is giving away 10 skyhours to an Adventurous Kate reader! Here's how you can win:
Step One: Follow @adventurouskate and @skyhour on Instagram.
Step Two: Create a free account at skyhour.com.
Step Three: On the @adventurouskate Instagram post about Skyhour, comment about what your dream destination is and the number of Skyhours you'll need to get there. Example: "I live in New York and my dream destination is Mexico City! I need 1o Skyhours to get there and back!"
The Prize: 10 Skyhours to use toward your trip, which have a value of $600.
This contest is open to residents age 18 and up of the United States — specifically the 50 states and the District of Columbia. Limited to one entry per Instagram and Skyhour account. See the full terms and conditions here.

Would you register for Skyhour for a special occasion? Or give Skyhours to a loved one? Share away!
The post Skyhour: The Best Way to Give Flights (Plus, GIVEAWAY!) appeared first on Adventurous Kate.