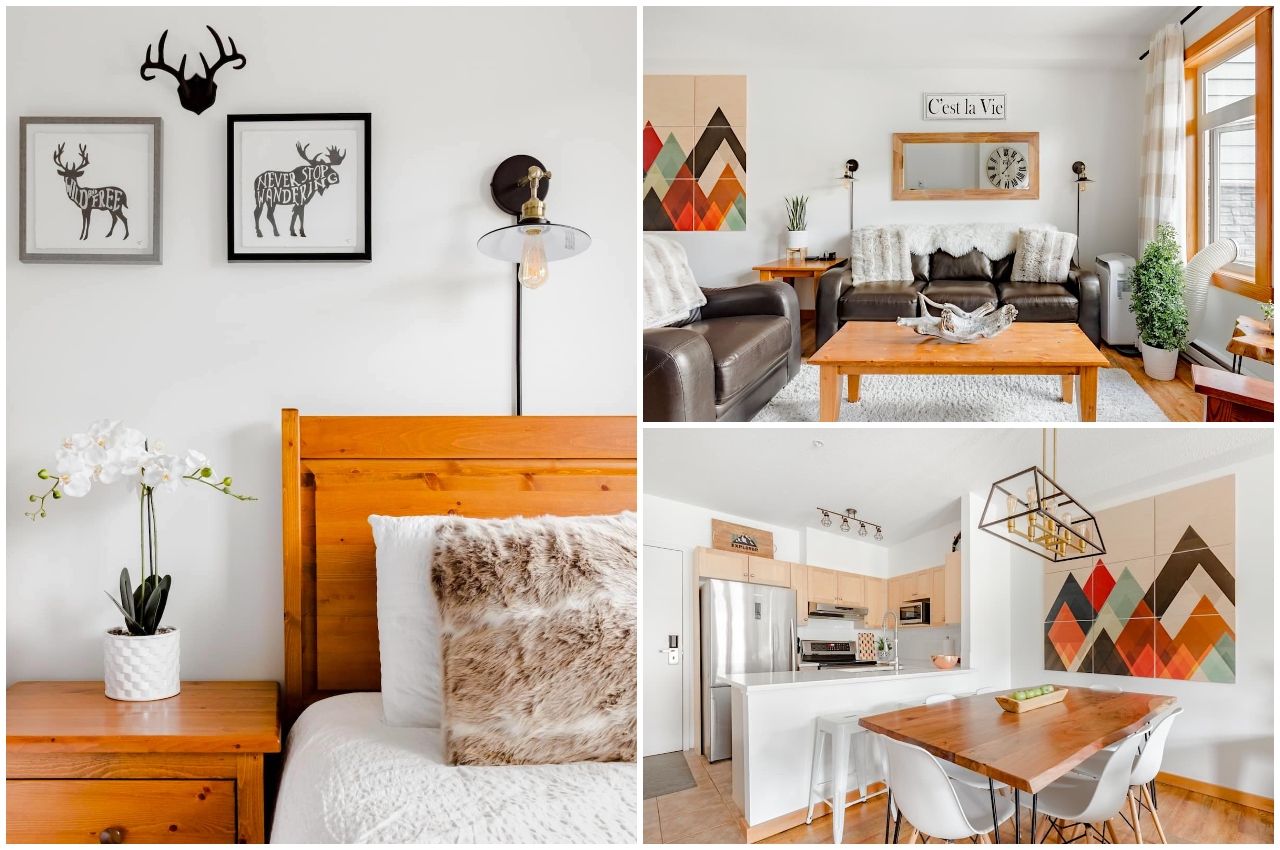 The US-Canada border is finally open again, and you know what that means. Well, yes, your next maple syrup run will be a bit easier. But more importantly, it means you can take that long-awaited winter ski trip to Banff — one of the most beautiful ski towns in North America. A resort town located in Alberta's sprawling Banff National Park, Banff is known for its world-class skiing, boutique shops and restaurants, and stunning views of the Canadian Rockies. Getting the most out of Banff means choosing the right accommodation, whether it's a cozy B&B or a luxurious chalet. It's not always cheap, but it is always worth it. These are the Banff Airbnbs you'll want to keep on your radar this winter.
We hope you love the Banff Airbnbs we recommend! Just so you know, Matador may collect a small commission from the links on this page if you decide to book a stay. Listed prices are accurate as of the time of publication. See our full Advertiser Disclosure here.
Huge house in the mountains with game room
You should probably bring all your friends along to this house, or you're going to feel a little lost. This four-story retreat can fit up to 16 guests in 10 bedrooms, with six bedrooms on the third floor alone. The main floor has a chef's kitchen and a game room including foosball, darts, and arcade games, while the top floor features an apartment-style unit with its own living room and bathroom. This place is perfect for a large family getaway, or for comfortably accommodating your group of friends.
Sixteen guests, ten bedrooms
Price: $920 per night
Cozy boutique bed and breakfast
Ever since the rise of Airbnb, traditional bed and breakfasts have fallen somewhat out of vogue. That wouldn't be the case if all B&Bs were like this one. Fir floors, antique furniture, fireplace, and pine-vaulted ceilings contribute to the cozy atmosphere of the Beaujolais Boutique B&B and create the feeling of stepping back through time. The rooms aren't big, but they have all the modern amenities you'd ever want, like a smart TV with Netflix, a coffee machine, and bar fridge, and offer incredible views of the mountains. A delicious breakfast is also included.  
Two guests, one bedroom
Price: $281 per night
Mountain retreat with outdoor heated pool
This resort-style complex is perfect for groups looking to spend time outside during the winter without actually having to layer up. This two-bedroom retreat has a heated outdoor pool and not one, not two, but three hot tubs for taking in the countryside views in a state of utter relaxation. The full kitchen makes it perfect for entertaining larger group, and there's even a BBQ on the furnished patio if you don't mind seasoning your burgers with a bit of winter chill.
Six guests, two bedrooms
Price: $201 per night
Sprawling mountain home with views
Ideal for larger parties, this mountain home in Canmore can sleep nine guests in three bedrooms, with each bedroom offering an ensuite bathroom.  This contemporary house has high vaulted ceilings, and a large patio with a BBQ, table, and chairs. It's also conveniently located just down the road from the area's most popular shops and restaurants. Perhaps most enticing for travelers, however, is that the accommodation comes with free national park passes for guests, which are required for visiting Banff and Lake Louise. That saves you $78.50 per day in park fees!
Nine guests, three bedrooms
Price: $486 per night
Rustic mountain chalet
Black Bear Chalet is ideally located just walking distance to downtown Banff. Defined by its high vaulted ceiling and floor-to-ceiling windows, the space evokes the style of the classic mountain chalet with an added touch of luxury. The two-story home is also just a three-minute walk to some of Banff's most popular shops, cafes, restaurants, and galleries, not to mention its proximity to hiking trails, particularly around the picturesque Tunnel Mountain.
Six guests, three bedrooms
Price: $950 per night
Spacious modern condo with mountain views
It might not be as big as a log cabin or chalet, but this condo packs a luxurious punch. The two-bedroom mountain retreat can comfortably sleep up to six people and has a double-sided gas fireplace, mountain views, full kitchen, and access to an outdoor heated pool. In the shared area, there's also an exercise room, outdoor hot tub, as well as a ski locker, and you're just a short drive away from Banff's bar and restaurant scene.
Six guests, two bedrooms
Price: $437 per night
Rustic log cabin in the Rockies
There's nothing like a log cabin when you're staying in the mountains. When you imagine a log cabin in the rugged wilderness, you're probably thinking of something resembling this backcountry cabin in the heart of Banff. Surrounded by mountains on the outside and a rustic finish on the inside, it's impossible not to feel relaxed and at ease while staying here. You can also look forward to fresh baked muffins, fruit cocktails, and coffee being delivered to your room for breakfast each morning.
Two guests, one bedroom
Price: $295 per night
Condo with outdoor hot tub and sweeping views
When it comes to ski weekend accommodations, it's all about the outdoor hot tub. This spacious condo not only checks the hot tub box, it also has a large balcony with sweeping views of the mountains, an open living area with a working wood-burning fireplace, and a full kitchen. Outside the condo itself, guests will have access to the Hidden Ridge Resort, with several heated outdoor pools and an indoor sauna in a converted 1940s cabin.

Three guests, one bedroom
Price: $440 per night