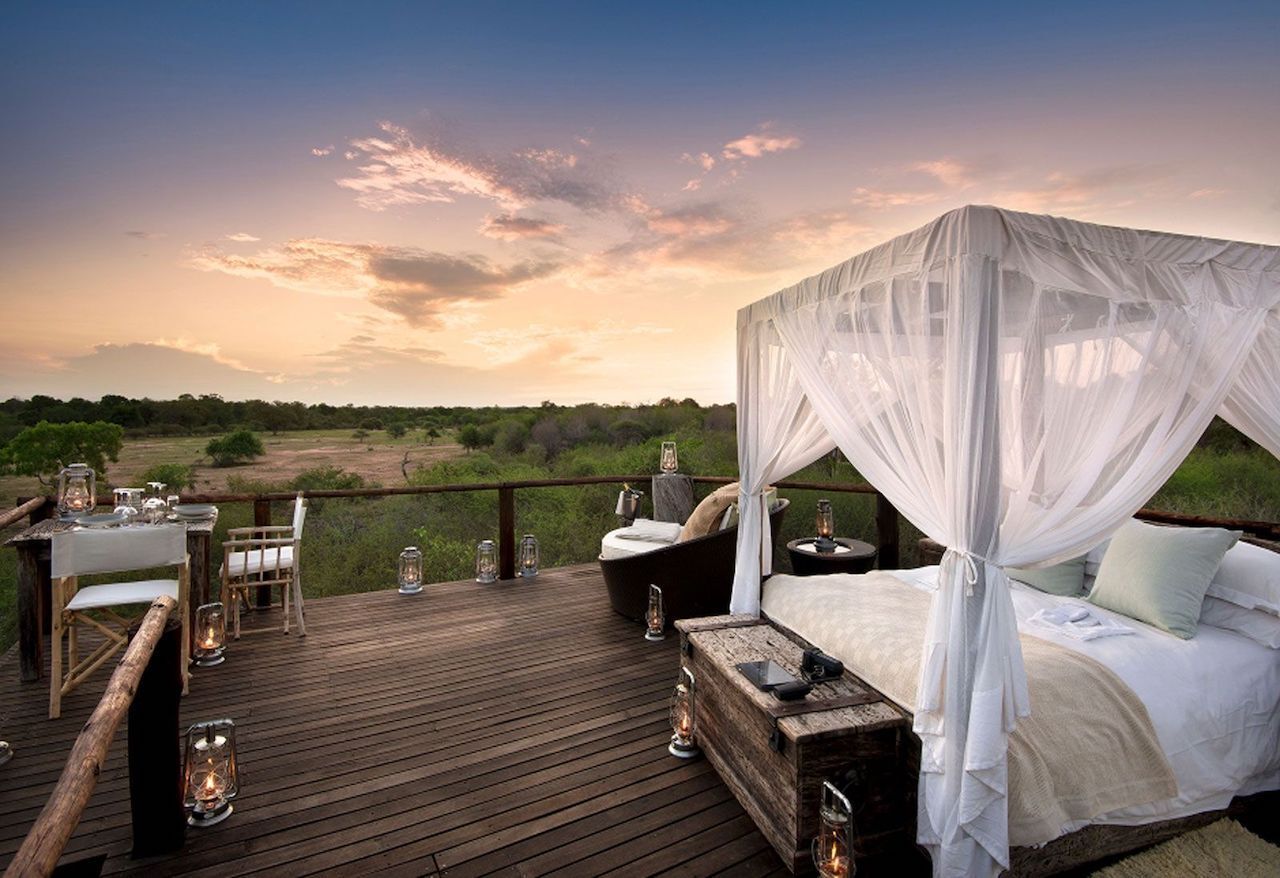 What travelers classify as a romantic vacation is as varied as love itself. Some may crave a five-star opulent service, while others might favor low-key privacy. But one thing is for sure, a trip away from the conveyor belt of day-to-day life with a loved one will shake up any relationship. Choosing the destination for a romantic vacation is not as vital as the experiences you make, but having a nice backdrop sure is an added bonus.
The hotels listed here are some of the most over the top accommodations in the world. These places are raved about because they offer the best of the best in terms of privacy, they are celebrated for their extravagant interiors, they offer top-notch couples activities and dining, and promise to tailor your experience into the most romantic stay you've ever fantasized about. From the floating Taj Lake Palace in Rajasthan, India, to the former villa of Elizabeth Taylor, here are some of the most dreamy hotels for the ultimate romantic vacation.
1. Il Borro — Tuscany, Italy
Within a thousand-year-old village, Il Borro is about 37 miles from the beautiful cities of Florence and Siena, making it an ideal rural romantic escape. Encapsulated by tree-covered hillsides within a 750-hectare organic working estate, the resort looks like a scene from the '80s movie A Room with a View, yet its Tuscan charms have not been compromised. Although you could easily get lost down the hamlet's narrow cobbled streets and sprawling vineyards, the hotel has a great range of facilities such as its spa, cooking classes, truffle hunting trips, and horse-riding excursions.
The resort has two restaurants, Vincafè and Osteria del Borro, with the latter being the more refined option. The rooftop of Osteria del Borro is hopelessly romantic, offering views over the Tuscan landscape. Partner that with a glass or two of wine and produce from the local estate and you've got the recipe for an unforgettable experience.
2. Taj Lake Palace — Rajasthan, India
Floating in the middle of Lake Pichola in Udaipur, northern India, the Taj Lake Palace is one of the most romantic hotels in the world. Built in 1743 as a summer palace for Maharana Jagat Singh II from the royal dynasty of Mewar, the hotel was converted in the '60s — but has lost none of its original features and opulent design aesthetic. Taj Lake Palace offers guests 360-degree views of the peaceful lake — a key filming location in the James Bond film Octopussy — and those lucky enough to stay here are treated like royalty.
Guests receive round the clock butler service, where they can ring for anything from a signature facial or traditional Indian foot massage to a platter of local fruits or a cooling mango lassi. Although this is not somewhere you would book on a whim, between the impeccable service and unique, beautiful location, it's one for the bucket list.
3. Casa Kimberly — Puerto Vallarta, Mexico
Casa Kimberly sits on the Bay of Banderas, a horseshoe-shaped shoreline of pristine beaches and dramatic cliffs, looking out over the Pacific Ocean in Mexico. The grand colonial villa was originally home to Elizabeth Taylor in the '60s and was developed in 2010 into a stunning nine-suite hotel. Rooms — all named after Taylor's films — are huge and spread over two buildings that are attached by a replica of Venice's Bridge of Sighs. Reviews rave about the sense of privacy the suites offer and the service mirrors this in its hands-off approach, allowing guests to feel comfortable and at home. That being said, Kimberly's open-air rooftop restaurant and tequila bar are vibrant. With a menu of modern Mexican dishes, a backdrop of the ocean, and a Mariachi band playing in the evenings, this is arguably one of the most romantic places to stay on the coast.
4. Skybeds — Botswana, Africa
Skybeds offers guests the unique opportunity to sleep under a canopy of stars on the Khwai Private Reserve in Botswana. This is not high luxury but it is a one-of-a-kind experience that will not be forgotten. Open to guests staying at the sister safari camp properties of Sable Alley and Hyena Pan, the three wooden treehouses are simplistic in nature but have comfy beds with luxuriously thick duvets to combat the chilly African nights.
Although the structures are open to the elements, they are spacious and set apart, so couples have total privacy. A fourth wooden tower houses a rooftop bar which overlooks a watering hole where you can enjoy an evening drink and spot local wildlife such as elephants, giraffe, and antelope.
5. Nihi Sumba — Sumba Island, Indonesia
Sumba is a remote island sitting off the east coast of Indonesia and offers some of the best surf in the Indian Ocean. But regardless of whether surfing is your thing, the island's countryside of limestone hills and savannas peppered with small villages is a haven in the Indonesian archipelago.
The hotel, Nihi Sumba, encapsulates the charm of this island. Nihi Sumba's nine villas are connected by a series of white stone paths enclosed by banana and frangipani trees and all have a private infinity pool with views out over the ocean. The resort's tagline reads, "This is not an escape from everyday life. It is the return to a life well lived." And yes, you could happily live here. From sunset private yoga to horseback riding on the beach to its "spa safari," there is a lot to do. That said if you would rather kick back and do very little, this is one of the more special places on the planet to do so.
6. Le Mas de la Rose — Orgon, France
The city of Orgon, in the Provence-Alpes-Côte d'Azur region of southern France, has undergone little modern development and has retained its rich historical heritage. Orgon's ancient streets are adorned with quintessential Renaissance facades and the market town is one of the prettiest in this region of France.
Overlooking the city on the hillside, Le Mas de la Rose, a 17th-century cluster of restored farm buildings, attracts those who are looking for the simplistic luxury Provence is so well known for. The hotel is an ideal base for exploring the region and is set within rolling lawns dotted with olive trees and aromatic lavender. In the evening the gardens and poolside are romantically lit and the restaurant's menu of organic produce grown on the property is in keeping with the hotel's uncomplicated elegance.
7. The Caves Hotel and Spa — Negril Jamaica
The Caves is about as exclusive and hidden away as you can get for a romantic getaway in Jamaica and what's more, it's adult only! The cliffside location is minutes away from Negril's famous seven-mile beach and is an easy 80-minute transfer from the airport in Montego Bay.
The resort features twelve secluded cottages hidden in the property's tropical gardens along the cliff edge. Brightly colored textiles, artwork, and stained glass accent the palm wood and straw of the cabins, and each have a queen-sized bed, a packed minibar with local treats, and an outdoor shower. For those looking to celebrate a special occasion, you can book a private candle-lit five-course diner in one of its caves or at a private spot along the cliff face. The saltwater pool and outdoor hot tub treat guests to views out over the ocean and although these are communal spaces, the indoor hot tub can be privately reserved between 5:30 PM and 9:30 PM.
8. Song Saa Private Island — Cambodia
Song Saa Private Island is — as its name suggests — a private island that sits on the Koh Rong archipelago off the coast of Sihanoukville in southern Cambodia. It has been heralded as one of the world's best luxury eco-resorts. The two small islands are covered in rainforest and are surrounded by a 100-hectare marine reserve which Song Saa has worked to establish. With sustainability at the forefront of the creation of the resort, all villas were crafted using local materials and are adorned with southern Cambodian textiles and artwork.
Its Maldivian-style accommodation sits above the water and each has its own plunge pool with steps leading into the crystal clear ocean. Song Saa is also dotted with outdoor spas where treatments take place under a thatched canopy. In keeping with the owner's commitment to local culture, spa therapies utilize native plants and Buddhist practices. This is another place you need to plan in advance to visit, but if you want a tailored romantic experience in one of the most private places in Asia, Song Saa delivers.

More like this
The post The most unforgettable romantic hotels in the world appeared first on Matador Network.