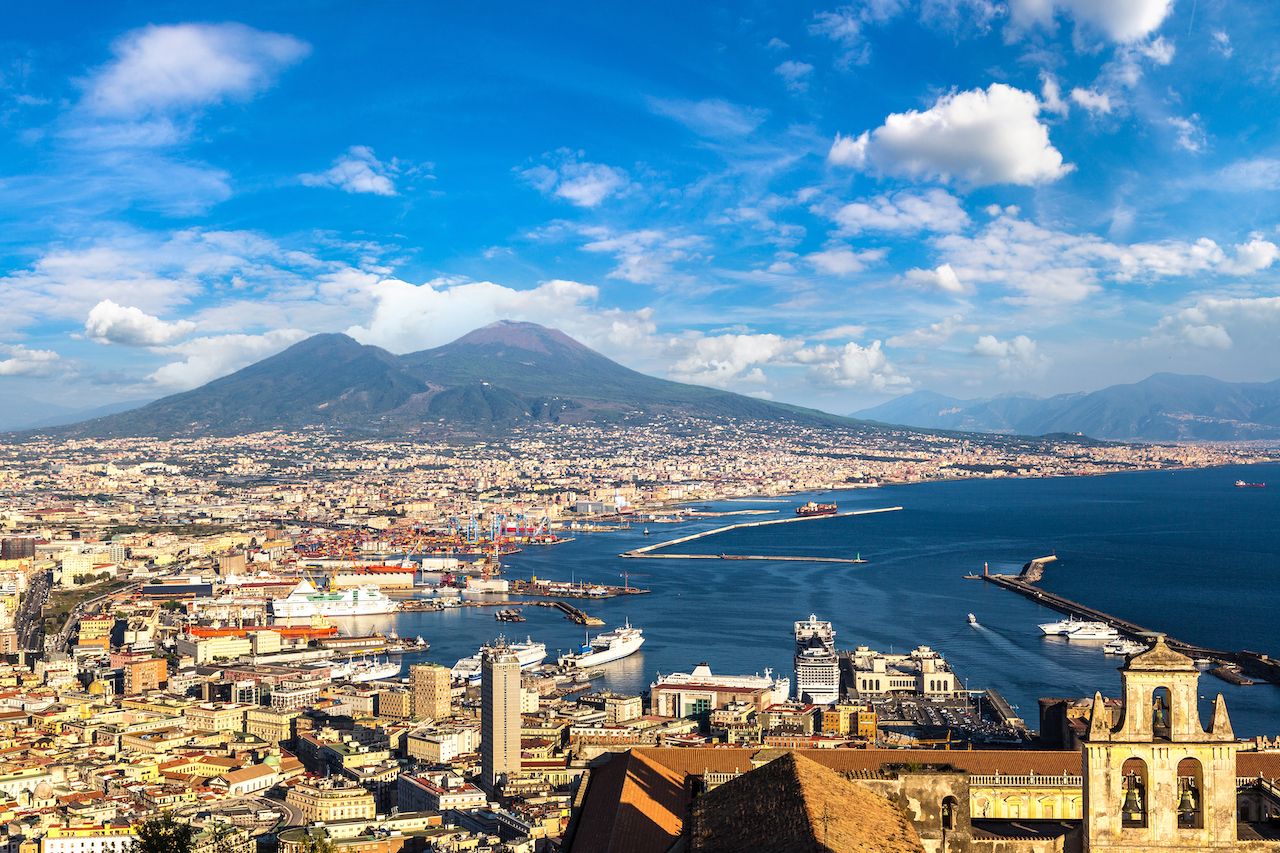 Much like the ancient ruined towns of Pompeii and Herculaneum situated in its suburbs, the city of Naples is being rediscovered. Previously dogged with a reputation for squalor, poverty, and violence, the largest city in southern Italy was regarded as somewhere that visitors scuttled through on their way to neighbouring locations such as Capri and the Amalfi Coast. But these days, Naples is emerging as a destination in its own right, with a thriving cultural scene, some of the best historical sites in Europe, and a firmly cemented reputation for excellent cuisine. Savvy travelers have worked out that Naples is worth a few days' visit, with a multitude of day trips to the glorious towns and islands of the Bay of Naples easily available.
Day one
Get the lay of the land along the Via Caracciolo e Lungomare.
Naples residents love this long bayside promenade, and for good reason — this path, with a total length of nine miles, has some of the best views in the region. On one side, you have the lurking presence of Vesuvius, towering over the suburbs of Naples, and the glittering island of Capri. One the other side, you have Chiaia, one of Naples' most vibrant neighbourhoods, with colorful houses and top-quality restaurants vying for your attention.
Quench your thirst with some local wine.
Finish off your morning with a lunchtime visit to Enoteca Belledonne, an unpretentious wine bar that's regarded as the city's best. Unless you've got a specific tipple in mind, let the staff recommend something instead — they know their stuff. Local wines are well represented, and it's the best place in the city to sample something new. Free snacks to go along with your drinks and a relaxed atmosphere mean that you'll be quite happy to spend a few hours here.
Check out the National Archaeological Museum.
The National Archaeological Museum in Naples houses a collection of antiquities that rivals anything in nearby Rome, especially the marble statues of the Farnese Collection — the Farnese Atlas, and the sheer size of the Farnese Bull will, leave you slack-jawed. You can also prepare yourself for a visit to Pompeii by checking out the items that were removed from the site for their own preservation. The "Secret Cabinet" is the most notorious of these, holding the finds which were considered too risqué for public view.
Try Naples' most famous export: pizza.
A full day of walking and museum-going deserves a pie. L'Antica Pizzeria Da Michele might not look much from the outside — it's tiny and decidedly no-frills — but it may well be more familiar than you think. It was featured in both the book and movie of Eat, Pray, Love, a tale that certainly gets its food recommendations right. Expect to be seated with strangers at plain tables and be given plastic cutlery and drinks in white plastic cups. You'll also only be allowed to order either a margherita or marinara pizza (the two original varieties), but you won't mind one bit — Da Michele only uses fresh, local ingredients, and it shows in the finished product.
Day two
Head to Pompeii.
There's no way to visit Naples without checking out Pompeii, Italy's most famous archaeological site. The place is huge, and you shouldn't expect to be able to see everything in one visit, but note that you can certainly spend the whole day here.
The site's highlights include the Villa dei Misteri with its colourful wall frescoes and the remarkably intact mosaics in the House of the Faun. The latter contains a replica of the site's famous mosaic depiction of Alexander the Great, the original of which is preserved in the Archeological Museum in Naples.
The notorious brothel is also one of Pompeii's most popular sights — expect to wait around 10 minutes to see the racy artwork decorating the walls inside. The site's amphitheaters look like they've only recently been vacated, and you'll want to spend time just taking in the atmosphere of the Forum, Pompeii's city centre. The plaster casts of Pompeii's victims here really draw the crowds, and you'll find it difficult to view them without feeling for those who clearly died in terror.
Other lesser-known must-sees are the Forum Baths and the House of Venus in the Shell, with its fresco of the goddess still remaining on the wall. Bear in mind that Pompeii was a substantial town and is sized appropriately — you'll need to factor in a lot of walking between the highlights.
Unless you don't mind paying the inflated prices, you're better off not using the cramped cafeteria on site. Instead, walk along the main road into the town of Pompeii and check out Na Pasta. This little place, away from the well-worn tourist path, does excellent pasta lunches for extremely reasonable prices.
If you fancy something a little quieter but equally historic, nearby Herculaneum is smaller yet better preserved. In either case, be sure to take a hat, comfortable shoes, and plenty of water.
Indulge at Ristorante Januarius.
Januarius is located in the centre of Naples' historic district. Named after the city's patron saint, Januarius has a menu filled with excellent choices, including some of the very best pasta dishes in town. Try the seafood pasta for a local dish with ingredients that were probably still in the Bay of Naples that morning. Be sure to save room for dessert — the tiramisu is out of this world. There's also a deli on site where you can purchase cheese, hams, and wines to take away.
Day three
Capri is waiting, and you should not resist.
Head down to the Molo Beverello port and buy yourself a return ticket to Capri from one of the many offices. Although this island in the Bay of Naples might be famously glamorous, it's not all about seeing and being seen — there's plenty of history and culture sites to visit.
Poke around Villa Jovis.
One of the most interesting, and infamous, sites on Capri is Villa Jovis. It was formerly the home of the Roman Emperor Tiberius and played a large part in sealing his reputation as a cruel and ruthless tyrant. Local legend has it that the cliffs below the villa were visited by many of Tiberius' houseguests, as those who displeased him were thrown to their deaths over a ledge.
These days, the villa is rather more peaceful. In a state of scenic ruin, they're an easy hike to reach it and explore. For a six-euro entry fee, you can spend an hour walking amongst the remaining walls and taking in the views of the sea. Tiberius spent an extended part of his reign on Capri as he was unwilling to return to Rome — once you take in the vistas from his palace, you'll see why.
Take a hike you won't forget.
Although many of Capri's man-made delights command a hefty fee (not least the shops on Via Camerelle), many of its most beautiful sights are absolutely free. One of the highest-ranking among those is the hike you can take along the Pizzolungo, a beautiful trail on the southern coast of the island.
Those looking for a pleasant hike without too many vertical climbs should start near the Arco Naturale — the trail starts with a large flight of steps downwards, and you'll definitely be glad that you won't have to climb them up. Make your way down to the ruins at the Grotta di Matermania and take a break as you explore the temple cut into the cliff face. Once you're on your way again, you'll be heading down towards the sea before going through a pine forest.
After checking out some of the very exclusive villas built on the coastline, you can start heading upwards again until you reach some spectacular views of the Faraglioni — the magnificent rock formations rising out of the sea. It's a much quieter spot for taking a photograph than popular Punta Tragara.
Cool down with a much-deserved gelato.
You'll need a cold treat after all that walking, and Buonocore Gelateria is the best spot. Don't be put off by the queue, the place is worth a little wait — waffle cones are freshly made to order, the gelato is smooth and tasty (especially the crema, which is so much more flavourful than the vanilla it resembles). Another speciality is the lemon sorbet, made from locally sourced citruses, which is sweet and refreshing.
If ice-cream isn't your thing, an array of sweet pastries are available, and each one of them is freshly made and coated with a layer of sugar. The tiny lemon cakes made from Capri lemons are a local favourite.
Sample the atmosphere at Piazza Bellini.
After you've taken the ferry back to the mainland, head to Piazza Bellini for a pre-dinner drink. Located just off a busy street, this is a great spot to grab some shade by day — but it really comes alive at night when the bars open, the ruins of the Greek city are illuminated, and the city's students and bohemians come out to enjoy the evening. 1'Maggio Bar is a particularly good place to grab an Aperol Spritz and watch the world go by. Alternatively, get a table at In Tabula and sample one of its excellent seafood dishes.
Day four
Spend the morning craft shopping in Sorrento.
Sorrento, located on the opposite side of the bay from Naples, is a favourite with tourists, but there's still cultural treasures among the tourist wares. Start by going along the tiny Roman lanes that sprout off the side of Piazza Tasso, and you'll also come across some woodworking studios — there's a particular concentration of them as you go closer to Marina Grande. As well as items such as wooden watches and fountain pens, you'll also find craftsmen working on the famous Sorrento intarsio crafts. These are generally wooden music boxes or furniture that are decorated with intricate inlaid wood patterns and finished to a high polish. Prices vary depending on the size of the piece, but the music boxes in particular make a great souvenir or gift.
Sorrento is also known for its cameo jewellery — head along to Bimonte near the church of San Francesco, and you'll be treated to the sight of the shop's owner carving elaborate pendants from shells.
Have a swim in the natural pools.
There's no beach in Sorrento, but there's something even better hidden away just out of town: the Bagni della Regina Giovanna. It'll require a short ride to get here (hop on a bus heading towards Massa Lubrense) and a walk down a path, but Sorrento's most scenic swimming hole is easy to access. Just underneath some Roman ruins, there's a natural pool carved out of the rock by the crashing waves.
The pool got its regal name thanks to its supposed visits by Queen Joanna of Naples, who allegedly used to bring her many lovers here for trysts. Whether that's true or not, it's certainly a scenic spot with a hint of the romantic.
Get your fill of seafood at Ristorante Bagni Delfino.
From one bagni to another of a completely different variety. Ristorante Bagni Delfino combines the informality of Sorrento's dining scene with seafood that has been fished mere feet away. Try the scialatielli ai frutti di mare for something truly local; this type of pasta was invented in Amalfi and is freshly made on the premises. Add the seafood brought in the local harbor with that morning's catch, and you'll have a meal to remember.
Try out the Opera at the Correale Museum of Terranova.
Sorrento hosts opera concerts at its museum, a grand former mansion, and it's worth one evening of your time, even if you're not into this type of music. You'll see plenty of posters for the Three Tenors show around town, which takes place every Tuesday, Wednesday, and Saturday. On arrival at the museum, you'll be shown into an ornate chamber for the show. The room's size means both that acoustics are excellent and that the experience is an intimate one. Local songs are a particular favourite (get ready for "O Sole Mio") and you can expect plenty of the standard classics.
Day five
Get an Italian art and history lesson at the Museo di Capodimonte.
The Museo di Capodimonte is one of the largest museums in the country, and the building itself is both huge and staggeringly ornate. Predictably, it was formerly used as a palace and was also home to the Farnese collection. There are many fascinating pieces of art to be found here, such as the painted artworks of the Farnese collection, works by Caravaggio and Titian, and a collection of cultural items from around the world, which were collected by one of the Borgia family members.
Check out the city from below.
Exploring what lies below Naples is not only possible but also well worth your time. The entrance to the Napoli Sotterranea tour is immediately visible when you're walking along Piazza San Gaetano — look out for the stone face above the entrance. You'll be 40 feet beneath the surface, and a guide will take you around the remains of history — from Greek quarries and Roman cisterns to World War II shelters to flowers growing underground as part of an experiment.
The highlight is exploring the tiny passageways of the Roman cisterns. Your guide will hand you a replica Roman oil lamp, and you'll wedge yourself into the cramped corridors that were in use so many centuries ago. Walking through seemingly endless crevices with only your lamp to guide the way is quite exciting, and you're rewarded by seeing the underground pools that kept the Roman population watered. If that all sounds a little claustrophobic, it's possible to skip the passageways.
Try the oldest pizza in Naples.
Antica Pizzeria Port'Alba is centrally located, has a great atmosphere, and is supposedly the oldest pizzeria in Naples. It lacks the no-frills authentic charm of Da Michele, having such frippery as tablecloths and metal cutlery, but more than makes up for it with a wide choice of pies available. There's every imaginable topping here, and the price is right. Try the Mastunicola pizza, which is made to an original recipe dating back to 1738, for the special price of $6 — but don't expect to taste any tomato!
End your trip on a party night.
Situated near the university, but frequented by people of all ages, Kesté is a bar and music club that is one of the oldest in Naples. Prices are very reasonable, and there's always something going on — live music, including traditional local acts, comedy nights, and much more. The atmosphere truly sets this place apart: It might seem a little rough and ready from the outside, but it's incredibly friendly once you're inside.


More like this:
The most amazing islands in Italy you've never heard of
The post The perfect five-day itinerary for the Bay of Naples, Italy's most fascinating region appeared first on Matador Network.