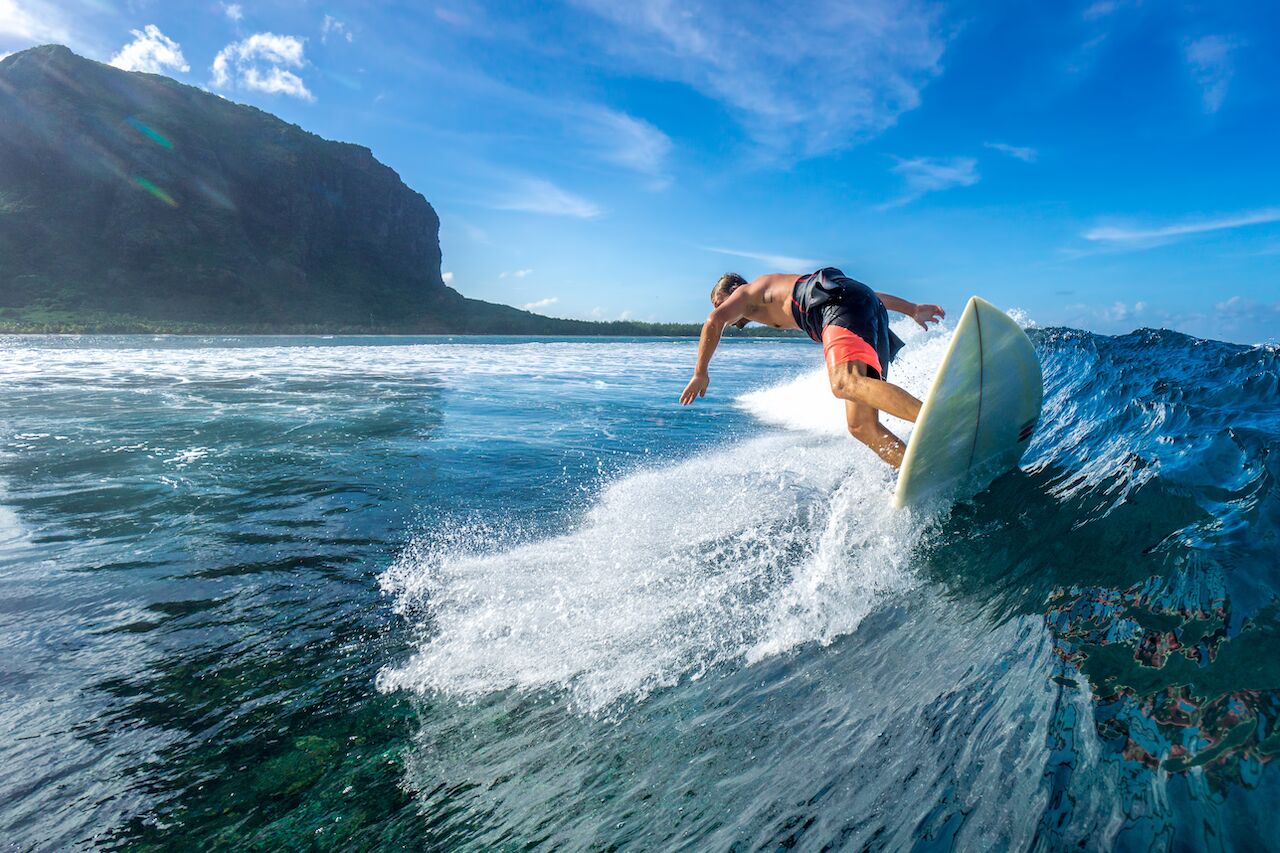 Good new for travelers hoping to find a new travel experience in 2022: two iconic beach brands have come together to create a one-of-a-kind surf camp experience.
The Selina x Volcom Surf Club will incorporate surf lessons and culture with an active lifestyle, live music, and cultural events, and you can take part at one of four locations. Selina is a millennial- and Gen-Z-loved company that runs remote working locations around the world. In addition to lodging, workspaces, and Wi-Fi, guests get access to community events like yoga, cultural tours, cooking classes, and other offerings to help facilitate a sense of community. And by partnering with surf, skate, and snowboard company Volcom, Selina guests now have access to epic surf experiences while working remotely. 
Participants staying at select Selina co-living locations can sign up for surf lessons and guided surf excursions, attend festivals and private parties, and have the opportunity to connect with nomadic surfers from around the globe. Those ready to push their limits can even sign up for surf competitions — or just snag a hoodie with the Selina x Volcom surf camp logo. 
Surfing and the digital nomad lifestyle have intersected for years. Many remote workers choose to base themselves in coastal locales like Indonesia's Bali and Mexico's coastal towns, and Selina is uniquely positioned to serve them. The hospitality company owns and operates hybrid co-living, co-working, and food and beverage properties across Latin America, the United States, Europe, and Australia. Its primary guests are digital nomads and remote workers looking for an established community of people with similar interests. And sponsoring surf events and camps is nothing new for Volcom, so it makes sense that the two would partner to combine expertly programmed surf retreats designed specifically for digital nomads. The Selina x Volcom Surf Club is now available at multiple Selina locations across Latin America and Europe including Sayulita, Mexico; Florianopolis, Brazil; Peniche, Portugal; Bocas del Toro, Panama; and Santa Teresa and Jaco, both Costa Rica.
"Our mission is to provide the lifestyle and community that our guests aspire to as much of the corporate world continues to embrace remote work options," said Ariel Levinsohn, VP of Global Brands and Creative at Selina, in a press release.  "We have been working with Volcom and our team of local experts to curate amazing amenities and experiences that allow our guests to move seamlessly from work to play and from sport to leisure."
Selina x Volcom Surf Club builds on the traditional surf camp model
The Selina and Volcom partnership is designed to differ from traditional surf camps in that the traditional model — where a guest checks in for a short-term stay and spends their entire time with fellow aspiring surfers — is only part of the equation. Selina x Volcom Surf Club is also designed for less-intensive, long-term stays catered to digital nomads who have decided to base themselves in one Selina location for a month or more. 
Guest experiences will go something like this: they'll visit a Selina location in Latin America — perhaps the Peniche Selina in Portugal, since it's the debut location of the project. After checking in to the co-living space, they sign up for a group surf lesson the following morning. After the lesson, they'll put in a day of work in the co-working space on their laptop, or relax elsewhere on property to use the Wi-Fi in a more casual setting. That evening, they retire to the beach or Selina's onsite pub to take in the tunes of a reggae-rock band. 
What makes the partnership unique is that guests need not commit to a rigorous schedule of surf-related programming, or any schedule at all. If Selina guests have a stream of work calls or simply don't feel like pushing out into the waves the next day, it's up to them. They can book a lesson or experience whenever it's good for them with no need to plan ahead. Since the co-working spaces have onsite equipment and instructors, guests have endless flexibility in customizing their stays.  They can opt for a traditional intensive surf camp experience or just take the occasional private morning lesson. The club also offers instruction in yoga, meditation, and breathing. Prices vary by location and experience.
"Surfing has always been a primary focus at Volcom since the beginning," Ryan Immegart, CMO at Volcom, said in the release. "Selina has an exceptional ability to foster unique communities in their co-working destinations through experience and engagement.
The brands are also taking their partnership beyond the waves. Each Selina property sells custom surfwear and hoodies for the partnership at that specific location,  so guests can take a piece of the experience with you when you move on to the next stop in your travels (or next co-working location).