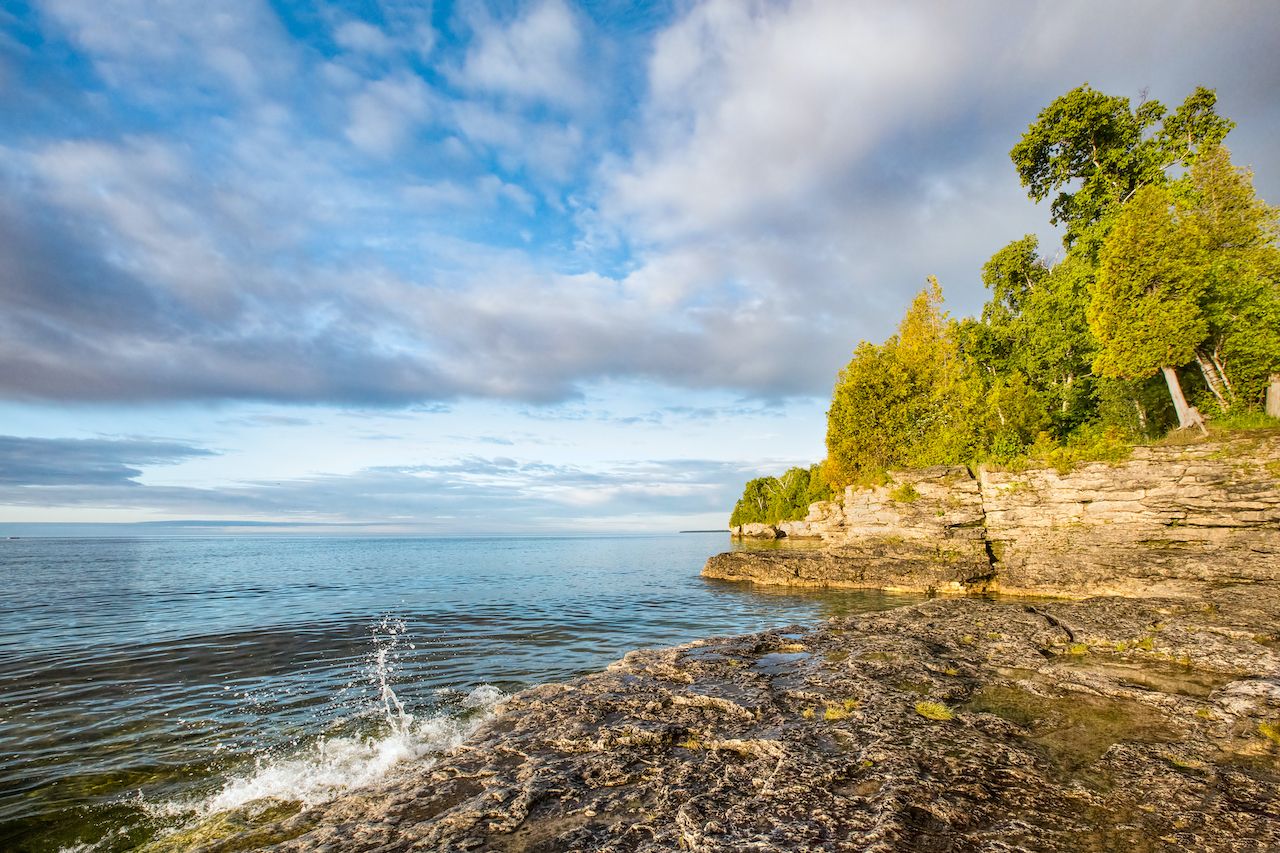 In a 1969 issue of National Geographic, Door County, Wisconsin, hit the pages with the feature headline "A Kingdom So Delicious." The sleepy Moravian villages and old-school supper clubs of this Wisconsin peninsula would never again be the same — Door County would soon become the "Cape Cod of the Midwest."
Fifty-plus years later, the wine and cider flow, five-star haute cuisine rivals the beloved fish boil, cherry orchards and lavender fields light up the hillsides, goats alight on rooftops, and, most importantly, the Lake Michigan views — and the limestone sea cliffs — are just as scenic as ever. The summer of road trips is upon us, and for the Midwest, that means Door County. Here's how to do it.
Friday night
Just because you're a few hours from Milwaukee doesn't mean Door County is hurting for crowds — in fact, it's quite the opposite. For a social-distance-friendly stay, look to the Liberty Lodge at Sister Bay. It's set apart from the hustle and bustle of the nearby village, and you can nab a room off the wide-open front porch for Lake Michigan views and exterior access.
If you haven't yet eaten, pack your mask, head to Wild Tomato in Sister Bay, and nab a spot on the patio. They specialize in wood-fired pizzas — the "Green & Gold" is topped with broccoli, spinach, bacon, and Wisconsin cheese curds. (They may be a stereotype, but they're damn good.)
Work your way back to the hotel and settle in — or walk across the street to Door County Ice Cream Factory and take your dessert al fresco. You've got two busy days ahead.
Saturday
After coffee and a light breakfast on the lodge's deck, get to Seaquist Orchards at 9:00 AM when the doors open. You'll promptly work your way through a maze of jams, fudge, cookies, pastries, fresh cherries (try a sample), juices, and nearly everything "cherry" under the sun. Grab snacks. You'll want them later.
Then it's time to wind your way up Highway 42 until the road ends in Northport. The car ferry to Washington Island — you can't miss it — departs every half hour or so. Nab a spot on the open-air deck up top for a 30-minute passage across Death's Door, a choppy six-mile strait where over 250 ships have met a watery demise. (You'll be safe on the ferry.)
The island, a retreat from any and all reminders of city life, has more attractions than roads. Main Road is your north star, and it'll take you most of the way to Fragrant Isle, one of the largest lavender farms in the country. Strolling along its 20,000 purple plants — all various shades — makes even the most counterculture of us want to take a shot for the 'gram. Simply stroll the fields, pick your own bouquet, and if you're hungry, nab a lavender lemonade and a pulled-pork banh mi from the outdoors bistro.
From here, make the quick drive north to Schoolhouse Beach. It's one of the few beaches in the world made of smooth limestone rocks — one of five, to be precise. Though you won't have to worry about sand tickling your toes, bring shoes to navigate the small stones. And the deep blue water, while likely a bit chilly, is definitely good for a swim.
If time allows, make a quick visit to the island's stavkirke — modeled after a 12th-century Norwegian stave church — or climb up Lookout Tower for incredible views of the island's hardwood forests and hills.
When you're ready, head back toward the ferry and return to the mainland. As you're winding south down Highway 42, stop at Island Orchard Cider. Their Apple Cherry and Apple Lavender ciders are their most popular (and most "Door County"), but special kudos go to their Dolomite, a simple-yet-robust French-style cider that's sweet and tangy, pressed from late-season macintosh apples. A walk-up window makes grabbing a bottle to go as easy as cherry pie.
Now it's time for one of the best meals you've had in awhile. Trixie's may be decked out in ethereal whites and pinks, and the menu may seem unassuming, but you're about to have a serious foodie experience. Whether you go veg (the green salad, nasturtiums and all, is as delicious as it is beautiful; the roasted-pear ravioli with brown butter and sage is alarmingly satisfying) or more Wisconsin-esque (tempura whitefish with tzatziki, chimichurri skirt steak), celebrate your happy tastebuds with a glass of the Lini 910, one of the designated "female-made" wines on Trixie's hand-selected list.
If you can manage to pull yourself from your seat, just down the road is one of the more iconic spots in Door County: Anderson Barn. The gallery inside is likely closed by now, but you're just in time for golden hour, and that's just as good a time to be here. Snap a shot, write your name on the wall, or both.
From here, while you could go scout out some nightlife — you might want to find out why there are goats on the roof of Al Johnson's — a COVID-friendlier idea is taking that bottle of Dolomite (and likely some Trixie's leftovers) and making a late-night picnic of it.
Sunday
If visitors don't come from across oceans for the cherry-stuffed French toast at the White Gull Inn, they should. Get there early, make no bones about what you're ordering, and enjoy. No carb regrets allowed: You're about to work it off at Peninsula State Park.
The parks along Wisconsin's Door Peninsula are eons away from any Midwestern "flyover" stereotype. Here, the Niagara Escarpment — basically a cliff that runs from here to the famous New York waterfall — juts out hundreds of feet above Lake Michigan, a limestone-and-dolomite giant complete with sea caves from ancient shorelines you can now climb into. Take the Eagle Trail, a moderate (though technical) two-mile loop for a trek down into the cedar forests, along the escarpment and the water, and back up the bluff.
Just south of the park is The Cookery (which also doubles as a lodge) — if you're still full, save this for dinner. They're family-run and famous for their whitefish chowder, though you might want something lighter, like the cherry apple salad. Afterward, stroll by Fish Creek Beach while you're in town, and then it's off to Cave Point County Park, technically inside Whitefish Dunes State Park.
If you're thinking, "I already hiked once today, thanks," know that Cave Point's best spots are just off the parking lot. Park the car, wander down the grass, and bam — sea cliffs stretching to your right and left, literally washing over you if you wander down onto the dolomite steps. Walk the length, and then find a humanless spot to hang your feet over the edge and watch the waves absolutely tumble and roar. If kayakers paddle by, vow to get their vantage point next time.
From here, it's back on the road — and back to your own kingdom. How delicious it was, indeed.

More like this
The post Stunning scenery and fresh eats make Door County Wisconsin's best weekend getaway appeared first on Matador Network.