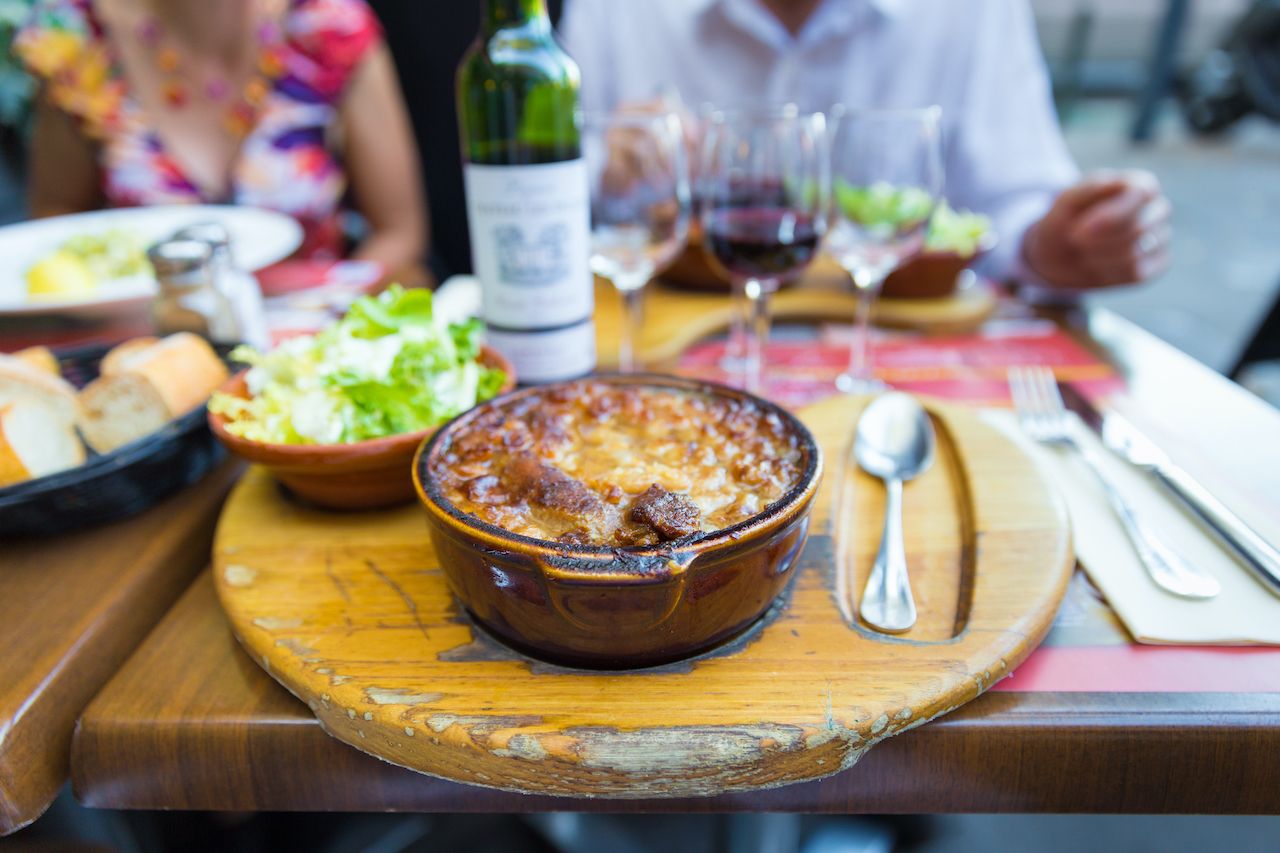 You don't need to be a Francophile to be familiar with the decadent pleasures of French cuisine. As the undisputed masters of fine dining, the French have crafted a culture with a central pillar of painstaking, meticulous preparation — and equally passionate enjoyment — of food. No matter where you are in France, from Paris to Provance to Lyon, visitors will encounter creamy cheeses, hunks of steaming freshly baked bread, full-bodied red wines, and flaky, buttery pastries.
While visitors to France should walk into cafes and restaurants open-minded and hungry, they shouldn't walk in unprepared. Each region of France has its own specialties — peasants who have lived on the land the longest invented most of these meals out of necessity; other times industrious chefs are behind these now-legendary culinary creations. Either way, most of these dishes, from crepes to fish stew, rose from humble beginnings to take their place in the pantheon of classic French cuisine.
There are of course must-try wines in each of these regions, but that's a whole other story. Instead, we focus on the food (and sometimes beverages outside of wine) that exemplify and celebrate each region's storied production traditions, farming practices, and gastronomic history. Here, you'll find wild pigs, ancient orchards, lush grasslands, and the freshest seafood. Oh, and cheese. A lot of cheese.
Here are 13 dishes to try next time you visit France, organized by region. All these dishes are so iconic and beloved that you'll likely encounter them on most restaurant menus, and some have even received official protected status from the French government, so you won't have any trouble finding places to sample each one during your travels.
1. Brittany: cider and crepes
The mascot of Bretagne, as it's known in French, is arguably the apple: Around 600 varieties of apples grow in this one region of France alone. Locals drink farm-fermented Breton cider with near-religious fervor. Orchards are abundant in places like the lush countryside side towns of Dol-de-Bretagne, the Rennes, and Vitré — where you're also likely to encounter a few ancient castles as well. The Cornouaille Cider Route allows visitors to experience a wide breadth of cider. Cornouaille has an AOP designation, meaning it's a protected appellation, and the cider there must be prepared according to strict specifications that respect the region's terroir and traditional cider-making techniques. The other beverage to try is lambig, otherwise known as Fine de Bretagne, a cider brandy with appellation d'origine contrôlée — or AOC — designation.
For another taste of France's ancient gastronomic history, you might want to sample a crepe or two on your next visit to Brittany. Although you can eat this dish anywhere in France these days, Brittany deserves recognition for inventing sweet and savory super delicate pancakes: an early version of the crepe — made from buckwheat — was first prepared in 13th-century Brittany. Today, they're served all over Brittany alongside a bowl of cider.
2. Normandy: scallops and camembert
For more than 50 years, Dieppe, widely considered the top fishing port in France, has hosted a scallop and herring festival celebrating this region's storied seafood. At the nearby Le Goût du Large festival in Port-en-Bessin, Calvados — which might be considered Dieppe's rival for the best scallops in Normandy — fishermen's wives prepare the culinary offerings. Visitors should look out for the specific coquilles Saint-Jacques de Normandie; these scallops are a specialty of the region and have been awarded the Label Rouge, which guarantees their quality.
The emerald green grasses of the Normandy countryside also produce rich cow's milk, which in turn goes into some of the world's most beloved cheeses — most famously Camembert. Created in Normandy in the 18th century, it was famously provided to French soldiers as part of their rations during the First World War.
3. Corsica: charcuterie
This island, encircled by the Mediterranean Sea and dotted with rugged mountains, is, as National Geographic put it, "fiercely independent." Yes, it's technically a part of France, but Corsicans don't consider themselves French. They actually speak Corsu — a Tuscan dialect. The influence of the Italians, who ruled the island in the Renaissance Age, can be seen from the pizza to the Italian paintings in museums on the island. The majority of livestock raised on the island is free-range, and pigs, which are abundant, are sometimes bred with wild boar, fed a diet of chestnuts, and then transformed into salami and ham. Pig rearing is a centuries-old Corsican tradition, which has earned the island's pork producers an AOP (protected designation of origin). If you visit the island, drive carefully, as you might see wild boars roaming the roads.
4. Auvergne – Rhône-Alpes: fondue and raclette
This alpine region of France, known for its majestic landscape and idyllic villages nestled among the snowy mountain top, is also famous for its melted cheese. Once considered peasant food, fondue is a beloved dish worldwide because it encourages communal, social interaction.
There's some debate surrounding its origins. Some stories say it was invented in the 17th century by Swiss dairy farmers when they melted all the leftover cheese produced in the summer and ate it with stale pieces of bread. It's a Swiss national dish today, but according to the BBC, the French Rhône-Alpes Savoie region — which borders Geneva — might also be able to lay claim to modern fondue, meaning cheese like Comté or Beaufort melted in a "pot over an open flame."
Another melted cheese dish this region might have borrowed from the Swiss is raclette (meaning to scrape): A wheel of salty cow's milk cheese is partially melted, brought to the table, scraped onto a plate, and served with potatoes and gherkins. Especially popular after ski trips, both raclette and fondue are enjoyed among convivial groups of friends who need a decadent comfort food to warm up those chilly winter nights.
5. Loire Valley: fouace
These oven-baked rolls (sometimes also spelled fouee), similar to a popover, are popular in Anjou and Touraine and owe at least some of their legendary status to a (literal) giant of literature. During the Renaissance, François Rabelai wrote The Life of Gargantua and of Pantagruel, a satirical novel about two giants. Gargantua has a famously insatiable appetite, which he tries to quell by snacking on fouace.
Prepared in a wood fire bread oven, these pockets of dough are cooked until puffy and then sliced open and filled with mushrooms, white beans, goat cheese, or rillettes de tours (shredded pork pate). Fouaces are traditionally the breakfast of laborers who would spread them with butter and eat them as a quick breakfast, but today visitors will find them on restaurant menus all over the Loire Valley.
6. Grand Est: quiche Lorraine
This iconic breakfast dish might be described as an egg tart filled with bacon, onions, and broccoli. It originated in Lorraine in Grand Est, France, in the Middle Ages. At the time, Lorraine was an independent region, claimed neither by the French nor nearby Germany. It was passed back and forth between the two countries during times of war until it was eventually, and permanently, claimed by France. That's why this dish has influences from both country's cuisines — its name, for instance, comes from the German kuchen, which means cake. The original quiche Lorraine was without cheese, but today of course you can find them in brasseries all over the country with variations that include mozzarella, tomato, and salmon.
7. Hauts de France: Flemish beer and moules frites
This region neighbors Belgium, and the Flemish influences on its cuisine are undeniable. So much so that in Hauts de France, the preferred drink is beer not wine. In fact, the region is responsible for around 30 percent of France's total beer production. You're likely to sample staples of Flemish cuisine throughout Hauts de France, including carbonade flamande, a stew marinated in beer. And one local cheese, tomme de Cambrai, is steeped in beer during the aging process.
You're also likely to encounter a passion for frites in Hauts de France, which are typically served with moules (mussels). Friteries are a fixture in villages that dot the region, so you'll have no shortage of opportunities to try this Belgian dish that migrated its way into French cuisine.
8. Nouvelle-Aquitaine: foie gras
Duck foie gras from this Southwestern region of France enjoys Protected Geographical Indication (PGI). Périgueux, in Nouvelle-Aquitaine's Dordogne region, is especially famous for high-quality foie gras, as well as its walnuts and truffles. Typically considered a luxury, this decadent pate is often served in restaurants around Nouvelle-Aquitaine on toast with fig marmalade.
Nouvelle-Aquitaine boasts another gourmet specialty: duck confit. The fat from the region's well-fed ducks and geese are used to preserve confit dishes and sometimes even used in place of butter.
9. Bourgogne Franche-Comté: coq au vin and beef bourguignon
Coq au vin and beef bourguignon, classic French dishes that exemplify the country's dedication to finely crafted and sumptuous food, originate in Burgundy. Both dishes involve slow-cooking meat in red wine — a storied tradition in this region, the land of fine wines. Originally developed by peasants, these dishes now appear on fine dining menus around the world. The website French Country Food frames their now universal popularity this way: "Comté cuisine is essentially a rustic kitchen, of peasant origin, passed through a village gentrification that helped solidify a number of traditional recipes and elevate them to regional specialties."
Though these dishes are perhaps the region's most famous, visitors should be aware of its rich cow's milk cheeses, Morbier and Mont d'Or, as well Bleux de Gueux, a creamy, semi-soft blue cheese produced in the Jura mountains. The region's pine forests produce exceptional honey, and orchards in Fougerolles grow cherries that visitors are likely to encounter in jams all over Burgundy.
10. Occitane: Cassoulet
Legendary French chef Prosper Montagné called cassoulet "King of Occitan cuisine. One God in three persons: God the Father is the cassoulet of Castelnaudary, God the son, who is one of Carcassonne, and the Holy Spirit that of Toulouse." Like several other now-famous dishes on this list, this succulent casserole of mutton and pork simmered in the beans and covered in a flaky buttery crust was once considered a dish only intended for poor peasants. An authentic Occitane cassoulet will contain white beans grown in Lauragais, near Toulouse, and will be served in a terracotta dish made in Castelnaudary.
According to legend, this dish has been around a long time, first appearing in Languedoc during the 100 Years War, which took place in the 1300s. In a desperate bid to keep the soldiers defending Castelnaudary alert and ready to fight the invading English, the townspeople gathered together bacon, pork, beans, and sausages and cooked them together in a pot. In reality, the first recorded mentions of cassoulet didn't appear in France until the 16th century.
11. Île-de-France: croque monsieur
Île-de-France is home to Paris, so the best foods to try in this region reside in the city's famous brasseries and cafes. The croque monsieur sandwich, made with ham and Emmental or Gruyere cheese, is basically a very rich version of a typical grilled cheese and is served all over Paris. What differentiates it is that it is served with bechamel sauce, and cheese melted on the outside of the bread, too — a testament to the French inclination toward decadence.
There's some dispute over its origins, but according to legend it first appeared when a Parisian chef ran out of baguette and used sandwich bread to make his ham sandwich instead. Regardless of who exactly invented it, it began populating cafe mentions in Paris around 1910 and quickly became so popular that Proust even mentions the sandwich in his 1918 novel In Search of Lost Time.
For dessert, indulge in a Paris-Brest, a wheel-shaped pastry inspired by the bicycle race of the same name. Created by Chef Louis Durand in 1910 in Paris, the Paris-Brest consists of praline cream sandwiched between two discs of choux pastry.
12. Provence-Alpes-Côte d'Azur: bouillabaisse
This fish stew is the star of Southern French cuisine, where seafood is abundant and fresh. Once cooked by fishermen's wives with leftover fish, bouillabaisse, like coq au vin, is now considered one of the touchstones of traditional French gastronomy. Typically, haddock or cod is cooked together with shellfish like mussels or crab, as well as octopus, and flavored with Provencal herbs. However, there is no agreement on a definitive list of seafood that must be included. The stew is served with a heap of croutons and a dab of rouille spread on toast — spicy garlic mayonnaise.
13. Pays de la Loire: beurre blanc
Don't let the simplicity of the name "white butter" fool you — beurre blanc is one of the most iconic dishes in French cooking, well known for its rich taste and silky texture. The sauce garnishes seafood — typically pike, cod, salmon, tuna, or scallops. Both the Nantes and Angers regions lay claim to the invention of this white wine and butter sauce, however most stories credit chef Clémence Lefeuve with the invention of the sauce at her restaurant on the banks of the Loire river at the end of the 19th century.

More like this
The post The most iconic dish to try in every major region of France appeared first on Matador Network.