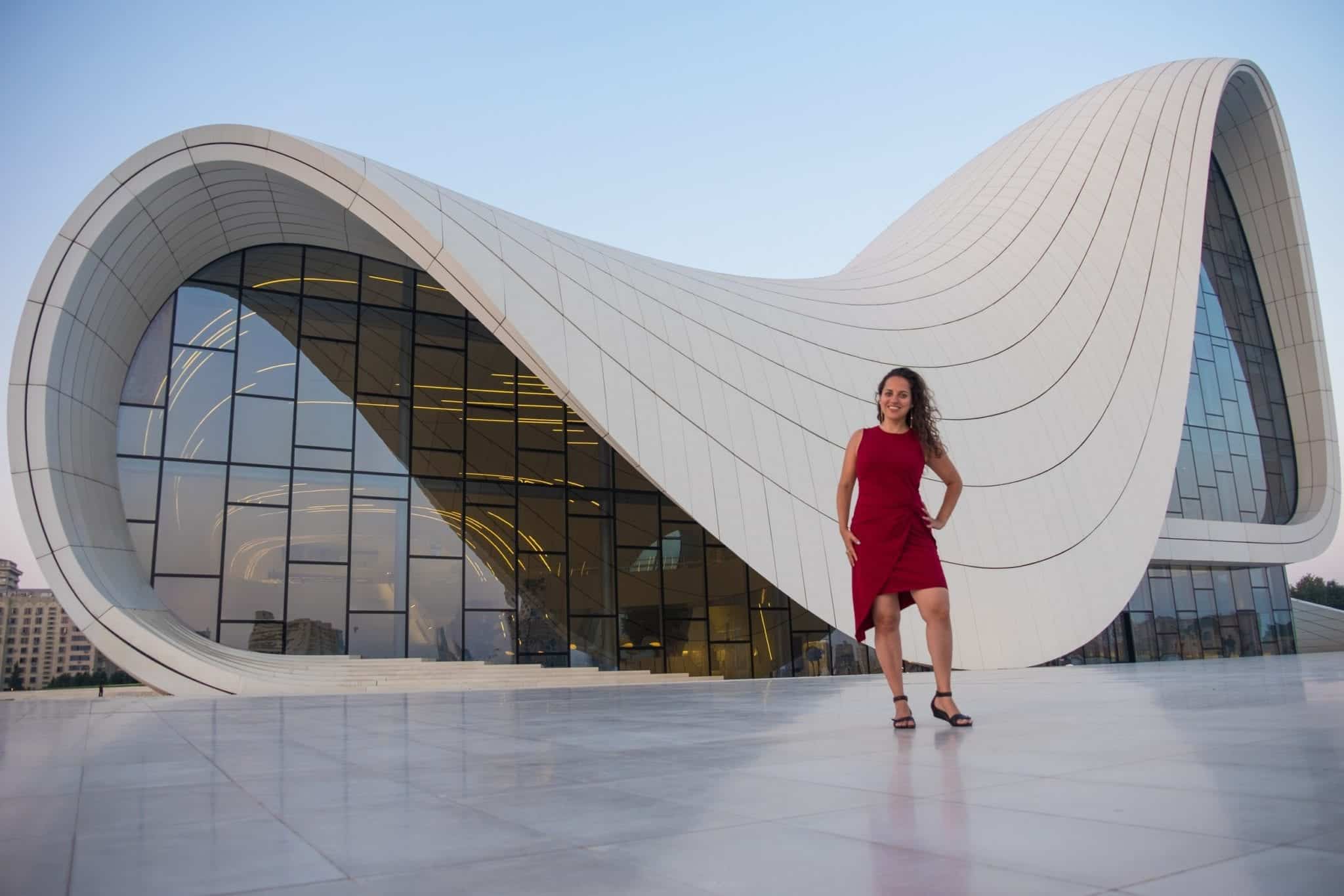 When I think back to my travels in Baku, Azerbaijan, one anecdote comes to mind. I'm driving through the highway as we speed past modern, silver buildings interspersed with sand-colored mosques and souks, set back against the arid landscape. My guide points out a cluster of buildings on one side of the highway.
"See those buildings?" he tells me. "Our journalists live there. They get to live there for free."
I smile weakly and say, "Oh. For free. Cool." Inside, I'm thinking, really? In exchange for what?
That's what it's like to grow up in a country without freedom of the press. Journalists living in government-provided housing is seen as something to extol to international visitors, rather than something that should be kept under wraps.
That's not to say that Azerbaijan is horrifying. Far from it. I found Baku to be an intriguing destination, quite often perplexing, and well worth a three-day visit before traveling on to Georgia and Armenia.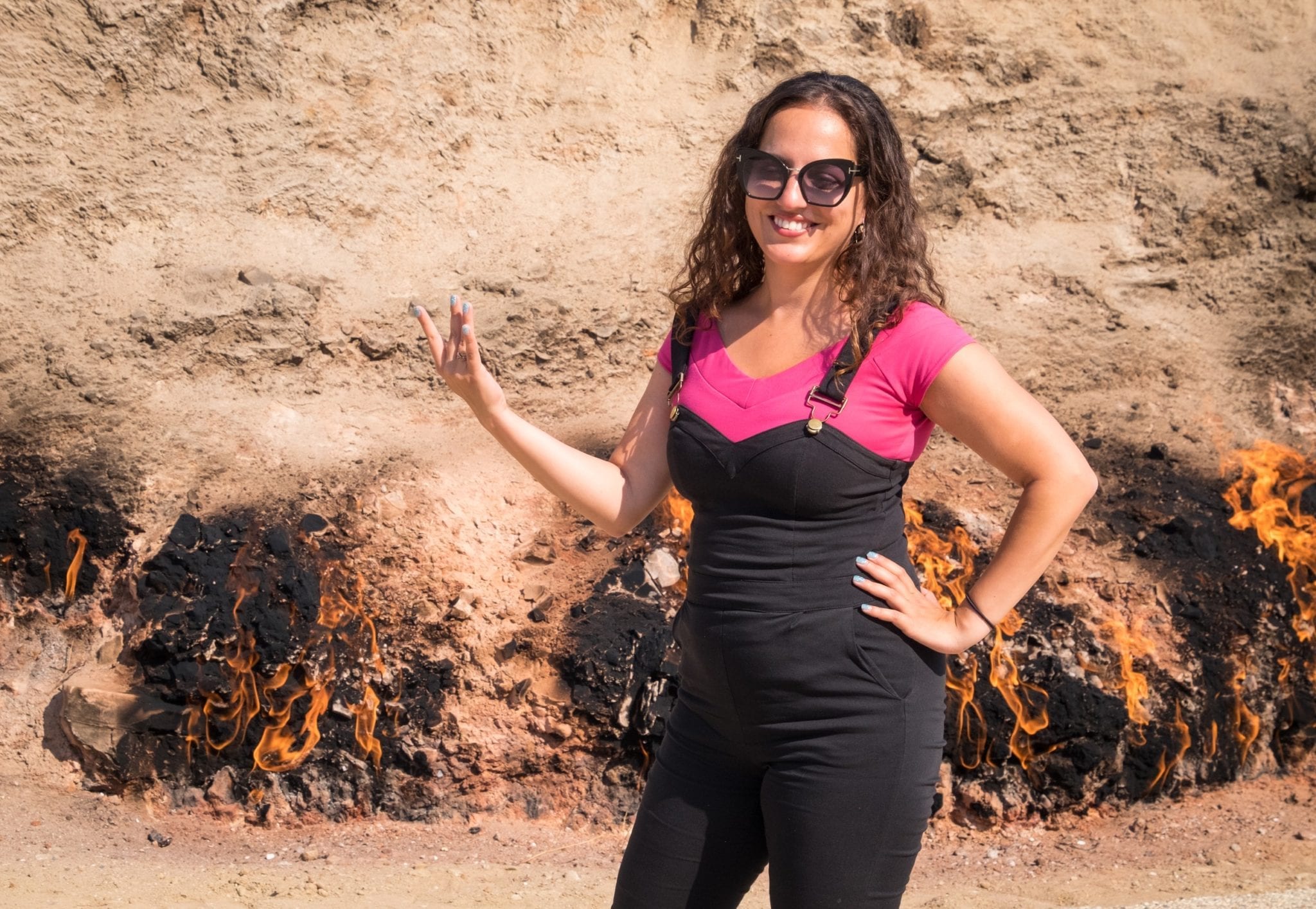 Azerbaijan: A Modern Land of Fire
Azerbaijan is known as the Land of Fire — this is a country where flames can and do burst out of the earth in unexpected places. There are places close to Baku where you can see eternal flames billowing out of the ground, or even from the water. And the reserves of natural gas cause unusual geological effects, like bubbling mud volcanoes.
And sitting in the middle of that fiery desert, on the banks of an inland sea, is one of the world's most prolific collections of modern architecture. The most famous of which are three modern towers shaped like flames, lighting up with even more flames at night.
If you mention modern architecture set against a desert, where do you think of first? Dubai, maybe, or Doha, Qatar? I got a similar vibe from Baku. Azerbaijan is rich with oil money, thanks to its location next to the Caspian Sea, which had led to insane levels of recent development.
While Dubai and Doha have their share of modern buildings, Baku sprawls like neither city. As you're driving around Baku, it seems borderline uncanny that you can cruise over so many hills and still see all kinds of modern, interesting buildings.
Within this unusual setting, there are a lot of cool places in Baku to explore and enjoy.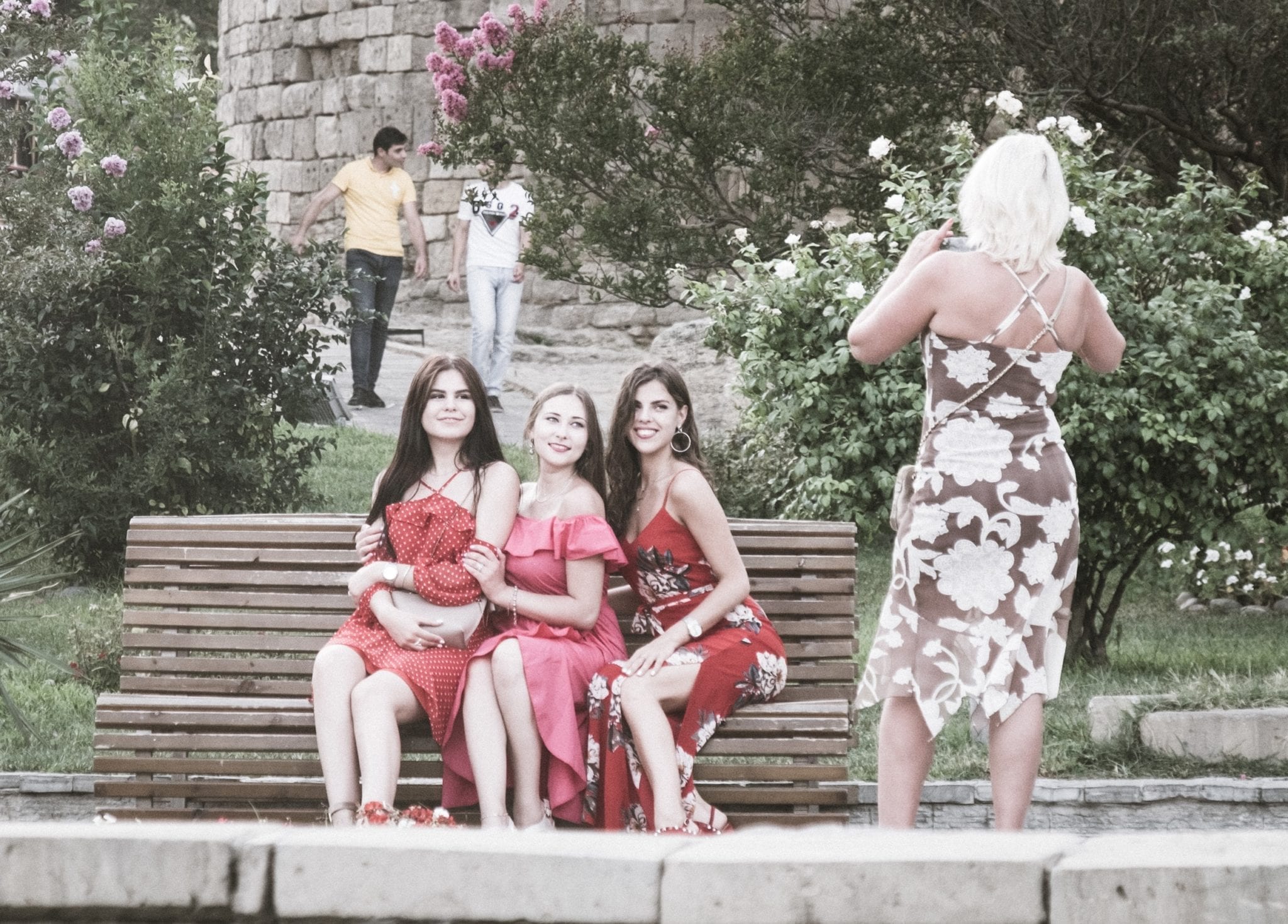 Best Things to Do in Baku
The good thing about visiting a city like Baku is that there isn't an established tourist trail — you don't need to hop from sight to sight.
Have dinner overlooking the Flame Towers. On a whim, I ended up at Panoramic Restaurant. While most of the windows face away from the Flame Towers, there is a tiny outdoor patio with only three tables that has a view of the Flame Towers! Do what I did — go early in the day to check it out, then make a reservation for that exact table for sunset that evening.
Explore the old city of Baku. This is a UNESCO World Heritage Site and a place where the architecture differs enormously from the rest of the modern city. The old city dates back to the 6th century and it gives you an idea of the incredible cultural history in this region from Zoroastrian, Sasanian, Arabic, Shirvani, Persian, Ottoman, and Russian cultures. The Maiden Tower is a great spot for a view of the Flame Towers. And just outside the old city is the Azerbaijan Carpet Museum.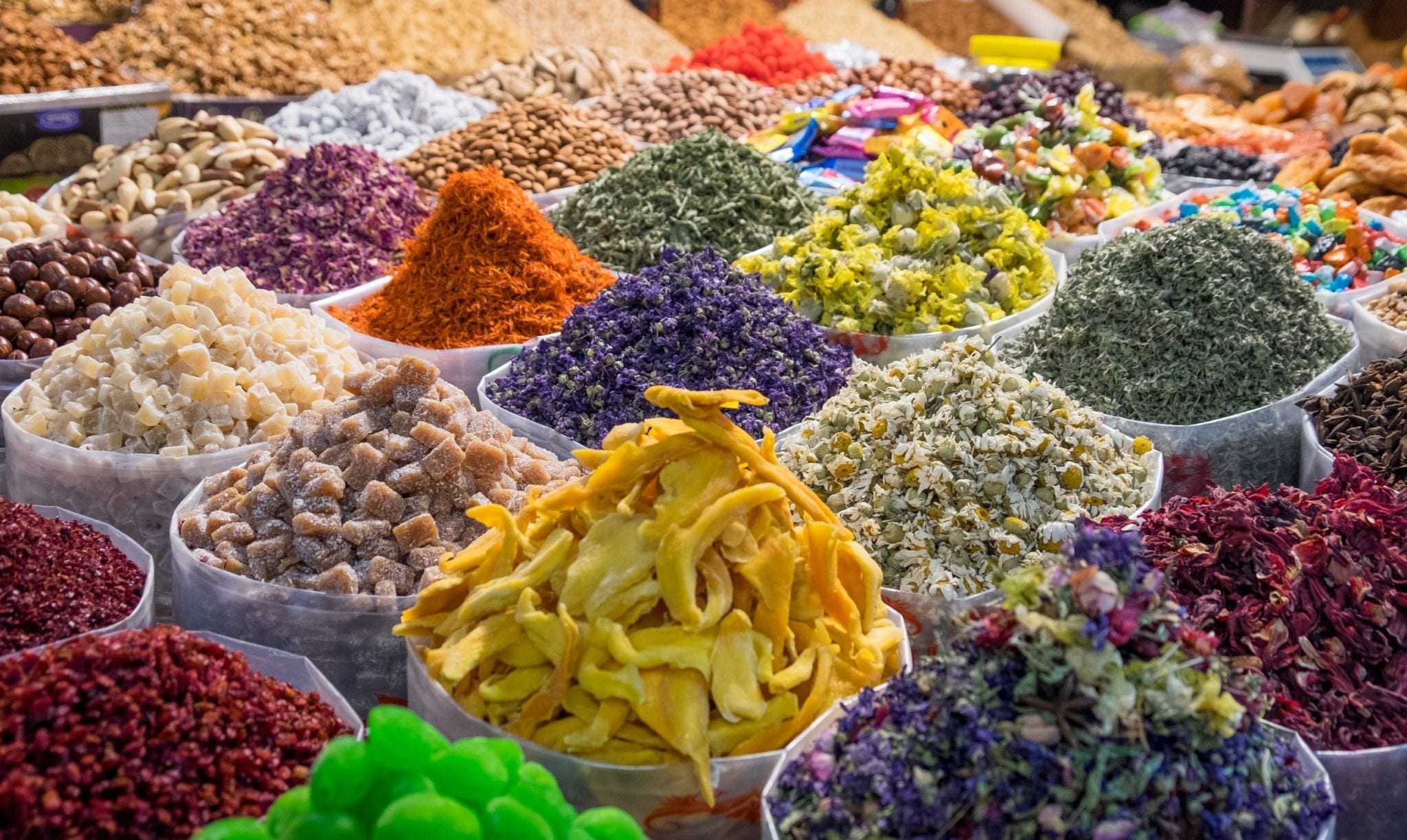 Visit the markets. What struck me about Baku's markets is how immaculate they are. I'm used to seeing piles of produce flung in every direction; it seems like Azerbaijanis make every effort to shape their produce into the most aesthetically pleasing piles. The conical shapes on the mango slices and dried flowers are perfect.
It extends to larger fruits, too. Apples were stacked in clean straight lines; perfect green watermelons made up the perimeter. One table even grouped tomatoes not just by type but by size, arranging them into perfect mounds!
Normally I'm a bit uneasy at markets because I feel guilty when I don't buy anything, but I felt more relaxed here. That and men kept giving me macadamia nuts to sample — the best macadamia nuts I've ever tasted. (Did I buy any? Nope. Macadamias are one food that I avoid because if I have one, I'll have a million.)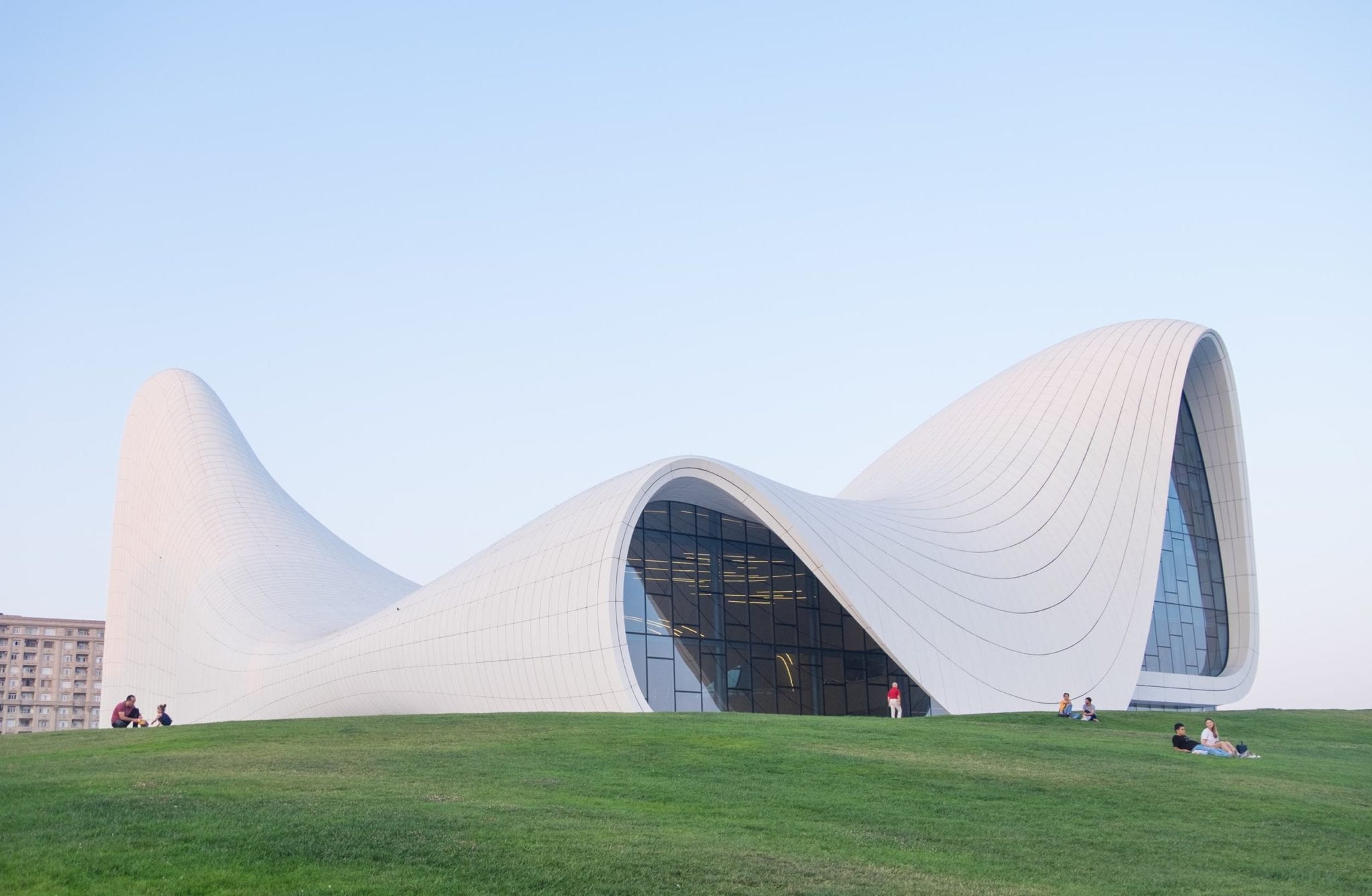 Check out Heydar Aliyev Center. In a city filled with modern architecture, this is one of the most famous buildings of all (and a symbol of Azerbaijan, named after its most beloved leader). The building contains a museum and conference center with rotating exhibitions. But even if you don't go inside, it's worth it, because it's in the middle of a giant park, which becomes a place to see and be seen at sunset.
This is easily the best Instagram spot in Baku. I recommend coming around sunrise or sunset for the best light.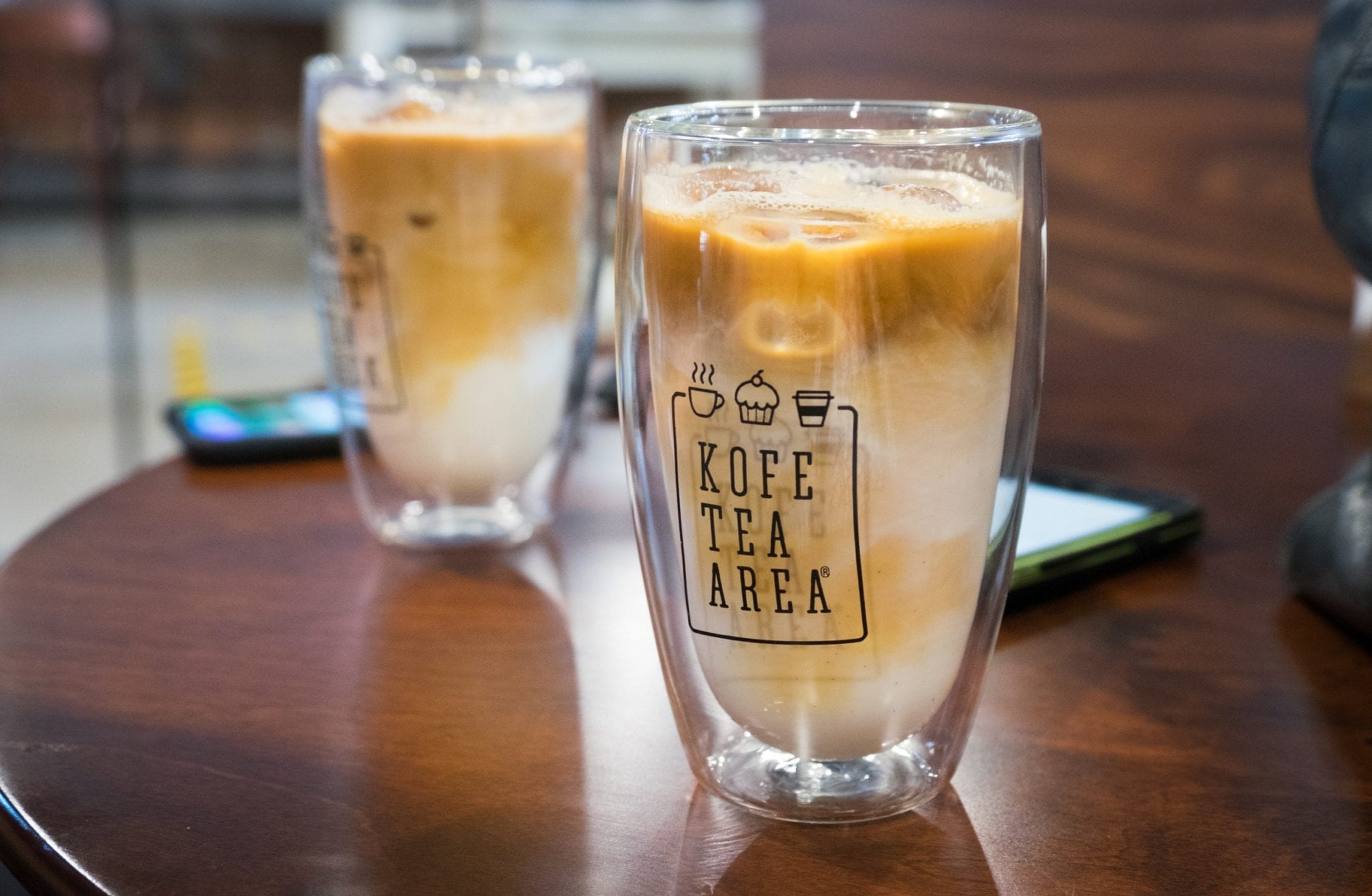 Enjoy the cafe scene. While the old city was surprisingly more dead than I expected, I loved the neighborhood just east. This area was filled with all kinds of interesting cafes and restaurants, and I loved walking around and exploring.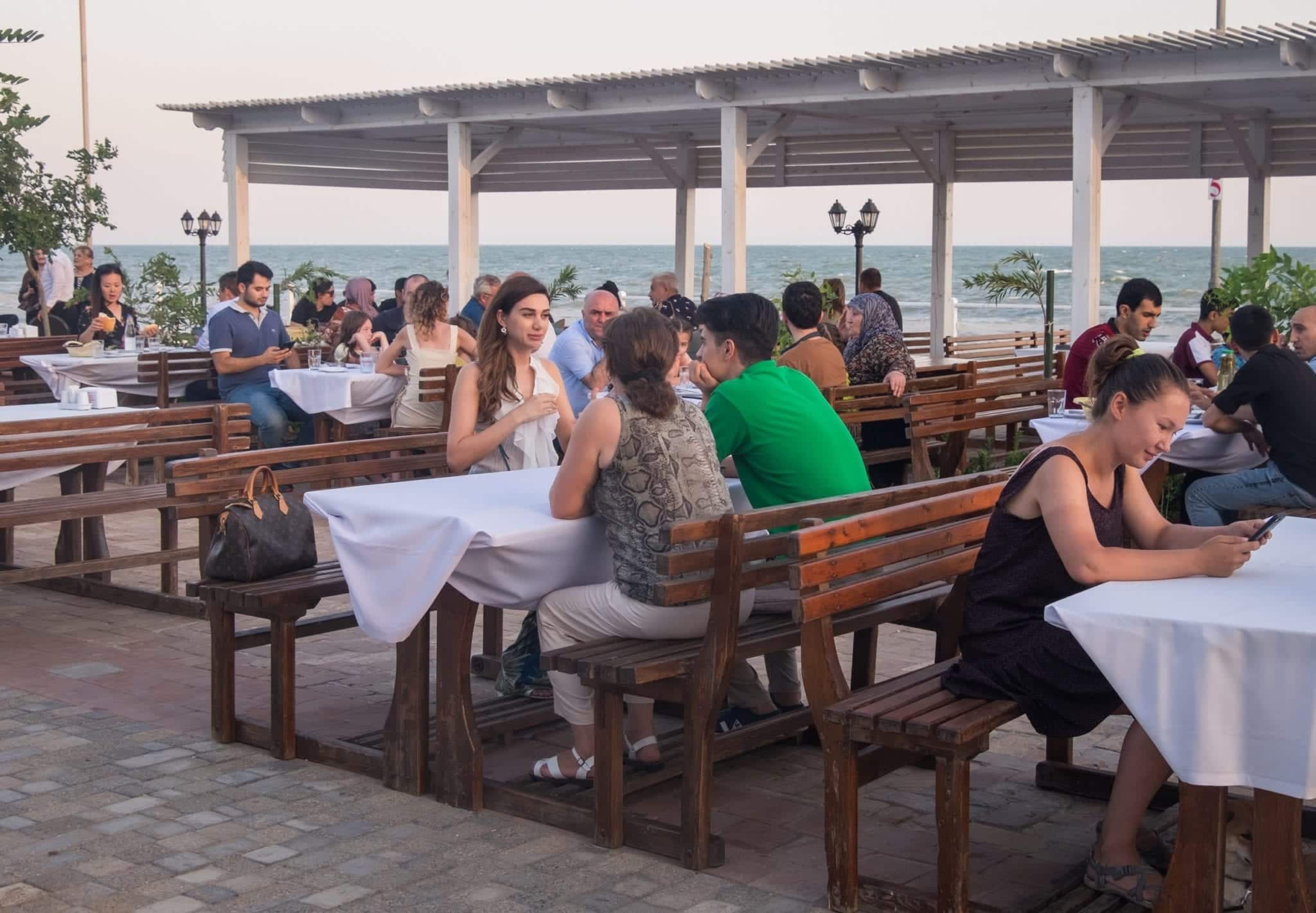 Spend an evening down by the Caspian Sea. I was a bit surprised that there was so little seafood on the menus in Baku, despite being located on the sea. But there is one place where seafood is the star: Derya Fish House.
Once you step out of your cab, you arrive to a windy waterfront filled with locals celebrating the end of the day. Oh, and it's cheap! The two of us had a whole fish, bread, a bowl of olives, eggplant caviar, lemons, pickled vegetables, cheese, and pomegranate sauce on the side for just $18.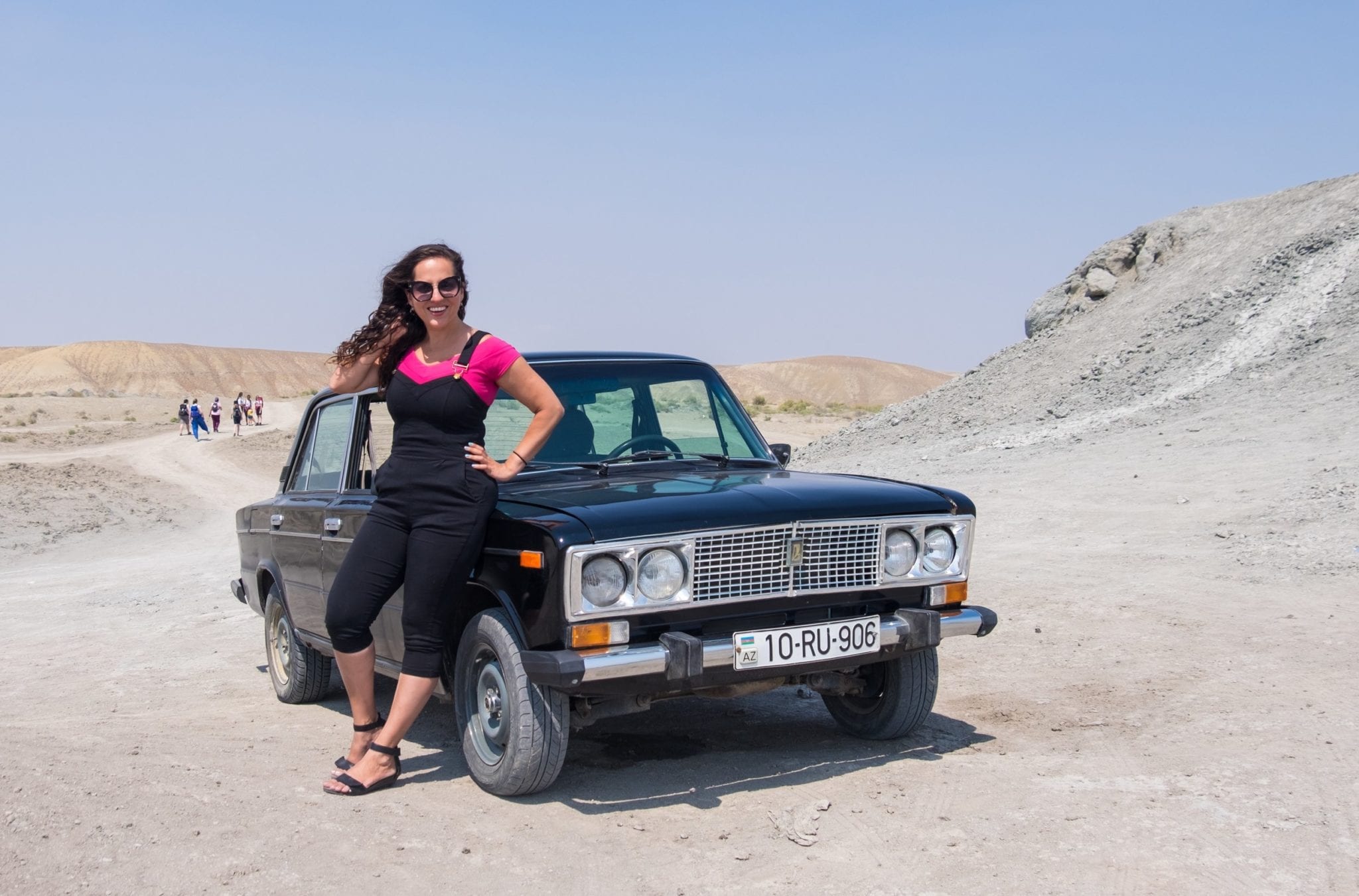 Best Day Trips from Baku
The best day trip from Baku is its most famous day trip — to Qobustan to see the mud volcanoes and petroglyphs. Qobustan National Park (sometimes written as Gobustan) is just under an hour's drive from Baku.
Qobustan is known for its mud volcanoes. To get to them requires an off-roading vehicle. When my car pulled to the side of the road, I assumed we'd be getting into some kind of jeep — but was I ever surprised when we got into a tiny Soviet-era Lada! It didn't look like it would last a day in the desert, let alone go off-roading to mud volcanoes!
And soon we reached the mud volcanoes.
The gurgling is a lot slower than I thought it would be — just a constant, slow BLURP! BLURP! every few moments. Like the volcano had eaten a lot of beans that day.
The landscape is beautiful and dramatic — but that wasn't all we'd see.
Next up in Qobustan was the petroglyphs — ancient rock art. I've seen ancient rock art in other parts of the world, like Kakadu National Park in Australia, but this rock art is uniquely impressive. You see people dancing, people hunting, petroglyphs of animals. It has survived remarkably well, and this is why Qobustan Rock Art Cultural Landscape is a UNESCO World Heritage Site.
Seeing Qobustan was one of the highlights of my time in Azerbaijan, and I feel like you can't go to Baku without making a stop here. See tours to see Qobustan's mud volcanoes and petroglyphs.
The other half of my day was spent touring the famous sites on the opposite side of Baku. Here you'll find two more attractions that prove that Azerbaijan is the land of fire: Ateshgah, the Zoroastrian fire temple, and Yanar Dag, where the fire bursts from the earth.
Ateshgah is a temple on the outskirts of Baku. It was built in the 17th and 18th centuries, though ceremonies have taken place on the same site as early as the 10th century, and it has been a center of worship for Zoroastrians, Sikhs, and Hindus. The flame inside the temple is naturally occurring, but it actually went out in 1969 due to environmental destruction. The fire today is lit by Baku's main gas supply.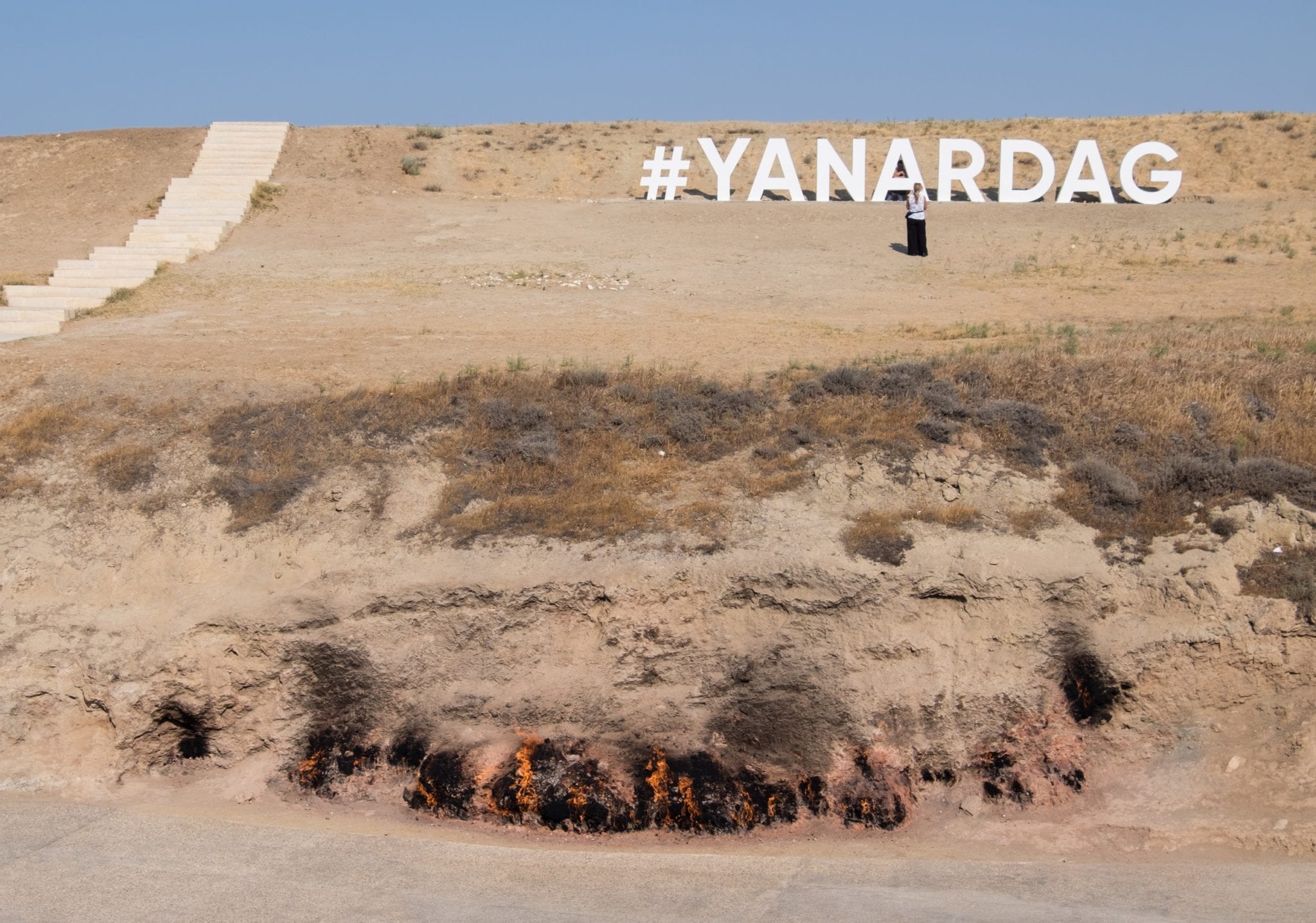 At Yanar Dag, you can see a steady fire burning from the bottom of the hill. Fed by natural gas, this is another fire that never extinguishes. It was so toasty down by the fire — I have never wanted to have a stick and a bag of marshmallows so much in my life! (And let's not kid ourselves, a bag of graham crackers and chocolate waiting by the table.)
Ateshgah and Yanar Dag are two places that show you how interesting of a natural environment Azerbaijan is. See tours to Ateshgah and Yanar Dag here.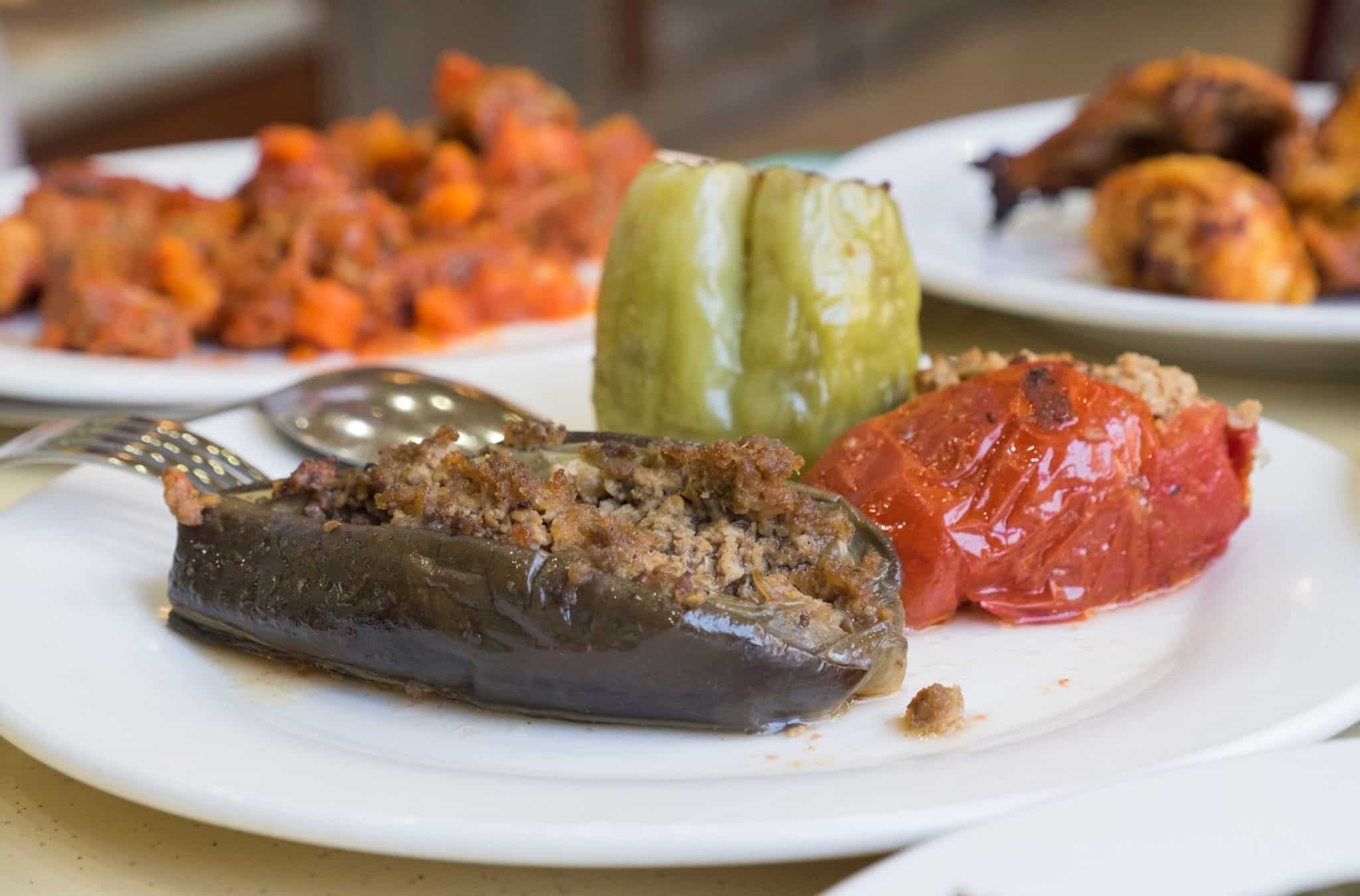 Azerbaijan Food
What kind of food will you be eating in Azerbaijan? Delicious food. Surprisingly good food. The dishes I ate were most similar to Turkish cuisine, fresh and flavorful. While there were some similarities to their Georgian and Armenian neighbors, Azerbaijani food is very much its own thing. I was only in the country for a few days, so this is by no means an exhaustive guide, but it contains several of my top hits.
I ate a lot of dolma — vegetables stuffed with a mixture of rice and meat. While "dolma" can mean stuffed grape leaves or cabbage leaves in other cultures, in Azerbaijan it can mean any kind of stuffed vegetable.
Also popular are kebabs of all kinds, and plov, roasted rice and meat dishes.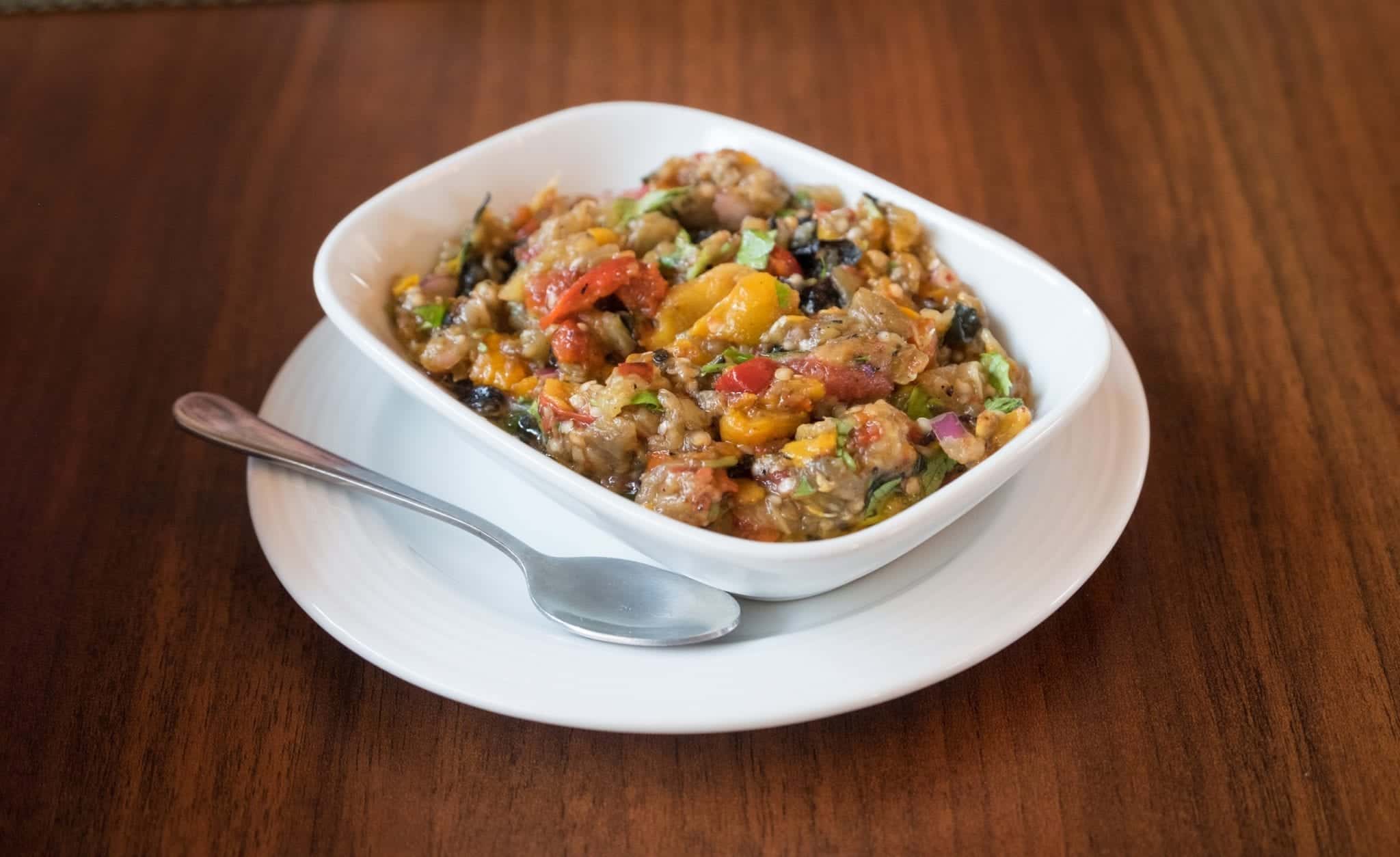 Eggplant dip was everywhere — made from roasted eggplant, peppers, and onions and mixed with a variety of herbs and spices. This was the perfect start to a meal. You eat it with bread.
My absolute favorite dish was at Panoramic Restaurant in the Old City — I can't remember the name and REALLY should have written it down, but it was a skillet filled with chicken, cherries, potatoes, and chestnuts. It sounds like a winter dish but it was solely on a hot summer night.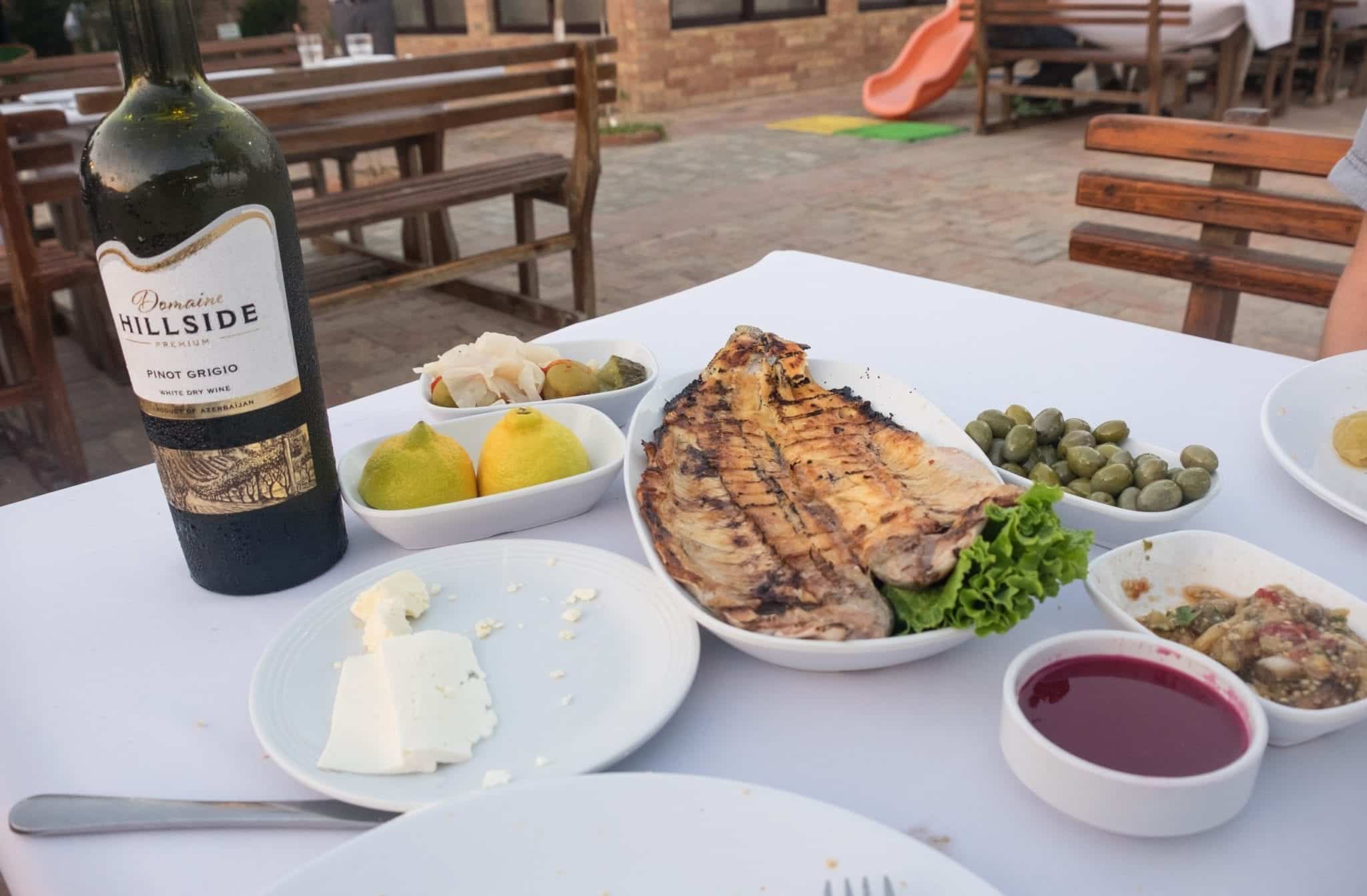 While you don't see a ton of fish on the menus in Azerbaijan, you will down at restaurants on the Caspian Sea like Derya Fish House. I recommend ordering a grilled white fish with pomegranate sauce on the side — it brings the same kind of acidity that you get from lemons.
As for Azerbaijani wine, it does exist and it's worth sampling, but it's nothing to write home about. Georgia and Armenia have much better wine.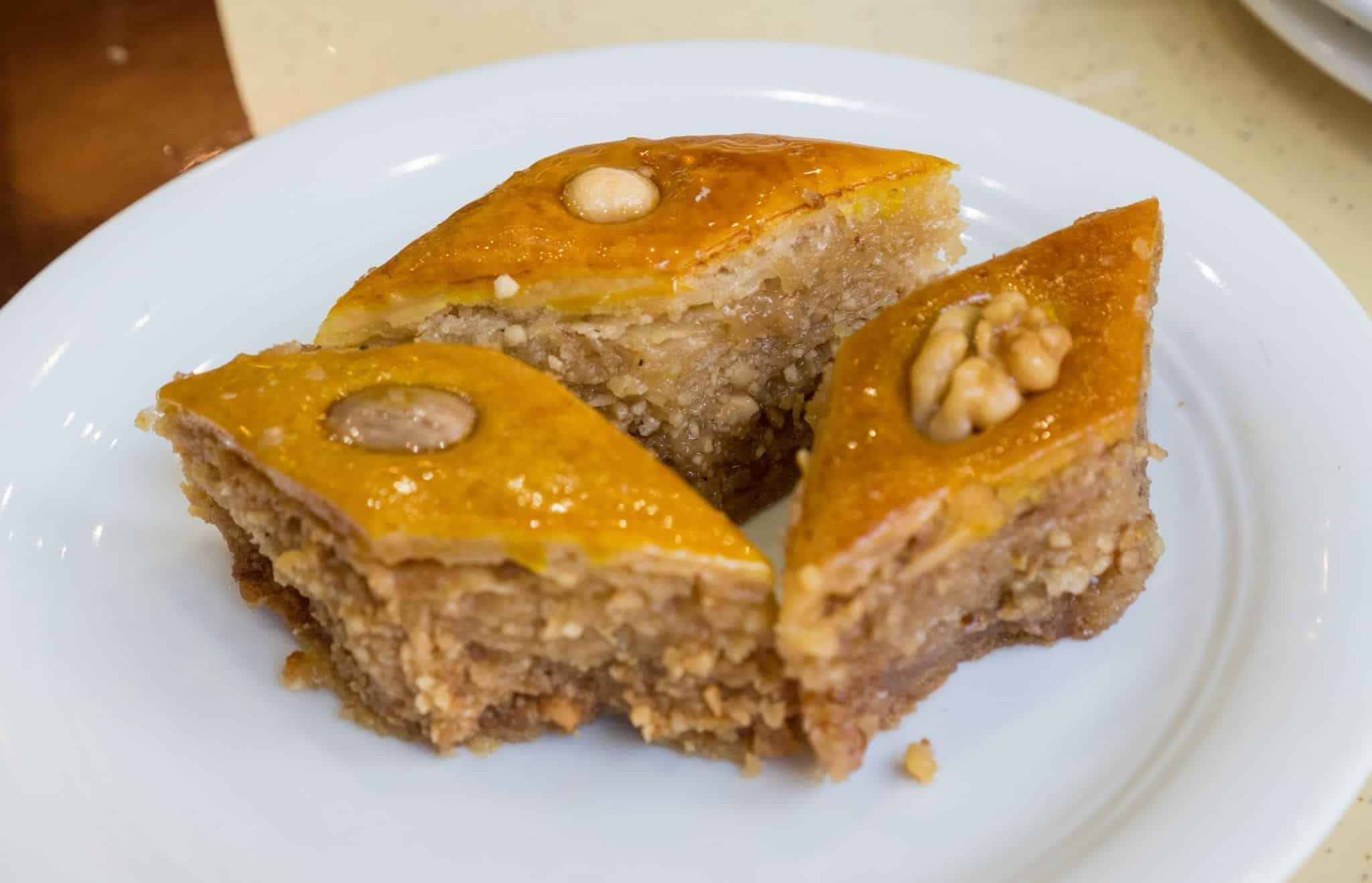 Azerbaijanis love sweets and pastries, and I tried a few different kinds of baklava — one made with walnuts, one made with almonds, one made with hazelnuts. I honestly think walnuts are king — they need that slightly bitter flavor to cut the sweetness. Hazelnut baklava was dangerously sweet!
And Azerbaijanis are crazy about tea. Tea breaks are important punctuation marks of the day. You can sweeten tea with jam, and they serve it with small pastries.
This is just a sample of the delicious food I ate in Azerbaijan.
---
Want to learn more about Azeri cuisine?
---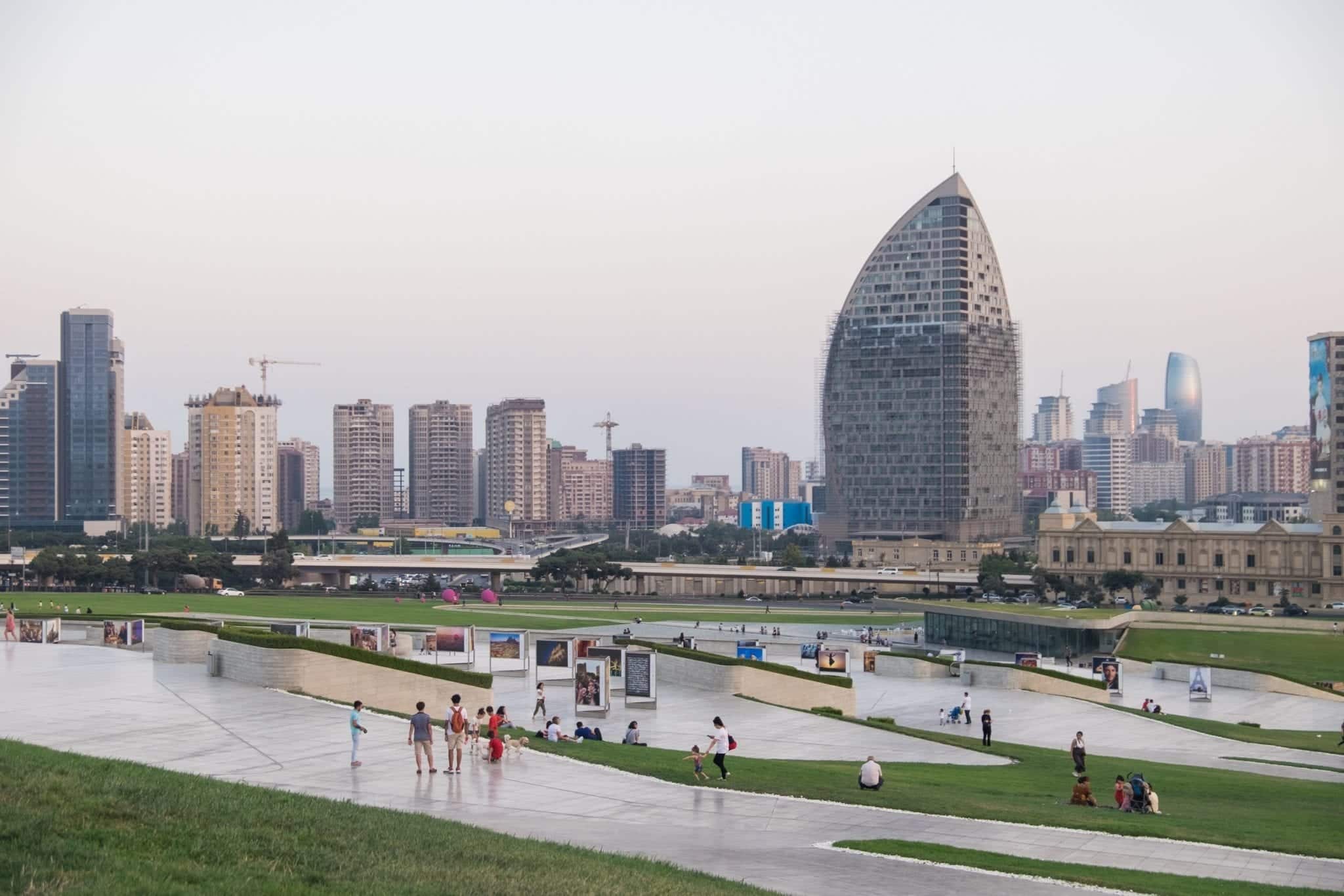 Travel Azerbaijan with JayWay Travel
On this trip I traveled as a hosted guest of JayWay Travel, a boutique travel agency specializing in Eastern and Central Europe. I've worked with JayWay Travel in Ukraine in the past and they do such a good job putting together bespoke itineraries where you don't have to worry about a thing. JayWay recently added Azerbaijan, Georgia, and Armenia as new destinations where they have local experts.
For my three-day trip to Baku, that meant pick-ups and drop-offs at the airport; a full-day private tour to Qobustan and the fire region, including a stop at a market; a local SIM card, and support throughout the trip. That was perfect for me — I knew my first day would be spent napping and taking it easy due to the weirdly timed flight (see more on that below), and I liked getting to do my own exploring on the final day.
As I always say, if you're an experienced traveler, you don't need JayWay in order to travel. But JayWay is perfect for your parents, older travelers, less experienced travelers, and experienced travelers who want someone else to plan their trip for a change. It's an enormous time-saver when you're busy, too.
The Caucasus is a fantastic travel destination, but it's not nearly as easy to travel as Europe. Azerbaijan is a country just waking up to tourism, and they don't have the established tourism infrastructure of other countries. It's a good place to have a helping hand.
---
---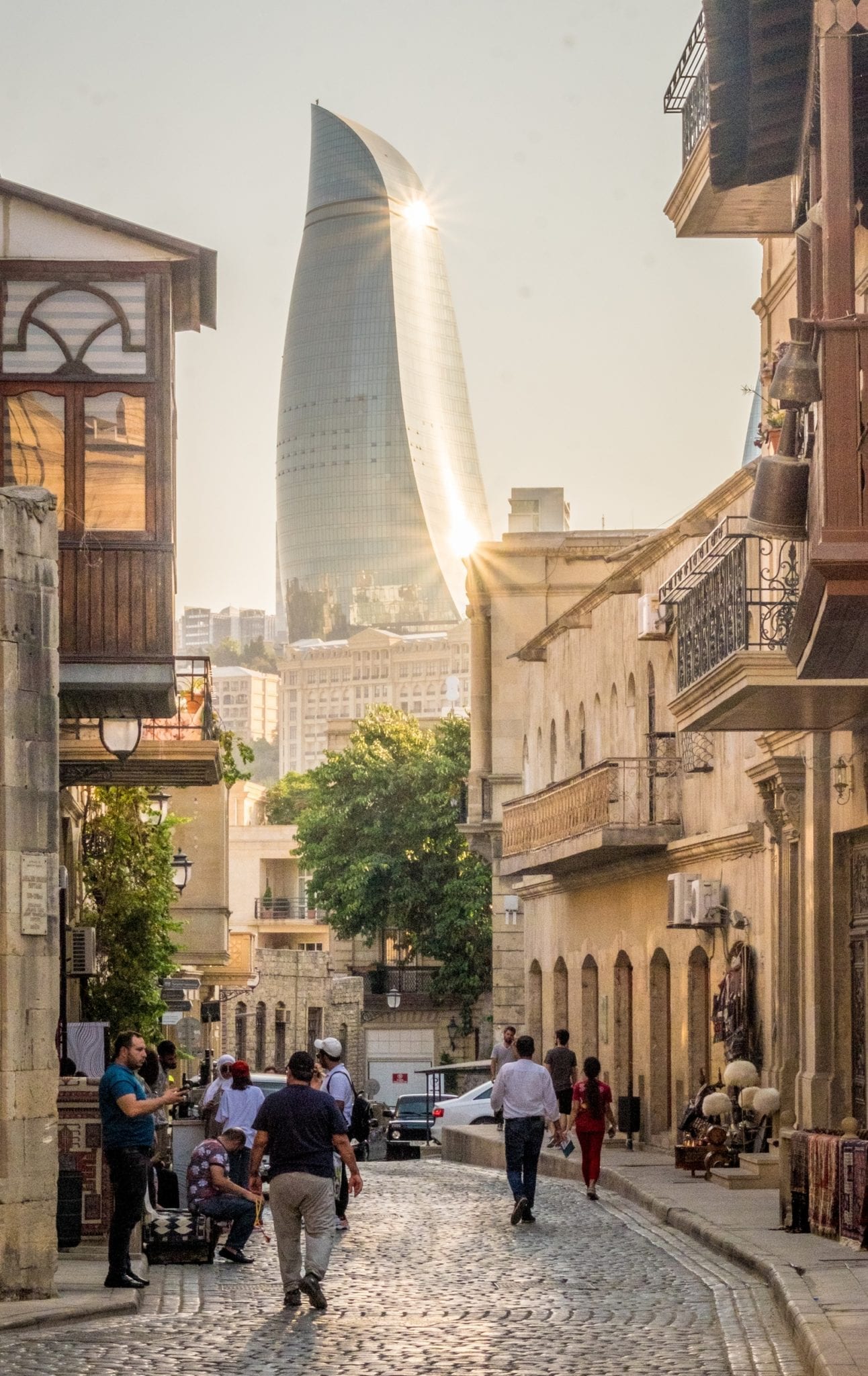 Where to Stay in Baku
Most of the time when I visit a new city, I stay in the old town or old city because it's usually the prettiest, most central part of town. Baku's old city is a UNESCO World Heritage Site, which made it seem like a slam dunk, and so I stayed at a hotel in the old city, the Deniz Inn Boutique Hotel.
While I had a good stay there, I actually don't recommend staying in the old city of Baku. It's beautiful but it's mostly inaccessible to cars (to get an Uber or taxi, you need to walk a distance outside the old city); you are constantly going up and down stairs; there are lots of aggressive touts around the Maiden Tower; there aren't as many cafes and restaurants as you would think. If you have mobility challenges, you should absolutely avoid staying in the old city.
If you do want to stay in the old city, the Deniz Inn Boutique Hotel is a nice midrange choice. It's comfortable, the internet works well, it's not too deep into the old city, and the staff are great. And the best thing about this hotel is that it has an Illy cafe in the lobby. Reliable quality coffee isn't always easy to find!
So which Baku neighborhood is best? I recommend staying in a hotel just east of the old city. This area is home to lots of cool restaurants, cafes, parks, and nightlife. And because it's part of the main city, cars can drive the streets and you can hail Ubers close to your hotel. Most of it is flat, though there are some steeper parts.
Recommended Baku Accommodation:
 
Azerbaijan Visa
Azerbaijan requires a visa for most visitors. In the past it was difficult and expensive for most westerners to get an Azerbaijan visa for longer than a few days. Now it's MUCH easier and cheaper — you can get an e-visa online for just $20! See the full list of nationalities eligible for the e-visa here.
You order the visa online, it takes around three days to process, and you print it out and bring it to immigration with your passport. Don't keep it on your phone; bring an actual printed copy.
Order your visa directly from evisa.gov.az. NOTE: THIS IS THE CORRECT SITE; DO NOT BE FOOLED BY IMPOSTERS! There are many third party visa sites that mimic the layout of this site, then try to charge you $50 for the same exact thing. I almost got fooled by one of those sites.
Flying to Baku with Azerbaijan Airlines
I flew nonstop from New York to Baku on Azerbaijan Airlines. This is the one direct flight from the United States to Azerbaijan. The flight takes 11 hours and currently flies twice per week.
While it's awesome to fly nonstop, the flight leaves at an awkward time: it departs New York at 11:30 AM and arrives in Baku at 6:30 AM, which is 10:30 PM New York time. As a result, you probably won't be able to sleep much if at all, and you'll likely spend your first day in Baku in a jet-lagged stupor. Plan a low-key day for your arrival if you take this flight.
I was lucky to fly in Azerbaijan Airlines's Comfort Club, as someone special upgraded me for my birthday. Comfort Club is like the stop between premium economy and business class.
You get comfier seats and a TON more space (the seats go much further back but don't lie flat), you're served multiple courses for meals, and you get lounge access at the airport (in my case, the cheese-and-champagne-filled Air France lounge at JFK). I was able to stick my feet straight out without touching the seat in front of me (I'm 5'4″). I didn't get into the entertainment but there was a decent selection of movies. For an 11-hour flight where I knew I wouldn't be able to sleep much, I was so glad to have this level of service!
If you're coming from the US on another line, you can get connections on Turkish Airlines and Lufthansa. Azerbaijan Airlines flies to cities including Tbilisi, Tel Aviv, Paris, London, Dubai, and several Turkish and Russian destinations.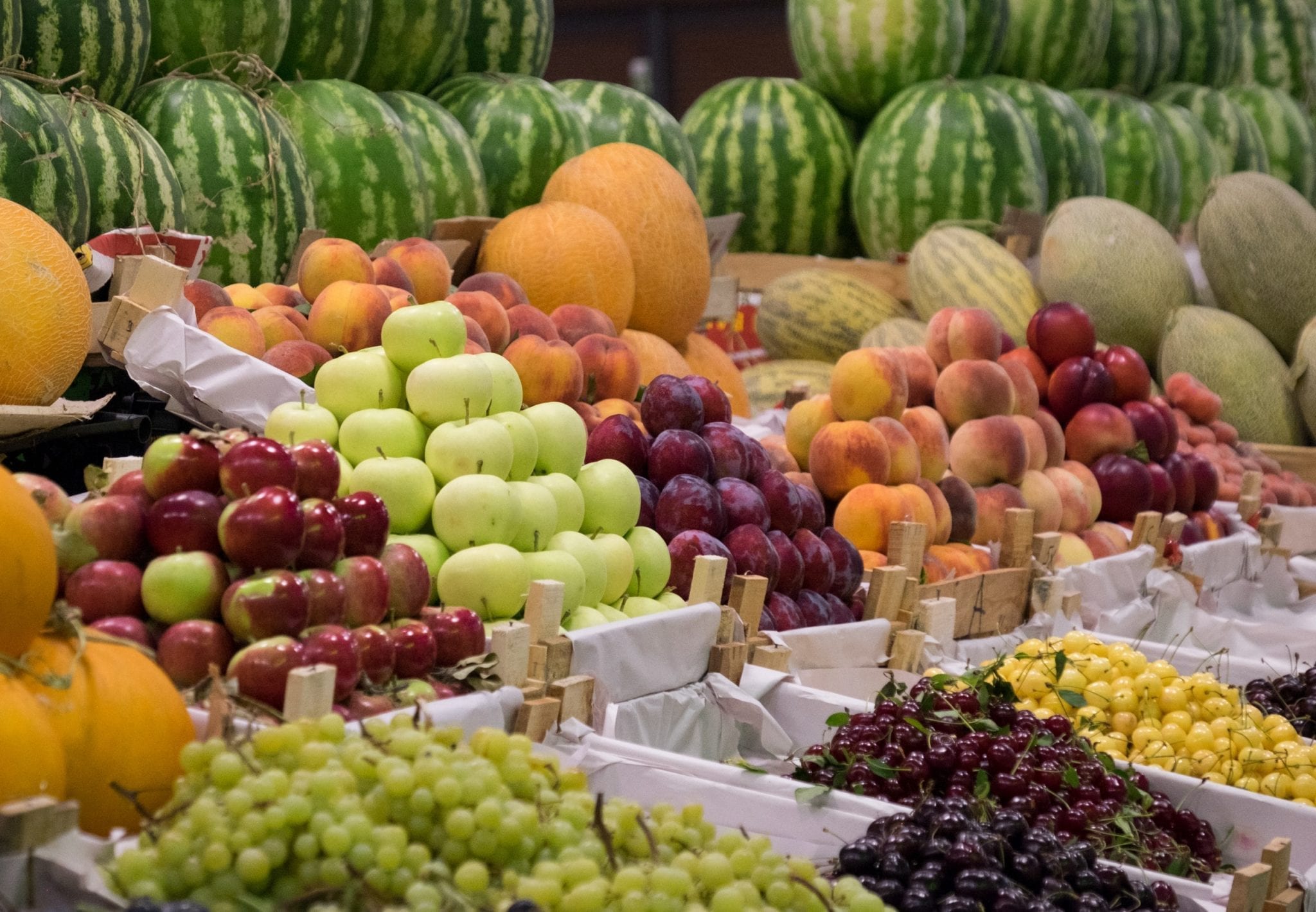 Travel to Azerbaijan BEFORE Armenia
If you're planning to travel throughout the Caucasus, you should try to travel to Azerbaijan before Armenia. It will make your life much easier.
Azerbaijan and Armenia don't have diplomatic relations, and all borders are closed. Armenians are not allowed to enter. (While Armenia doesn't have diplomatic relations or border crossings with Turkey, Armenians are allowed to travel to Turkey anyway, so Azerbaijan is much stricter.)
When I arrived in Azerbaijan, I was asked if I had ever traveled to Armenia. I said no, and there was no evidence of Armenia in my passport. But I do know people who have been interrogated heavily for traveling to Armenia previously, regardless of their nationality.
If you have visited the region of Nagorno-Karabakh, which is Azerbaijani land currently occupied by Armenia, you will automatically be rejected. (They also ask you if you've traveled to Nagorno-Karabakh when you apply for your visa, which will also earn you a rejection if your answer is yes.)
However, Armenian immigration officials are more forgiving. They do ask you if you visited Azerbaijan and why, but if you only visited as a tourist, they don't care and they let you in without any problems. This is why I recommend visiting Azerbaijan first and Armenia second. (It's best to go via Georgia, either by land or by plane.)
Unfortunately, ethnic Armenians of different nationalities (whether they're American, Russian, French, Lebanese, Argentine, or something else) are often rejected at the border based on their last name. From what I've researched, it seems to come down to the mood of the immigration officer, and I've heard that some people try to convince the immigration officials that their last name is Persian.
If you're an ethnic Armenian who wants to travel to Azerbaijan, or a person whose last name ends in -ian or -yan, I recommend you do more research. This is beyond my pay grade.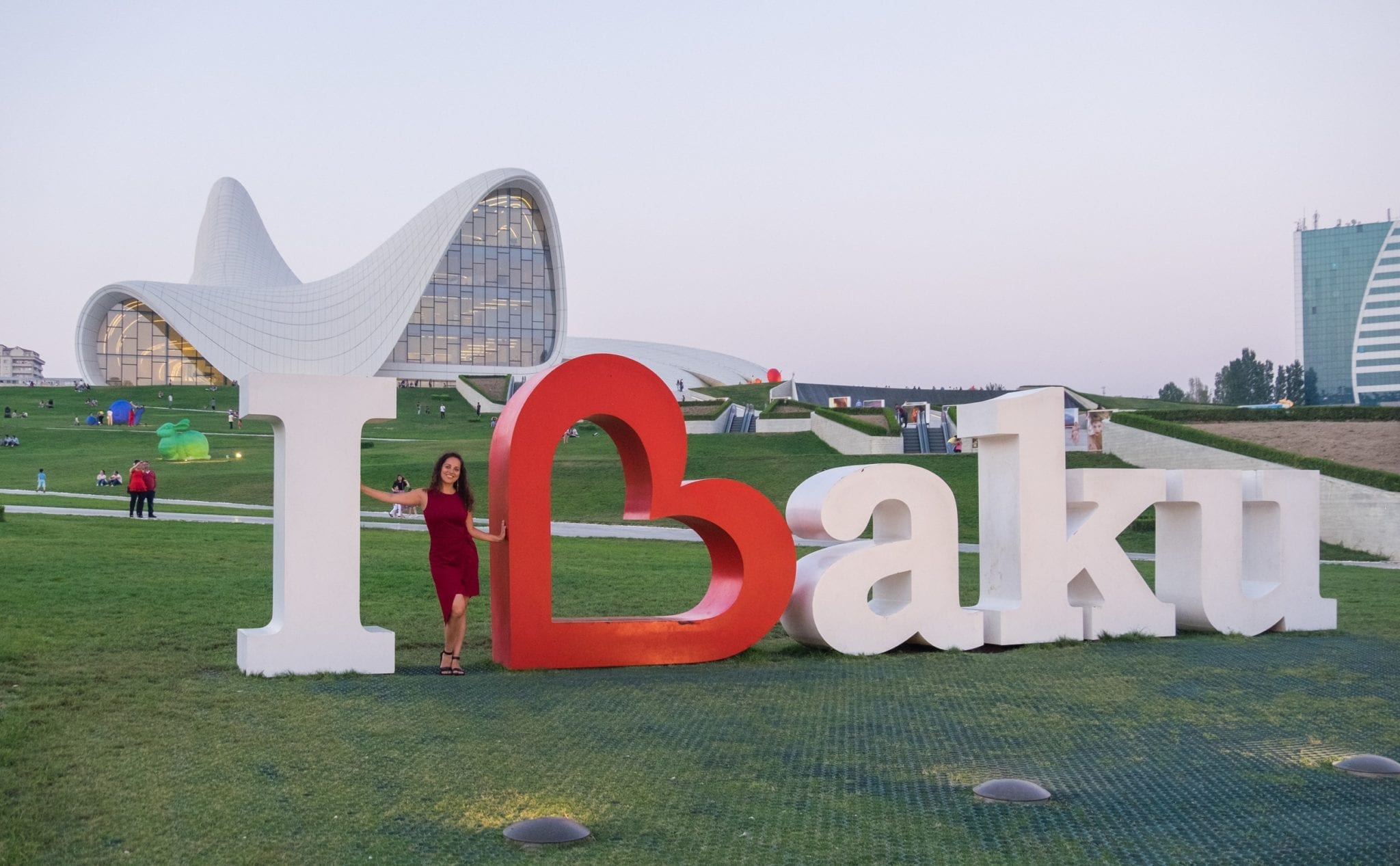 Traveling to Baku: The Takeaway
I'm very happy that I got to travel to Baku — but I think this is a one-and-done trip. Which is fine! Not every destination has to be an "I can't wait to go back" destination. I'm so glad that I visited and had the experience this interesting city had to offer.
Looking back at my two-week trip to the Caucasus, I think that starting with Baku was a good idea. I was able to take advantage of the only nonstop flight to the Caucasus from New York, and then I moved on to Georgia and Armenia, which were both more impressive. I wouldn't have done it any differently.
---
READ NEXT:
---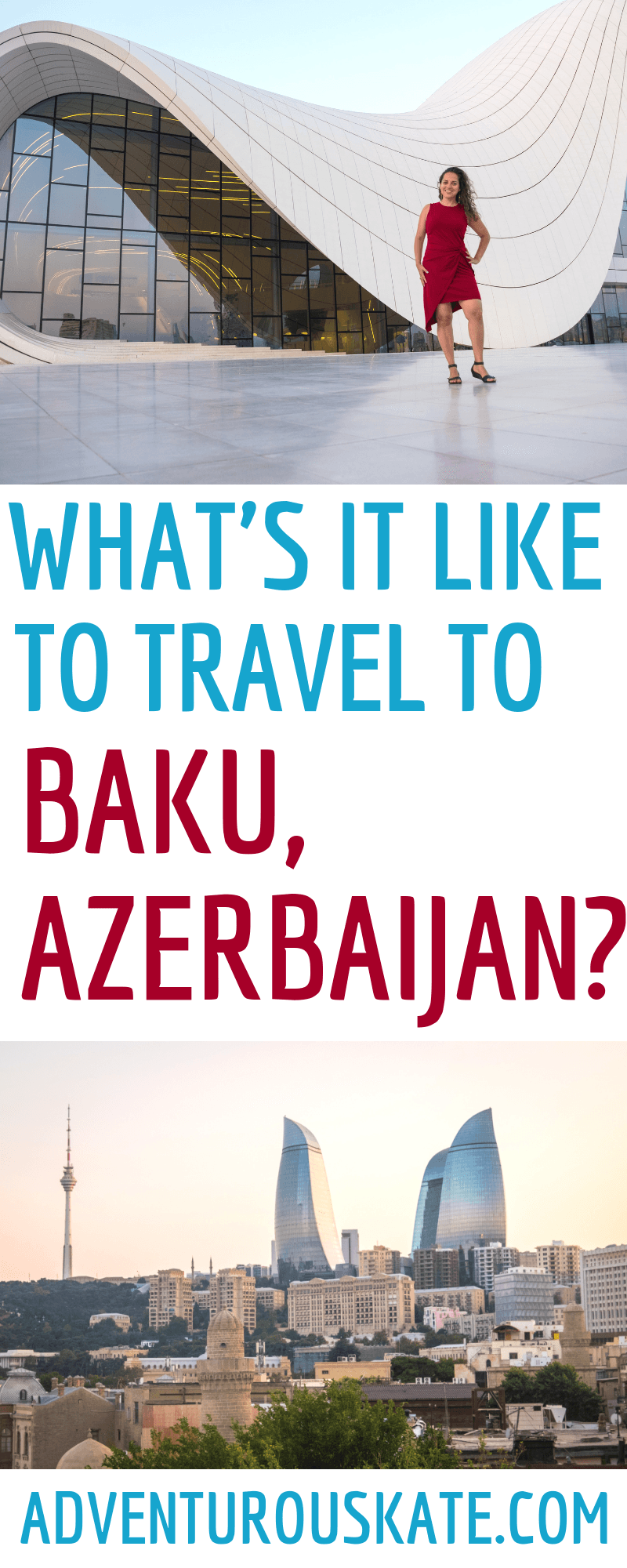 Essential Info: My trip in Baku was entirely organized by JayWay Travel, a travel company that organizes custom private tours in Central and Eastern Europe. They organize everything as soon as your feet touch the ground in your country, from flights and tours to airport pickups and a cell phone or SIM card. JayWay recently added Azerbaijan as one of their new specialties, along with Georgia and Armenia.

In Baku I stayed at the Deniz Inn Boutique Hotel. Rates from $56.

When using Uber to get around Baku, be sure you check the license plate — some drivers here operate with a different car than the account they claim to have. Never get in a car unless they match.

Travel insurance is essential before every trip — in case of an emergency, it could save your life and finances. I use and recommend World Nomads for trips to Azerbaijan.
Many thanks to JayWay Travel for hosting me on my Caucasus trip, including covering my expenses in Azerbaijan. All opinions, as always, are my own.
Have you traveled to Azerbaijan? What did you think?
The post What's it REALLY like to travel to Baku, Azerbaijan? appeared first on Adventurous Kate.