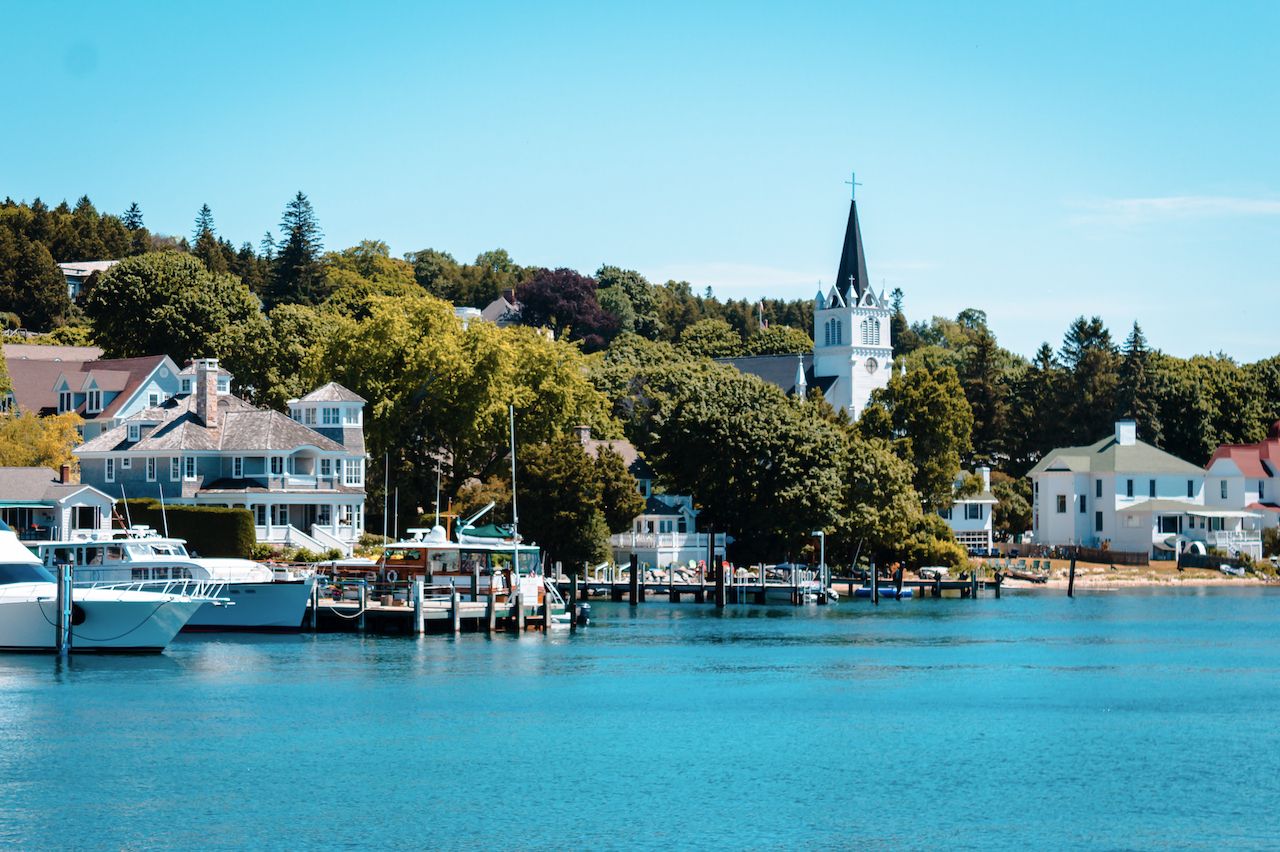 It takes approximately two days after the start of spring before our short attention spans kick in and we start longing for summer. June is the official start of summer, the month when we can lock our scarves, sweatpants, and inhibitions away in a closet for three months knowing we won't need them anytime soon. It's also when we start dreaming about a vacation. For many of us, this summer might be the first time we feel comfortable traveling in over a year — so you might as well make it count. Rather than revisit the old standbys, make your first post-lockdown summer vacation in the US special. Whether it's the islands of the Great Lakes or the beaches of the deep South, there are nine of the best unexpected June destinations in the US.
1. Wolfeboro, New Hampshire
New Hampshire is New England's playground, and usually, they keep it to themselves. For travelers coming from other parts of the country, New Hampshire's lakes, forests, and mountains often lose out to the beaches of Cape Cod or the coast of Maine. Make this the summer of New Hampshire — specifically Wolfeboro.
Located right on Lake Winnipesaukee, one of the region's largest and most beautiful lakes, the small town of Wolfeboro is unsurprisingly an ideal destination for outdoor exploration and leisure. The Cotton Valley Rail Trail is a great place to start. Stretching 12 miles through Wolfeboro, Brookfield,and Wakefield, the trail allows for walking, biking, fishing, and wildlife viewing through wetlands, fields, and beachfronts. Sewall Woods, just minutes from downtown Wolfeboro, has 179 acres of additional trails for those craving a more rugged experience. While the trails are great for exploring the area, chances are you'll want to spend as much time by the lake as possible. You might be miles from the coast, but there are still several beaches to enjoy. Albee Beach on Lake Wentworth is one of the more secluded, while Brewster and Carry beaches, right on Lake Winnipausake, put you closer to the action.
When you think of New Hampshire, your mind probably doesn't conjure the rolling vineyards of Napa. But New Hampshire's wineries have a certain historic, rustic charm you can't find anywhere else. The Winnipesaukee Winery operated as a dairy farm for over 130 years before becoming a winery. Now you can drop by for a wine tasting, pick up a bottle of their original barrel-aged red, and even spend the night in their guest house dating back to 1810. If the thought of pretending to understand wine is more stressful relaxing, the town's two breweries might be more your style. Lone Wolfe Brewing Co. and Burnt Timber Brewing & Tavern both have outdoor seating and a range of locally-brewed ales.
2. Montgomery County, Maryland
Baltimore and Washington DC are familiar destinations for travelers, but less so the land in between. Montgomery County, located adjacent to Washington DC and just southwest of Baltimore, is home to cool small towns, wineries, miles of biking trails. The region's lifeblood is the C&O Canal, which is celebrating its 50th anniversary at a national park this year.
The C&O Canal National Historic Park is a 184.5-mile-long attraction, running through some of the area's most beautiful scenery. The canal is the product of creative industrialists in the early 1800s who wanted a canal to improve trade and transportation. Surrounding the canal, you'll find 250 miles of trails perfect for biking, hiking, or even horseback riding. The Billy Goat Trail, which starts and ends on the canal, is one of the most popular. It loops seven miles through forests, rocks, a waterfall, and a log bridge, offering incredible views of the Potomac River.
The canal is also dotted with gorgeous lockhouses. No, lockhouses aren't a more extreme version of escape rooms. They're the stone homes where lockhouse keepers used to live and manage the locks. This meant raising and lowering boats between different water levels in the canal. Several original lockhouses, dating back as far as 150 years, still stand today, restored by the Canal Trust. You can even spend the night in the lockhouses, which might be the most unique way to get the full MoCo experience.
The area is also known for its local spirits. Whether wine, beer, coffee, or cider is your drink of choice, Montgomery County has no shortage of options. There's even a Tastemakers Trail with 20 different stops for locally-made beverages. The Urban Winery in Silver Spring and Brookeville Beer Farm in Brookeville are two of the most popular among wine connoisseurs, while True Respite Brewing Co. in Rockville — one of the county's larger cities — and Waredaca Brewing Company in Laytonsville are staples of local beer culture. For the nonconformers, Doc Waters Cidery in Germantown has you covered.
3. Mackinac Island, Michigan
Most summer destinations come with the diminishing returns in the form of traffic. Anywhere worth going to, after all, naturally has a lot of people trying to go there. That's what makes Mackinac Island unique. Located in the middle of Lake Huron, Mackinac Island is a car-free island accessible by short charter flight from St. Ignace, or ferry from St. Ignace and Mackinaw City.
Since Mackinac is a car-free island, you can see pretty much everything by walking. Exploring the historic town itself is enough to keep you busy for a few days. It has several examples of Victorian architecture, two old military forts, period shops like a 19th-century blacksmith, and museums dedicated to the island's history.
The island's historic charm is paralleled only by its unique natural beauty. Arch Rock, for example, is the most famous rock formation on the island, forming a picturesque bridge over the water. The Crack in the Island is another great place for enjoying the island's geography, and a staple of local lore. The massive crack in the island's limestone foundation looks like the remnants of an earthquake, leaving a narrow schism in the earth. It's a popular place for picture-taking, and trying to squeeze into the crack without getting stuck. According to legend, the unique geological phenomenon was caused by the Great Spirit Gitchi Manitou, who created the crack by stomping his foot in anger.
All nature activities can be explored by foot, but you might as well fully embrace the historical experience and take a horse instead. Whether it's a narrated horse-drawn carriage tour through town, or going on an unguided horseback ride through the woods, you can never go wrong by adding some equestrian fun to your trip.
It wouldn't really be an island vacation if you stick to land the entire time. You can rent kayaks and sailboats to explore the surrounding waters, embark on a fishing expedition, or take a more relaxed approach with a sunset cruise. True to its name, the Sip N' Sail Cruise is a booze cruise under the scenic Mackinac Bridge, where you can enjoy heated cabins and views of the island's Victorian-era homes.
4. Grand County, Colorado
Trying to decide which town to use as a base for your Rocky Mountain adventure is like trying to narrow down the options at Cheesecake Factory. Well, let us make the decision easier. Grand Lake, just a few minutes from the entrance to Rocky Mountain National Park, is not only the ideal launchpad for a weekend in the mountains — it's also the most quintessential mountain town you could ever hope for.
Originally settled in the 1800s as a village for miners and hunting guides, Grand Lake retains the aesthetic appeal of its silver rush roots. It's part Colorado hipster paradise and part Wild West Disneyland. The streets of the lakeside town are lined with 19th century saloon-type bars, BBQ joints, candy stores, and more ice cream shops than you could possibly imagine.
The main event of Grand Lake is, of course, the lake. Not just Grand Lake itself, but also nearby Shadow Mountain Lake and Granby Lake. You'll be able to rent paddle boards, pontoon boats, or kayaks to take out on the water at Grand Lake Marina, located right in the center of town. Lake Granby, just a 10 minute-drive away, has several campgrounds along its shores for those looking for an overnight lakeside excursion. If you're lucky, you might even spot some antelope, moose, or elk.
Staying on the doorstep of the Rocky Mountains would be wasted without visiting the mountains themselves. Just a five-minute drive from town is the park's entrance, where you'll find an abundance of elk, mountain goats, sheep, moose, and even bears and wolves. Campgrounds and hiking trails are scattered throughout the park for more rugged adventurers, or you can simply take a leisurely and picturesque drive on the Trail Ridge Road through the mountains to Estes Park. For a more luxurious overnight experience, book a stay in the extravagant Grand Lake Lodge at the entrance of the park, which is celebrating its centennial (a year late, thanks to COVID).
If you go to Colorado and don't leave completely covered in mud, did you really go to Colorado? Take a UTV tour in Winter Park and you won't have to ask yourself that question. Just under an hour's drive from Grand Lake, Winter Park is known for its scenic Corona Pass Road, which climbs 12,000 feet into the mountains. Grand Adventures offers group UTV tours up the road, along a 15-mile route with unparalleled views of the Continental Divide and Fraser Valley. You'll be following a historic railroad from the early 1900s in your off-road vehicle, and yes, it's exactly as nail-biting as it sounds. Wear clothes you don't mind getting completely mudstained.
5. Tillamook, Oregon
The Salish tribe named Tillamook "the land of many waters," and that's not a misnomer. Tillamook, Oregon is an hour-and-a-half due west of Portland, right on the Pacific Ocean, and it's all about water-based activities. Start at the beach on the Bayocean Peninsula, one of the most secluded beaches on Oregon's coast. The beach was once home to an oceanside resort community called Bayocean, and signs and markers still remain showing where the original cabins, homes, and restaurants once stood.
The nearby Cape Meares State Park and National Wildlife Refuge is home to some of the largest nesting seabird colonies in North America, as well as the shortest lighthouse on the coast. Once you've seen the seabirds, take the short trail through the woods to the "octopus tree" — the largest Sitka spruce tree on the coast.
To dive even further into the area's natural beauty, check out Munson Creek Falls State Natural Site. This state park is most widely known for the Munson Creek Falls, a 319-foot waterfall and the tallest in the Coast Range. A trail wanders alongside Munson Creek, bringing visitors to some pretty impressive panoramic views of the waterfall.
June is also the first month of the Tillamook Farmers Market, which runs all summer through September. Located on the corner of Laurel Avenue and Second Street in downtown Tillamook, the old-fashioned farmers market is regionally famous for its locally-grown produce, handmade and artisan crafts, baked goods, and even live music. It's held every Saturday at 9:00 AM to 2:00 PM
Museum aficionados will find plenty to occupy their time in Tillamook, especially at the Tillamook Air Museum. Located just south of the city, the museum is housed inside a former US Navy blimp hangar, and contains one of the country's best collections of private World War II aircraft. For history buffs, head over to the Tillamook County Pioneer Museum, which explores the historic past of Tillamook County all the way back to the pioneer era.
6. Sedona, Arizona
Less than two hours north of Phoenix, Sedona is a small town that can serve as the centerpiece for a big trip. Known for its views of Arizona's red rocks, hiking and biking trails, and abundance of outdoor excursions, Sedona is ideal for travelers searching for a true Southwest adventure.
Sedona might have only 10,000 residents, but there are over 300 miles of hiking and biking trails to explore in the area. The West Fork Trail is one of the most popular. With 13 stream crossings, it's just over six miles round trip, bringing you through forest and red rock scenery. The Fay Canyon Trail in West Sedona is perfect for beginners. The out-and-back trail is just over one mile each way, offering flat hiking through a shay canyon. The Devil's Bridge Trail, however, might be the most picturesque trail in Sedona. The Devil's Bridge is the largest natural sandstone arch in Sedona, accessible via a four-mile trek popular with hikers and cyclists. At the end, you'll have earned views of the arch and even the chance to step out onto the natural bridge itself. Just be sure to wake up super early to hike before the main heat of the day.
Speaking of that heat, it's no secret that Arizona in June is hot. Rather than cool off in a nondescript air-conditioned hotel room, take a dip at Slide Rock State Park. Jumping in the river here is a popular way for visitors to cool off. The Verde River is also a great place to splash around in the summer. Sedona Adventure Tours offers kayak, paddle board, and tubing rentals and tours on the river.
For those who would rather enjoy the scenery by car, that doesn't mean you have to contain yourself to the highway. Pink Adventure Tours offers jeep excursions through the Sedona backcountry. That includes some of the area's most iconic attractions, like Antelope Canyon and even the Grand Canyon. Other companies, like A Day in the West, combine jeep tours with other fun activities like horseback riding, wine tasting, and helicopter tours.
7. Bemidji, Minnesota
Minnesota is known for its friendly people, distinct accents, and frigid winter temperatures. In June, you can comfortably enjoy the attitudes and accents without the biting cold weather. Not only is Bemidji located on a quiet lake, it's also known as the "first city on the Mississippi." Indeed, it's the northernmost town on the mighty river, defined largely by its small-town atmosphere and the beauty of the surrounding nature.
The Mississippi begins in Itasca State Park, a 25-mile drive south of town through the woods Visitors can cross the Mississippi headwaters at Lake Itasca by bridge or on stones, and view interpretive displays of the park's history. Boat excursions and rentals are also available. For a similarly relaxing lakeside experience, check out Lake Bemidji State Park seven miles north of town. Here you'll find hiking trails, a boat launch, and a short bog walk known for its flower blooms.
Truly a city of monikers, Bemidji is also known as the "birthplace of Paul Bunyan." You won't find the fabled lumberjack on the 115-mile Paul Bunyan State Trail, but it's still worth exploring for its sheer size. It extends all the way to Crow Wing State Park in Brainerd, and can make a perfect full weekend or half-day excursion, depending how far you want to cycle. To really lean into the Paul Bunyan aspect of the town, visit the man himself — and of course, his blue ox Babe — on the shores of Lake Bemidji. The 18-foot-tall lumberjack and 10-foot-tall ox are among the most frequently photographed roadside attractions in the US.
Apart from the giant blue ox, one of the area's most unique attractions is the Concordia Language Villages — replicated Finnish, Spanish, French, German, and Norwegian villages north of town, in the Buena Vista State Forest. Strolling through the villages feels like walking through a foreign country, but they're not just for show. The villages host nationally recognized language and cultural immersion programs for adults and families, imbuing your trip with an international flavor.
8. Wilmington, North Carolina
In 2018, Hurricane Florence flooded Wilmington and sent the area reeling. There are few better comeback stories in tourism. Wilmington has managed to maintain its historic character in spite of this immense hardship, and its riverfront district is thriving once again. Wilmington's epicenter is its historic downtown, running inland from the Cape Fear River. The best way to experience it by land is with an old fashioned horse-drawn carriage ride, or by water with Wilmington Water Tours on the river.
The Riverwalk is the most distinctive feature of downtown Wilmington. Originally designed as a way to generate more interest in the waterfront region of the city's downtown, the Riverwalk now covers a mile of boardwalk sandwiched between the river on one side and pastel-hued shops and historic structures on the other. It provides access to attractions like the USS North Carolina Battleship and the Cotton Exchange shopping district, and comes alive at night with its restaurant and bar scene.
Wilmington's character is defined largely by its Victorian architecture, evident in its stately mansion homes. Bellamy Mansion has stood since just before the Civil War, while the beautiful Zebulon Latimer House, built in 1852, now serves as the headquarters for the Lower Cape Fear Historical Society. The Burgwin-Wright House and Gardens and Gardens is one of the city's oldest mansions, dating back to 1770. All three homes are open for tours. To stay immersed in a Victorian-era fantasy, head east to Airlie Gardens, with sculptures, ponds, flowers, trees, and historical buildings situated on 67 waterfront acres.
For all its historic charms, Wilmington is also a popular beach destination, with three beach towns nearby. Wrightsville Beach is known for its action-packed vibe, including watersports, shopping, and cruises. Carolina Beach is a family friendly getaway with a boardwalk and state park, while Kure beach is the quietest and most relaxing.
9. Mobile, Alabama
For some of the country's best beaches, you'll have to look beyond the Pacific and Atlantic and head south to the Gulf of Mexico. The home of several beaches, historic districts, diverse wildlife, and the oldest Mardi Gras celebrations in the country, Mobile is one of the South's best summer destinations.
Mobile Bay should be your first stop. The bay has several beaches along the Gulf, including Gulf Shores and Orange Beach, as well as an island serving as a bird sanctuary. In addition to its importance for bird migrations, Dauphin Island also has a freshwater lake where you can swim, fish, and relax on the beach. Fort Gaines — military ramparts that have stood for 150 years — is also located there. Fairhope might be the best small town from which to explore Mobile Bay. Located on the bluffs of the Eastern Shore, Fairhope is known for its biking, golfing, tennis, and fishing. The Weeks Bay National Estuarine Research Reserve, located nearby, offers guided walks of its fish and crustacean habitats.
The best way to get a sense of Mobile's character is by walking through its historic districts. The city has seven designated historic districts, each with its own character. De Tonti Square is one of the most impressive, with its Victorian, Federal, and Greek Revival architecture, and clay-brick townhouses dating back to the 1850s. The Oakley Garden District is another area to set your sights, with over 60 blocks of mansions and cottages built between the 1830s and 1930s.
One house you won't want to miss is the Bragg-Mitchell Mansion, built in 1855. One of Mobile's grandest mansions, it has a spiral staircase, double parlors, and displays a collection of antiques inside. For a more rural feel, the Bellingrath Estate sits on 16 lush acres just outside the city. It's known for its gardens, which include 400 types of camellia, the state flower.
You can't leave the Alabama coast without trying seafood fresh from the Gulf. Wintzell's Oyster House has been a community staple since 1938, serving up oysters and legendary seafood gumbo. Felix's Fish Camp and Grill is probably the best place to go for an upscale dinner and an equally upscale view, with window seats looking out across the waterfront. For some classic southern BBQ, and a departure from seafood, check out The Brick Pit. This BBQ joint is known for its smoked pulled pork, rib, and chicken plates.

The post Where to travel in the US this June appeared first on Matador Network.