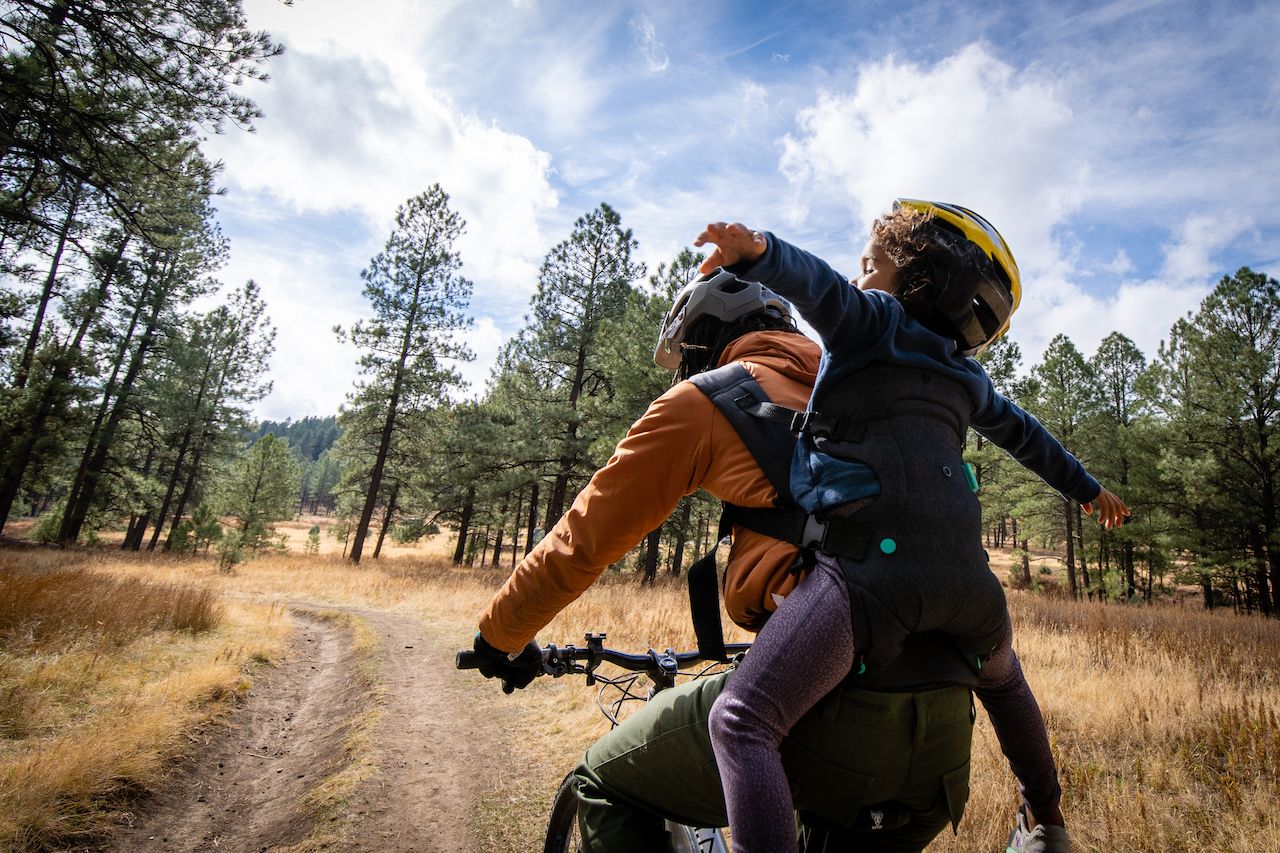 In Ruidoso, New Mexico, somewhere along Sudderth Drive, a woman sits over a latte and her laptop in the back of a cafe. Unbeknownst to her, she's a fitting image of the town's future. Here in the rugged and beautiful Sierra Blanca mountains, a revolution is taking place. The digital nomad movement — driven by the COVID-spurred rise in remote work and a desire to escape the ghosts of cubicles past — is taking the town by storm.
Rich in open spaces, outdoor adventures, and espresso-laden WiFi, Ruidoso — population 8,000 — is rising as the Southwest's next digital destination, an extended home-away-from-home locale. If you pack up your laptop, your hiking boots and mask, and your sense of adventure, here's what you'll find in this high-tech corner of the Old West.
1. Ruidoso is a small town that eats like a global village.
In Ruidoso, local chefs have often traveled far and wide to hone their skills; now, they've brought their mastery back home for good, and everyone's thankful they did. The result is a diverse collection of dining options that merge the flavors of the Southwest with influences from around the world. Chef Keith Weber of Rio Grande Grill epitomizes this with dishes like his Green Chile Chicken Lasagna and Outlaw Lager Stew — made with the brewery's Sierra Blanca Outlaw lager — a dish that's achieved "local legend" status.
Locals also gather out on the patio at Grill Caliente, a Southwestern bistro on the border of Ruidoso's Midtown district, for dishes built from local ingredients and New Mexican pride. "To us, that means chile," the restaurant proclaims boldly, and to be sure, you don't know a pork chop's chipotle-poblano potential until you've had one here.
The unsung hero of Ruidoso's culinary community is the Texas Club Grill & Bar, on the north side of town. The easiest decision to make here is starting with a plate of Texas Toothpicks; the tough choice is deciding whether to go casual with the legendary Big Tex Burger or step it up with a ribeye or porterhouse. Take solace in knowing that you'll be stoked on either. (And before we move on, a quick insider secret: Texas Club's Sunday morning Benedicts are as epic as the restaurant's once-a-week brunch is underrated).
2. The town has everything you need to establish a comfortable home base.
Set your family up in a multi-bedroom condo unit, complete with kitchen, balcony, and hyper-fast WiFi, and you're good to go — the town center is walkable and bikeable from anywhere you choose to call your remote-work basecamp. Settle in with a walk along the riverfront up to Blue Lotus Day Spa, where you can enjoy a massage or a yoga class to get your senses aligned before opening the laptop.
Nowhere in the Southwest is better primed for Airstream camping than Ruidoso, either. Just outside Midtown, Along The River RV Park offers pristine views and a cozy campground within a stone's throw of the heart of town. Arrowhead Motel & RV Park is another great option that allows families to check into a room or camp onsite. Both have showers and amenities to restock and refuel for work and adventure.
3. You can walk to work — and then to happy hour.
Of course, there's got to be some actual "work" in this remote-work lifestyle you've so carefully cultivated. When it's time, grab a seat at Sacred Grounds, where a morning of work in the main room is like posting up in a treehouse above the river. The WiFi is strong, the coffee is stronger, and there's no better place to pop open the laptop for a few hours of productivity without having to even venture out of Midtown.
Stick around after shutting down for the day — the bar at Sacred Grounds buzzes in the evenings with live music and libations from local craft producers. Or you could simply hole up mask-free in your lodge with a pot of coffee and a grab-n-go sandwich from Cornerstone Bakery. Just don't forget to leave a window open to let the smell of the pines liven your creative senses.
The best thing about work is that it eventually ends, and when it does, happy hour is never far away in Ruidoso. Stuff the laptop into your backpack and walk down the block to Lost Hiker Brewing, where the town's craft-beer lovers gather at the picnic tables to swap stories and plan the following day's adventures over a pint of Spinning Compass Amber. For something with a stem, make Noisy Water Winery your stop to sample locally produced dry reds, many of which have multiple ribbons around their bottlenecks. And don't forget, you're in New Mexico. Here, "great margaritas" are just called "margaritas" (ahem, Casa Blanca).
4. You can bike or hike on your lunch break.
There are over 40 miles of trails accessible from the heart of town, and there's no need to fight for a parking spot at a busy trailhead — you can literally ride and hike from your lodge to multiple trail systems. The Grindstone and Alto Lake networks spread for 18 miles, while the Cedar Creek system, home to the famed Spaghetti Bowl Mountain Bike Trail, adds 30 to that total. No matter which trail you choose, expect seclusion — there aren't many people around to crowd the path.
And of course, you can go even further, if that's your kind of thing. OHVs, short for off-highway vehicles, are permitted on roadways through town and offer a great way to hit the trail systems and backroads of Lincoln County without missing any of the views. Backcountry Attitudes runs 4X4 buggy tours that include more hairpin turns than you can count.
Summiting Sierra Blanca Peak and skiing at the adjacent Ski Apache resort are synonymous with Ruidoso as well. For the best experience at either, head out early in the morning to quell the adventure lust before coming back to town and settling in for an afternoon on the laptop. In Ruidoso, this is all part of a good day's work.
5. Educational opportunities for the kids are everywhere.
The ability to spend more time with the kids is among the defining attractions of remote work, and no place makes this easier than Ruidoso. "Family excursion days" built around a theme like American history, arts and crafts, and outdoor adventure are useful for narrowing your options: On "history day," for example, start with a morning trip to nearby Lincoln — about 40 minutes by car — to see the historic Lincoln County Courthouse where Billy the Kid escaped by jumping from a second-story window. On the way back to Ruidoso, stop by Fort Stanton National Historic Site to learn about the Lincoln County War and tour New Mexico's best-preserved military fort.
Outdoor ethics are key to responsible adventure, and nowhere is more apt for passing on proper knowledge of the outdoors than Smokey Bear Historical Park. Here, educational exhibits and interpretive gardens celebrate the birthplace of Smokey Bear and his legacy of forest conservation. Another way for kids to connect with Ruidoso's natural legacy is through eco-bio hikes to see wildlife — many of Ruidoso's trails provide a chance to view deer, elk, and so, so many birds.
6. Southern New Mexico is loaded with day-trip options.
Upholding your self-promise to keep the laptop shut for a full day can be tough, but a quick day trip from Ruidoso will help lighten the week's mental load. Kids, adults, and even dogs love White Sands National Park, which is under 90 minutes from town. Drive into the park and enjoy short hikes across rolling gypsum dunes and expansive views of the surrounding Sierra Blanca mountains.
Also worthy of a day trip are the nearby Valley of Fires Recreation Area and Bosque del Apache National Wildlife Refuge. The latter offers wildlife viewing opportunities — including sandhill cranes — from its visitor center just off I-25; the former was created when, 5,000 years ago, the Little Black Peak volcano exploded, and its subsequent lava flow turned the Tularosa Basin into a hotbed of quirky magmatic configurations. Over time, cacti and other plant life have sprouted through the lava, and exotic species like bats and lizards call the basin home.
For a full-day excursion, head south to Carlsbad Caverns National Park. Home to at least 119 underground caves as well as above-ground canyons to explore, this one will have the kids (and the adults) marveling at the serene — if sometimes eerie — natural world around and underneath us. When you're done, Ruidoso will be waiting to welcome you back to your new home away from home.

The post Ruidoso, NM, is the next big destination for remote families. Here's why. appeared first on Matador Network.