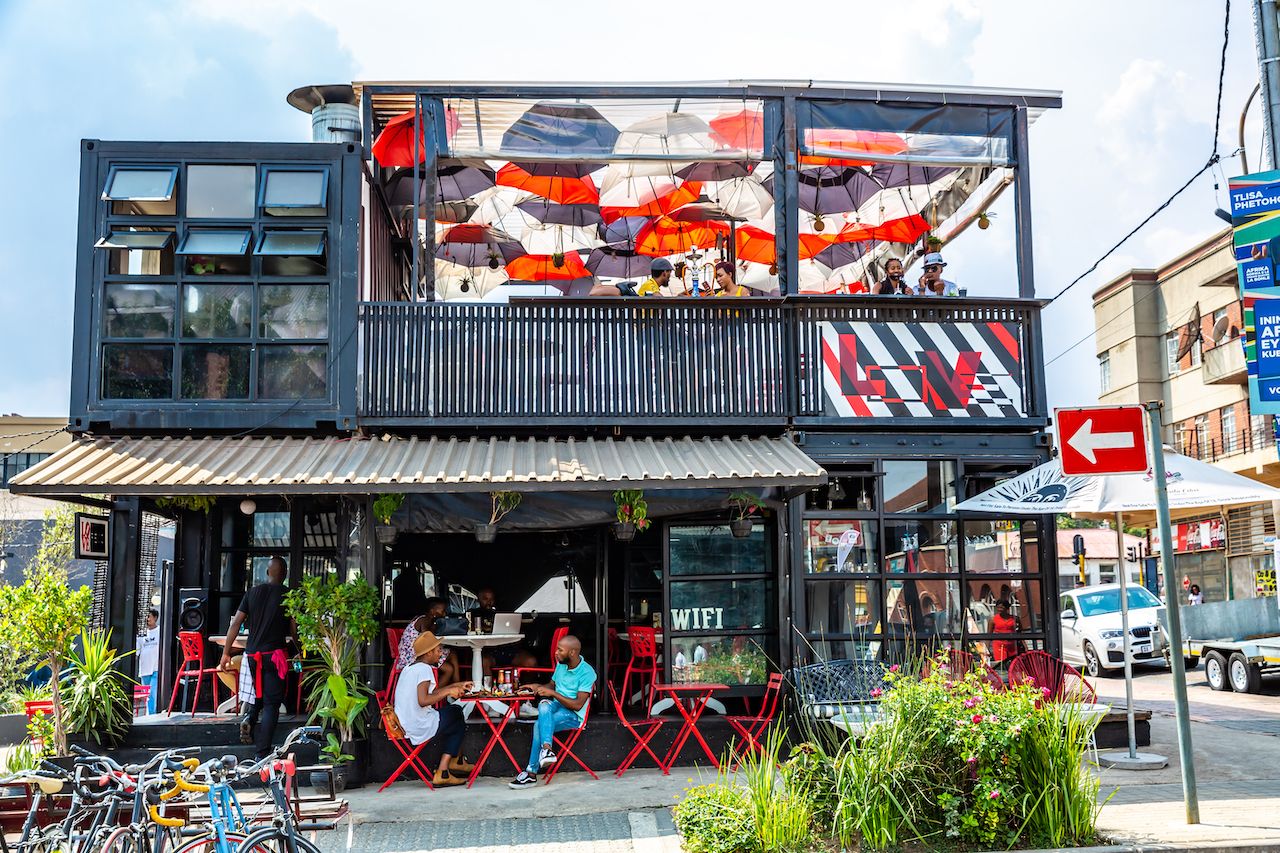 Downtown Johannesburg has grown over the past three decades since the end of apartheid in 1991. A few areas of the city that travelers once stayed away from have become vibrant neighborhoods. Case in point: Maboneng, which gets its name from the Sotho word for "place of light," is where you'll find hope, excitement, and endless possibilities. This spirit of revival has even led some to call Maboneng the city's equivalent of Williamsburg, Brooklyn.
In 2009, developer Jonathan Liebmann bought a cluster of old warehouses on a block bordered by Main Street, Fox Street, and Berea Street. He named the development "Arts on Main" and filled the space with galleries and studios. Along with Arts on Main, the Maboneng district is now home to a very stylish collection of galleries, restaurants, stores, residences, film studios, theaters, and more.
To visit Maboneng is to get a glimpse into what makes Johannesburg one of the most diverse and exciting cities to see in the world. Here you can rub shoulders with prominent and upcoming local artists, purchase unique creations from local designers, sample world-class, one-of-a-kind cuisine, and much more, all within a few walkable blocks.
Arts on Main
It all began with Arts on Main. As the name suggests, the most popular area within Maboneng is a creative hub of galleries, artist studios, shops, office spaces and a buzzing Sunday market named Market on Main. Similar to other hipster spots worldwide, Arts on Main is a product of upcycling — transforming and renovating former industrial buildings and historic warehouses into contemporary spaces.
The complex is a studio space for notable local artists like Mikhael Subotzky and Kim Lieberman, as well as the artist printing press David Krut Projects. The David Krut workshop specializes in the techniques of intaglio, relief, and monotype printing for local and international artists. Alongside the workshop is a bookstore selling a carefully curated selection of art books, including works published by David Krut Publishing.
David Krut was the first major publisher of world-renowned South African artist William Kentridge. Kentridge also happens to be the Maboneng district's 'anchor client.' Kentridge's work is often on display at the David Krut gallery, and his actual studio is just a few doors away.
William Kentridge also founded The Centre for the Less Good Idea — an interdisciplinary incubator space for artists in the area. The center acts as an experimental space for artists to come together and work through their "less good ideas." Check their website for information on upcoming seasons and shows.
Maboneng is the ideal place to shop for the best in upcoming and established local designers. Within the Arts on Main complex, LoveJozi sells quirky t-shirts and accessories that display fabulous interpretations of the iconic Joburg skyline. With a name that perfectly encapsulates Johannesburg's dark sense of humor, 'i was shot in joburg ;)' is a store born out of the inspiring initiative to teach former street children photography skills. Here they sell these artists' work in the form of canvas prints, books, and homeware.
Market on Main is one of the hippest places to be seen on a Sunday. Offering a diverse range of food, fashion, and art stalls along with live music and performances, Market on Main is a vibrant display of the South African arts scene. Due to the COVID-19 pandemic, Market on Main has recently taken to pop-ups at various other venues. Check their Facebook page to find out where they'll be next.
Main Street Life
Main Street Life was formerly a 1970s light industrial building that has since transformed into a contemporary mixed-use complex. Along with retail stores and restaurants, Main Street Life also houses residential apartments, co-working spaces and an art hotel. The building is divided into various creative disciplines, with each floor tied to either design, film, fashion, visual arts or architecture. Each floor showcases temporary exhibits within its discipline.
The 12 Decades Art Hotel chronicles Johannesburg's history, with each room representing a significant decade for the city. The self-service rooms, which are all priced at just over $40 per night, span from 1886 all the way up until 2006. Prominent artists such as Kim Lieberman, Bradley Kirshenbaum of LoveJozi, and Mikhael Subotzky have creatively designed individual rooms to showcase unique parts of the city's history. The rooms' themes range from Johannesburg's randlords and its gold rush, the Bantu theatre movement (socially conscious, anti-apartheid theatre), and the city's famous skyscrapers. The hotel offers a host of tours ranging from inner-city walking tours to quick safari getaways.
On the ground floor of Main Street Life you'll find the quirky Chalkboard Pizza Parlour, a casual eatery covered in chalkboards from the walls to the tabletops. Here you can enjoy fresh pizzas and cold craft beers while you let your creative juices flow as you doodle when you eat. If you'd prefer to try South African cuisine, head to Pata Pata.
Named after the beloved Miriam Makeba song, Pata Pata is a 1960s themed restaurant known for its live jazz music. Traditional South African favorites such as mogodu (tripe), peri-peri chicken livers or boerewors are highlights of the menu.
Fox Street Studios
Fox Street Studios, formerly an old print factory, is a mixed-use development that houses a six-story luxury hotel, apartments, an events venue, and exhibition space. It's also home to a few restaurants and retail stores. The building's design contrasts raw, natural wood textures with chic black steel and aluminum. The north-facing property soaks up the sun's rays during the day and allows for gorgeous skyline views.
Each floor is named after a different design material; steel, concrete, copper, wood, and glass. The ground/steel floor houses Little Addis Café, a curbside favorite amongst locals serving authentic Ethiopian cuisine. On the ground, you'll also find an African curio store and the ultra-trendy Blo Salon whose owners, Gareth Johnston and Rory Sandilands, have styled local celebs and SA fashion week models.
The first/concrete floor is a large, rentable, open-plan event space and studio while the second to fourth floors house spacious and luxurious boutique apartments. The most extravagant of which is the fourth floor/glass penthouse which offers panoramic views of the Joburg skyline and a spiral staircase leading to a king-sized bed looking over the city lights.
Main Change
The Main Change building functions mainly as office space for local entrepreneurs and freelancers but is also home to a spa, restaurant, and one of the city's finest rooftop bars.
The Blackanese Sushi and Wine Bar is one of the most well-known restaurants in the area. The menu fuses Japanese sushi with African flavors such as biltong and curry spices. Pair these creative dishes with fine South African wines and even learn how to make your own sushi with a class led by owner Vusi Kunene.
Situated on the Main Change rooftop, The Living Room is one of the coolest places to spend a Sunday afternoon and evening. The Living Room blends natural and urban elements in a serene rooftop setting adorned with beautiful greenery. The Sundays in the Living Room party is a weekly event that comes alive at sundown with live DJs and sunset views of the metropolis.
Maboneng Tours
One of the best ways to see and get the most out of Maboneng is to join a tour. The most popular of which is the Maboneng walking tour. This two-hour tour will take you through some of the most important architectural sites as well as through galleries and street art. You'll even get to visit some Sangomas (traditional healers).
If walking is too mainstream for you, rent a bicycle or even hop on a skateboard! After a short beginners' skateboarding course, the City Skate Tour will take you around the city center, Maboneng and beyond, all while gliding on a skateboard. Maboneng also forms a portion of many city tours, including the hop-on-hop-off red sightseeing bus.

The post Why Maboneng, Johannesburg, is one of the coolest neighborhoods in the world appeared first on Matador Network.